Costa Rica's Age of the Wolf look set to unleash a barrage of their patented fuzz coated, stoner doom that crashes head first into sludge with their new release, Ouroboric Trances, set for release May 17th through Aural Music. Ouroboric Trances is the bands first full-length release and follows their self titled EP which was nominated for Best Hard Rock Release in in Costa Rica's ACAM Awards which jump-started the band's career.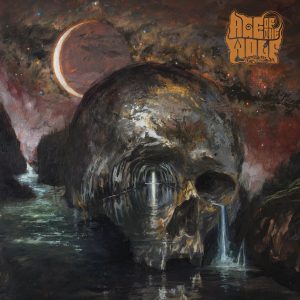 The album's opening tracks 'Herald of Abyssos' and 'Unholy' are some of the most infectious and set the precedent by turning the fuzz right up to eleven, straight out of the gate and keeping it there. By many standards however this isn't your run of the mill doom album, elements of death creep in and lay beneath the surface, haunting guitar work stitches together tracks that play around with the usual tempo found in doom, Age of the Wolf are clearly not afraid to put their own spin on a flourishing genre.
'Goliath' lives up to its name with imposing and dramatic rhythm sections feeding the apocalyptic vibe before the vocals make way for a crushing instrumental finale that wouldn't feel out of place in Mastodon's playbook. Each track brings it's own strengths to the record with no two daring to sound the same, be it 'Witches Gallows' with its incorporation of violin fitting perfectly if not a surprising appearance, or 'Bloodrage' which fully embraces the band's stoner side in a short but sweet outing. Closing track 'Molten Earth' also holds it's own and sees the album off with some beautiful guitar work that will make you stop and take note.
Age of the Wolf is seemingly gearing up to put the whole doom scene on notice and will be more than happy to change the game as they continue to grow, definitely a band to watch for fans of sludge, doom and of course that sweet sweet fuzz.