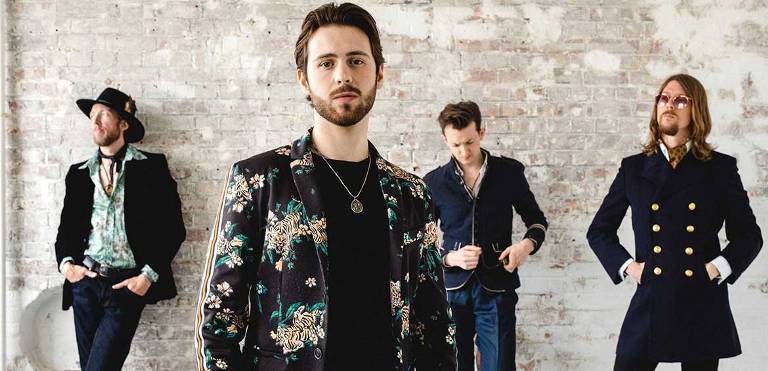 Previously on record Laurence Jones songs have been slick and aimed at your mainstream music listener but not captured the vibrant groove of his live band. That latter aspect has been addressed with this eponymous new album, not just by the fact of its title and their being collectively present on the cover and promotional material but in that the numbers are band compositions and it presents the listener with a different ambiance. A good one.
With 'Everything's Gonna Be Alright' the opening piano chord has Journey written all over it (so distinctive it is) but within a breadth the notes dance across the keyboard in an uptempo barroom boogie while drums kick out in anticipation of a future live audience clapping along to the number. The guitar playing itself is pretty basic rock and roll, beefing up empirically towards party mode, as Jones tells us he's got a woman spending all his money but he's cool with it. But it's the voice that carries the tune that catches these ears.
Here and across several other numbers on the record there's both a nasal quality that echoes Steely Dan's Donald Fagan in a rock mode and a chalky timbre a bit like Sting without the affectations. Throughout, there's also a general upbeat feel, the antithesis of the aforementioned Fagan's frowning caustic sneer of high brow contempt.
As we'll find the music also often follows in one of two directions. The following 'Wipe Those Tears Dry' is wah-wah enthused calypso rock of The Royal Scam-era Dan, with a warm organ swelling throughout the dance groove singalong while there are others that sound distinctly influenced by the British beat music scene, albeit the Sgt Pepper coats the band are seen adorning in recent publicity photos intimate something more overtly psychedelic.
Numbers like 'Stay' are beat pop blues with a tripping piano scale, 60s flowery organ pipes, Stax-influenced guitar stabs, rumbling bass and hooklines, while 'Low Down' has a particularly go-go dancing beat and their cover of 'Day Tripper' is a freaky 12 bar blues take on the Beatles number, while sticking in a nifty little solo.
'I'm Waiting' is also a speeding beat rocker but by way of Santana with fused bluesy organ, cheeky stops and starts and a bit of a rave out at the end – The track's been released as a single and you can watch the official video for it below here at RAMzine.
'Mistreated' by comparison slopes into a slinky slow blues via its guitar intro, and rides on a rolling funky bass in a minor keyed number that reaches towards a climatic solo within the song. Numbers like that, the mid-paced funk blues of 'Quite Like You' with its pick-up lines and the melancholy yet pretty rock ballad of 'Beautiful Place' with its early Clapton approach in the solo are maybe the kind of numbers we're most expecting from a multiple British Blues Award winner.
Laurence Jones however seems to be aware he cannot keep being voted as a Young Artist of the Year. One has to up one's game or draw attention in other ways, because the days of letting the music do the talking are long gone. So while 'Long, Long Lonely Ride' is a jolly county blues and 'Heart Is On Fire' another grooving blues rock rumble it's those  singalong earworms that grab you and make you pay attention and there are plenty of those across the album.
The album bids farewell with The Love' as sun-kissed notes glide gently in and continue to gently pierce in and around a tune that's part Northern soul slow dance, part  country blues ballad. It doesn't really go anywhere but maybe that's the point:it's mode of operandi is simply to groove. Despite which there's something about it that touches base with the likes Van Morrison and Steve Winwood, the mature end of the music industry where the listeners have real record buying power.
Throughout these 12 tracks Laurence Jones sounds confident, trusting in the quality and instrumental interplay between the band members. It's not so much a gambit or a maturing of personalities in their repositioning themselves musically so much as a natural evolution of their live sound filtered through some strong songs, recorded well.
Laurence Jones Band becomes available to the record buying public in September on Top Stop Music via Sony, ahead of UK tour dates. In which case, let's hope we get a late summer because this is an excellent album to chill out to during warm weather while dancing to through the heat of the night.