Vocalist and songwriter Louise Patricia Crane has recently been cooperating with Stephen Carey's collaborative music project The Eden House, specifically on their 2017 album "Songs for the Broken Ones" where she discovered she shared many of Carey's passions for dark aesthetics and proggy / dreamy soundscapes.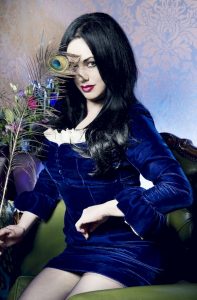 So, with Eden House drummer Simon Rippin and bassist Steve Gibbons on board (with King Crimson guitarist Jakko Jakszyk too) and with legendary upright bassist Danny Thompson, and even Jethro Tull flutist Ian Anderson, they began to evolve an imaginative and exploratively multifaceted sound that seems to embody the majestic, rather dark and richly firmamental types of gothic-rock / dream-pop works they both enjoy. The result is: "Deep Blue" available from May 15th 2020.
It's an encompassment of all the romanticism, existentialism, symbolism and mysticism of darker prog rock, but with lighter pop-rock touches redolent of The Cramps, perhaps, or of Siouxsie and the Banshees and the Birthday Party, twinned with the velvety, aromatic fervour of the fantabulous Tori Amos / Kate Bush chimaera that the extraordinarily talented Crane becomes when she's in front of her microphone.
"Deity" features appearances from Danny Thompson (Pentangle) and Scott Reeder (Kyuss) and brings expansive and compelling vocals reminiscent of Julianne Regan at her best, with spiral song architecture and imperative, if somewhat stubborn, musical motifs. It is sumptuous and triumphantly multi-spectral.
Tull's Ian Anderson guests on "Ophelia" (inspired by Millais' painting of the Danish noblewoman due to marry Prince Hamlet but instead driven to suicide) so, as you can imagine from the subject matter, Anderson's yearning flute brings eloquent sadness to a superbly arranged piece that presents Crane's fiery snowberry 'n' applewood voice in its best moonlight-dark tones and shades.This is operatic.
"Deep Blue" is for fans of elegant, luscious and mature progressive rock with the smoothest, most dreamy and the smokiest voice in the business. Is it ostentatious? Uh-huh. But why not bring something truly heroic, ennobling and greathearted into your life right now?