Let's get this out the way from the start. She's Steve Marriott's daughter. The goddamm voice that gave us The Small Faces and Humble Pie. She's also step-daughter to Joe Brown, one of Great Britain's original rock 'n'rollers who's still going strong to this day. We're talking rock royalty.
Nepotism is something she's avoided involvement with however. Instead, sticking to the sidelines she's previously been heard backing the likes of Oasis and Paul Weller. Yes, she's a singer, a songwriter too and her debut album Truth Is A Wolf proves talent is both genetic and nurtured, but more so that she is also her own woman.
Marriott makes that point from the get-go with 'Control' the first single taken from the album. It's as if we were high on Hollywood's hills where the closed gates read Fleetwood Mac as a stately piano refrain ensues, heading out the scene grows to widescreen on a musical journey that takes us to the shores of Seattle with the undercurrent of a grinding grunge groove more akin to a Pearl Jam or Soundgarden. The music is soulful at times, simply emotionally stirring at others with a driving dance beat.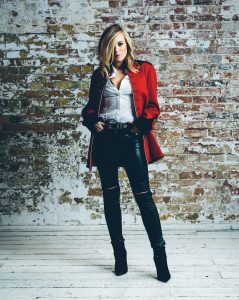 Meanwhile, Marriott references the Mac herself by way of a certain nasal wry coyness ala Stevie Nicks, but draws from the heart of Christine McVie, while similarly delivering both the weariness and joy found within the integrity of a rock chick version of Bonnie Raitt in the way she turns a phrase, while hitting high notes with a clarity that reminds you of her lineage and does all that dragging those influences kicking and screaming into the here and now, with some gorgeous gospel harmonies at the end. Empowering, liberating, womanly not the palpable crap of some vacuous auto-tuned bimbo. This is the real deal and we're only just getting started. Live this should be one to watch out for.
The harmonies and turnaround vocals of Fleetwood Mac are later revisited in 'Run With The Hound', though its drum and bass heartbeats vaguely echo the similarly titled Hounds of Love Kate Bush period. Beyond any influences it's a glorious pop song with its rising vocal hooks, the musicians holding tight protectively around Marriott's voice.
Marriott was engaged; but the relationship did not work out, and a number of the songs appear to reflect on that situation. However, there are other songs that read like that but evolve from a far different emotional tangent. 'Broken' is one such, written for her daughter, as "an apology" for taking her feelings for granted and to show her "That no matter what happens it's us against the world." Written in Nashville it's not as you would imagine: from the space funked guitar intro onwards this is like an edgy Jamiroquai writing for Aretha Franklin.
Likewise, 'Love Your Bones' is about a friend who died unexpectedly from an illness. Knowing that brings a totally different listening experience because it really is an intensely emotional tune; sung so well. Musically it unfolds in such a way that you expect it to build to a great crescendo but it resists this, held in check by Marriott's voice; calling out like a siren you feel you'd crash upon cliffs to join.
It's followed fittingly by 'Transformer' a slower downer variation on the previous song that does build this time; to an impassioned blues-soul crush. Haunting, it's waiting to be taken as end of season theme song for a TV drama wherein the female protagonist reaches some personal epiphany.
That "To thine own self be true" attitude is best exemplified on title track 'Truth Is A Wolf', the b/side of 'Control' as a single, it's also one of two tracks Paul Weller puts in a guest appearance on. Written by Nashville songwriter Gary Nicholson, Marriott got in before it found a home with Bonnie Raitt or Susan Tedeschi, she and the band giving it a welcome English mood into the bargain. The instruments slink in and out of each other, grooving and jamming, with what sounds like a sultry tipsy trumpet (although the credits infer its keyboards) blowing away as Marriott invests angst, suggestion and the most sensuous she-wolf of a whistle, with guitars calling with angular Kossoff style licks as it nears conclusion.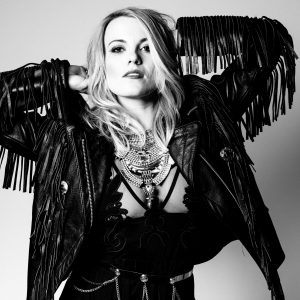 Musically, there are sounds at work that recall her step-sister Sam Brown's early work, Texas too but with less studio production gimmickry. A song like 'Give Me A Reason' is slow blues with a modern touch of gospel and beautiful harmonies, it stands one side of being the kind of overwrought production job some modern US r'n'b singer would release. Thank God. More so, with some of the arrangements and harmonies I was reminded of the Judy Tzuke Band, and was delighted to actually to see that lady's name in the co-writing credits on two songs.
For those who only know Tzuke's work from that 'Stay With Me Until Dawn' single, they're missing out – If you were lucky enough to see her band live back in the 80s you'd know what I mean, from the epic art rock of 'City of Swimming Pools', sexual innuendo of 'Sportscar' down to their shows' fiery climaxes with 'Black Furs' and Free's version of 'The Hunter'. Little surprise members would end of playing for Status Quo or producing bands like Uriah Heep. And while I majorly digress, I truly hope that some of that live raging glory is what we're going to get from Mollie Marriott on stage when she goes out on tour with Bad Touch.
Truth Is A Wolf shows the power of an album over digital download, especially in the sequencing order of the last three songs. 'Fortunate Fate' is fragile;  like something her father or fellow blue-eyed soul traveller Terry Reid might have wrapped their lungs around, the music like some lost Island Records recording with Steve Winwood and John Martyn jazzing on a groove at the end.
It's followed by 'King Of Hearts' co-written with Tzuke and with Paul Weller again taking up guitar. It flows naturally, the spaces in between as important as what is being played, her voice roaring beautifully over and amid repeated harmonies and a distorted grungy guitar.
Oddly, while Tzuke's not involved, concluding album number 'My Heaven Can Wait' is the song most like her work. Recalling a time Marriott felt she had hit rock bottom, this is powerfully spiritual and empowering; backing vocals, wailing harmonica and down-tuned guitars mourn a life now past; her lead vocal angelic but like a wiser Icarus knowing not to fly towards the sun.  When it ends you just want to put the album on again, and I do.
I've been singing songs from Truth Is A Wolf to myself for a while now, and incredibly badly so I implore you to do the world a favour and buy a copy yourself when it's officially released on Friday 3rd November through Amadeus Music – so you can all drown my voice out.
Mollie Marriott is soulful, able to use her voice emotionally to express delight, pain and passion. The songs on Truth Is A Wolf have made it my favourite album heard this year. And you know what; I really hope this is the beginning of a brilliantly successful solo career, because it's listeners who are going to reap the rewards.