Steve Hackett has performed at Birmingham Symphony Hall a fair few times now. From my experience, he always makes a point of saying how much he enjoys performing at the place. Not surprising since it was specifically designed acoustically to suit orchestras, rock bands and solo performers alike and gives both them and audiences a clarity of sound rarely found elsewhere. Now, Mr Hackett may say nice things about many a venue across the world but the fact that he filmed his most recent live appearance there, as part of the 40th anniversary celebrations for Wind & Wuthering (the last studio album he appeared on with Genesis), tends to indicate he wasn't saying such things purely to avoid tomatoes being thrown at him, and as the resulting film shows that proved to be far from the case.
Available in various formats, in DVD form there are two discs available that roughly correspond to the two halves of the show. The first has Hackett's band perform new solo tracks and old, the second featuring Genesis material. There are extras on both discs, and for once they are items you may play more than once. DVD 2 includes the three official videos taken from his most recent hit studio album, The Night Siren. With Hackett discussing that album's themes between songs on the live sections of DVD 1 you appreciate the intent behind those videos more; in fact it would be easy to mistake 'Behind The Smoke' for some fantasy heavy metal video whereas it's about the plight of refugees.
It's the extras on DVD 1 that are the most impressive though. Once you by-pass the standard photos and footage of queues waiting to go into the show, and excerpts from meet & meets, you get some genuinely excellent interview footage, with all members of the band given chance to comment.  Everyone sounds in good humour, notably Roger King who jokes about the piano in his dressing room backstage, whereas on stage he looks deadly serious throughout at his keyboards; intent on ensuring he delivers a quality performance. There's even an interview with Hackett during the intermission, both physically worn and palpably excited by how the first half has gone down. His enthusiasm for various subjects finds him going completely off topic and revealing lots of fascinating snippets. Showing a guitar once owned by Gary Moore he notes he bought two off a guy who used to work for both them, this leads onto conversations about Fleetwood Mac founder Peter Green, and then in passing he drops in the conversation "I also knew Phil Lynott." How? Why? When? The muso-fantatic in me is screaming. Surely never the twain should mix? So many what ifs suddenly conjured in one's head should the Irish rocker have lived and worked with Hackett. But onto the main event…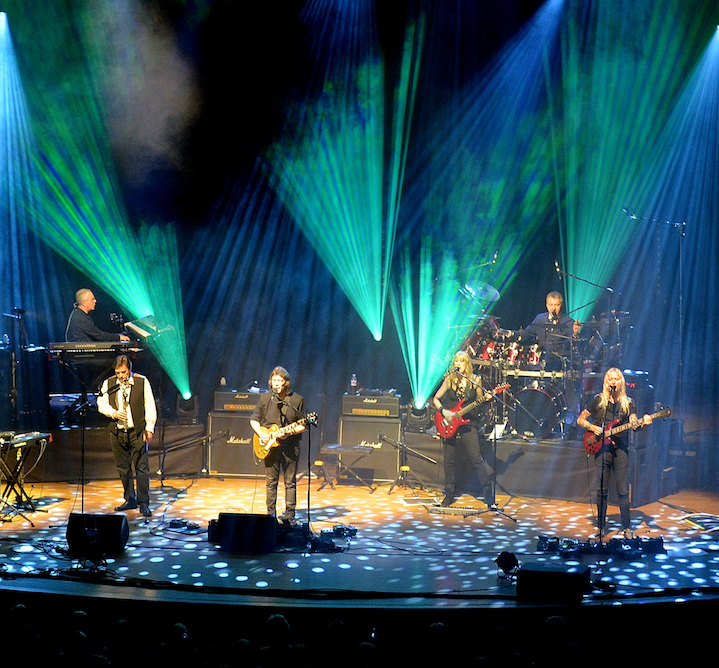 DVD 1 opens with Hackett and band walking casually on stage to applause, the guitarist applying something to his hands that either moisten or protect them, in the manner of an athlete about to attempt some Herculean task. The close up view from behind drummer Gary O'Toole makes the stage appear small, but it is far from it. They open with 'Every Day' and alongside regular Hackett band members Rob Townsend (saxes & flutes) and Nick Beggs (bass, stick and 12 strong) is Amanda Lehmann (guitar, vocals) whose addition to the ensemble's harmonies gives it further dimension here. The camera work is skilled and inventive, not only the angles but focusing on individuals so the nuances of how they play are captured too, Hackett often making it look so simple.  As Townsend moves centre stage to duet with Hackett we see a packed audience mesmerised.
The stage is bathed in red light, and as the tempo builds for 'El Nino' spotlights add icy blues and greys, while new this instrumental feels lived in, the scope of a film score to it as Hackett switches between tremolo arm, reverb/treble toggle and footswitches to create his sounds. Next, Lehmann leaves to return later, Beggs takes a seat to play and Townsend delivers a long saxophone introduction for 'The Steepes'. They all look deadly serious during this slow processional prog funereal march – It's possibly nerves, aware they're being filmed and most begin to relax later as they settle in. With Lehmann back for 'In the Skeleton Gallery' we get  Arabian nights flourishes, Bonham style drumming, Hackett picking up a harmonica and trading serious jazz blues notes with Townsend, then later soloing slowly on guitar. The eastern European musical influences that 'Behind The Smoke' commences with grow more creepily but lift euphorically as befits its lyrical narrative come its conclusion.
Digger deeper is 'Serpentine Song' that Hackett reveals is "About my dad… And my brother's dad," as his brother John joins him on stage. Their father apparently a painter, the song has a hippy acid folk and as John solos on flute the cameras pan back to show white lights dancing around the audience then draw in to show the unique playing style of the musicians. For 'Rise Again' Hackett takes lead vocals while playing guitar on his own, others coming in to add harmonies. As it develops into a jazzier prog section he begins soloing, getting rockier as he wails away. DVD 1's main set finishes with 'Shadow Of The Hierophant' from Hackett's debut album. Lehmann takes lead vocals here and I find myself preferring her less delicate version to the original Sally Oldfield sung one. Powerful swaths of guitars ensue, Hackett applying his signature two handed tap approach as he solos with an elegiac slow burn. As tempos continue to change the whole band rises to the occasion, with Beggs uniquely sitting cross-legged hammering his hands onto his bass pedals. It proves a great song to end on visually and aurally.
DVD 2 being the Wind & Wuthering section it opens with 'Eleventh Earl Of Mar' and O'Toole adding back vocals to Nad Sylvan's gracefully and thoughtfully voiced lead, with him appearing throughout most of the second half.  Visually there's much going on stage with O'Toole impressing, alongside Hackett and Townsend, while Beggs plays 12 string on a double neck guitar. The musical changes prove enthralling. Before 'One For The Vine' Hackett changes guitar and introduces the band. When he does play the guitar it's again rockier, the instrumental section wonderfully so followed thenby  a fuzzier hard section. Next it's time for the classical nylon guitar to be brought out for 'Blood On The Rooftops'  and it's beautifully played, a right hand flick of the fingers as he takes the song into the choruses being a small moment that's delightful to watch.
With 'In That Quiet Earth' he's back on electric, bobbing and tumbling with  sharp clear lined runs and licks again and rocking riffs the likes of which a metal band could swipe and no one be the wiser, and on its actual heavy section his guitar rages amid wild runs of saxophone from Townsend. Afterglow' is altogether faithful following that. 'Dance On A Volcano'  has Beggs on 12 string again for melody backing and now he's far from static, running around the stage. 'Inside And Out' he announces is from the Wind & Wuthering sessions and released on the Spot The Pigeon EP at the time, "a personal favourite" he declares. Warm broken chorded evoking a balmy night on a coastal shore but with the dichotomy of lyrics about a man wrongly imprisoned  on this Collins co-write with bright & breezy guitar and sax solo featured.
'Firth Of Fifth' stretches back further and a woman screams out excitedly amid the applause as King's piano plays the familiar opening notes. Lehmann adds her guitar to Hackett's and the sound is dirty and stirring, bass and drums locking in behind. Hackett gets the audience to clap along as the pace briskness, a lovely tone to his solo as stage and audience are bathed in hues of blue, purple and white lights. It probably receives the largest applause of the evening. 'The Musical Box' has a particularly eerie instrumental section with power chords leading into Hackett's anthemic signature solo and then the band gathers to bow, laughing, and when they leave we see back stage footage.
Returning to encore with 'Los Endos' dark blue lights fills stage while white ones peer out over the gods. As the intensity of the song reaches its climax, the cameras pick out audience members some of whom we must admit are of an elderly age but in near transcendent mood regardless, as Sylvan cries out the few lines that are lyrics to this song and Beggs raises his bass aloft in outright heavy metal pose as the song concludes.
A strong live performance, but then that's pretty much what you would expect. What's most impressive about this DVD package is that it has been put together with some thought and consideration, the extras indeed a bonus, and the actual filming featuring good colour quality, a variety of angles and perspectives featured, allowing some unique takes on playing style from a variety of band members that one might not notice even in the front row of a concert.
Wuthering Nights – Live In Birmingham will be officially released on January 26th 2018 through Inside Out. For more details on this at Ramzine click here.