That Stryper were promoted as a Christian rock band I'd always assumed they'd sound like a poodle rock version of 70s Casablanca act Angel without Guiffera's keyboards. Maybe they were, I've still not dipped into their back catalogue, but being signed to Frontiers – the home of many US melodic rock bands who made a mint during the 80s and are still out there playing today's circuit – that presumably rings true. In fact, God Damn Evil rocks out a whole lot heavier than you'd think.
Founded back in 1983 they still feature the brothers Michael and Robert Sweet on lead vocals/guitar and drums respectively, and guitarist Oz Fox (guitar), plus Perry Richardson, formerly of Firehouse, on bass.
With a layer of keyboards rising amid a frenzy of fluttering noise one's impression is of the hallowed hordes riding out on their angelic wings ready to do battle with the most heinous of demons – Okay, that's laying it on a little thick for a couple of seconds of introduction, but along comes a thumping octave jumping riff with a choral "Oh!" and the song's title of "Take it to the cross!" screamed out like Judas Priest having a hernia, all the while intercut with death growls courtesy of a guest appearance from Matt Bachand (Shadows Fall, Act Of Defiance).  Still not sure what message is being sent out here, but it's upbeat fun and works.
It's followed by 'Sorry' that goes from rhythmic shuffle into a rugged strut, with a big harmony chorus. Then 'Lost' features a nice rundown riff with some loud drumming rocking out before operatic screams over keyboards swells and what sounds like a choir on the chorus. Come the solo turn on this one, things get clever with runs leading into a dual harmony part followed by a singular soaring solo before rocking back into the chorus to end on. That heaviness continues with the swagger of 'God Damn Evil' itself over a high howling scream, then popping beat rock wherein the chorus is repeated a little too often but generally works, and comes across a whole lot more like Twisted Sister than I'd ever have suspected.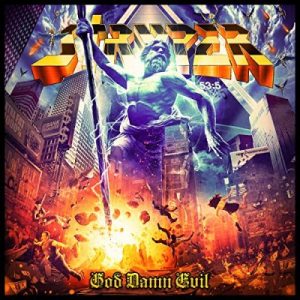 Lyrically, yes a lot of the songs featured could be viewed as expressing Christian virtues (ie. Loving thy neighbour not fundamentalist claptrap like burning the local school's books), but they're not rammed down your throat and for the most part and can just as easily be interpreted as your typical love song or whatever. Actually, if the rather spiffing fantasy album cover to God Damn Evil grabs you – Kind of like Poseidon from the classic Jason & The Argonauts film retooled for the Marvel movie generation, you'll be up for the next batch of songs that wrap themselves in a bit of vintage Rainbow musically, thus evoking that whole fantasy angle Dio gave us back in the day. 'You Don't Even Know Me' is a right belter that's at once a little trippy in that latter day Beatles manner while keeping one side of the 'Gates Of Babylon'. Then, with 'The Valley' Stryper dive deeper into Rainbow territory with a 'Stargazer' beat amid guitar tomfoolery-come-wizardry whirling away. This trinity of tunes is completed in the evocative titling of 'Sea Of Thieves' – It opens with the slightest of blues refrains to become a  taught hard rocking number but also features a brief section that borders on the prog metal side of things.
Despite its title, the slower pacing AOR, 80s love rock that is 'Beautiful', doesn't really work for these ears. Whereas 'Can't Live Without Your Love' that follows directly and the tempo weighs down further as a guitar melody leads into a downbeat shuffle about heartbreak. That it sways a little similarly to Bon Jovi's 'Wanted Dead Or Alive' isn't a bad thing either. 'Own Up' is drum propelled galloping rock where the vocals threaten to deliver a rap, and then the album ends with the blistering sounds of 'The Devil Doesn't Live Here'. If a couple of the earlier tracks had Stryper looking to Rainbow for a bit of inspiration, here they worship at the altar of Richie Blackmore, channel their inner Deep Purple and make it work. We get the fury of 'Fireball' in the main song then a bit of 'Highway Star' come the guitar solo, and its all comes to a crashing end with an essential Mark II element, a Gillan-iac scream.
Overall, Stryper's God Damn Evil comes across like Mr Big playing in a Dio adventure playground, while putting their own spin on things. Death growls and a cowbell who would have thought they'd work together in the same song!