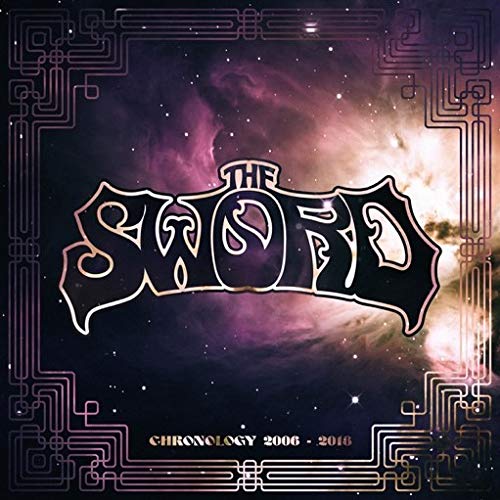 After calling a hiatus in 2018, The Sword have made a bit of noise and unleash not one, but two massive collections celebrating their career. First up we have Chronology: 2006 – 2018, a mammoth sized collection of fan favourites from their albums, tied together with previously unreleased live tracks, B-sides and covers. The collection splits itself across three discs, the first two in similar playthroughs, studio releases followed up with live, unreleased tracks. The third disc is packed with all kinds of hidden gems with the covers, b-sides, and unreleased versions of songs to get your teeth into.
With 52 songs in total, it really is a release with all the bells and whistles, and if you're just finding the Sword, you couldn't pick a better time either, playing sequentially starting with Age of Winters, we get four absolute belters that really are what got their name exploding into the world, the chase up is a further four almost all taken from the middle third of Gods of Earth, and following suit, the same for The Warp Riders. This first disc providing a healthy wedge of the first three albums showcasing their growth in sound and development between 2006 and 2010 finishing off with 4 previously unreleased live tracks 'The Horned Goddess', 'Barael's Blade', 'Lament For The Aurochs' and 'Iron Swan'.
Disc 2 follows the collection of the first, picking 4 tracks from the 2012-2018 era with Apocryphon, High Country, and Used Future, it also has the first change in the line up of the bands releases. Wall to wall bangers with a continued progression in sound, it even touches their more delicate side with acoustics 'Seriously Mysterious' and 'Buzzards' making the cut, with live tracks 'Sea and Spears', 'Freya', 'Night City' and 'The Chronomancer II: Nemesis' getting the pick from another live performance during their time on the road.
The real fun begins with Disc 3, amazing classics covered from the big to the lesser known ones, alternative versions of songs and in all, just a damn good time! It kicks off with 'He's Waiting', originally by The Sonics, from there it hits you with one of their own 'Sea of Spears' taken from a split EP with Witchcraft, from that same EP is a big hitter classic 'Immigrant Song', it follows with the inspiring ZZ Top and their 'Nasty Dogs and Funky Kings' cover too before returning to a B-side venture. After this is gets real familiar, a slight variant of 'Freya' from 2008, the slight nuances really give it a tiny little spin and to be honest, I struggle to know which version I prefer! They then put their spin on some Pentagram and Kiss, the latter of which has been released already. A couple more original rarities/B-sides and again, they come with more of those fantastic covers, a gleaming rendition of Thin Lizzy and ZZ Top again really getting in your soul. After a couple more rare B-sides, one from way back before Age of Winters, we get a remix of the gentle 'Seriously Mysterious', previously unreleased. Soon itself chased down with 'John the Revelator', a 1930's gospel blues track being given a fantastic rendition without losing its charm and character perfectly sandwiched between another previously unreleased track, 'Turnt to Dust'…a cover if you will of their own work, 'Turned to Dust' so drastically different with a fast, loud, punk sound. It sounds completely rebuilt and in a strange way works, polished off with the more familiar sound we know them for with 'Serpent Weather'.
All in all, this is such a huge release that it may take more than one sitting, the layout of the tracks make that a real easy option though, it seems this release could not be better planned and thought out. It might effectively be a greatest hits release, but it literally comes with all the DLC, all the bells and whistles, all the extras…and more! 12 unreleased tracks adorn the release which could effectively make an album alone, and the treats don't even end there! The release also comes with a decent booklet said to contain images and essays through their time, along with that comes a host of big names and their thoughts of the band, including Neil Fallon, Mark Morton and Lars Ulrich, but for those worried about space and living in the current age, there's also a digital version available too.
Chronology 2006-2018 is out tomorrow, June 19th with bundles available at www.craftrecordings.com and www.theswordofficial.com as well as other outlets and digital formats.