Thrash behemoths Anthrax return after 2011's 'Worship Music' which was pretty damned good! But interestingly its not new material its an EP of covers that they particularly loved in the 70's… Single covers and metal bands have had a fraught relationship at best, so to release more than one is brave but is it another 'The Spaghetti Incident?' Where we all feel like we've been robbed of fifteen quid? Read on…
'Anthems' starts with the suitably titled 'Anthem' made famous by Rush way back in 1975, its played with accuracy and bounce as you'd expect but its missing something it's pretty much the same song if not… a little tame? Compared with the bluster and youthful exuberance Rush had in '75 this does sound like Anthrax might have been a little overawed perhaps?
This is then followed by 'Jailbreak' from 1976 legends Thin Lizzy; this is literally like taking on royalty and Anthrax attack it with zeal and power. Rob Caggiano riffs himself up a storm the whole way through. Frank Bello is the other stand out as his bass licks and struts, Phil Lynott would have been proud.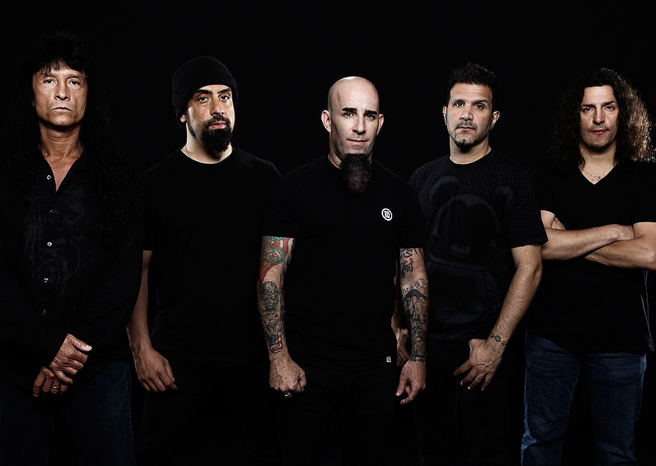 If the mountain wasn't large enough with 'Jailbreak' how about some AC DC and 'TNT?' The beginning 'oy, oy, oy' is a little tame and you'd have thought that Anthrax would have made this stronger maybe more like a football terrace. Joey Belladonna sounds like he's actually doing an impression of Bon Scott and this is unavoidable because of the way the songs written, all you can do is hear Scott sardonic and grisly voice but surely then; why pick it if your going to sound a little second rate?
Boston are next with 'Smokin' there is no denying how much fun Scott Ian and Caggiano are having playing this cracking sleazy blues classic, they've pushed the song forward making it sound current and vital. Wait till the end for the duel between Fred Mandel's excellent keyboard work and the rushing guitars, brilliant stuff.
One of my favourite cuts from Cheap Trick is 'Big Eyes' and to hear Charlie Benante crack into that looping aggressive rhythm made me really take notice, the problem with Tricks album version is that its a little tame compared to whenever they played it live and Anthrax seem to agree; making it rowdier and loose, it flows and dips brilliantly.
'Keep On Runnin" is one of my favourite Journey songs, Belladonna's voice is allowed to crank up and he can show that wonderful range, the melody is given some much needed teeth, it's actually an improvement on the original because of the skill with which its played.
We then have the only original Anthrax cut on the EP, with 'Crawl', its a strong song and I liked the drama of the song and Belladonna hits some fantastic notes in the bridge, its a grower, sounding more and more tortured each time. Anthrax finish with a remix of 'Crawl' full of orchestra and haunting strings adding even more atmosphere.
Is this indulgence releasing a collection of songs that really don't need covers? No I don't think so, the covers are played with too much respect and love to be anything than tributes to bands that got them into the metal when they were kids. As an album its got some hits and misses sure but if it introduces one of these bands to you for the first time then I think its done its job, so Anthrax I salute your taste and look forward to your next original album, please stay together!
7/10
Anthems will be avalible from March 22nd 2013 through Nuclear Blast.
'Anthems' Tracklist:
01. TNT (AC/DC)
02. Smokin' (BOSTON)
03. Keep On Runnin' (JOURNEY)
04. Big Eyes (CHEAP TRICK)
05. Jailbreak (THIN LIZZY)
06. Crawl (Albumversion)
07. Crawl (Remix)