A gentle piano refrain plays wistfully across Starlings over Brighton Pier the first single from Bell XI's latest album Chop Chop, as in comes a rooted bass line accompanying brushed drums over which Paul Noonan's vocals casually question the gathering of birds into a single formation and their subsequent decision to take a new direction; offering as it does a quite apparent allegory towards life for those who will hear it on the radio during their mundane lives.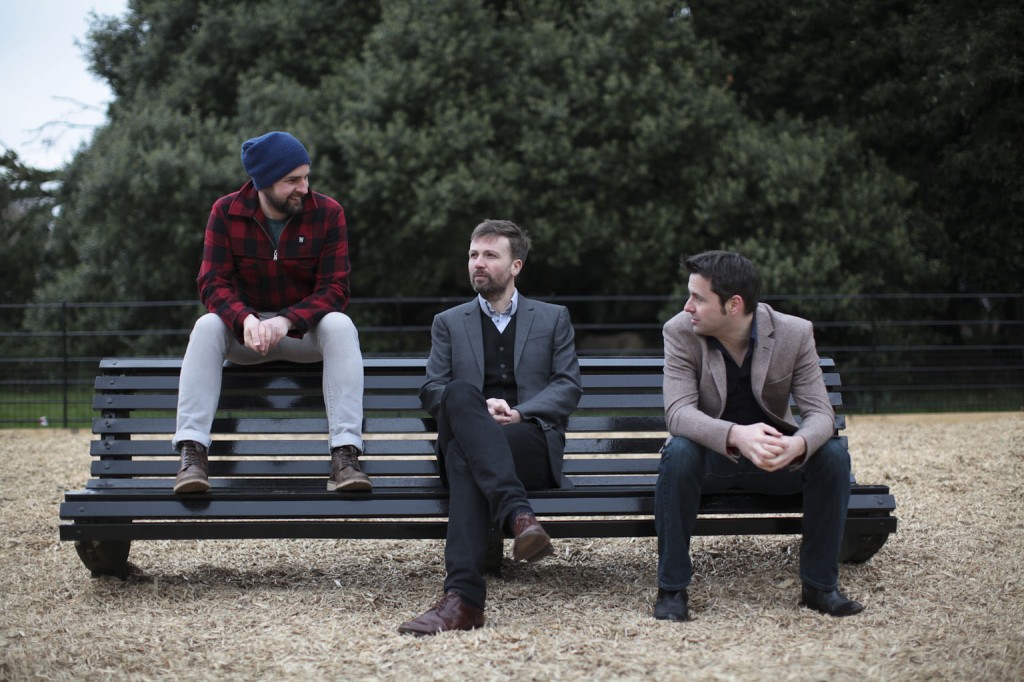 Second only to U2 in popularity in their native Ireland with high visibility internationally, mainland Britain still holds reserved interest in the band. Totally new to me, I'm informed this is something of a departure from previous hit albums, and it does have a laid back feel that's doesn't offer an immediate rush to the ears but slowly seeps in, and is highly suitable for a quiet day going about your business around the house when outside is dreary; the instrumental nuances and thoughts behind the lyrics finding resonance with repeated listening.
Noonan, together with David Geraghty and Dominic Philips play an assortment of instruments (adding auxiliary members for live performance) between them, though predominantly through Chop Chop it is the piano and treated electronics that are most felt. The overall effect is of gentler Crowded House songs played by the instrumentalists in Keane, or even some of the more passive numbers on Genesis' A Trick of the Tail; all such comparisons of which I'm sure Bell XI's many fans will castigate me for. What can I say, I like what I hear, and I'm trying to offer comparisons that define this music as other than the pleasing middle of the road some might toss it aside as.
A brisk skipping melody counterpoints the lyrics of A Thousand Little Downers before brass instrumentation and soaring vocals take it to its crescendo while Diaroma tells the story of a housewife whose children have flown the nest. Short stories and non-judgemental observations on the minutiae and mundane nature of our everyday lives are par for the course throughout, with only the affecting elegant musical highs and lows that caress Careful What You Wish For really acting as cautionary tale, rather than being judgemental.
I Will Follow You is lead by a guitar that picks out a tune that I can only describe as an oriental reggae soundtrack for an old time cowboy movie while Drive By Summer is I Fought the Law arranged as a funk lullaby and Feint Praise a classic 50s type pop ballad you could slow dance with your partner to until you started listening to the words being sung. Simple understated music, clever lyrics for the most part, Chop Chop ends with the anthemic qualities of The End is Nigh, it is not an album I will want to listen to everyday but on those I do, it is likely to be on constant reply. It comes with a sympathetically designed booklet featuring lyrics.
7.5/10