A lot of people have been making a lot of noise about London hardcore outfit Black Shapes of recent and rightly so. Their previously released EP 'The Mourning Light' left them head and shoulders above a somewhat stagnant scene and was simply a lesson in how jaw-breakingly brilliant hardcore music can still be when its executed correctly. Brutal yet concise, it whet the appetite for their debut full length perfectly.
Black Shapes have returned with a full length that is bound to surprise and excite. Whilst firmly keeping their hardcore roots the band have expanded most other areas of their sound and experimented a lot to create a listening experience that is as fresh and exciting as it is familiar and welcome.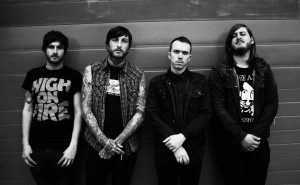 Songs such as the opener 'Treason Heresy and Witchcraft' which switches from one extreme to the other completely effortlessly with an atmospheric, echoing intro giving way to heavier sections that ring of hardcore heroes Converge whilst still sounding original.
It's not all experimentation however. Songs such as 'Sin Of Sinners, Midnight Brides' and 'Nerissa' will still pummel your ears to within an inch of their life whilst songs like 'A Clear View of Static and Sleep With The Gods' allow a respite from the fury, however brief it may be.
'Sleep Sleep Sleep' is a truly magnificent album, especially for a debut and a piece of work that Black Shapes can truly be proud of. With a string of UK shows on the horizon it's strongly advised that you allow the band to get in your face in a live setting!!
8/10