Although you are going to read the following of every festival and live event review for the next year or so – it's still worth talking about.
The last 18 months or so have been strange, and tragic, among many other things. As the actual likelihood of this festival going ahead has been touch-and-go even to the same week of the event – it's incredibly impressive that Vicky Hungerford, Adam Gregory, Rachel Greenfield, Paul Raymond Gregory, and the rest of the Bloodstock team were able to pull this off as well as they did. Also hats off to Kirsten Sprinks, Michelle Kerr, and the Cosa Nostra PR team, and every other PR working the festival for organising press as good as they did. Above anything, this festival was done safely, cleanly, and most importantly filled with metal. The following review is dedicated to the aforementioned people, our great NHS, and every other festival worker and fan at Bloodstock.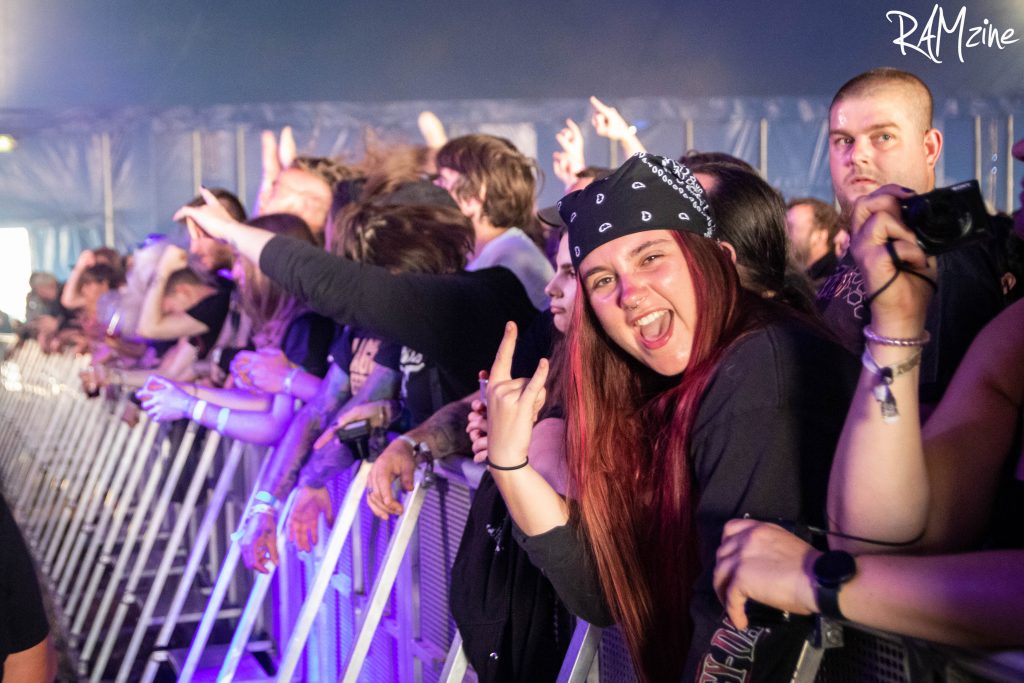 Wednesday
Although this is the first full-scale festival in almost two years, it's weird to rock up mid-week to get set up for 5 nights of metal and fun times. The metal gods have blessed us with an extra night of rock n roll and we shall receive it as intended. Looking at the line-up tonight makes you think we are already being spoiled.
Starting at 6 pm with blacked death metal Anakim, there are very big expectations to meet – and impressively, they meet them. Well done for kicking us off in style. Next up is theatrical the hard rockers Ward XVI. They really bring the showmanship with different outfits and props finishing with their vocalist wearing a straight jacket. Very similar to Alice Cooper or Wednesday 13 meets Circus Of Horrors. Glad to see them back.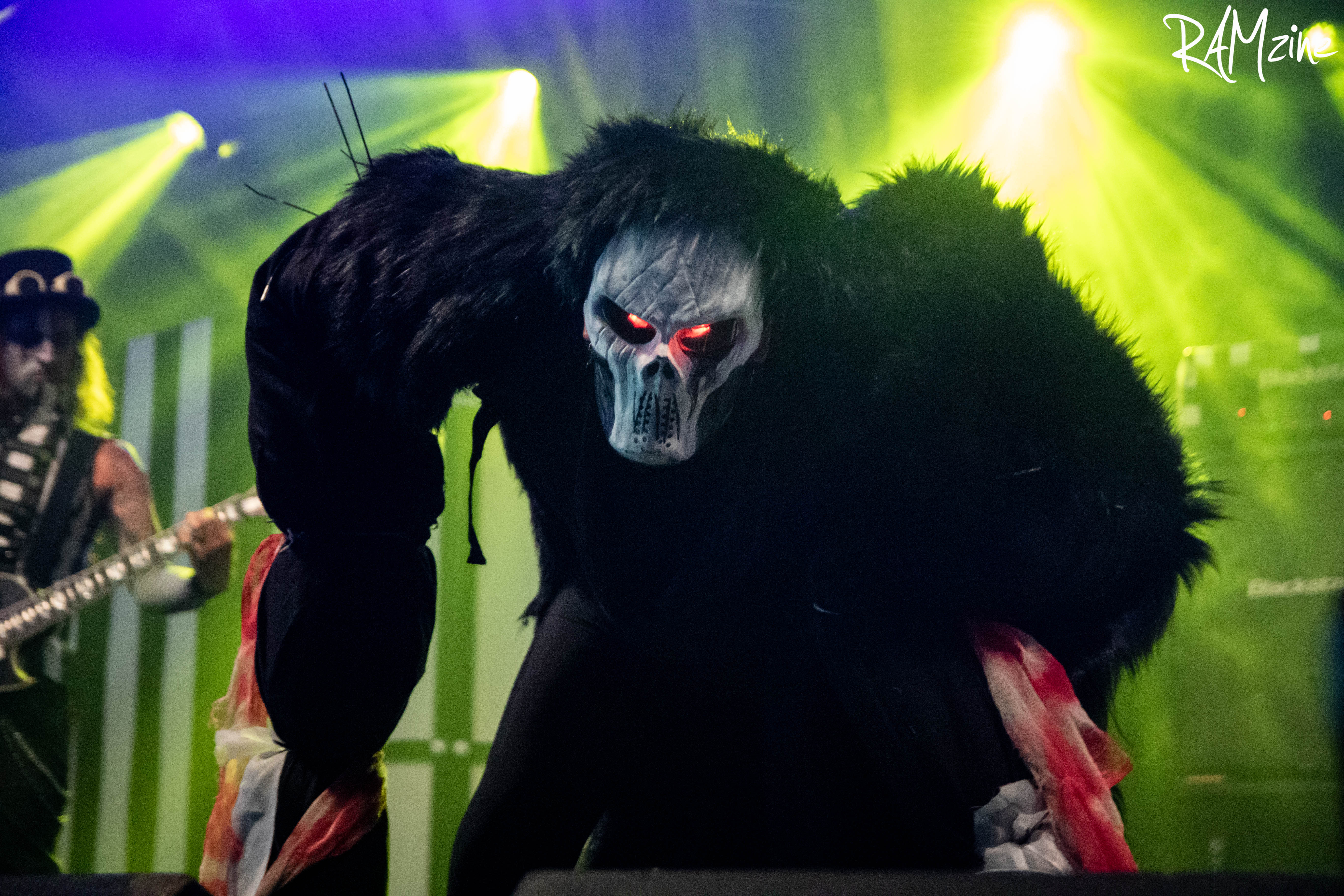 Following are the internet's favourite comical death metal sweethearts Raised By Owls who bring the fun big style. We knew it would be special when we were getting handed flyers with an angelic Ainsley Harriot prophesizing 'The Second Coming'. They weren't at all wrong as this show featured a guest appearance by 'Mr. Blobby', the theme of Chucklevision, and songs about David Dickinson. The most impressive thing here is the size of the crowd crammed into the Sophie Lancaster tent. Certainly worth a main stage slot in the future.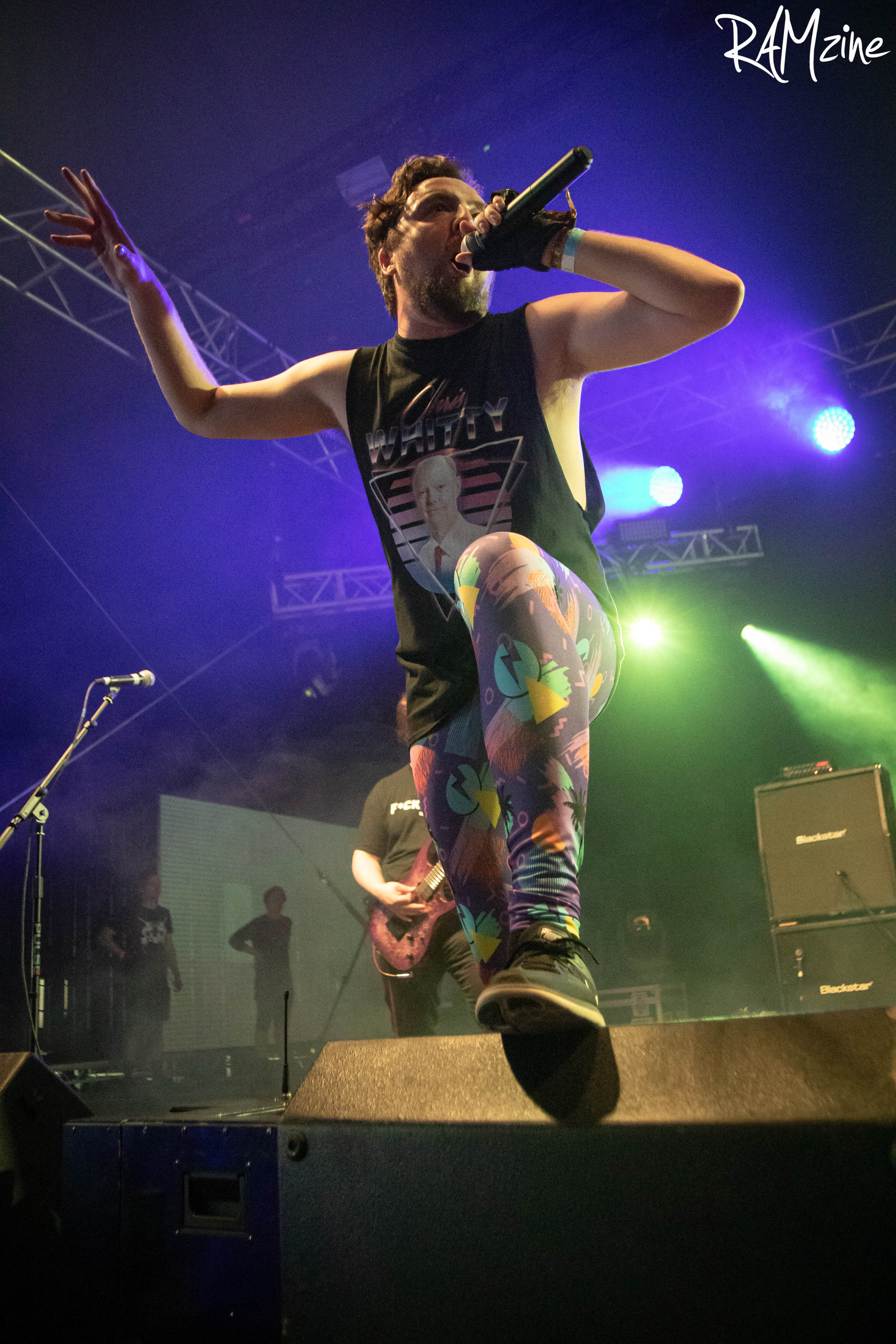 The first headliner of 2021 is the mighty Onslaught. This band has played the main stage many times in the past, so it makes sense they are heading the first night. Rightly so as well. This is a great performance that reaches a huge amount of the metal fanbase incorporating thrash, heavy, and other forms of metal and rock. British thrash metal is underrated, great to see a festival embrace this. Also a well-thought-out show with lasers et al. Although a shorter set than usual, this definitely whet our appetites for more metal madness. Finishing with 'Religiousuicide' this is a deserved headline set.
Thursday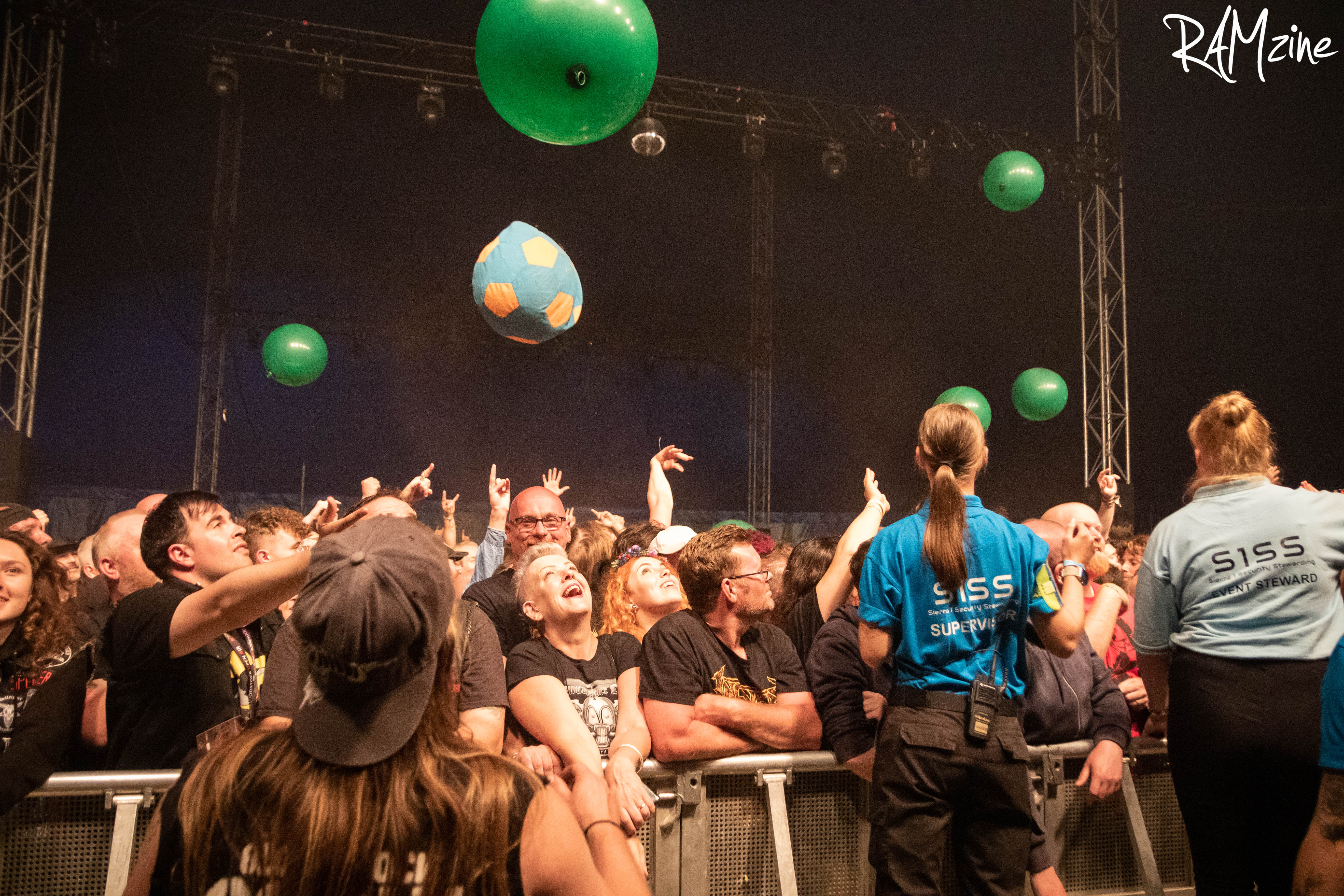 Metal ambassador, with these three stages of metal you are spoiling us … or whatever that advert used to say. Although this is still not one of the 'main' days, today is filled with bands across three stages. As we sort of expected, there are some replacements due to COVID or other issues. The first instance of this is on the Sophie Lancaster stage, bright and early at 11 am with the ever-popular Fury, standing in for Mother Vulture. Although an entirely different band, they still deserve this spot bringing some much-needed hard rock-inspired metal to wake everyone up for day 2. With a new line-up and new attitude, this band has only started to bring the action. Keeping in mind Fury also has new material up their sleeves, we might be seeing them higher up the bill next time.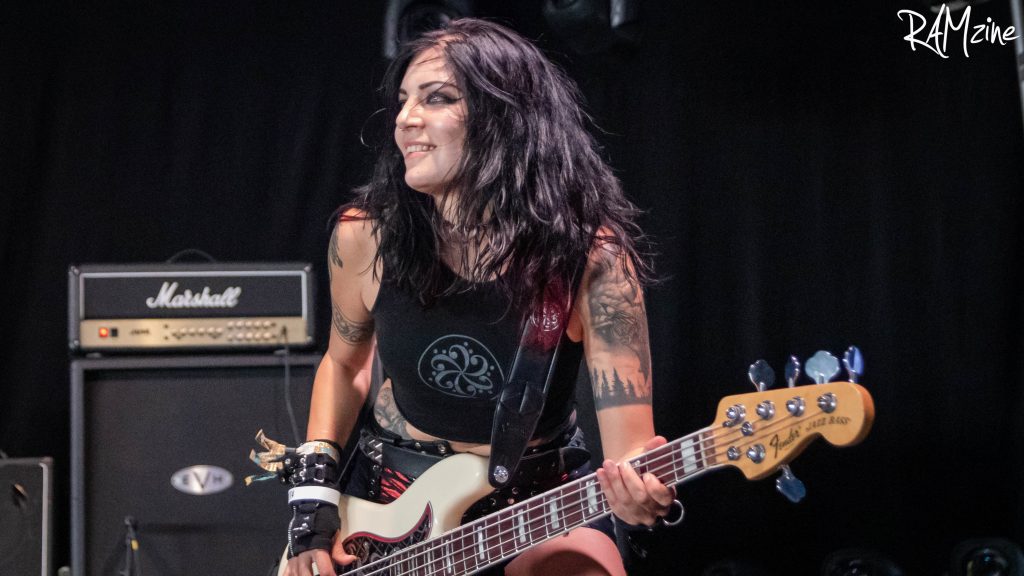 Today is like an all-you-can-eat of unsigned and undiscovered bands and it's an open buffet for the fans in attendance. The next name to sink our teeth into was Seething Akira who uses a lot of elements of electronic production and the metalcore style not dissimilar to Enter Shikari or Bring Me The Horizon would. Still a fantastic fit for Bloodstock and indeed the Sophie stage.
Another highlight of Thursday was rising power metal five-piece Battle Born who don't just attract a huge crowd but blow the top off the New Blood Stage. With a strong voice and great songs, this is a band that should be in the same conversation as Gloryhammer and DragonForce.
The penultimate band of this feast of heavy metal morsels is a band who you might not expect on this line-up, even from their name, Punk Rock Factory. Taking the place of Hacktivist, this Welsh collective has been going down a storm on YouTube over the pandemic and strangely this is their first-ever live gig. The premise of PRF is: take a fun song, make it into a punk-pop/ rock banger. And they delivered. Stand-out tracks are covers of the 'Fun House' theme, a cover of The Corrs' 'Breatheless' and of course the intro to 'Mighty Morphin' Power Rangers' which was almost a Preist track, to begin with! (if you know, you know). Makes you wonder, why not have more punk bands on the Bloodstock bill? This was a real treat. In this buffet of amazing bands – PRF was a sweet treat before the main meal that maybe you weren't expecting. The best word to sum it up is: wholesome. Especially compared to all this 'Jesus Is A C***' debauchery we seem to be promoting.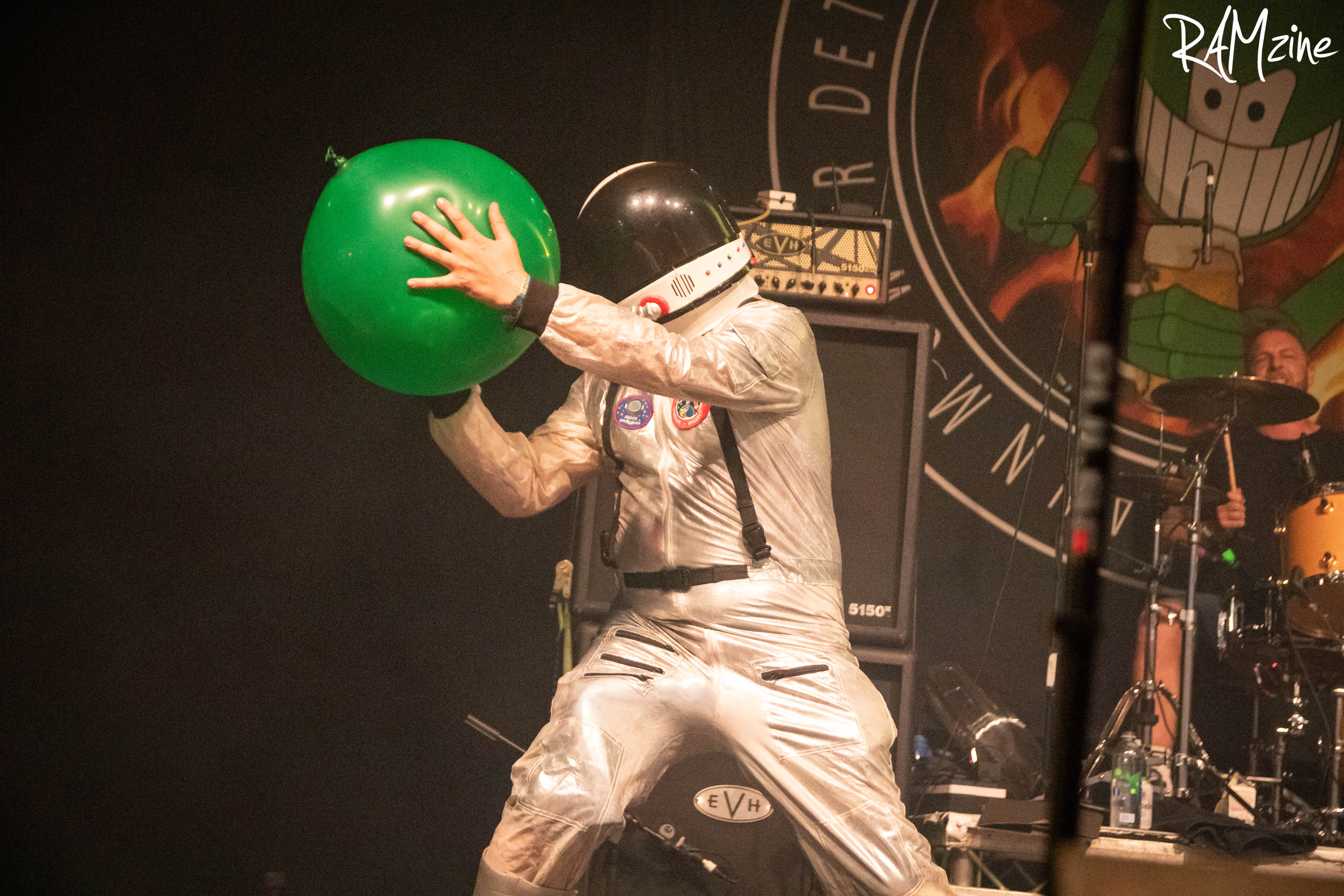 Now for some more belly laughs, in a different way though. Although the Thursday headliners are a replacement, they are Bloodstock veterans and British thrash metal legends Lawnmower Deth. Replacing Night Flight Orchestra, who have a huge buzz around them at the moment but I guess we can see them in 2022. Back to Lawnmower Deth … Again a huge turnout, maybe consider putting them on the main stage next time. For anyone who has seen this band: you know to expect great things and they go through all the set pieces that get the crowd warmed up for the further 3 days ahead. This includes retiring the 'Sheep Dip' shed sadly, maybe signs LMD are moving on or have new material up their sleeves? Over a great way to end the 'preamble' days of the festival.
Friday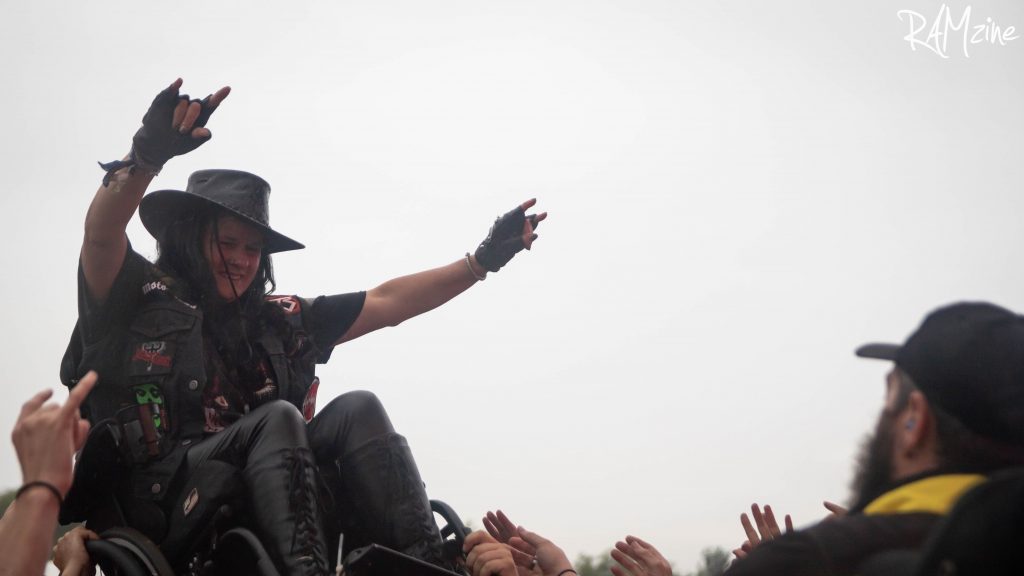 Technically the first 'proper' day or at least the first main stage day, and the first act some-up how everyone must be feeling at 10:45 am "Does anyone want any Foetal Juice for breakfast?" with that image in mind, the British mob delivers grind-y death metal which certainly wakes a lot of people up. Dirty, brutal, and hard – how metal should be, and the perfect opener for the Ronnie James Dio main stage in 2021. They sign off with a song that is "About kicking a chav in the head repeatedly" Okay, we'll move on.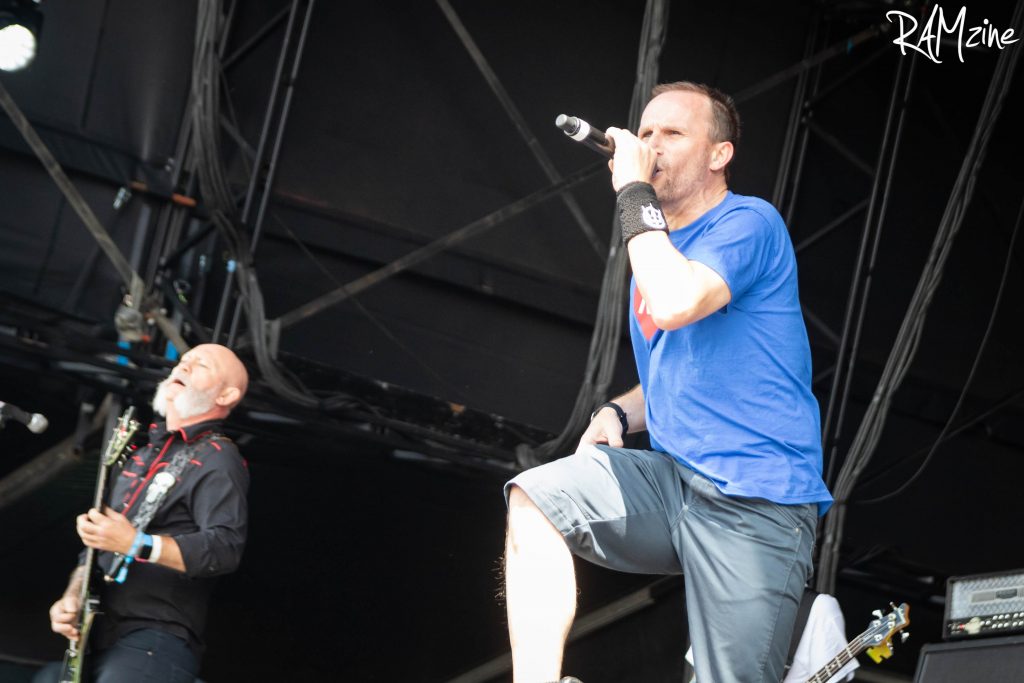 Following that is something a bit more polished and more traditional to some – Divine Chaos. Extremely professional and taking inspiration from classic rock and original metal bands. There's a reason they're on the main stage but thinking outside the box a bit more might push them up a little.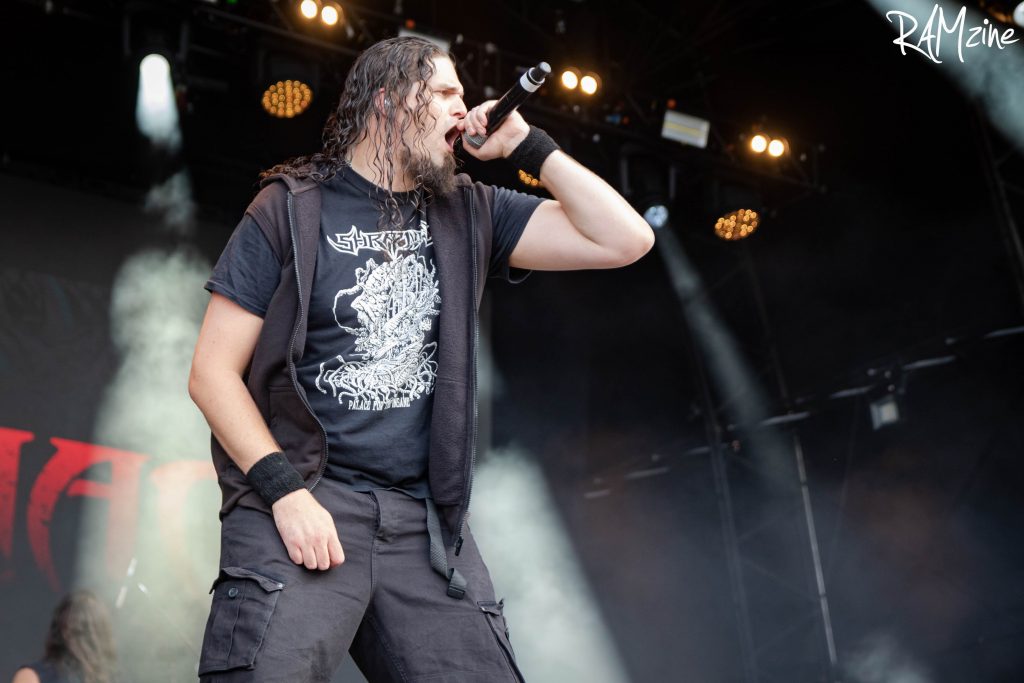 Acid Reign comes out to the Avengers theme music in the blistering hot sun. Huge upgrade to their spot last time we saw them, Acid Reign really 'suit' Bloodstock – British, huge following, new material released recently, good sense of humour. I could have described a lot of the bands on this year's line-up, which is a very good thing. Acid Reign has a few technical issues but H's banter serves as entertainment in the meantime. When they get going, they really get going. They still manage an 8 track set in their time finishing with old school tunes 'Goddess' and 'Motherly Love' which were released in the 80s but could have been released this year as metal is an evergreen genre.
Following is a replacement for Loathe, who replaced Lotus Eater, 2021 for ya. We ended up with Higher Power, a metalcore band from Leeds who may be swaying towards Download than Bloodstock but really a breathe of fresh air as I'm all for variety at The UK's leading independent metal festival *horns up*. Would recommend next time they play something like this and keeping an eye on them.
Venom Prison follows, after grabbing the attention of the press for their lyrical content, and rightly so – Venom Prison dares to bring that shit up in metal. About time. The strong vocal of Larissa is something many bands can dream of. The quintessential metal band of the 2020s so far.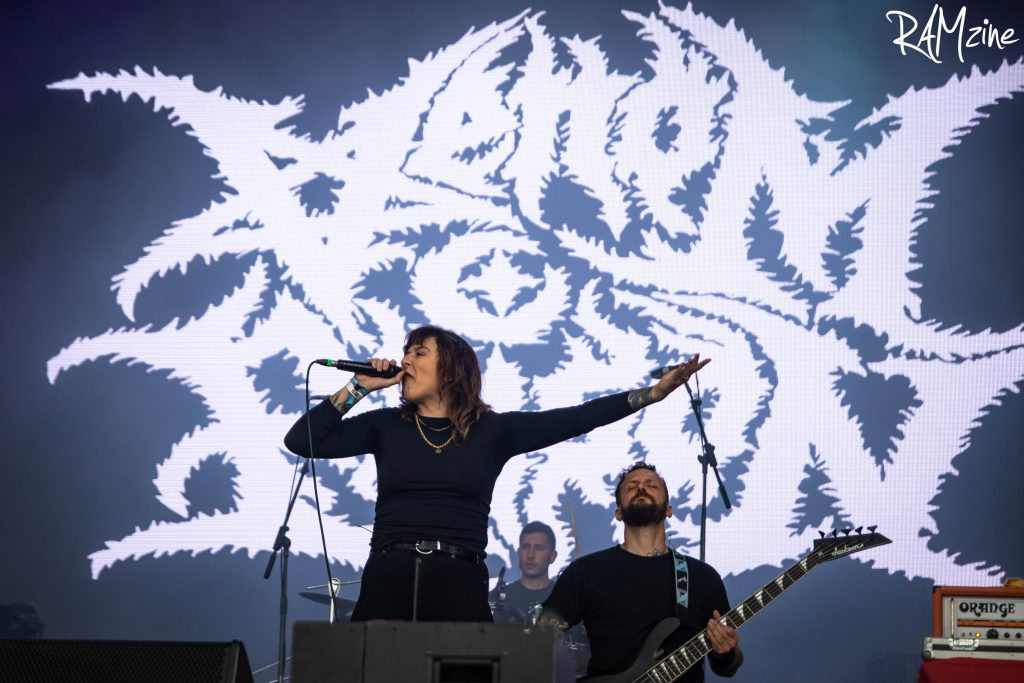 Shortly after, another gear shift with The Wildhearts. A band that has danced in different corners of the genre nightclub – hard rock, punk, metal, alternative, and so on. They know why they're here and so does the audience. Pure rock n roll entertainment. Ginger's Geordie charm bridges all the bangers together. 'I Wanna Go Were The People Go' is a highlight for sure.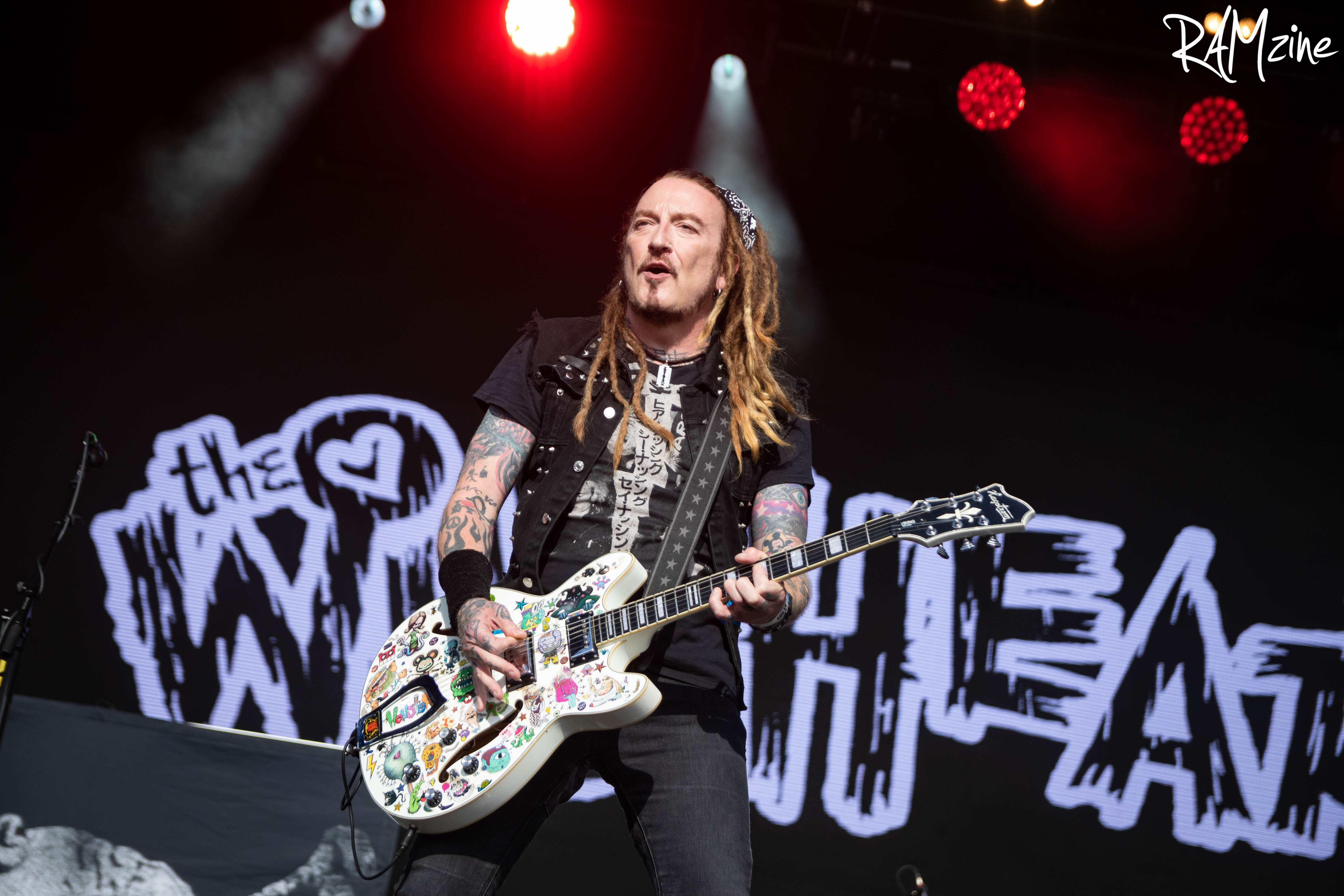 A bit of a break on the main stage gives us enough time to catch a little bit of Raging Speedhorn, who is a totally different band to the RSH who charted in the top 40 in 2001. As well as a tiny bit of Yorkshire thrash metal heroes Evile who, let's be honest, SHOULD be on the main stage giving their huge following.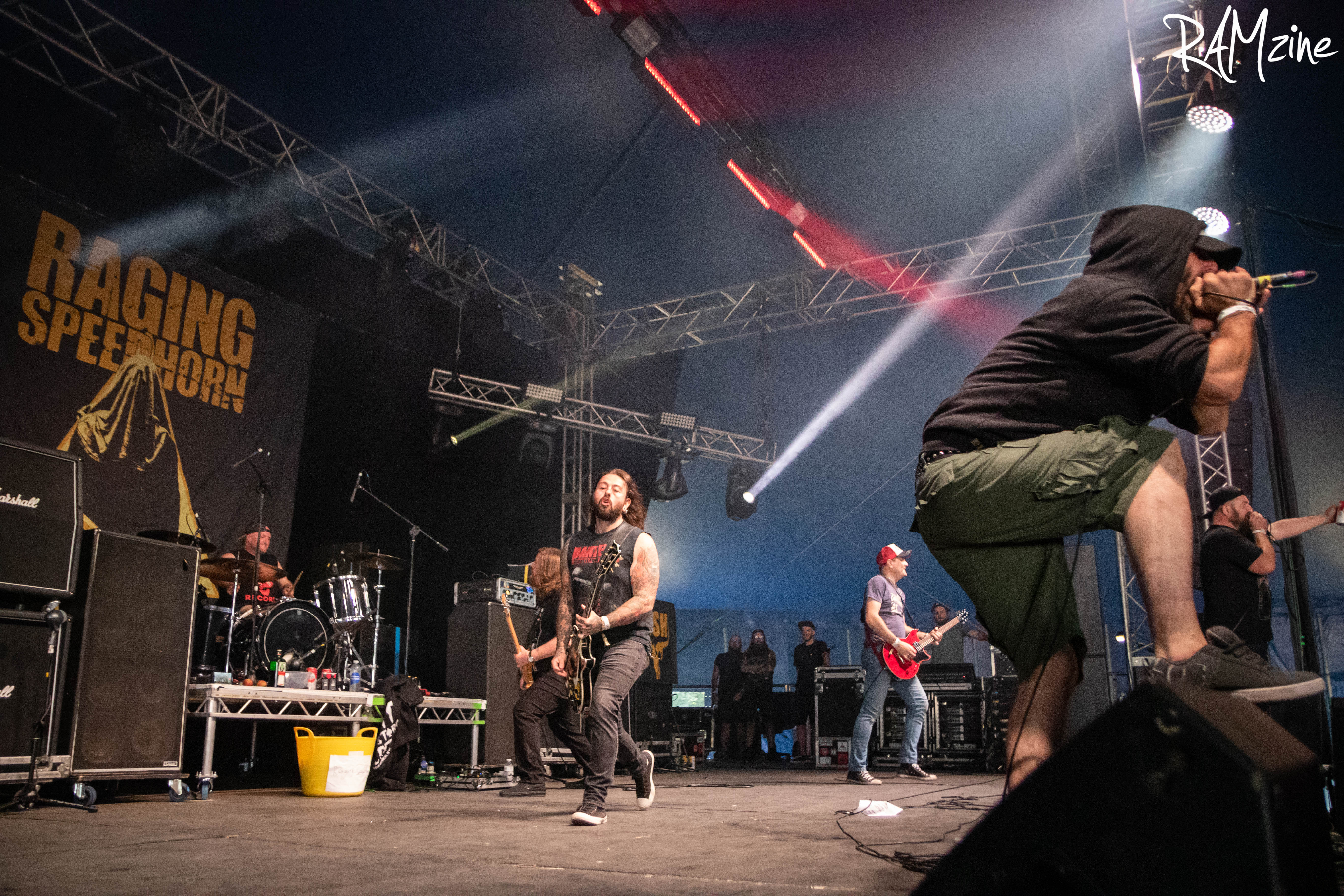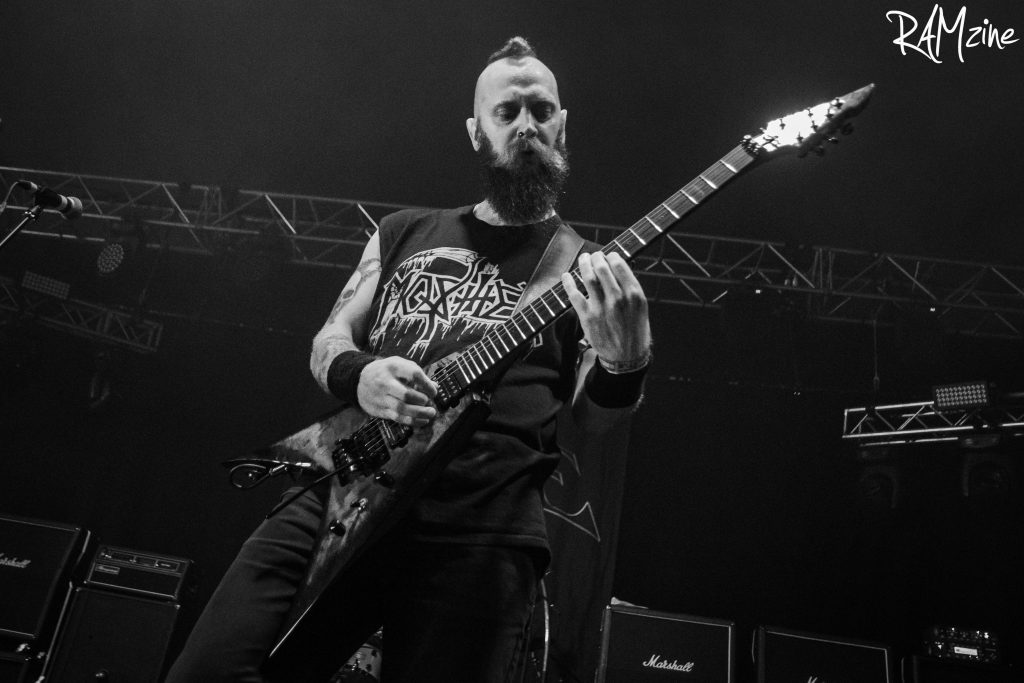 Back to the main stage for Skindred – a band that fit literally ANY festival bill, whether it be Bloodstock, Download, Boom Town, Glasto, Leeds/ Reading… The list goes on! This band is a pure entertainment machine, and a well-oiled one at that. They manage to play songs from their back catalogue going back to the early 2000s to their latest release in 2018. And they are all bangers and bring something else to the table: 'Rat Race', 'Pressure', 'That's My Jam' … that's only the beginning.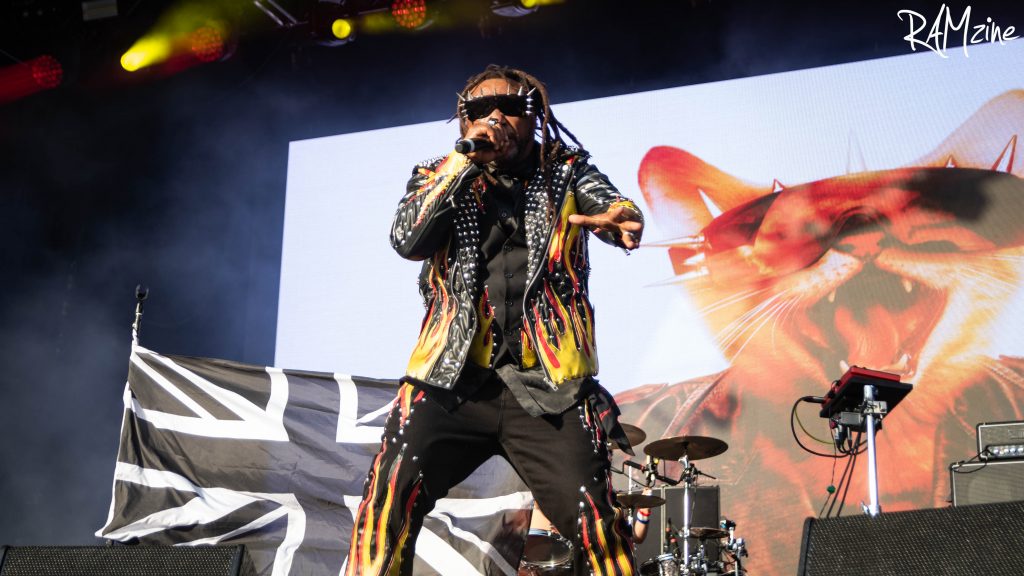 Of course, this is Skindred, so frontman Benji Webbe has to play with the crowd – doing all he can to get them in the mood to jump around. This included their tribute to both Eddie Van Halen and Joey Jordison (a dubstep remix of a Slipknot song?) and the usual banter. This climaxes with the almighty 'Warning' and if you've seen Skindred before you know this means one thing, The Newport Helicopter. All with the help of Tristan Thomas of Florence Black fame. Certainly the set of the day…so far…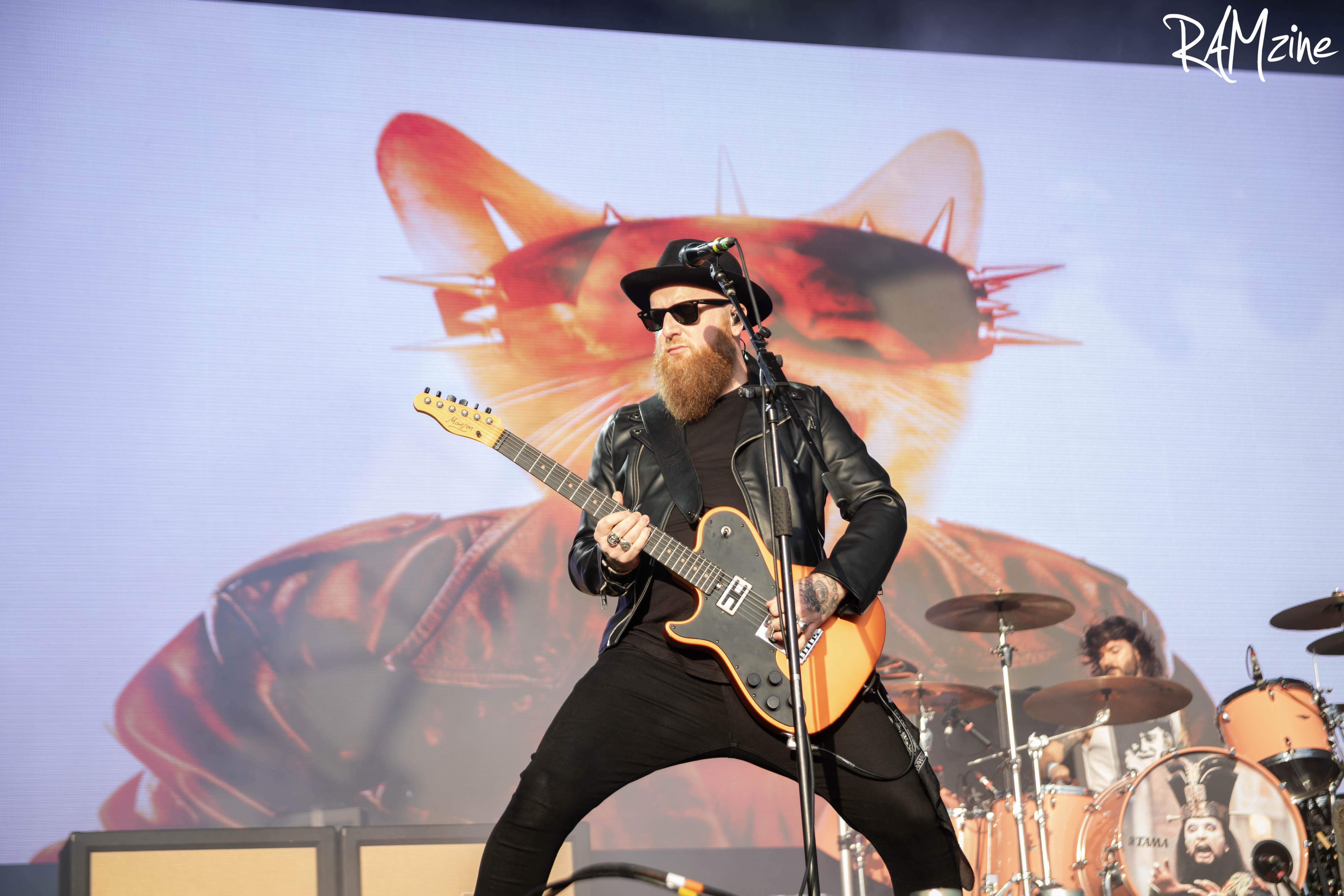 So yeah, you thought THAT was epic. You ain't seen the headliner, buddy. We are greeted by a VT of Ziltoid The Omniscient. As someone who isn't as passionate a fan as most of the audience who have paid full price just for our headliner Devin Townsend – I haven't seen this before and it's so good. More bands should do this.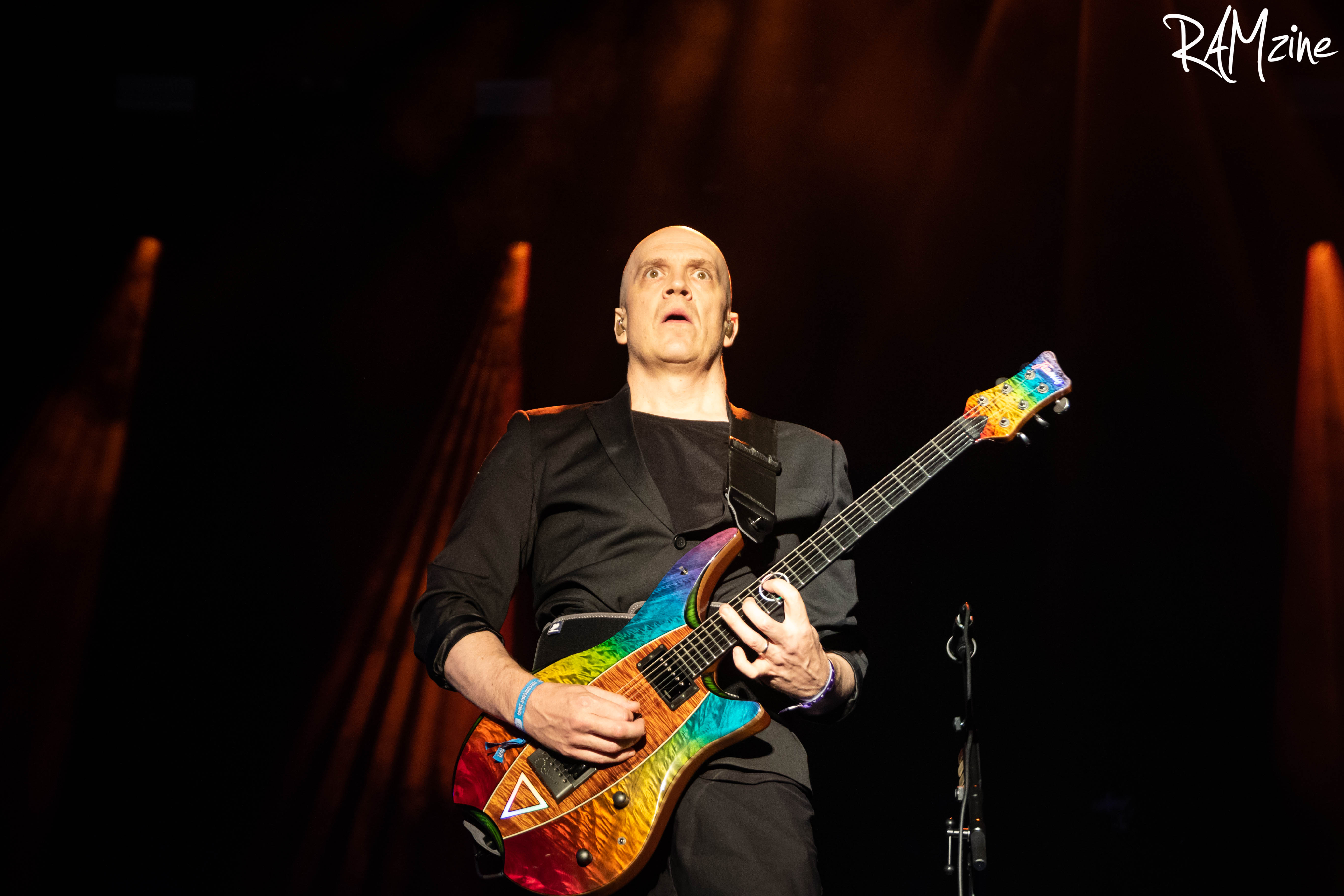 Before I go into the bulk of this performance I have to mention a few things: Devin flew into the UK to isolate 2 weeks before this gig, he wanted to do it THAT much, so it's worth us dedicating some time to him. In addition, Devin assembled an all British band and crew to make sure this could happen. Secondly, Devin also reported he had some severe back pain earlier in the week – so there were doubts he may not be able to do this. Luckily he did so it's still worth a lot of respect to him. Lastly, this entire set is 'By Request' spanning his whole career from Strapping Young Lad, Devin Townsend Project, The Devin Townsend Band, and everything in between. For a fan of 'Heavy Devy' this is a dream come true.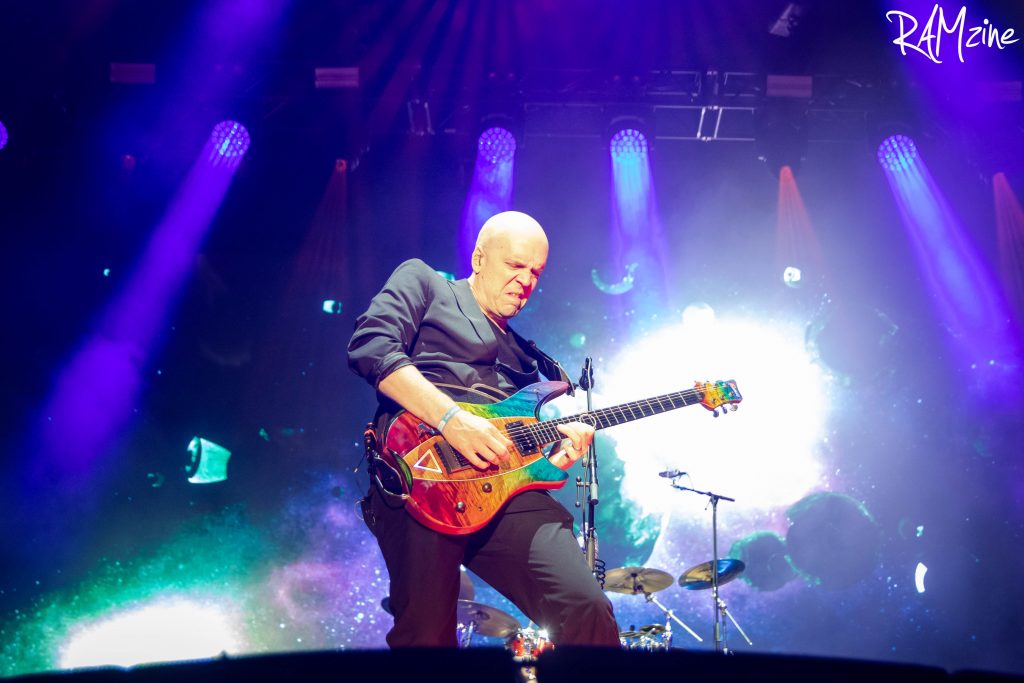 Devin starts the show by saying "If I fuck up, we're starting from the beginning. You have been forewarned!" I'm not sure if he's joking either, considering how professional he is. What's noticeable is the fact the audience is extremely respectful, mainly sitting in foldable chairs, chilling out. On stage, however, is technical, prog metal madness. This wins the most elaborate show of the week featuring men dressed as ball-sacks, huge beach balls, a choir made of fans, a bass-playing gorilla, and a giant plastic elephant walking across the stage. Doesn't do things by half this lad. Anyone who hasn't listened to Townsend's music before – it's not easy to describe but there's a huge influence of Rush, a bit of Sabbath, a lot of sci-fi silliness, and in the end – he has his own sound. highlight tracks include 'March Of The Poozers', 'Regulator', and 'Deadhead' to name a few. Shame there were issues with 'Stormbending' but the show was so good, I don't think many people were that concerned.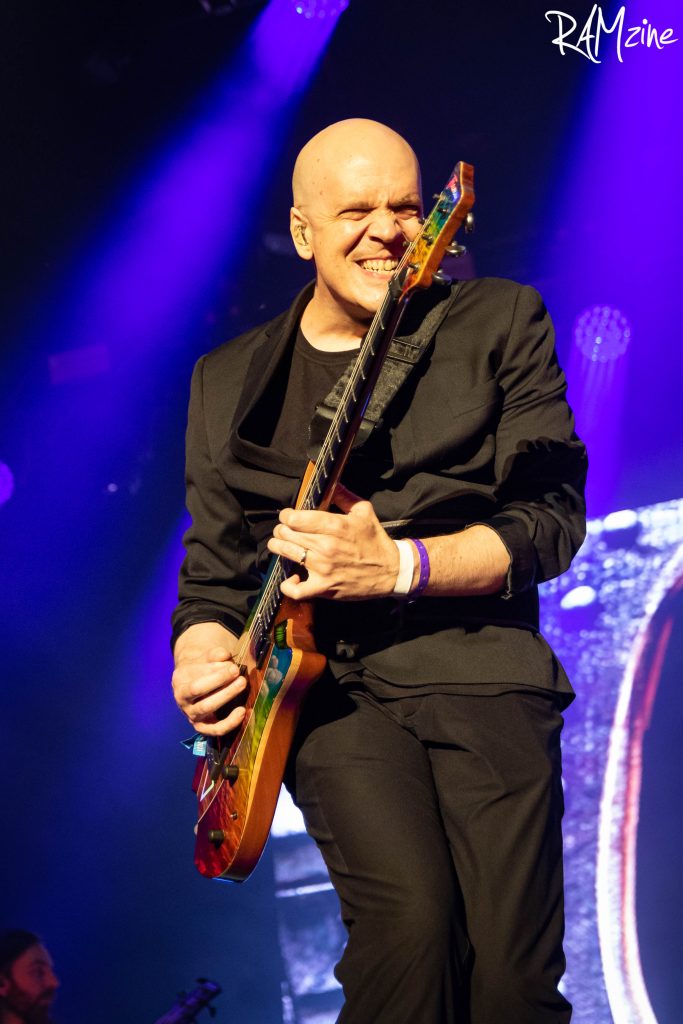 Possibly the best way to welcome back Bloodstock post-pandemic, literally no complaints about Devin at all. The only issue I'd say would be he isn't as well known as, for instance, Judas Priest but it doesn't matter. Festivals like Bloodstock are all about broadening your horizons and tastes, I am now a Heavy Devy fan. I'm sure anyone who wasn't 100% on his music now is too. Tonight's not over though, we still have some business to attend to on the Sophie Lancaster Stage.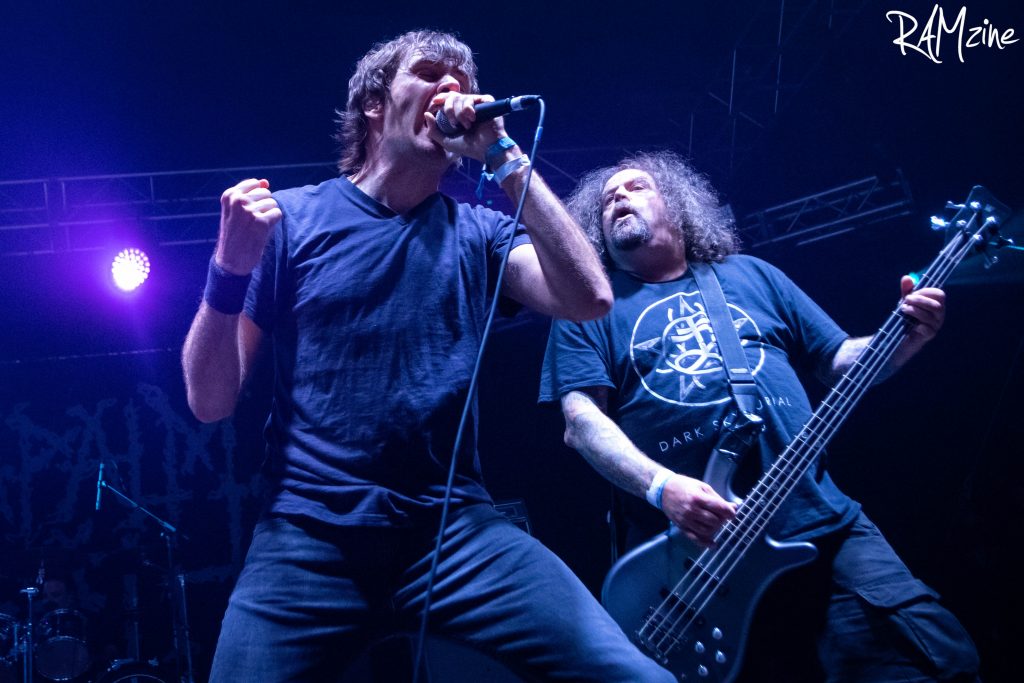 All I need to say is Napalm Death. 22:50. Bloodstock. This is metal in its purest form. The audience is red-eyed and full of drink and whatever else. Barney Greenway even gives his thoughts on the current asylum seeker situation. These guys are proper originals. Proper legends. Brining guttural singing to the masses, proud holders of the record for the shortest music video of all time (yes that still stands). With an hour slot – this is more than enough time for Napalm Death. A few live-performance debuts ('Fuck The Factoid', 'Backlash Just Because') plus old favourites. ('Scum', 'You Suffer') make this the quintessential final act on Friday, the 20th anniversary of Bloodstock. the most metal festival in the UK. Let's hope tomorrow is just as heavy.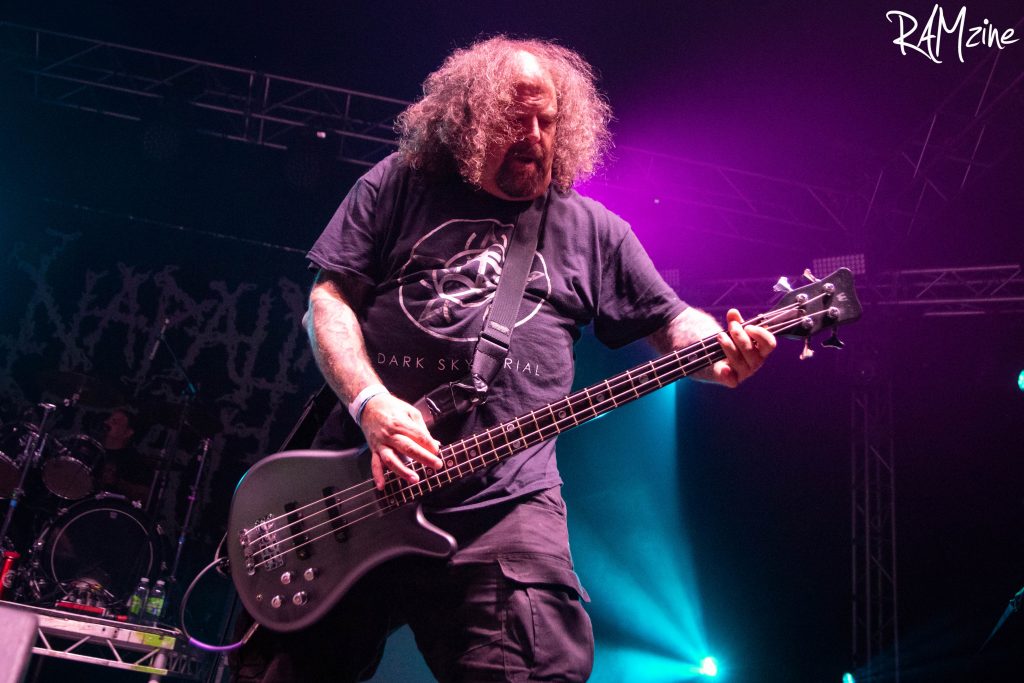 Saturday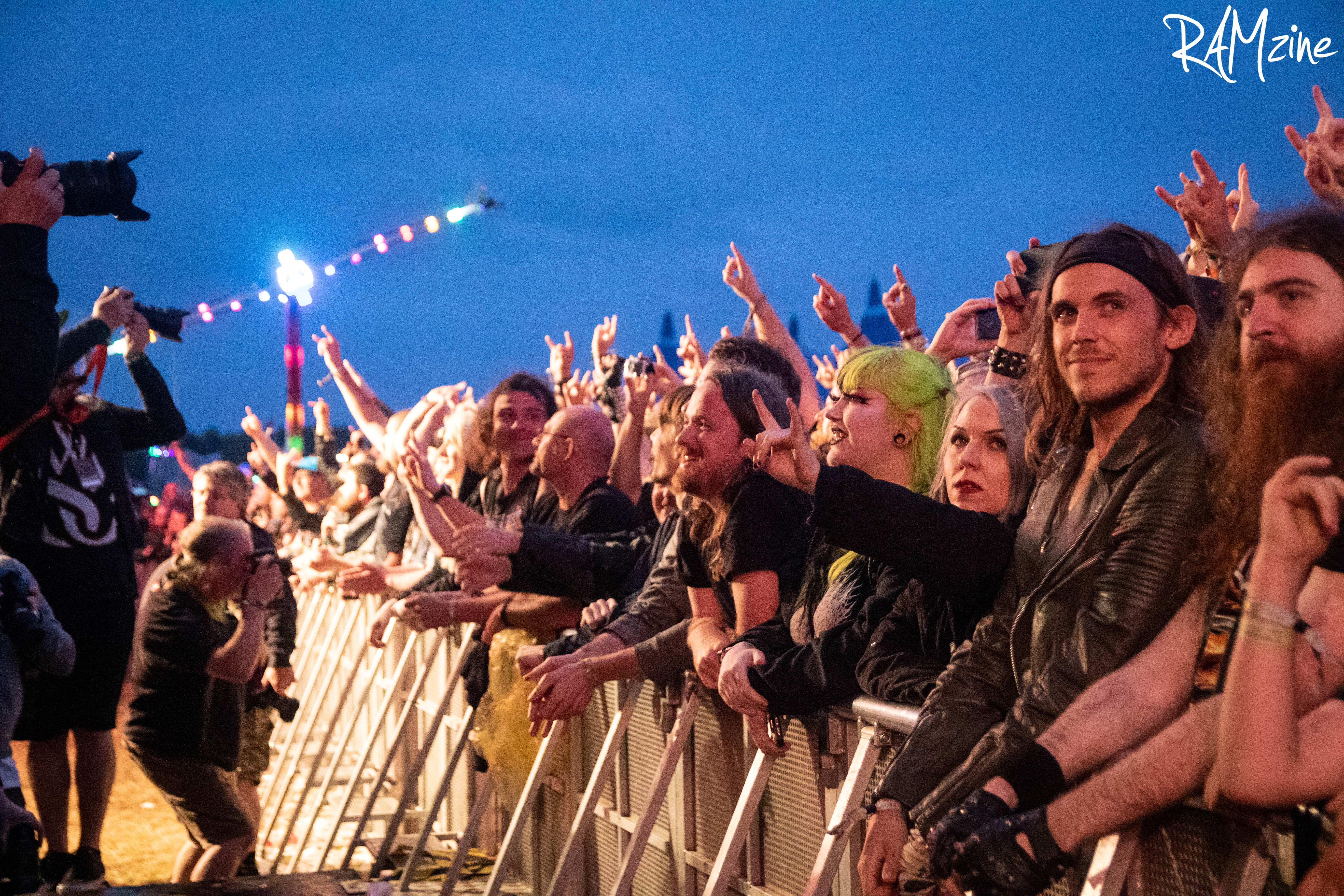 We start Saturday how we ended Friday, at the Sophie stage, with something brutal. Video Nasties. An apt name as they are visceral and raw, with a few John Carpenter-style synths. Their vocalist tries his best Freddie Mercury act with a few 'Wayyyyohhhhh' outbursts. Great way to start Saturday.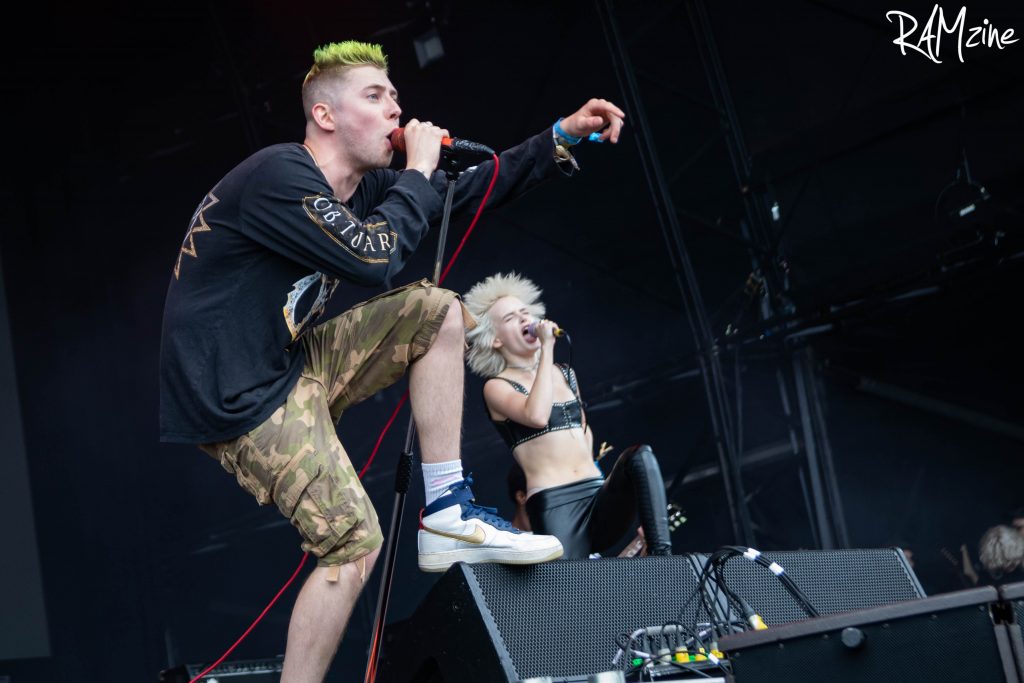 Shuffle over to the main stage for a band that has quite the buzz around them. Might be worth pointing out that some of the bands have been moved about today. Bare with. So now we have Wargasm, a double-fronted punk/metal/alternative outfit. These guys are young, they are dressed in someone's Depop account and something about them says this is the future of heavy music. Taking a lot from The Prodigy, Bring Me The Horizon, and a tinge of Shakari – this is something totally fresh. A shorter set but they squeeze in six tracks including a cover of NERD's 'Lapdance' and stand-out tracks 'Pyro Pyro' and 'Selma Hayak'. I don't like to jinx band's careers with cliches, but keep an eye on these.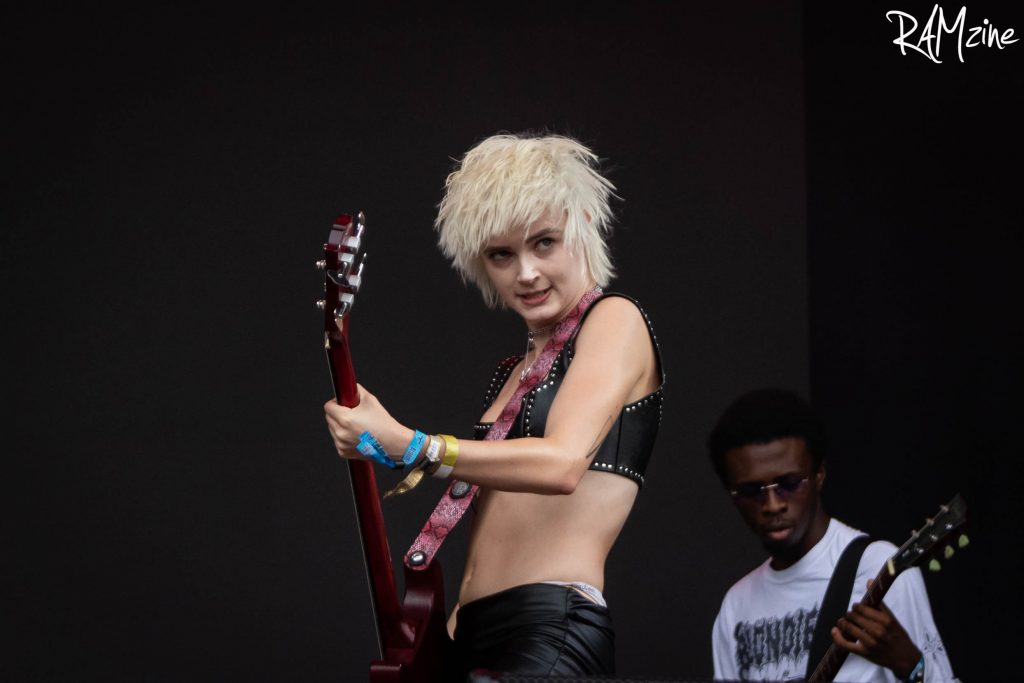 Malevolence follows, which doesn't just keep this crowd but adds to it. Again a great young band that could be the future of this festival and culture. Actively encouraging crowd surfers, and getting them.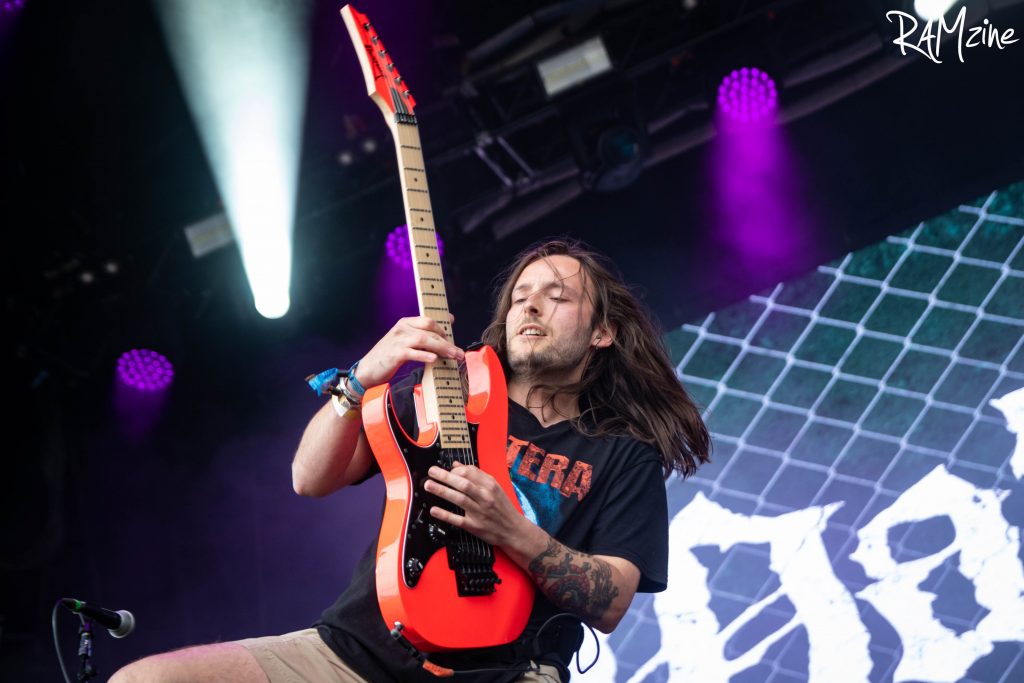 This is shaping up to be a pretty unique day for Bloodstock, dare I say more similar to a day at Download. Not that it's a bad thing. Variety is the spicey rice as they say…don't they? Anyway, the next band on the main stage is While She Sleeps. A band who had more of a reputation on the emo and metalcore scene but have surely cemented themselves in the metal community. A bit like BMTH, Parkway Drive, or even Trivium. Again not as long set but garners a huge crowd, so much it would be rude NOT to crowd surf, right? Frontman Loz Taylor takes advantage of this by surfing all the way to the tower, has a little sit-down, and surf back. It doesn't hinder the atmosphere at all. It kind of makes you wish more bands got amongst it sometimes. Another future headliner?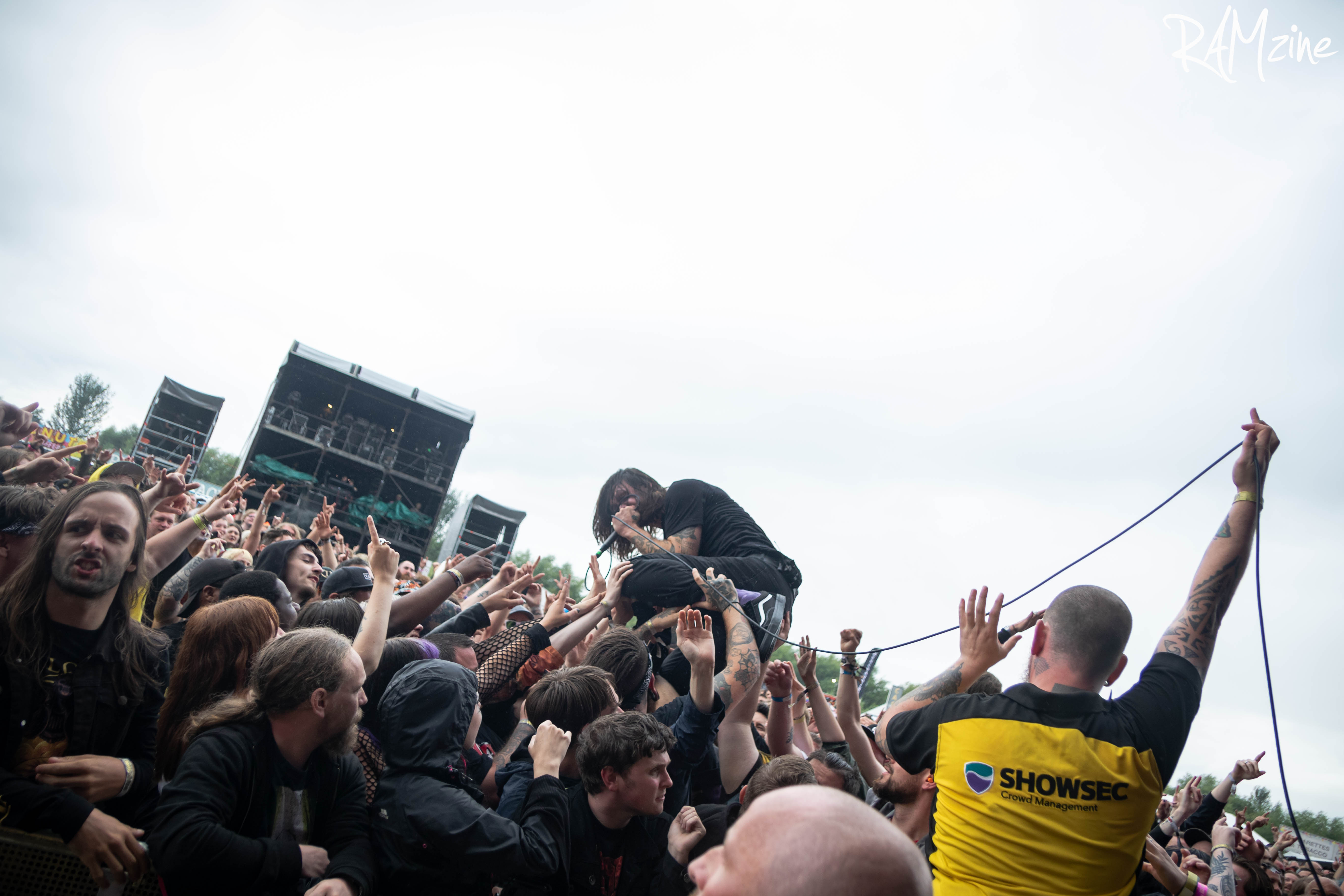 Back to business with Paradise Lost who are celebrating 20 (or more like 21) years of their classic album Draconian Times so this set is mainly tracks from that record, including 7 tunes they haven't played for about a decade. Reminds you how good these goth metal icons are. Only thing is, they are a bit too happy to be goths. In between songs anyway. Otherwise, this sounds as fresh now as it did in 1995. You can see where a lot of modern bands get their gothic sensibilities from.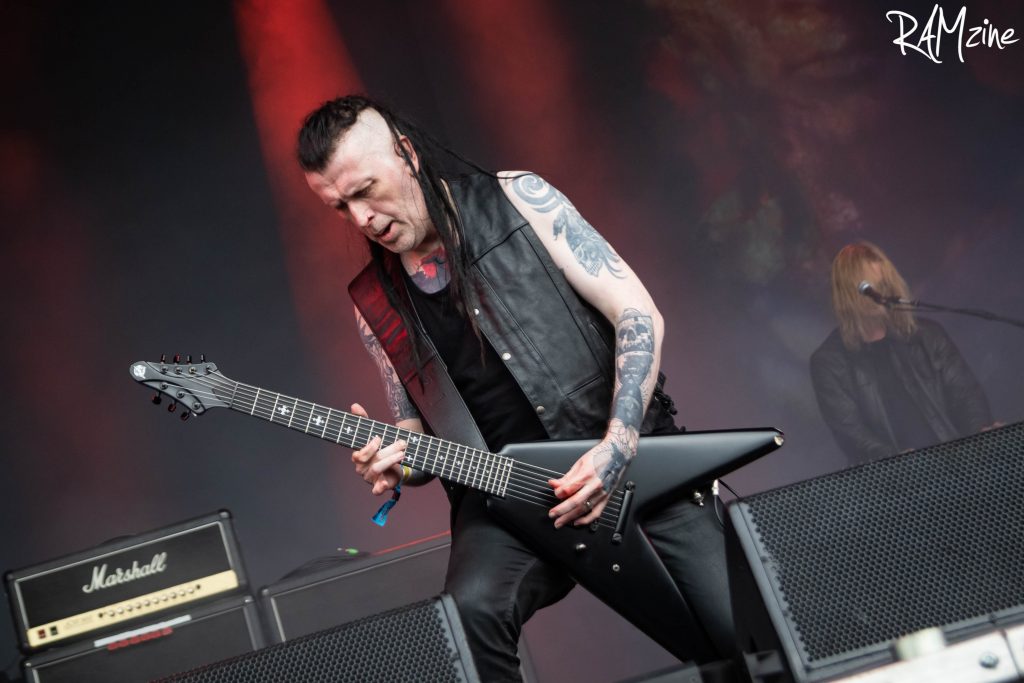 From one dark extreme to another, Winterfylleth plays the Sophie stage, again a decent set, attracting many, but seems slightly lacklustre compared to what else we've seen.
Jog back to Dio main stage for some more 'proper goff music' this time in the shape of the ever-popular Cradle Of Filth. Almost the headline slot but, to some, they may as well be at the number of people here to see them. With a new album entitled Existence Is Futile coming in October, and a lot of media attention as Ed Sheeran said he was a fan, there's a lot of buzz around COF this weekend. Starting old school with 'Cthulu Dawn' and 'Nemisis' this set has a lot of theatrics and everything we paid to see from the Suffolk goth metal fusionists. Hats off to whoever designed Dani Filth's outfit. Not wasting any time before showcasing the new material, such as the new track 'Crawling King Chaos', which sees its live premiere. This is also the debut gig with their new keyboard player and vocalist Anabelle, she fits in brilliantly with the rest of the band who have seen a lot in the COF back catalogue. It is also safe to say every one of these tracks is a classic to someone in the crowd. Bares repeating they could headline this festival, no issue. Set of the day contender in an already stacked list.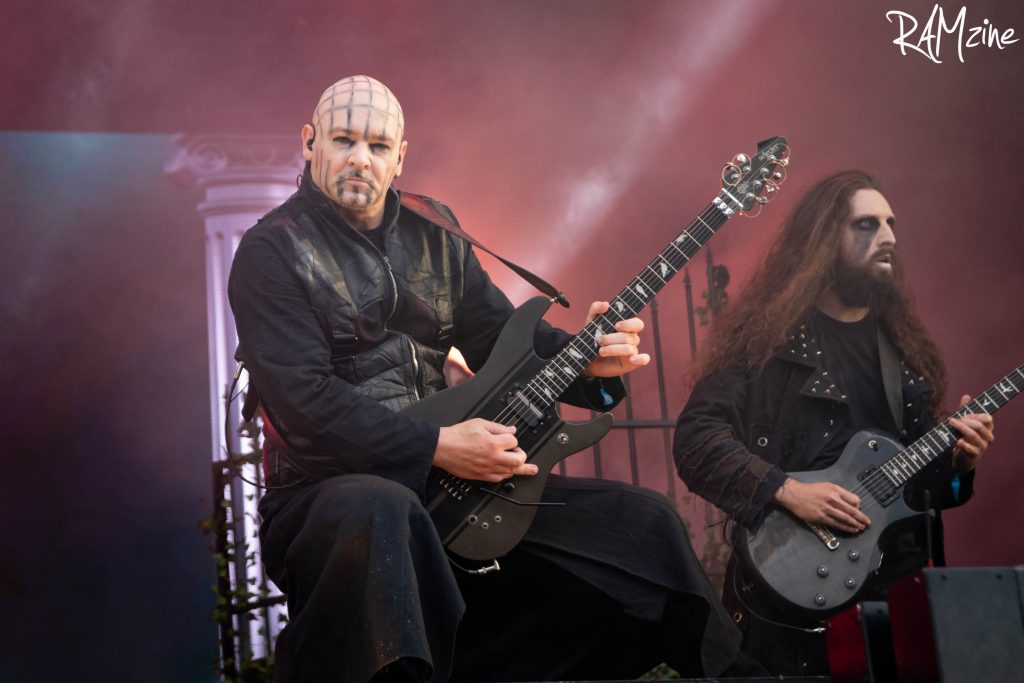 What follows is the second main-stage headliner of the weekend. German thrash legends Kreator. Although it's not a million miles away, it's commendable that they could even get here to play the show. This is a headline set for sure, keeps everyone happy but it feels this may be just another date on their tour of European festivals. What makes this unique is a version of 'Betrayer' with Dani Filth, he gets a great reaction and I feel COF could have, and maybe should have headlined. A great set but a little 'play by numbers'.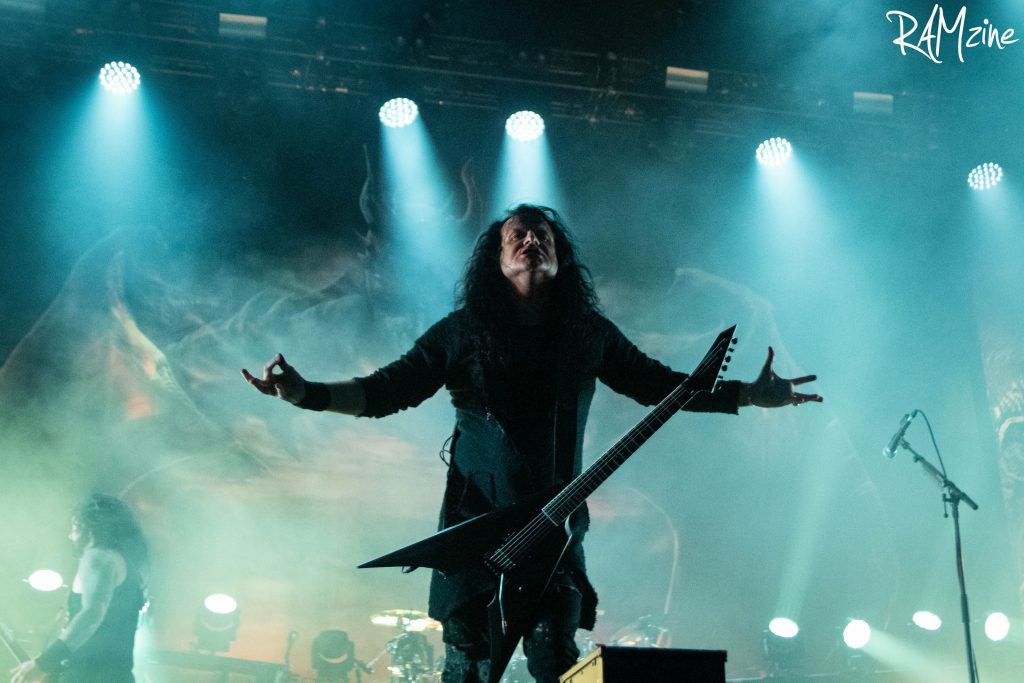 Yet again, the night isn't quite over yet. The Sophie stage sees Bloodstock veterans Phil Campbell and The Bastard Sons. This is the closest we can get to still seeing Motorhead, and thankfully the setlist is packed with Lemmy-penned classics with a few original tracks thrown in and a treat of 'Silver Machine' originally by Hawkwind. Despite the number of covers, this feels a lot more sincere than the main stage headliner. As negative as that sounds, this seems to be the consensus. Here's to our last day on-site!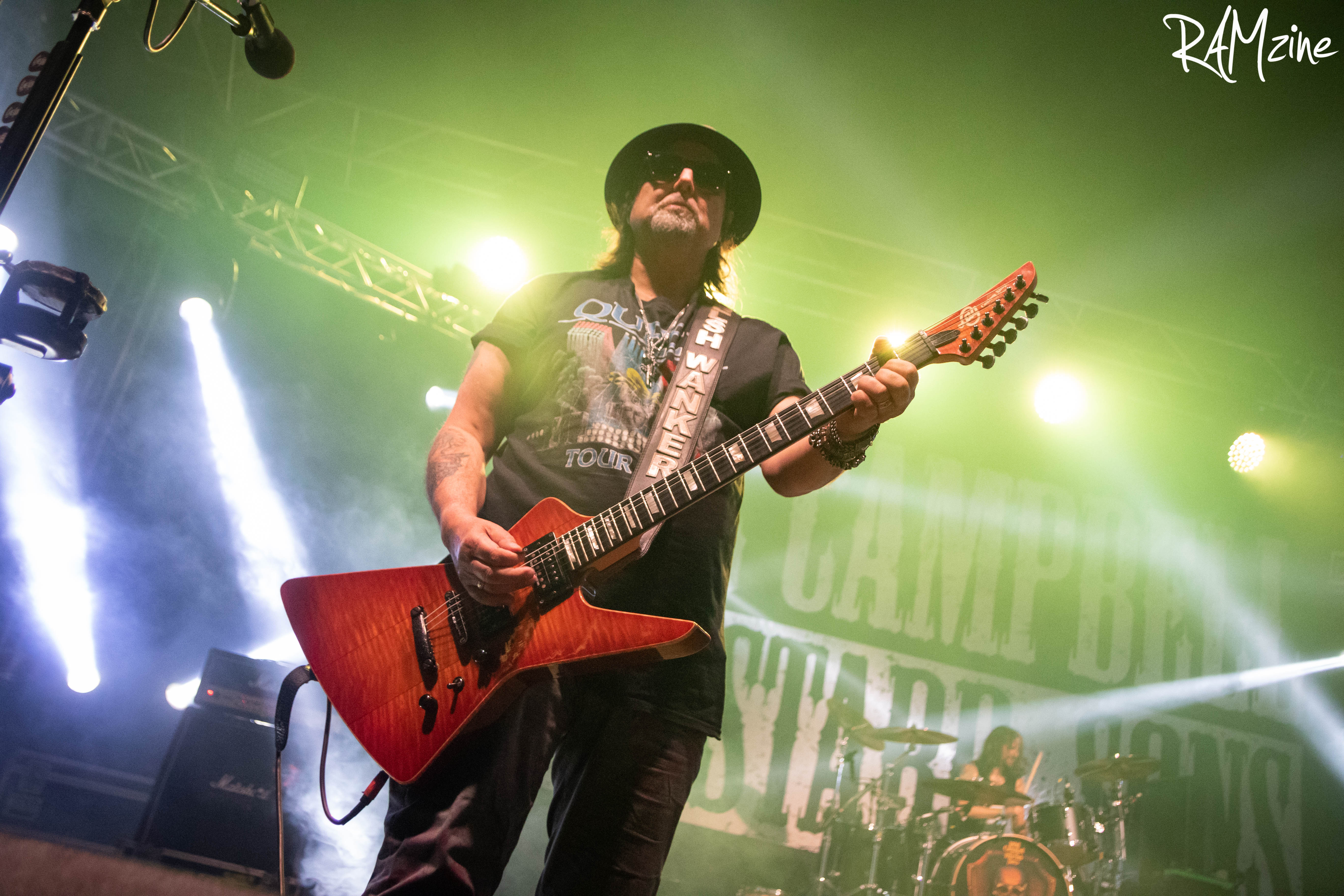 Sunday
Last day, and it's been a long 5 days but at the same time – it's gone quick after a two-year wait.
Bright and early, 10:45 am in fact, we get the winners of the award for the most original set at Bloodstock ever… Viking folk trio Seidrblot. An extremely mysterious band that a curious few gather to witness. Some incredible musicianship, and innovative ways of making music. Chopping a branch as percussion. It's genius when you think about it. The throat singing is also something you need to hear to understand its beauty. All accompanied by some stunning fire dancing. If you can catch them at a festival or their own gig, give it a try.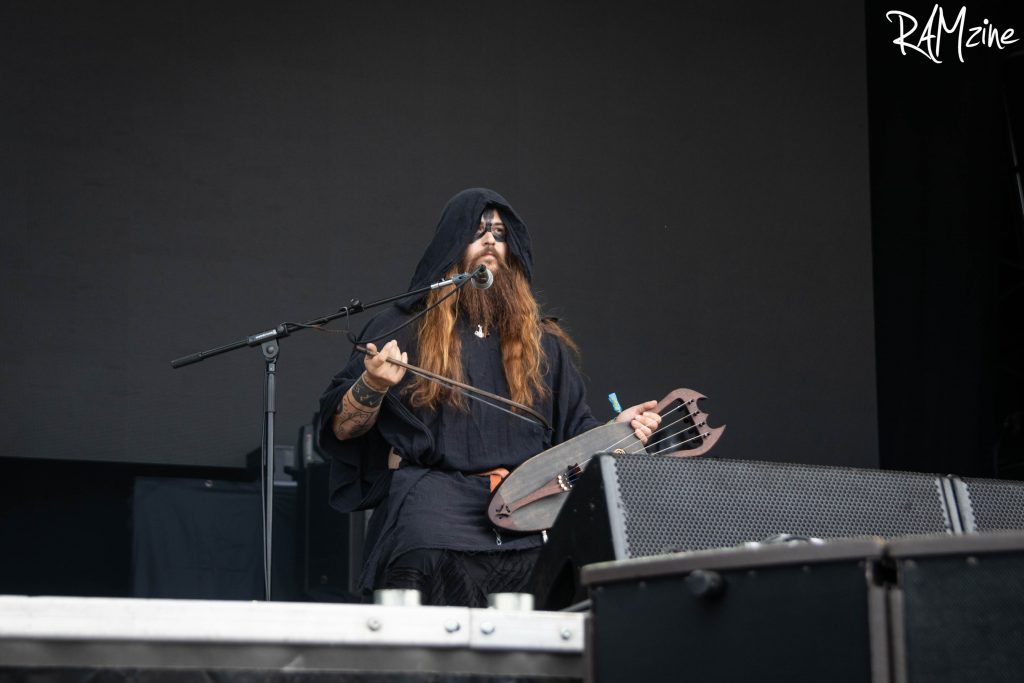 Although this is the last day of the festival, it really feels like the busiest day. Keeping in mind there are still a few changes in place. Cracking on, technical extreme metal icons Bloodshot Dawn follows. This performance is straight to the point, no messing, and above everything – fairly brief.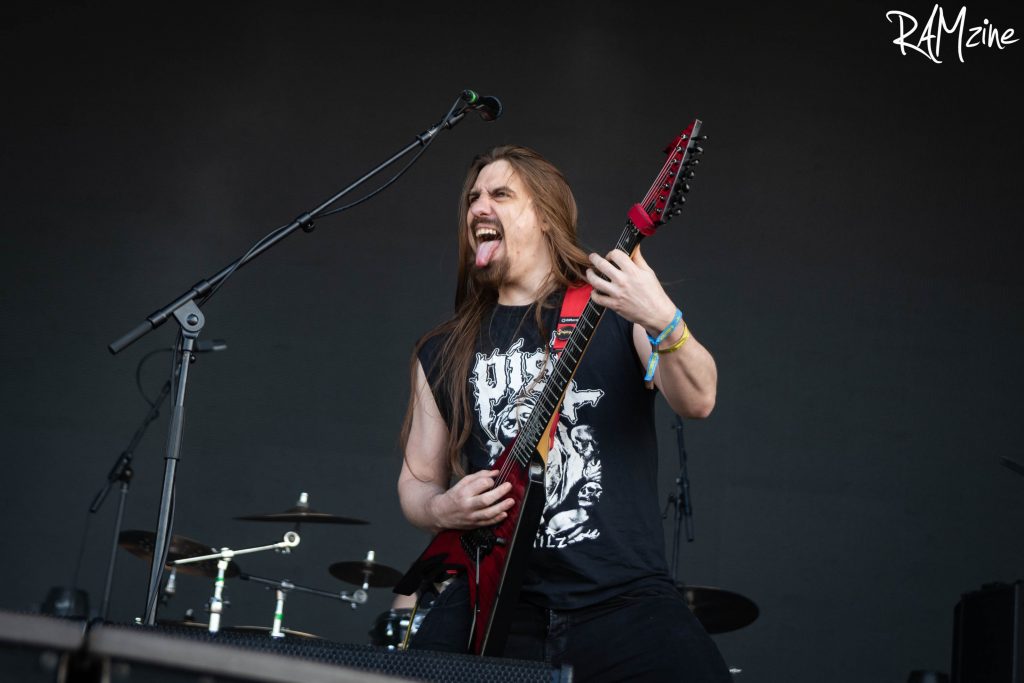 Up next are metal pioneers Diamond Head who aren't just playing tracks from Coffin Train but also the 40th-anniversary version of Lightning For Nations. What we get is a formidable 'best of' set. Only seven tracks but they definitely lay down the gauntlet for today's tightest setlist. As you may have guessed, they end with 'Am I Evil'. I was hoping they would perform their cover of 'No Remorse' as a kind of nod to Metallica. Sadly, to no avail. Their current singer Rasmus Born Anderson sounds amazing and Brian Tatler on the axe has never lost it, so this is how it's done, lads and lasses.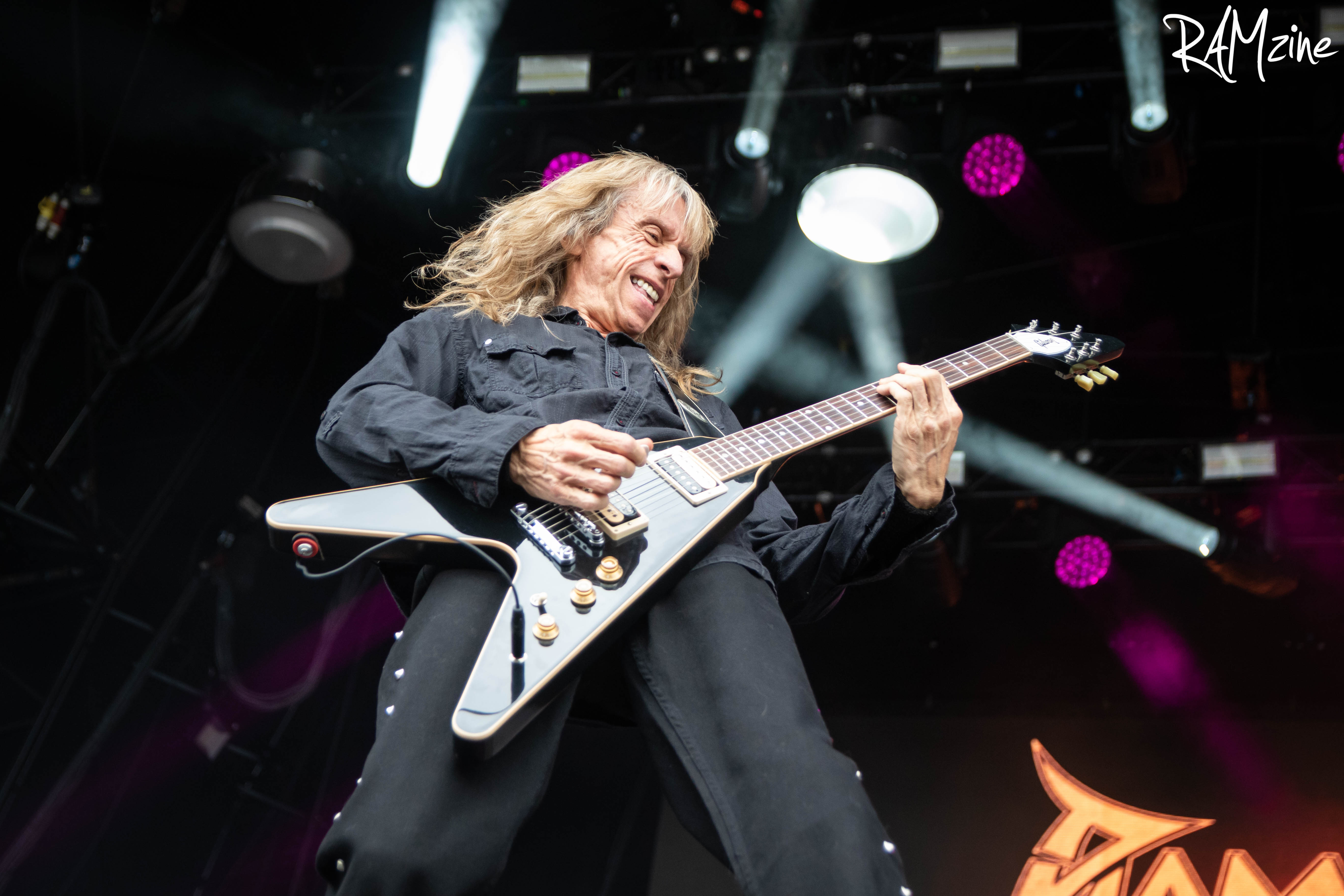 Glasgow metalheads Bleed From Within coming recommended from basically ANYONE who you talk to this weekend so let's see if they live up to the hype. Guess what? They really do. Brutal but epic. Yet again a very tight but exciting set. More of this, please.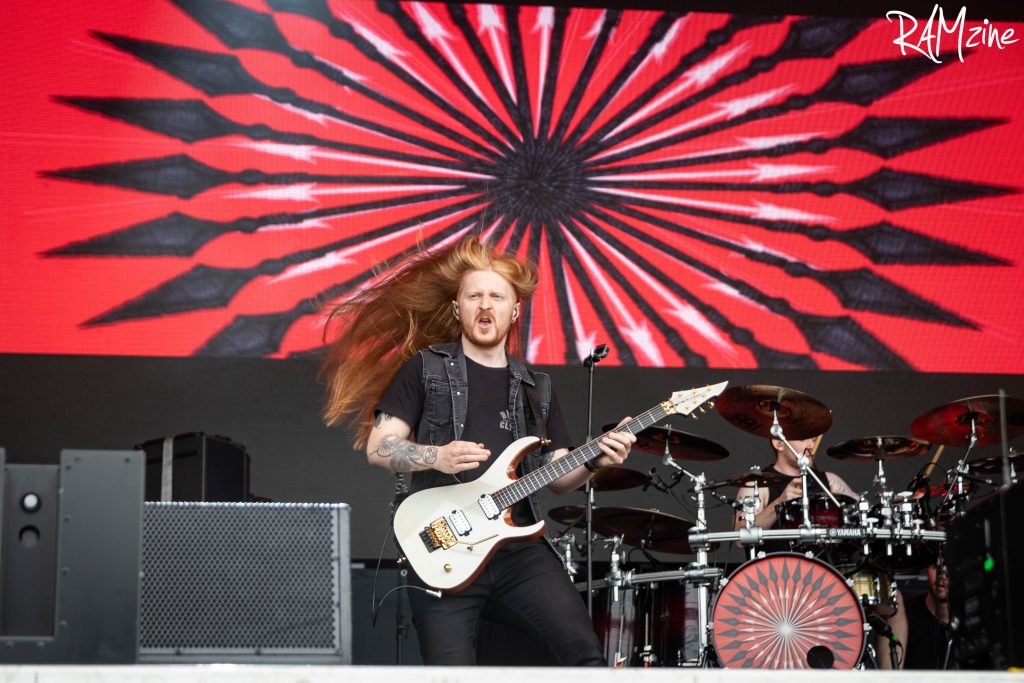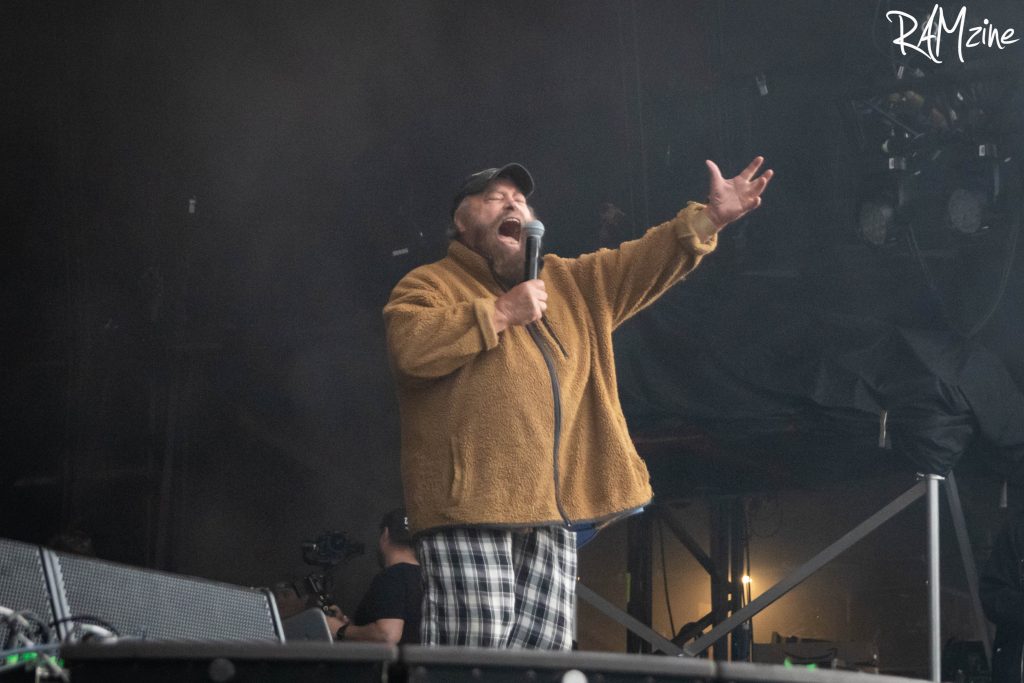 Finally the performance we've been waiting for. A British institute. A Yorkshire legend. Mr. BB himself … Brian Blessed. He graces us with his presence to give some words of wisdom and recite a bit of Shakespeare. Oh yeah, and to introduce Saxon.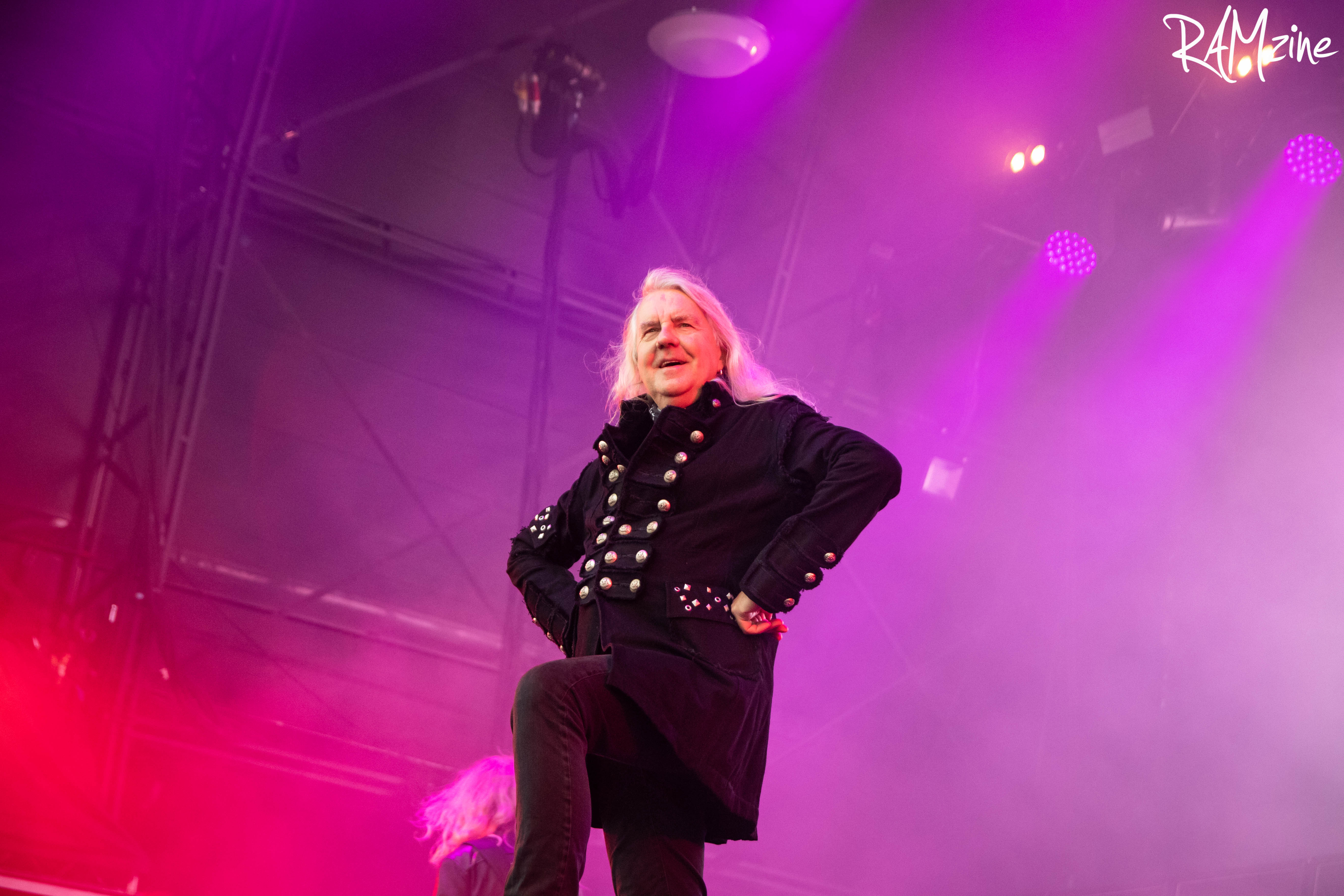 As the heavens open, the penultimate main stage band Saxon is introduced by a short retrospective of their hey-day supporting Motorhead, playing venues around the world, and the first Monsters Of Rock Festival in 1980. Making Saxon the band who can boast playing the first Monsters of Rock, first Wacken, and most importantly – the first Bloodstock. This is a pretty hyped gig as Biff and the boys have been busy the past two or so years. Living up to the buildup, Saxon's set is filled with hits and we get the bangers like 'Wheels of Steel' and 'Denim and Leather' early on. The crowd loves it, and we are fully warmed up for the festival headliner. Saxon are legends in the British metal scene, they put on a good show. Having said that the audience seems to be a certain generation, generally unlike a lot of bands with legacy this weekend. Not really a criticism, more an observation.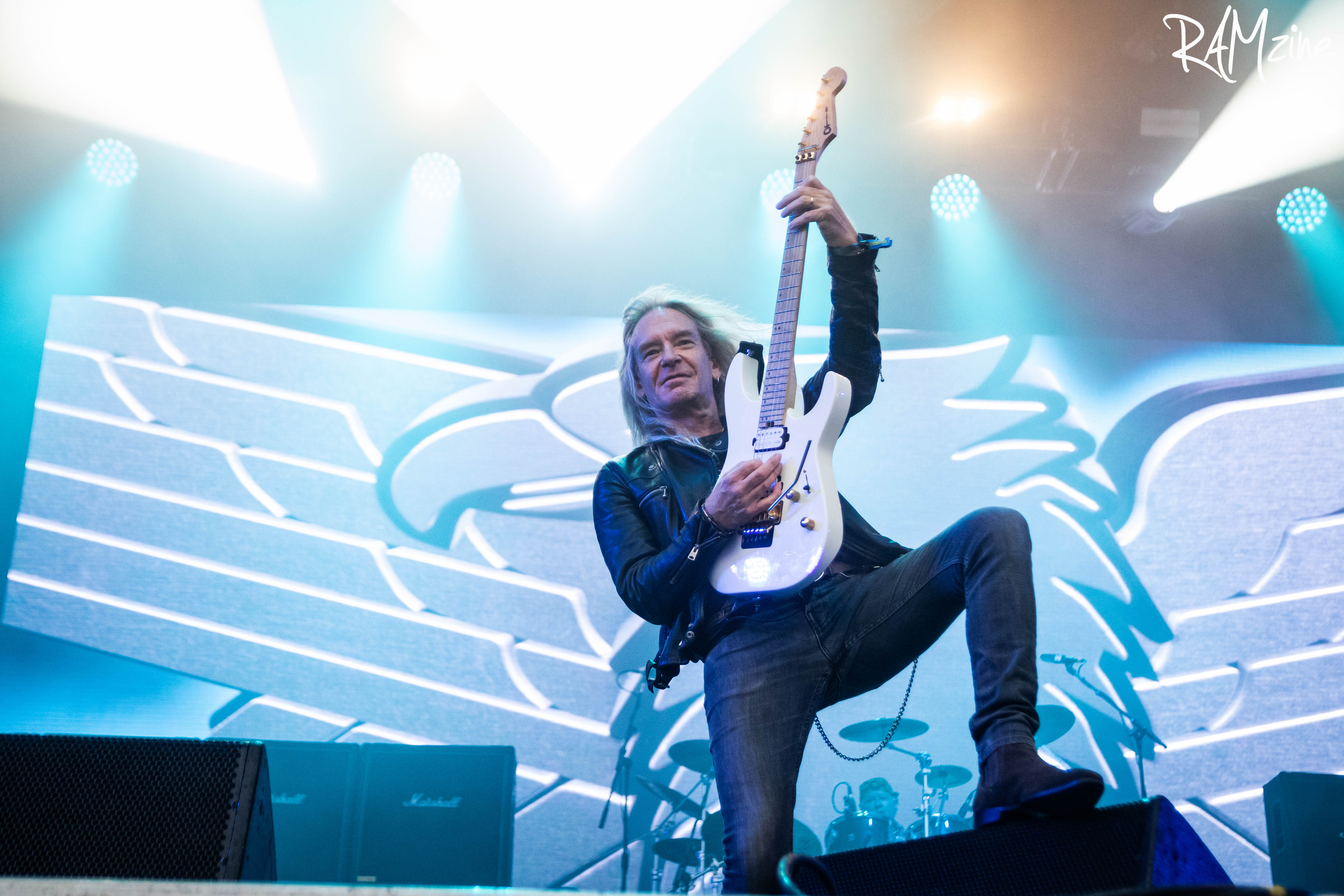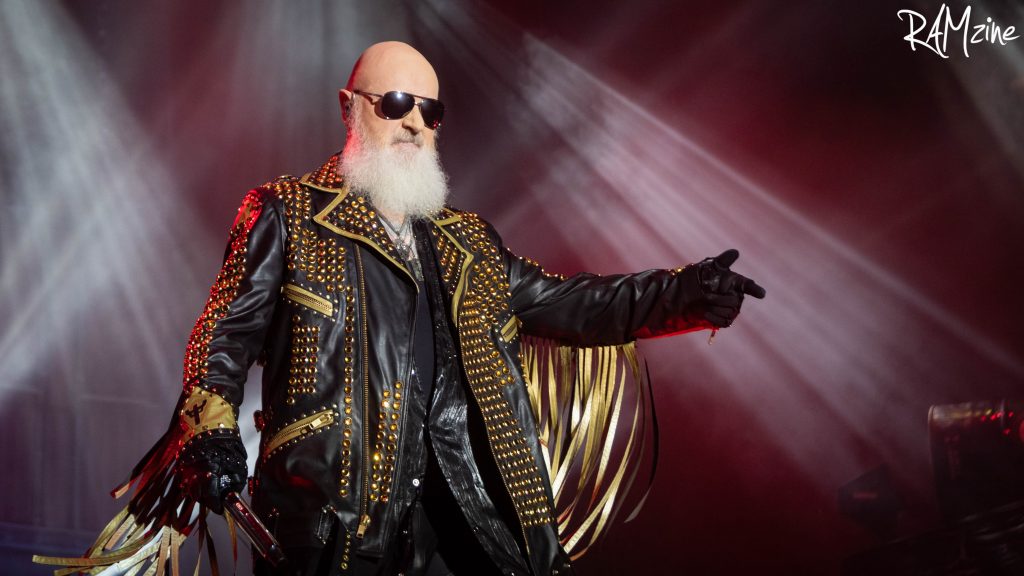 Time for the world's most obvious pun 'It's only right to see Priest on Sunday'. Sorry. Had to get that in somewhere. More to the point, time for the festival headliner. This show has had a lot of planning and prestige invested in it. Only right Judas Priest has now been given two hours for this set. Starting off strong 'War Pigs' (Sabbath version naturally) is blasted across the festival site before walking out to the 'Battle Hymn'.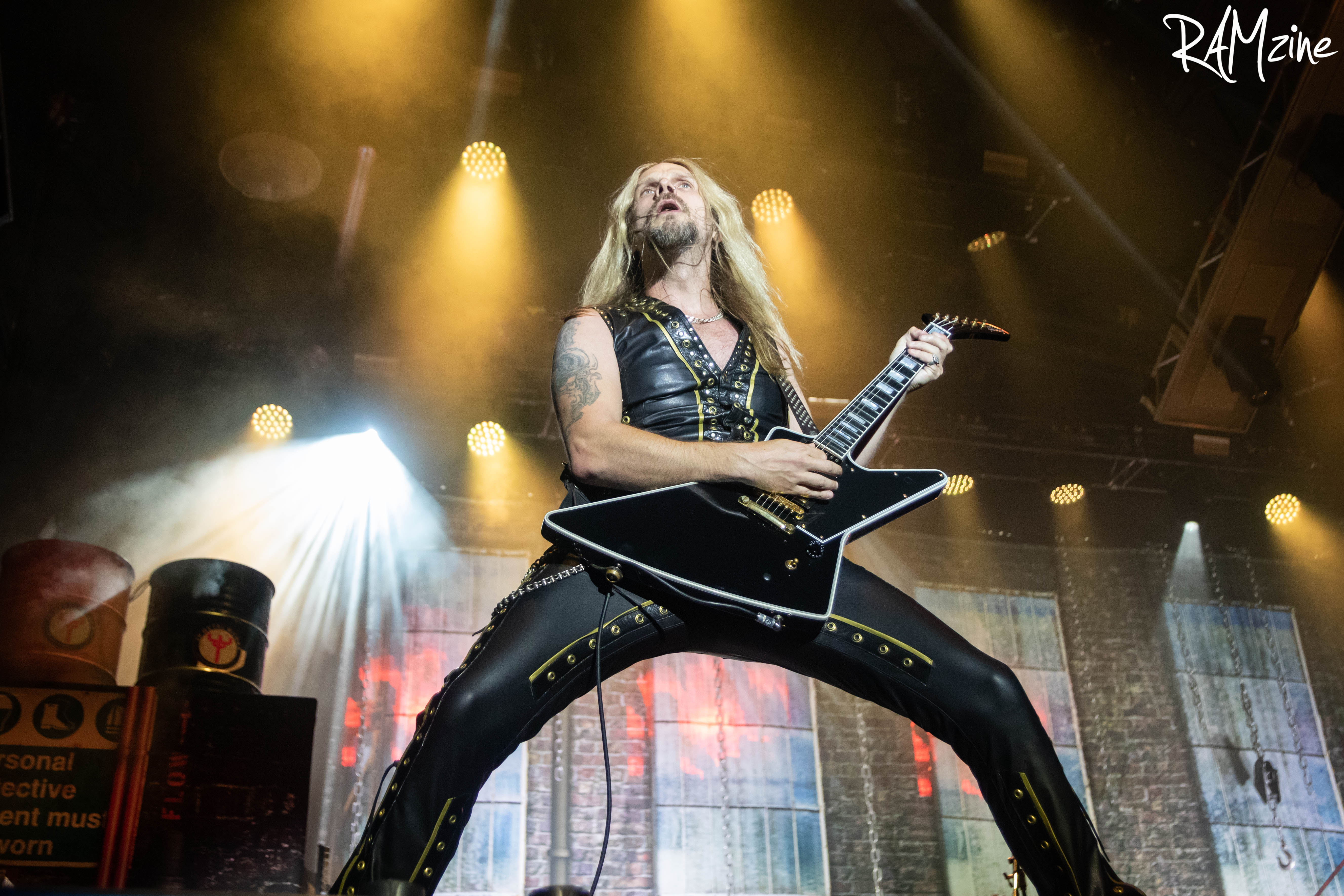 The stage is made to look like a steel mill/metal works- a great visual pun. They make metal, also British Steel… get it? I liked it anyway. Even with the 'Uncle Albert' beard, Rob Halford is still looking metal as hell after 50 years in the business. No time wasting for Priest though, straight into it. For the first time live they play 'One Shot At Glory' from the Painkiller (1990) album… ever. The absolute stones on these lads, eh? This is almost like a fantasy setlist for a Judas Priest fan. 'Exciter' for the first time since 2005. 'Rocka Rolla' for the first time since 1976. I mean… words don't describe how special this is.
Of course, we get all the crowd-pleasers such as 'Turbo Lover' and 'Electric Eye' and all the pillars of a Priest show like Halford riding his Harley Davidson onto the stage. To top it off we get Glen Tipton for the final few songs of the night ('Metal Gods', 'Breaking The Law', 'Living After Midnight') and we are played out by 'We Are The Champions'. I literally cannot flaw anything with this band right now. Well, maybe the fact Rob Halford said "F*** Download" at one point. I hope he washes his mouth out with soap after that. We like a bit of Download too. Also shout-out to the group of people singing 'Turbo Lover' with a West-country accent. Profanity aside, Halford still hits those high notes to this day. It's easy to see why this band is in the same conversation as Maiden, Sabbath, Metallica, etc. for the crown of 'All-time best metal band'.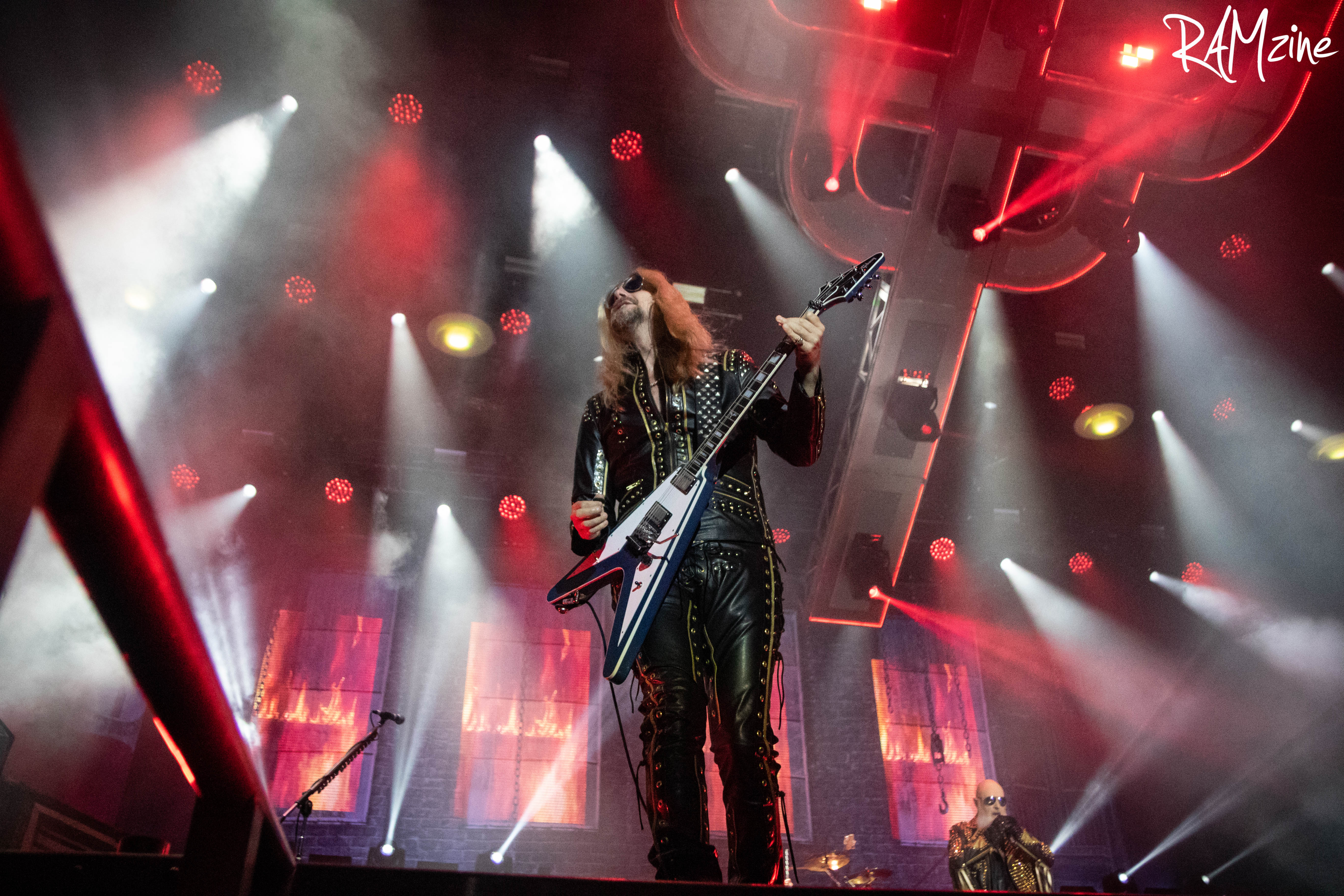 Just to echo what was said in the opening of this review: it's no small task at all pulling this off. Everyone involved really deserves all the praise coming their way. May they continue to rock n roll all night and party every day. This weekend, scratch that, these five days have been absolutely wonderful for me, and I should imagine for the vast majority of the Bloodstock fans. Although the line-up changed throughout the weekend – it didn't affect the spirit of the festival at all. We could have had Vengaboys headline and we would still be happy. Actually, maybe not Vengaboys. Every band I managed to see was great, not a band performance on there. And it looks like next year is about to be as epic. If you have never been to Bloodstock before, I'd definitely recommend it. If you like festivals, metal/rock, or having fun, I recommend you consider it next year. Keep your eyes on RAMzine.co.uk for the subsequent interviews with bands such as Diamond Head, Saxon, and Cradle Of Filth, and keep on rollin' baby…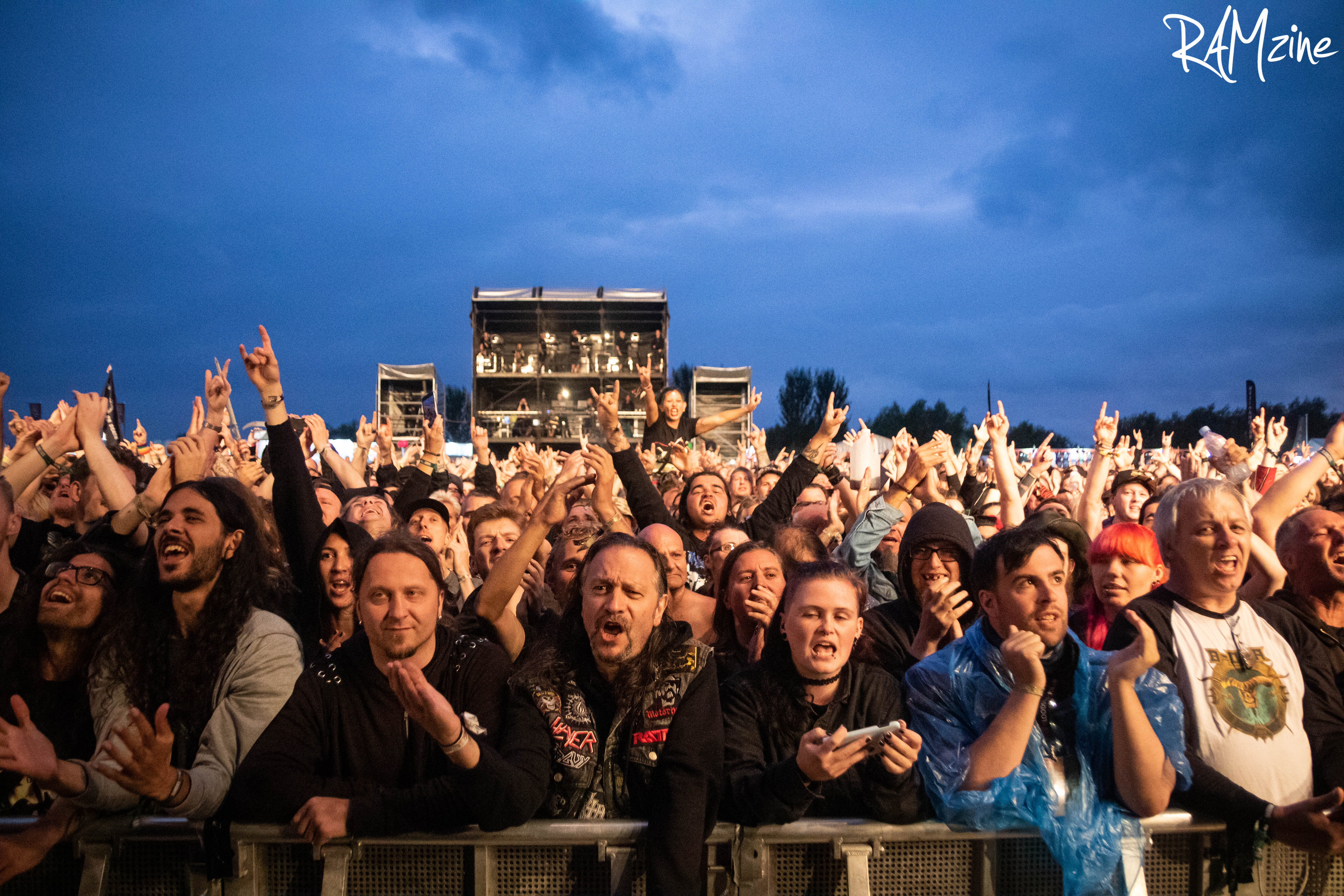 All photography by Ash Crowson. Check out his Instagram here.
Check out our interview with Bloodstock booker Vicky Hungerford, here.
Tickets for Bloodstock Festival 2022 are now on sale.
The line-up includes:
PHILIP H. ANSELMO & THE ILLEGALS (Playing an all Pantera set), DIMMU BORGIR, TESTAMENT, EXODUS, BLACK DAHLIA MURDER, GWAR (in a UK festival exclusive), BURY TOMORROW, SACRED REICH, LIFE OF AGONY, BUTCHER BABIES, VIO-LENCE, BLOODYWOOD, THE NIGHT FLIGHT ORCHESTRA, STATIC X (UK exclusive) and HEATHEN.
Get your tickets here.