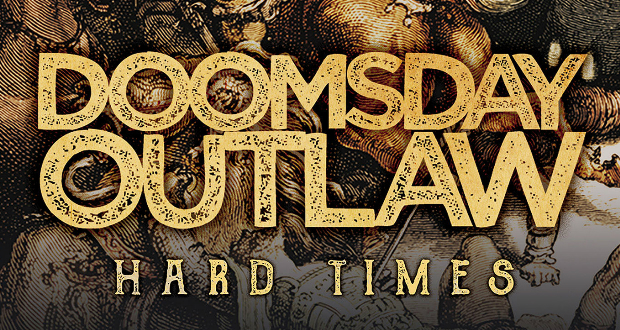 Doomsday Outlaw is a 5-piece hard rock, blues-tinged band based in Derbyshire. Members Steve Broughton (guitar), Indy Chanda (bass), Gavin Mills (guitar), Phil Poole (vocals) and John Willis (drums), are set to release a new album called Hard Times. This is their third album and the first on a major label and they keep on getting better. The first two showed potential and growth as their sound crossed genres; a bit Southern, a bit classic, a bit blues and a bit grunge melded into a heavy and melodic whole.
The new album is polished and professional, as demonstrated by the opener and title track. It is a Zeppelinesque riff and Phil Poole uses the full range of a powerful voice and wraps it around the guitar phrases nicely before we get the subtle bridge to lead us into a chord-driven solo, which is nice and bluesy. A bit too much crash cymbal high in the mix is a little distracting (although I am listening to a streaming preview so it may be better at full quality) but a good leadoff track, nonetheless.

'Over and Over' sums up this band for me: it demonstrates all that is great with each member. Great riff, a cowbell, nice harmony vocals and guitar solos of quality, all served up in a 3.5-minute blast. 'Into the Light' quietens things down dramatically with a piano intro and Phil's soulful vocal riding across the 'strings', this is the kind of thing Coverdale used to give light and shade to his earlier work. No guitars, no histrionics just a great vocal performance.
'Bring It On Home' wakes us up again with more Zep references. 'Will You Wait' is a slow burning starter before an almost operatic, heavy section, then back to slow and then back to 'operock' via a strange shift in time signature. This needs a few listens to appreciate. 'Break You' is a funky treat. 'Too Far Left To Fall' closes the album with the best of the bunch. A classy blues-drenched, heavy rocker. Sabbath would be proud of the closing section of this.
In summary, this is a band that deserves and, with Frontiers, should get more exposure. There are no ground-breaking tracks but there is a hell of a lot to enjoy and I would put money on them being a great live band.