Three years ago, we left the grounds of Donington Racecourse expecting to return for another ground-shaking weekend of rock n' roll only 12 months later. As you all know, this didn't happen for the following two years. We were treated to the 'Pilot' event last year, but in all, this is the first full-scale Download Festival since 2019. Through tragedy, and eventual triumph, we are back… and better than before.
2022 promised everything we wanted in 2020/21 and more. Granted a few bands pulled out, but this was just as anticipated as every Download is. A bit of a cliche, but Download is the Christmas for rock and metal fans. So three years in the making, Did it live up to this hype?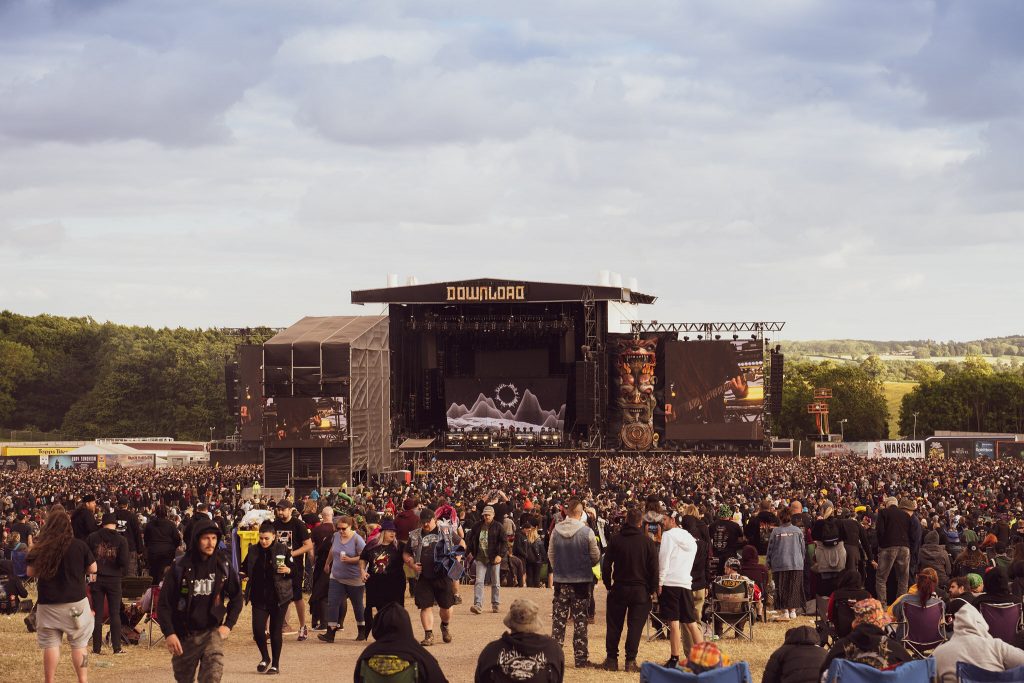 Wednesday, Thursday, and initial thoughts.
Upon arrival, patrons know this is a totally different layout for better or worse. The thinking behind this is for fans to navigate the site much easier and make it more accessible – for everyone. Any previous complaints have been addressed: walking distance, excessive mud, comfort for campers, etc. Yet this new map does not solve all of the issues. There is a possibility it may have worked better if the hired staff (and volunteers) were more educated in their respective areas. Yet, typically no one seems to know where anything is. Parking is not easy to find unless you are told what colour car park you are meant to be in. Campers don't know which part they are meant to be in. Accessibility camps don't have the amenities they were promised. So far it has not been a great experience. yet, there isn't any mud, there is plenty of bins, and everyone has room. Also, the arena is not far at all from any of the campsites. A learning experience for organisers. Other than this, fans are having fun and enjoying the new version of the Doghouse. I'm not convinced myself but it has gone down a storm (bring back the tent!) And don't let the sub-heading fool you, Download has not pulled a Bloodstock on us – and blessed us with two extra days of music, but Punk Rock Factory and various DJs give the early birds a taster of what to expect over the weekend.
Friday
As alluded to, the Friday at Download is like waking up on Christmas day. Making your way to the arena for the first full day of Download 2022, the sun is shining, the grass is still green, and the first band to bless us on the main stage is Wayward Sons. Just what the doctor ordered, embodying the old and the new of Download. Toby Jepson shows us it doesn't matter the place on the bill, you can give a 'main event' esque performance at lunchtime. 
A stroll back up the hill takes us to see blue rock underdogs Kris Barras Band on the Opus stage, who draws a hefty crowd despite the main stage being occupied by Theory (Of A Deadman). Not to generalise but the popularity of both bands stems from the listeners of Plant Rock and the modern rock community online. The fact most are choosing the former gives us hope in the homegrown rock community.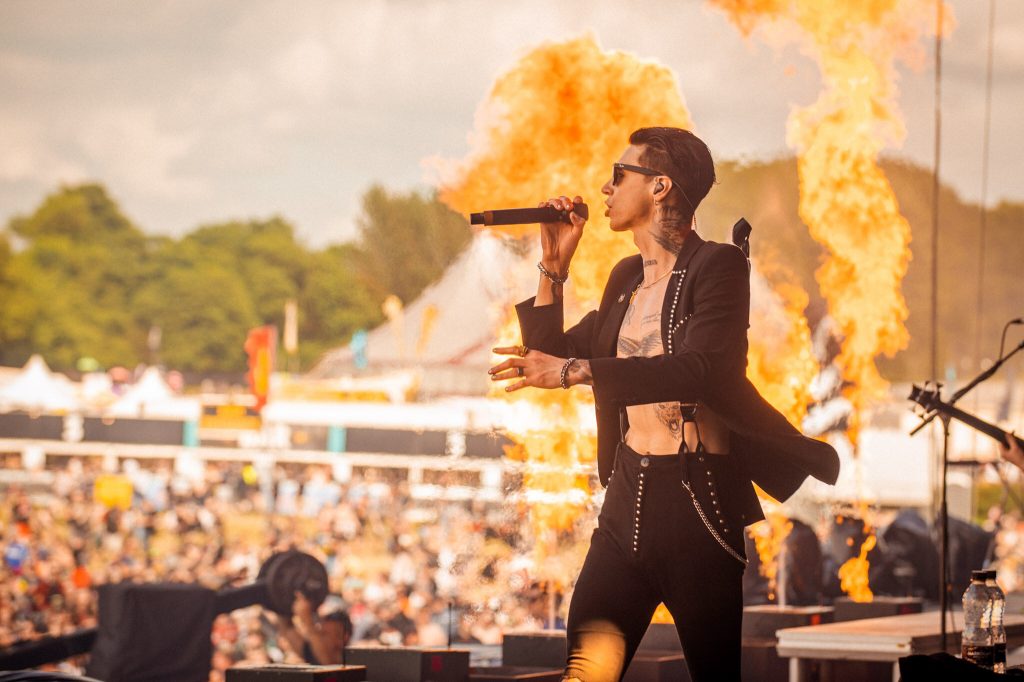 With enough time to wander over to the main stage, sorry – the Apex stage, for a band who has been absent from the festival for far too long: Black Veil Brides. The goth (?) emo(?) hard rockers (?) whatever they are – give a main stage-worthy performance as well. In terms of live shows, these guys are totally slept-on. Frontman Andy Biersack thanks the crowd for 'believing' in rock n roll and the UK for being the first place to take them seriously. Did we? Either way, he's right – everyone at Download still believes in rock n' roll, and that's what it's all about.
Quickly dip to Opus again for Aussie hard-rockers Airbourne who deliver some crazy old-school rock n roll. Some say they are an AC/DC wannabe band, yet they seem to do new AC/DC better than AC/DC do themselves.
Not long to wait until Skindred take the stage, following their awesome performance at last year's Pilot event, the welsh alt-metallers deserve this spot. At this stage, Benji Webbe and co. are just churning out banger after banger. Considering they haven't released a new album since 2018, this is proof that a great live performance goes a long way these days. Skindred's sets are legendary and they deserve all the credit they get from the Download crowd and the live music scene in general. Possibly one of the few bands who can play any big UK festival. Download 2022 may have broken the world record for the most Newport Helicopters in one place and there was no collaborator for 'Warning', but do we need one? There's a small chance these guys could headline the festival one day, even on the second stage.
Returning to the Apex stage again and punk-pop / metalcore fusion masters A Day To Remember are our 'special guests' for the evening. Although their spot before KISS is a little confusing for most – they still deliver a strong set squeezing in 16 tracks starting with 'The Downfall Of Us All'. No 'Since U Been Gone', but with a back catalogue as strong as this lot, why bother?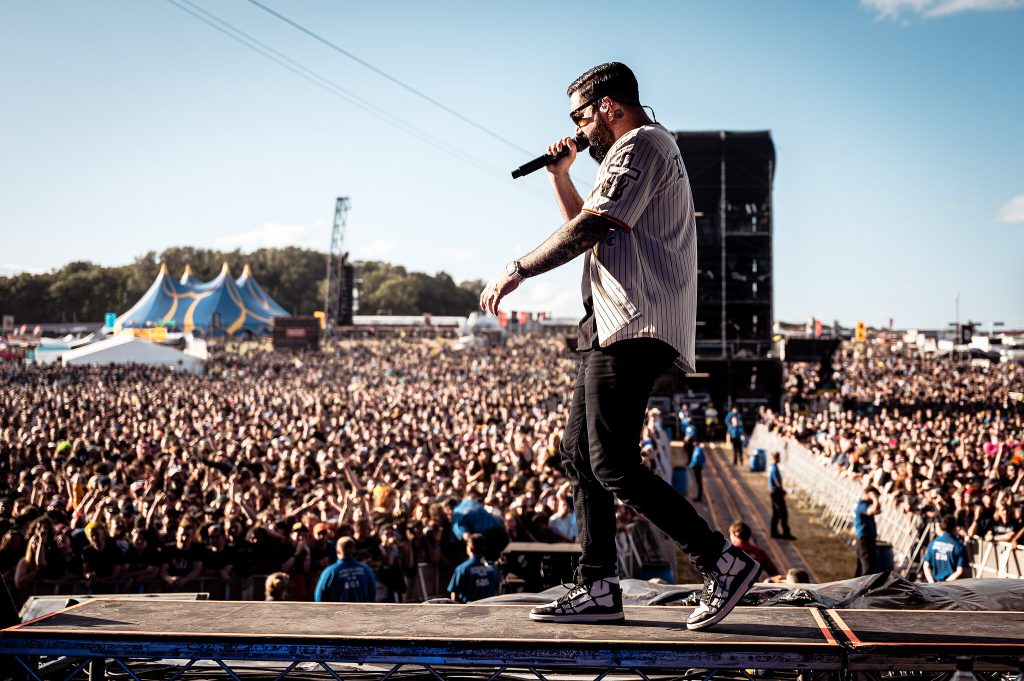 A bit of a gap before tonight's headliners, who have had this pencilled in for 3 years, KISS return to Donington. Most likely their last gig in the UK overall, and continuing their End of The Road World Tour, this is going to be a classic KISS show… sorry, a 'Klassic'. You can see another Klassic Kiss show on Live At Donington 1996, available now on DVD. Only kidding, yet you can enjoy this on your KISS Kamping chair, with your official KISS merch, and go back to your KISS tent. Again, only joking. These guys aren't about money. Are they?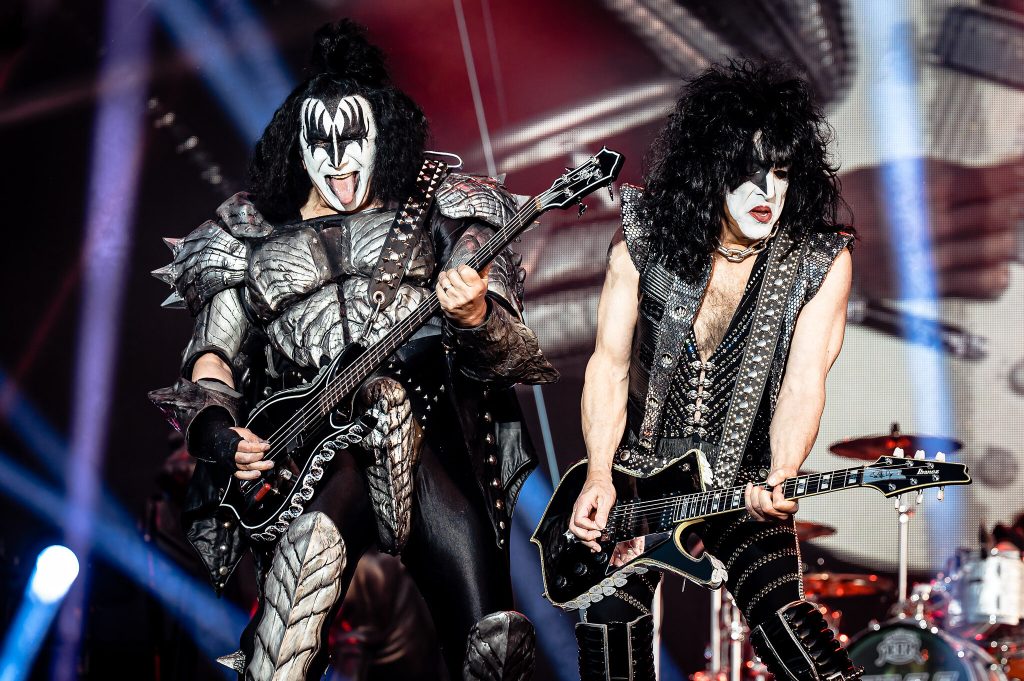 As we see the familiar four figures of Paul, Gene, Ace, and Peter (or at least it looks like the latter two) being erected at the side of the stage. This is going to be epic. It's worth pointing out this is a slight nod to the days of Monsters Of Rock too … available now…I'm not doing that joke again. As the show kicks off with Led Zeppelin's 'Rock N Roll' blasting over the PA system, this is followed by Gene Simmons, Paul Stanley and Tommy Thayer, ascending to the stage on individual platforms – like their tour dates. Plus all the fizzes, pops, and bangs we expect from a KISS show. Again, like their previous tour…and the tour before that… anyway: This is a band who has been at it for 50 years and is equivalent to The Beatles in the USA, the amount of respect for this band is immeasurable. A set filled with hits upon hits. Musically, this band is still a well-oiled machine – despite rumours of some 'assistance', then again they are rumours, and these guys are still rocking into their 70s.
Paul Stanley does that thing where he zip lines to the middle of the crowd again. If you've seen KISS in the past two decades, you've seen this bit. Which borders on likeness to Spinal Tap or Donington veterans Bad News. KISS' antics may seem a bit dated, but like I've mentioned – this is rock n roll. Anything goes. I appreciate the effort. Despite all the bangers, 'Crazy Nights' is excluded from their set – disregarding that was their biggest hit here. They even departed the stage to a tape of 'God Gave Rock N Roll To You II', possibly their next biggest hit. I wonder if Bill & Ted can go back in time to sort this one? Although this was a great show, and a great set, something felt like it was missing. It didn't feel 'special' enough for their last performance. Like BVB said before, we still believe in rock N roll, do we still believe in KISS? Oh well, I'm off to watch the Live At Donington 1996 DVD. Only kidding.
Saturday
The aforementioned Bad News called Donington 'The centre of the heavy metal Universe' which is very much true. and the true gods of heavy metal, Iron Maiden, return tonight. Admittedly, Download is not the heaviest festival going – but who cares, it's all about having fun. And with today's bill – fun is guaranteed.
Although today for most people is the return of the mighty Maiden – the day starts with The Raven Age, Dirty Honey and many more. We are yet to talk about the Avalanche Stage, initially set up to host the punk /emo side of Download slowly ushering that elusive Green Day or Blink 182 headliner … one day. Today we are checking out Salem, led by Will Gould of Creeper. These, like Creeper, or like a modern-day Misfits. Definitely worth checking out if you can. Kind of knackering for Will as Creeper are playing later today.
Monster Truck takes the Apex stage next, very entertaining but nothing other AC/DC-centric bands are doing today, gives us time to wander back to the Opus stage to check out a band with a lot of buzz around them: Ice Nine Kills. A band who have been around for quite a while now but only garnered attention in recent years for their horror-themed tracks and videos. They do not disappoint at all when performing live. Each track told the story of a different movie such as 'Hip To Be Scared' (American Psycho) or 'The Shower Scene' (Alfred Hitchcock's Psycho). INK even had actors on stage to help portray these scenes. Part of the fun for anyone new to the band is figuring out which movie they are celebrating in their songs. A highlight of the day, so far.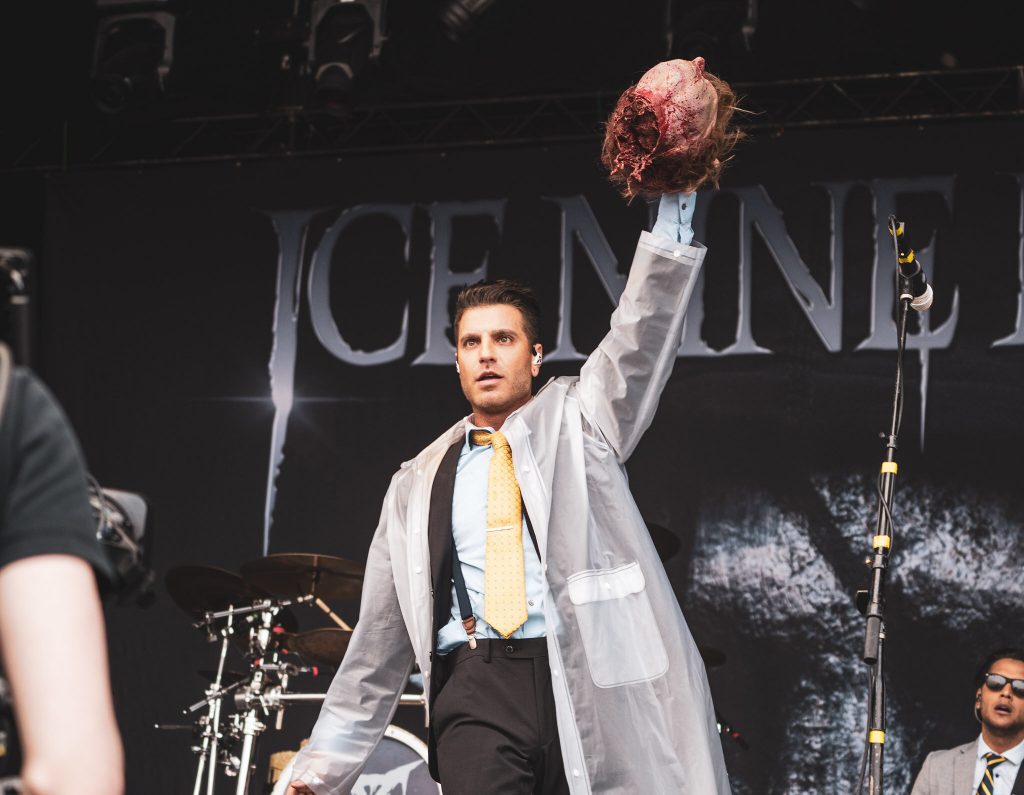 Following is almost the total opposite, Bush on the Opus Stage. No offence to Gavin Rossdale et al, but do these guys still have an audience? Looks like they do. For anyone who hasn't heard of them, Bush was one of the exceptions to the rule and seemed to be huge in the US without being successful on home turf. This was part of the 'post-grunge' wave in the mid-90s. Not a bad band by any stretch, but nothing worth writing home about. Until they play 'Swallowed' towards the end, there isn't much of a response from the crowd either.
Gladly head to the main stage for American hard rockers Shinedown, who I know have a passionate following. It's easy to see why: they get the crowd going from the get-go. It's no secret a lot of people have discovered Shinedown due to their involvement with WWE and they know this: 'Devil' and 'Enemies' get some of the best reactions the whole set. A personal highlight is certainly 'Second Chance' – an underrated song overall. A really good 'special guest' for Iron Maiden. What's that? Do we have a few more bands to go? We do? Okay…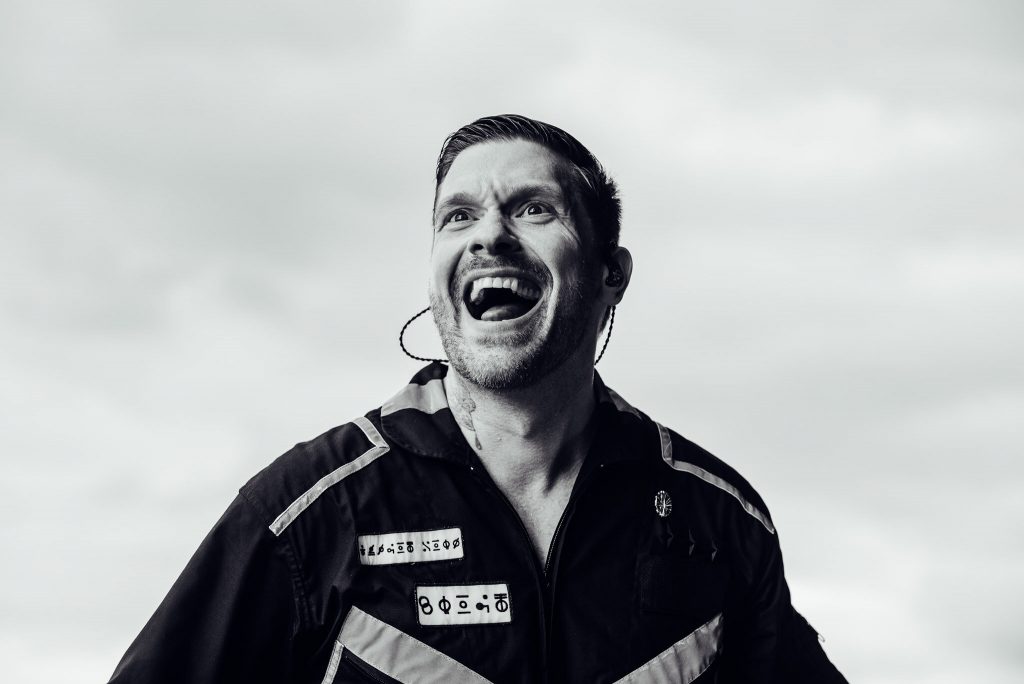 Closing the Opus stage is a band who should really be on the main/Apex stage right now. Thrash metal icons Megadeth. Maybe they feel the same as not a lot of energy seems to come across from Dave Mustaine and co. No slouches by any stretch but it seemed a bit low-key for a band who has been doing this for almost 40 years.
Back to Apex/main and we are treated to nu-metal/ mathcore legends Deftones who are pretty much this year's "Marmite Band". Frontman Chino Morino even acknowledges most of the audience is ready to see Maiden tonight. Yet a lot of people (myself included) are thirsty for some Deftones action. It's been over 20 years now since White Pony, the album that kick-started the hype for the Sacramento boys and a lot of folks are rediscovering it as a classic album. This is really apparent as a lot of tracks from the album go down well tonight. Of course, their latest record Ohms is well explored too. 'Digital Bath' and 'Change (In The House Of Flies)' are high points for Deftones yet after that, it feels to run out of steam a little. Small complaint but no 'Knife Prty' or 'Back To School (Mini Maggot)' (I'm aware they hate that song). That would have sealed the deal for being a 5/5 performance. Even so, my personal favourite of the weekend so far. Maybe I spoke too soon…
Taking a visit to the Avalanche stage next. A band who are one of those 'If You Know, You Know' kinda bands. Put it this way: if Funeral For A Friend never happened, neither would have My Chemical Romance. like I said – IYKYK. Clocking in 20 years of experience, the Welsh emo pioneers have the room eating out of their hands. The set list is 100% bangers. Especially for a veteran FFAF fan like me. 'Juneau' hits different at Download, let me tell you. Finishing with 'All The Rage' this is a set catering to the real fans of FFAF. Thank you.
That's not even the end of the day. Yeah, did you forget the headliners? Iron Maiden? yeah, they're on next.
For a lot of people tonight's headliner, Iron Maiden, is what they have been waiting for these past three years. After vocalist Bruce Dickinson's health scares, side projects, their cancelled tour, and everything else wrong with the past two years – this is a welcome return. With UFO's 'Doctor, Doctor' blaring over the PA we know this is going to be a classic Maiden headline slot. Fun fact: Iron Maiden has headlined Download, and Donington overall, more than anyone else. For this reason, it may be an unimaginative choice by Andy Copping, but I feel this is really the right time. A band that headlined the first-ever Download, and who will return many more times.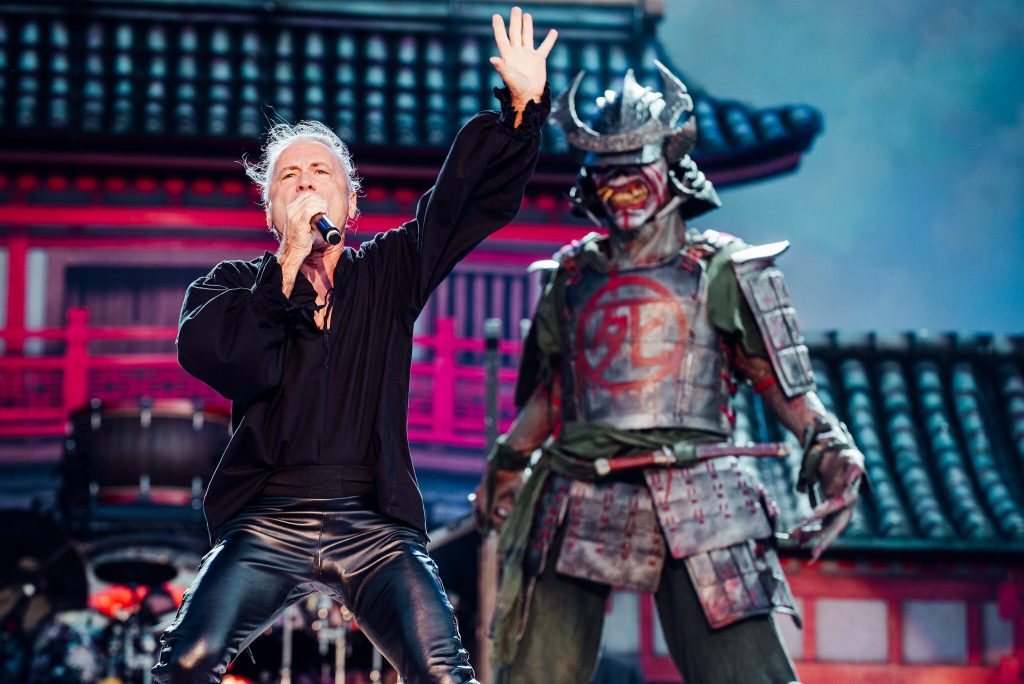 I forgot to mention: there was a delay on the main stage today, yet Maiden promptly start under a set dressed with a Japanese pagoda. Celebrating the ancient Japanese themes of Maiden's latest album, Senjetsu. There is some apprehension that Maiden may get bogged down in new material and won't explore their extensive back catalogue, yet – this is Download, this is Iron Maiden, what can go wrong? So far, nothing – Bruce sounds even better than before and looks 10 years younger. This undoubtedly makes everyone in the audience happy.
Getting through the new stuff fairly swiftly, Samurai Eddie in tow, we move on to the classics. Of course, hitting some live favourites like 'Fear Of The Dark' and 'Hallowed Be Thy Name' makes this a very special night.
Their first encore consists of 'The Trooper' and 'Run To The Hills' leaving the crowd wanting even more. Returning again for 'Aces High' this appeals to hardcore and casual fans of the metal gods at Download. There are a few omissions ('Bring Your Daughter To The Slaughter' and 'Can I Play With Madness?' aren't on this setlist) but still, an amazing show kicking KISS out the water for true showmanship, musicianship and overall entertainment. Some amazing headliners this year. We deserved this, and remember, always look on the bright side of life.
Sunday
Now, what could top that? Looks like Sunday has a lot of catching up to do. Starting strong with the likes of Wargasm, Static Dress, and Control The Storm showing you can have a gig before midday just as good as you can when it's dark. Speaking of a band who are pretty dark – Powerwolf bring the theatrics to the main stage. Filling the arena to its rafters. They probably work better later on too.
A pretty busy one for the main / Apex stage today and we now have the ever-popular 'pirate metal crew', Alestorm, enter. There's been some controversy around this lot so I'm surprised they garnered such support. I suppose you can separate the art from the artist sometimes (still not right though). The usual rubber duck is on stage throughout. They seem to have the same appeal as Tenacious D or Steel Panther. Not my personal cup of tea, still.
Sticking around at Apex, punk rock revivalists Rise Against return. It's another one of those bands you realise you know more songs by than you originally thought. I would recommend seeing these guys in this kind of environment if you haven't before.
Roll on to Avalanche stage for the debut of Spiritbox – not just a Download debut but their first UK gig. Sure took them long enough, the hype is real though. Courtney LaPlante's vocal is something that needs to be heard to be believed. A great reaction and amazing musicianship. LaPlante ends by comparing it to a first date, and says "We should do this again sometime", please do!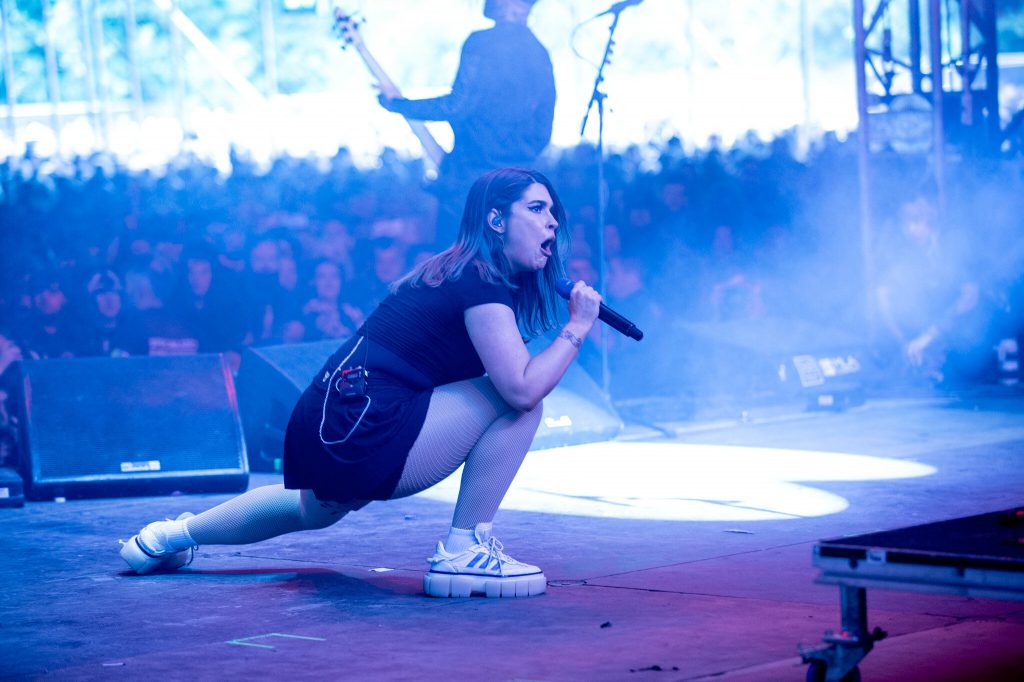 This means there's still half an hour left of Volbeat. Best way to describe this: Elvis goes butt-rock. Brilliant show, easy to see why they have headlined festivals in mainland Europe. The Danish rockers even fit in a cover of 'I Only Want To Be With You' in there. Skillet also finish up on the Apex stage, dedicating their set to a fan who travelled to see them, against all odds. Christian alt-metal for fans of Shinedown.
Back to the main stage for a band who, many have argued should be the headliner tonight. Nu-metal pioneers Korn. Although their new album is being publicised around the festival site, they know we are here for Jonathan Davis and co. of old. Korn are 'Here To Stay' you could say – which is their first track tonight, funnily enough (word play of the year?)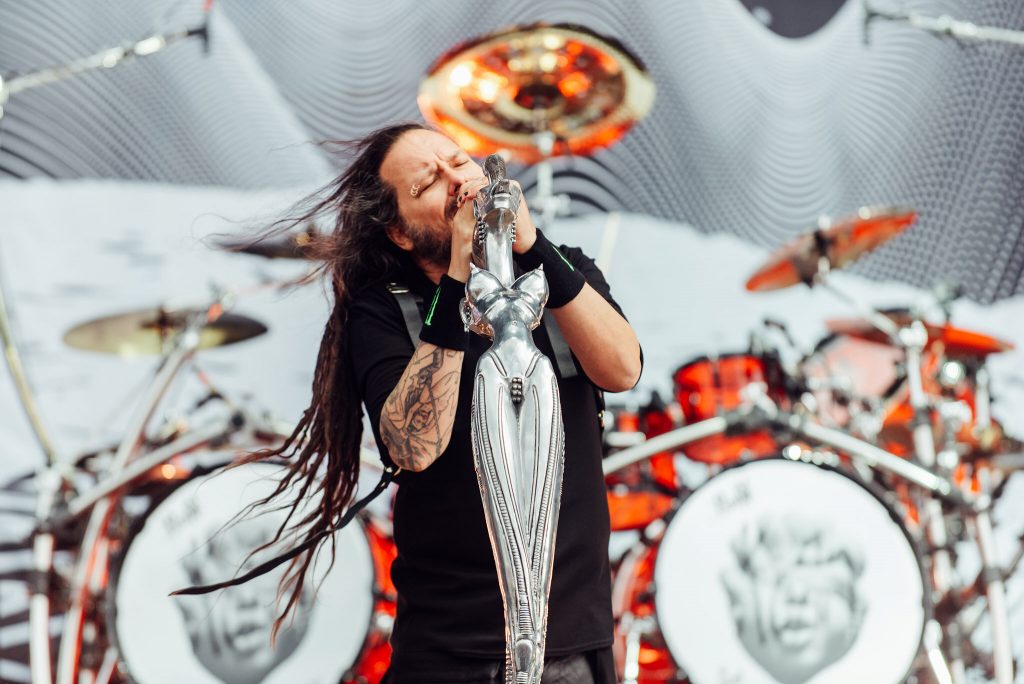 An underappreciated riff in my opinion. The 90s and 00s nostalgia just keeps coming with 'Got The Life' and 'Falling Away From Me'. This culminates with 'Shoots and Ladders' mixed with a exert of Metallica's 'One'. They do this later on and get a 'We Will Rock You' chant going. I'd say it's a bit cringe -y but I'm a fan of these guys. But it is. They also mix three lesser-known tracks ('It's On!', 'Trash', and 'Did My Time') which is a bit odd were they short of time? Even so, some big tracks are omitted ('Narcasistic Cannibal', 'Thoughtless', 'Twisted Transistor') this is still a tight set. As mentioned, this could have been a headline set over Biffy Clyro – yet, what do I know?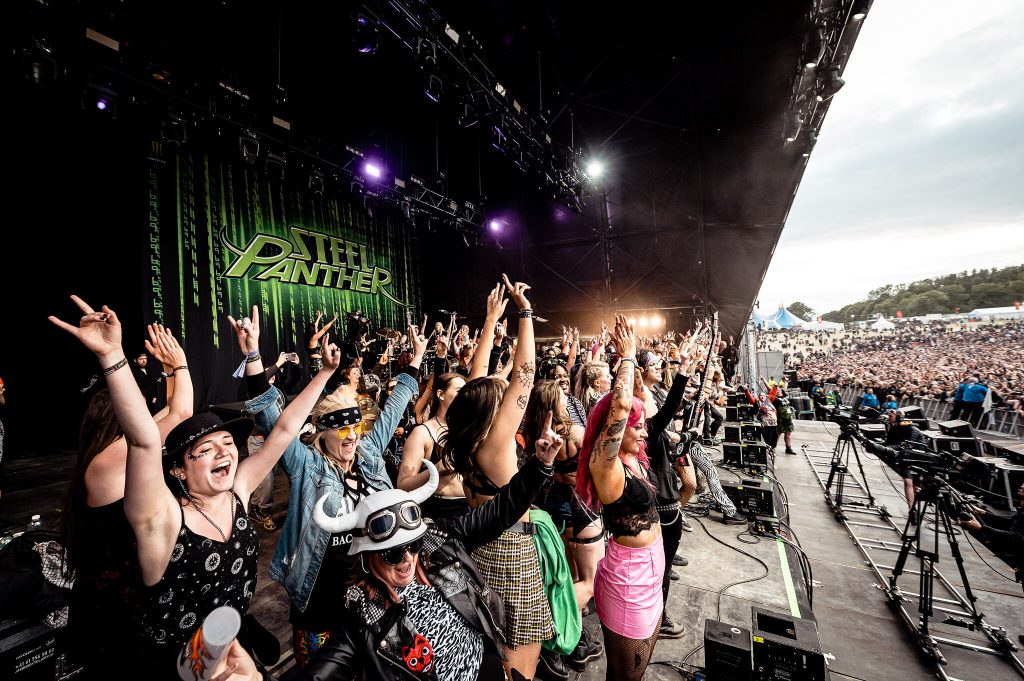 Still, time to squeeze another set in before the end of the night… Steel Panther of course. The LA tongue-in-cheek hair metallers are on after their British counterparts The Darkness, which begs the question – are these co-headliners? They could easily tour together. Although many fans would classify Michael Starr and the gang as a comedy act first, there's some solid musicianship here. They even do a really convincing Ozzy Osbourne & Randy Rhodes impression, covering 'Crazy Train' you had to be there, I suppose. The usual tropes on Panther are in place again – getting half the female audience on stage, insulting each other, and tonight a guest appearance by Justin Hawkins for 'Party All Day'. A great closing act for the weekend. Oh, hang on.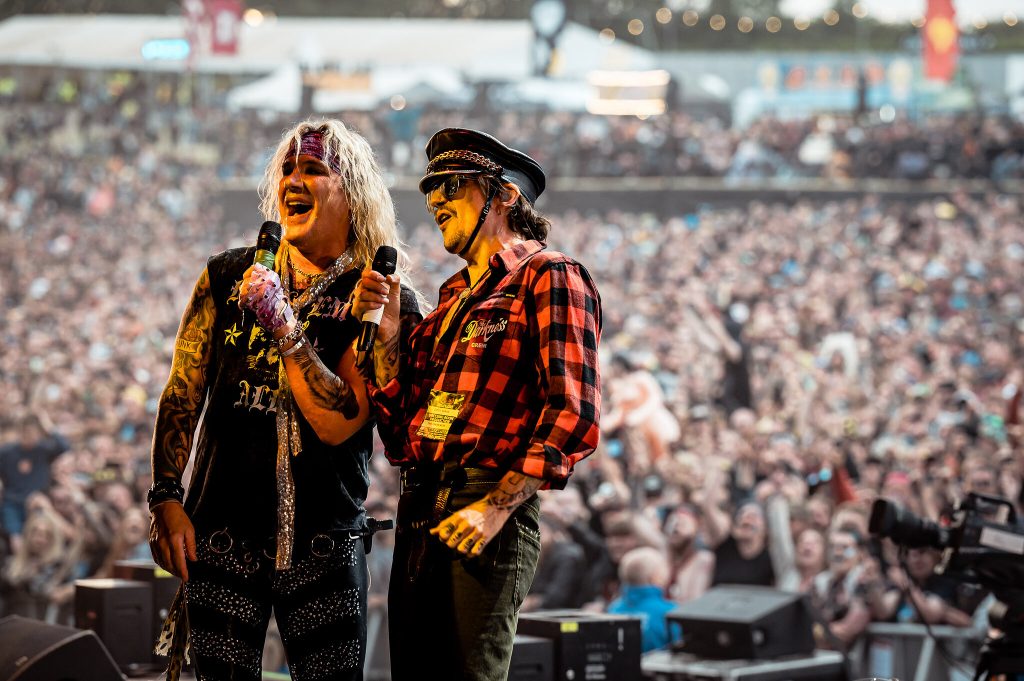 How could I be so stupid, Myles Kennedy is still playing on the Dogtooth stage. Advertised as an acoustic set, but it really isn't. Okay, I'm kidding – tonight's main stage headliner is Biffy Clyro. Some argue, maybe not a "Download band", but why not? If Nirvana were still around – would they be a Download band? Are the Foo Fighters? Anyway, the Scottish trio really understand the assignment here, filling their set with some of their biggest, and loudest, hits. 'Tiny Indoor Fireworks' was a track a lot wanted to hear after the festival was postponed twice, and a few harder tracks like 'Black Chandelier' and 'Mountains'. There's even an encore of 'The Captain' (the first time post-lockdown) for fans of Biffy, this is a real treat. Nice way to close the festival. Mon the Biff!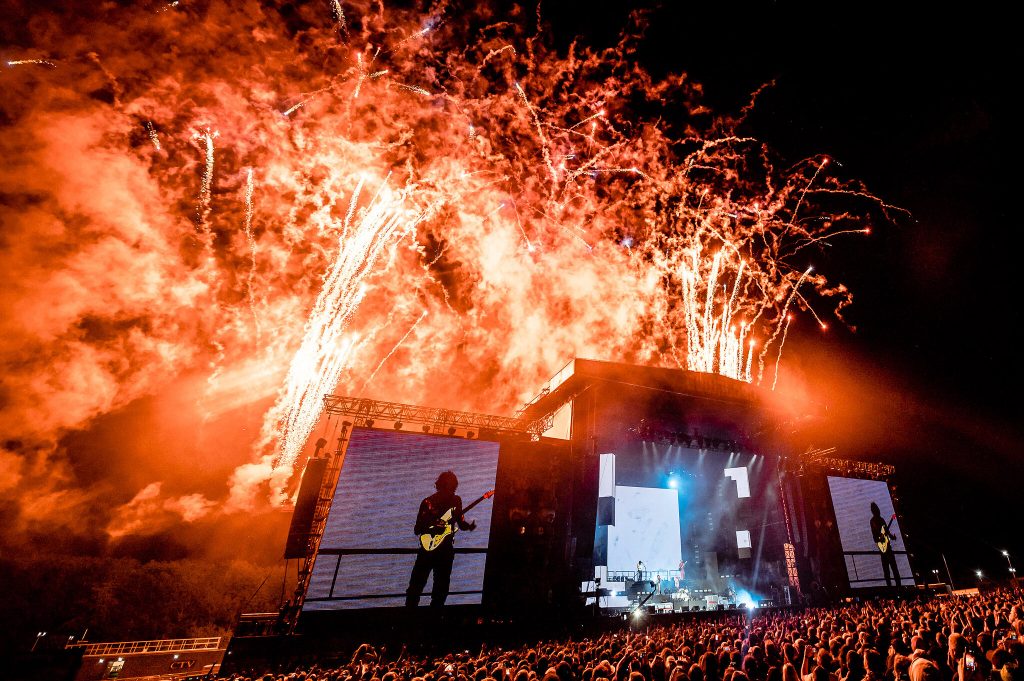 Overall, this has certainly been one for the ages. The first full-scale Download post 'lockdown era' with stellar headliners, an even better line-up, and a great time had by all. The new layout is an experiment after all. This is the first festival I've visited that was 99% dry, with barely any mud. A great improvement. Not sure about the new Dog House personally but the new village is good. Some accessibility issues and it's still a ridiculous walk to campsites and car parks, but all is part of the course. In all, this was an amazing weekend.