Existance revolve around Julian Izard, son of Didier Izard who was lead vocalist with French speed metal band H–Bomb and brought out a single album and EP during the eighties. His son's presumably inherited his father's vocal chords and also plays guitar here alongside co-founder Tom Drouin on bass and vocals, Alexandre Revillon on drums and Antoine Poiret duelling gamefully with Izard on  guitar, plus vocals.
The band started developing around 2008, bypassing their speed metal heritage in favour of a more classic heavy metal flavour. From playing covers to writing their own material, they've previously had demos brought out on Germany's High Roller Records and stretched their touring remit to play neighbouring countries Belgium and the Netherlands. Steel Alive is their first full-length album, recorded in France but mastered in the USA by Maor Appelbaum (Halford, Malmsteen, Sepultura) and released on the Mausoleum Records label.
A classical overture gives way to a throbbing pulse beat on 'Legends Never Die' then off it goes like some metal guitar orchestrated film track with off-the-beat power metal drumming, moving into a processed guitar metal riff-and-run routine. It's a bit like Queen's 'Now I'm Here' given an Iron Maiden style pounding. It's followed by 'Black Viper' wherein sustained guitar notes hover while a rolling and crashing drum kit escapes through a metaphorical jungle, before it goes for another colourful Maiden charge, with some mid-paced melodic parrying and harmonising between the guitars. The things that most distinguish them from becoming a Maiden parody or covers band is the lower string style preference of Drouin's bass playing and that Izard has a good mainstream hard rock/metal voice more in keeping with the likes Tygers of Pan Tang's assorted vocalists or MSG's Gary Bardens.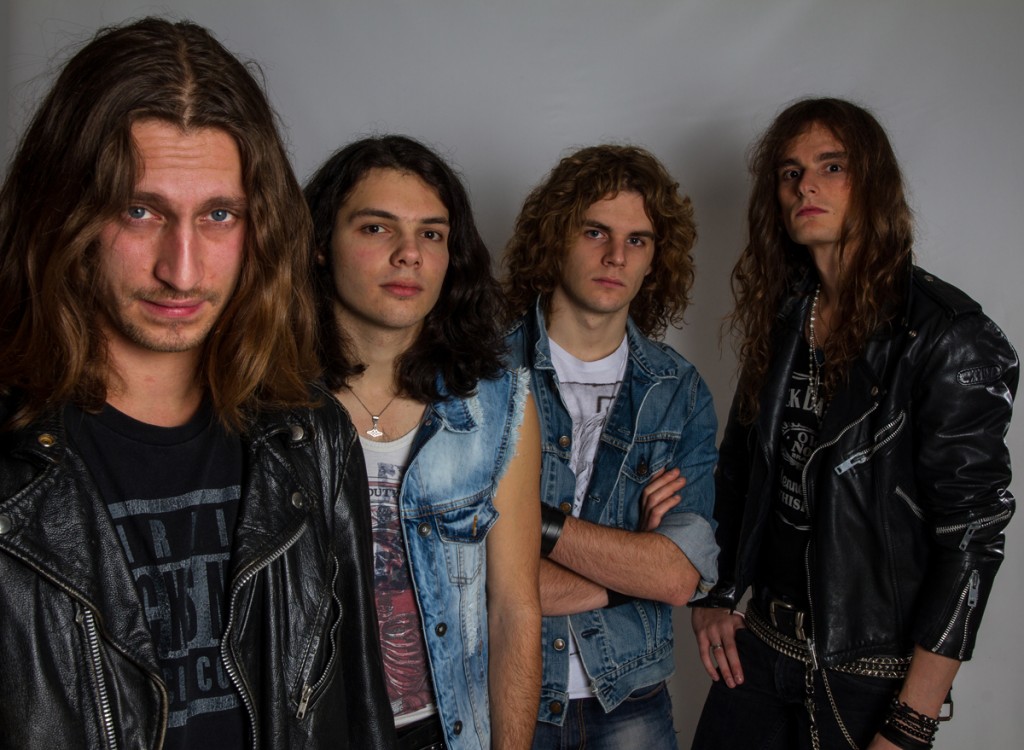 The Maiden similarities are also prevalent in 'Prisoner' where they add Thin Lizzy to their guitar harmony influences, and Drouin actually opts for a toppy sound, and the 'Murders in the Rue Morgue' variation of 'Close to the End'. Elsewhere 'Slaughter' tips its hat fraternally being thrashing speed metal with precise swooping guitars ala Judas Priest as to some degree is  the more hard rocking title track 'Steel Alive'.
'The Siren' is a wide-ranging rocker with an infectious riff and sultry vocals, and a shoot from the hip guitar solo supported strongly by a heavy walking bass line. The anthemic 'Dead or Alive' features charging riffs, hefty harmony shouting come the choruses and some duelling guitars played with feeling. 'Get Away' is a fine steal of Saxon's 'Dallas 1pm' with added swing but it veers towards campness on 'From Hell' wherein Black Sabbath's theme tune opening of a walk through a graveyard with added female scream is applied, alongside a Vincent Price style Maiden voiceover then into a Priestly charge. Talk about putting all your eggs in one basket.
However, like 'The Siren', 'Burning Angel' is a good example of their creative strengths coming to the fore. From an arpeggio intro it moves into verses featuring abrasive chords and slow squealing guitar notes, Izard rocking solidly in the vocal department, a live warm sound stirring moodily ready for some as guitars swoop casually  in for some metal wailing.
The fact that Steel Alive is not overproduced adds to its charm. Lyrically it's get a bit too sword and sorcery with added aggression roped in, but it's more computer game player anger-management required than them being bad lads. There's nothing new here, but I don't think that was the intention. Existance play good solid heavy metal that's varied in tone and pace with some fine tunes brought out by a quality singer. If they can develop this further they're going to continue their expansion in popularity throughout Europe.