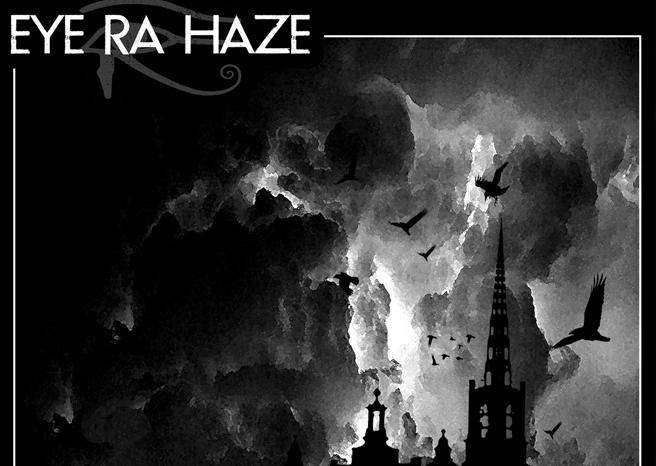 New York five-piece Eye Ra Haze weave their way into your aural consciousness with rumbling hypnotic near-minimalist melodies and more haunting foreground vocals. Part art- rock, some indy shoe-gazing, an all-in-black emo-come-Goth stance, there's also an element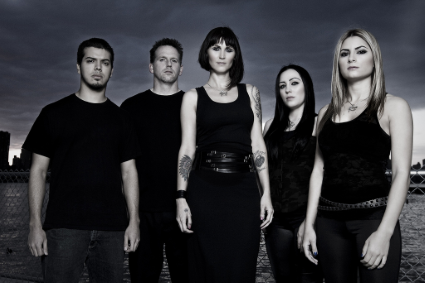 of old school progressive rock at work.
Produced by Chris Harris (Killswitch Engage, Soulfly, Eye of the Storm is a three song cycle opening with New Beginning, followed by Quiet Storm and Warships. They all work to a similar formula of starting off quietly and slowly before building to more urgent grindings as their lead vocalist Natasha Nicholson screams, sighs and swoons over the top.
In fact it is the three piece female front line of Nicholson, guitarist Nicole Papastavrou and keyboard player Karine Catenacci who play the part of seductive sirens, both in the visual department as well as musically; toying, teasing, and sometimes getting rough, while the male rhythm section grind with practiced patience, then push and thrust to reinforce the accentuate the sound. Let's not be coy here, while the lyrics intimate assorted romantic situations by metaphor or actuality, the intended result of such liaisons appears to be to have carnal knowledge of the partner.
The lyrics do veer towards elusiveness if not an outright tendency to be enigmatic, all in a grown-up nursery rhyming enchantress vein. For example, New Beginning with its continued "If I could touch you, I know I could trust you" refrain starts coldly, warming in anticipation but ultimately makes me thing Nicholson is more likely to stab me in the heart.
Quiet Storm is initially quite poppy, a touch Kate Bush in places, with some lovely placed piano notes, then it loses it for me as the pace quickens and it becomes an indy-thrash number with wailing vocals, whereas the alternative art rock innocence that opens Warships surges into more natural epic distorted guitar chords and a rather deft solo.
Due in the studio to record a full album later in 2013, there's a good potential niche market that Eye Ra Haze could carve up for themselves, but more variety towards strong structure and pacing is going to be in evidence on the finished product.
6/10