There's quite a lot at stake for the self-titled third album from Gallows. This is of course their first full release since the departure of original lead singer Frank Carter. Replacing him is Wade MacNeil, who you may have heard from being part of a little band called Alexisonfire. The loss of a lead singer is a huge game-changer for any band. And now a year later, Gallows are back to prove their worth, both to newcomers and their fans.
Luckily for them, this album is a very solid little recording indeed. And little is the right word. One of the worst things that can be said of the album is that it's a little on the short side, clocking in at just over half an hour. It feels even faster too as this one rockets along, exactly what you'd want from hardcore punk. There's barely space to breath, and MacNeil easily proves his chops as new lead vocalist by managing to keep up. His vocals are a highlight of the album, his tone angry as hell but fantastically controlled. Backing vocals are also wisely spread and you can expect quite a few of these tracks to be topping the bands live sets and being shouted out with aplomb once the next festival season come around. Instrumentally, the band are tight, though there isn't that much room for anyone to shine – they're too busy going through each song hell for leather, and it works.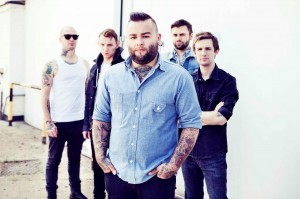 Of particular mention are the tracks "Outsider Art" and "Everybody Loves You (When You're Dead)." Both of them perfectly showcase the intense rhythm that runs through the entire album, as well as some brilliant blink and you'll miss them guitar solos. The only dips on this release a happen when Gallows try to let loose a little too far. On most tracks, it simply works, such as "Vapid Adolescent Blues" and "Cross of Lorraine". As already stated, even when the band sound like they're throwing everything and the kitchen sink around the recording studio on those tracks, it still sounds like part of the plan, a controlled demolition. On mid-album track "Austere" however, it doesn't fit. The song is all over the place. The song doesn't fit with the other tracks, and frankly it's a bit of a mess. But considering the good work elsewhere, we'll let it slide.
Lyrically, there isn't too much outstanding on show here. A fair bit of wit, a hell of a lot of anger but served with a fairly nice side of sarcasm. As to be expected there's some potential earworms in a lot of the chorus writing, all ready for a crowd to sink their teeth into. There isn't much variation on this album either, but that's not the point – it's a concentrated shot from Gallows, a statement that they are back. It doesn't need to be a masterwork of innovation, or a complete transformation of their sound and mission statement. It needs to be a piece of proof that despite change the band is as good as or even better than before. And to top it off, Gallows has the balls to let this record carry their name for a title. Luckily for them, this record succeeds in its aims.
All in all a good job well done, lads.
8/10