Hacride is a French heavy metal band. Formed in 2001, the project now comprises of Adrien Grousset (guitar and composition), Benoist Danneville (bass) with Florent Marcadet on drums and Luiss Roux (taking over from Samuel Bourreau) on vocals. Franck Hueso is the producer and sound-engineer – and is credited with being the fifth member.
Their fourth album "Back To Where You've Never Been" is an evocative album title that represents a transitional phase. The band suggests that it is a deeply personal record – and it acts as a bridge between two eras.
First track ''Introversion' opens with an eerie church organ and a collection of glistening icy guitar shards. A gale of disembodied voices whip through the palisades of crashing drums, creating an effulgent furore of undisputed passion.
Then, with another raging gush of guitars – and some gnarled bass-work – 'Strive Ever To More' growls in like some kind of manic feliform hunter. A wan stream of sound seeps out from the early bars of 'Synesthesia'. This instrumental track is built up progressively, until the beastly, ravenous riff wantonly strides through the haunted landscape. Disturbing winds whip up a frenzy of dire and lonely emotions around the centre-piece of grizzled sounds. The effect is truly monumental.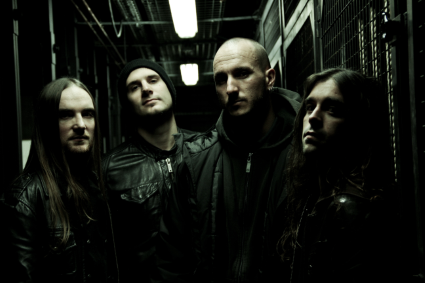 'Overcome' has a rapid stop-start rhythm which is extremely reminiscent of Dream Theater. The vocal is potent, fearsome and sharp. It evokes feelings of immense anger and foreboding. The 'chorus' is slightly more reflective than the onslaught of the verse. And this sets up a sympathetic and lightly flavoured backsliding beat – until a regurgitated and renewed screaming vocal hurtles back in again. The "Falling down…" lyric is relevant and jittery – and the scurrilous percussion on this track sounds like a windfall of scatter-bombs detonating in unison after a heavy raid.
'Edification Of The Fall' has a badgering rhythm and an assortment of bruising, bass-heavy percussive sounds. The vocals are vehement and spitting. Roux almost barks – at times – in ardent splutters of rage. The tune is effective and unrestrained. It takes just one listen to feel as if you have been sledge-hammered into submission.
'To Numb The Pain' has agonised fragments of tormented notes. These barb out neatly in an angular symmetry. They then stand up dangerously close against the blotted splats of drum and those clawing guitars. These sounds make up a fine cushion of sound. An inhuman roar rises up – across the jagged aural scenery – and this augurs in a chain of tiny shapes that start to peter out, like dimming stars in a ghastly blackening sky.
The 'Ghosts Of The Modern World' track is feverish. It incorporates an enormously successful series of rising buzz-sawing bass sounds. These sounds are huge geometric power sources – and the tune hangs like a bloodied carcass around these guttural manifestations. An urgent guitar flusters on, as it creates crazy zigzags in the smoky sky – hectically diving this-way-and-that until the listener becomes dizzied by the hypnotic beauty of all those catalysing sounds.
Then, gently, 'Requiem Of A Lullaby' swims into earshot. Like a coiled lug-worm, it will invade your inner head-space and will tantalise you with those feathery gills of majestic sound. This song is imposing and regal. Tiny rivulets of guitar are replaced by agreeable vocals (once again reminding us of James LaBrie) and these gradually clamour and extend, until they eventually fill out the rhizomes of the song, to create a vast canopy of richly abundant structures and dazzling images. This is a splendid track. Gloriously refined and subtly gallant.
"Back To Where You've Never Been" is an impressive progressive metal album – with all of the dynamic shifts and colour variations that you might expect – but without the bombast and effrontery that seems to come with the territory. Instead, with Hacride, we get a collection of generously composed pieces that do not become stale or unforgiving in length. Most importantly, the ideas and the images never become distracted by their own narcissistic grandeur.
This album has many winning moments. It is replete with experimental ambitions, and yet it creates a genuinely gritty atmosphere. And there are plenty of melodic surprises along the way for those who seek them. Go find.
8/10