300 fans line-up the whole way around the corner of Readings Sub89, to get a good view of tonight's California rockstars Pierce The Veil. Whilst queuing I text my photographer to see if he was near, and he reported he was on his way, and had overheard one fan confirm that lead singer Vic Futures smelled really nice. From here on in I knew that we were in for a treat.
Special guests hailing from Atlanta, were Woe Is Me. The band kick of with 'Call it like you see it' immediately there is a massive buzz from the crowd, there is so much energy in the room. Singer Hance (in his flatcap hat) says "Reading thanks so f*cking much". Before I know it, they are playing the glorious heaviness that is 'Fame Over Demise', everyone knows every words to this track! This isn't a gig anymore, it's a party, and everyone is involved. During the chorus the crowd move their hands from side-to-side, along to the song.
"I am the monster you created, and like a mountain we look down on kings" is sung by everyone in the room during 'Mannequin Religion. "Let me hear you" say Woe, and the crowd confirm that they do indeed know, every word to the song. The pit opens the biggest it has so far, and the band jump around stage almost in-sync.
"Its because of each and every one of you that we can be up on this stage tonight, give yourself a round of applause" says Woe Is Me.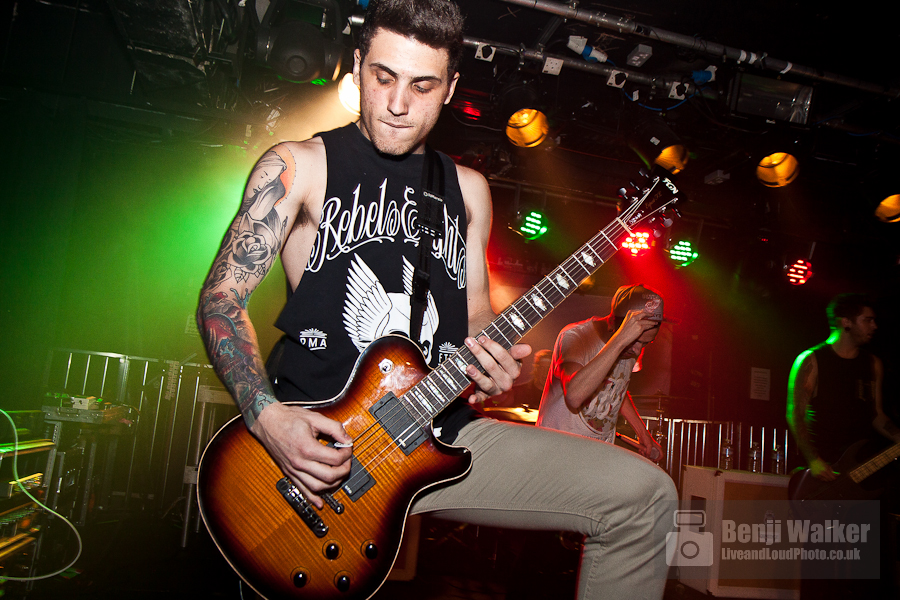 A true highlight of the set was what came next, Woe Is Me played old track '[&] Delinquents'. During this song, even if your normaly a non-mover at a gig, you were moving, because I didn't see one body that wasn't going crazy for this song. Its during this track that Woe Is Me ask the crowd to get low, and jump up into the most wonderful pit I have seen in a long time.
The last track of the night for Woe Is Me, is 'Vengeance' the W hand signs go in the air, as everyone sings "We will live forever".
We wait in suspense for Pierce the Veil to come to the stage; the crowd start to chant "PTV, PTV!!" The pre-gig music slowly mutes, the lights go down, and the chanting stops as people wait for PTV to come out onto the stage…. The beginning of 'May these noises Startle You In Your Sleep' starts, and BOOM!!! The lights are up and there has been an Confetti explosion!!!
The crowd are going mental, and all the girls have the highest pitch "Whoooo" going, especially every time lead singer Vic Fuentes moves toward the front of the stage! Every single person at this gig has an arm in the air, and is jumping up and down. The crowd surfing has started, and we are still in the first song! It's safe to say that all the fans also know every word to this PTV track.
I take a moment to look around, sweat flicks me in the face from the mosh pit, and I see the guitarist high-fiving fans, whilst playing. The party tone that Woe Is Me set, is in full force. PTV play 'Hell Above' the pits open up, and fans get up on the shoulders of their friends.
"We will bring the tidal wave" the whole crowd sing along with the band during 'A Match Into Water', followed by a clapping session.
The lights go low again…. "Oh my god" says Vic …. "I didn't know you guys did it like this in Reading …. This is probably the craziest show we have ever had. This is one of the best shows we have had in the UK!".
This is a gig with great vibes; everyone around me is really joyful, I can't imagine anyone didn't enjoy this gig. I see friends singing and acting out the lyrics to each other; every person seems to know every word. My photographer, who is in the photo pit, sends me a text, as I am near the back of the room. He says there are people in the front row, with tears of joy.
In between tracks, the crowd start to chant "Wall of death", everyone moves just encase, but this isn't a wall of death sort of gig. Instead a huge pit opens up, and a guitar solo begins, more confetti rains onto the crowd, and again the crowd chant "PTV, PTV, PTV".
Vic takes some time to mention some of the bands PTV have recently toured with, he mentions All Time Low, and the crowd go crazy, he mentions You Me At Six, and the crowd have deafened my ears!
Its acoustic time, and Vic sings 'I'm Low On Gas and You Need a Jacket'. As its 2013, rather then lighters, everyone has their smart phones in the air, as they wave their arms from side-to-side. I have never seen so many people sitting on people's shoulders before; I must have counted at least 30 people. The track draws to an end and Vic says, "Bring it back up!!! Circle pit!!! I want to see this whole place spin!" the circle pit seems  automatically in full force for the next track which is 'Caraphernelia'. Everyone sings the chorus "What if I can't forget you…."
"Holy Sh*t, this is a great show" says Vic.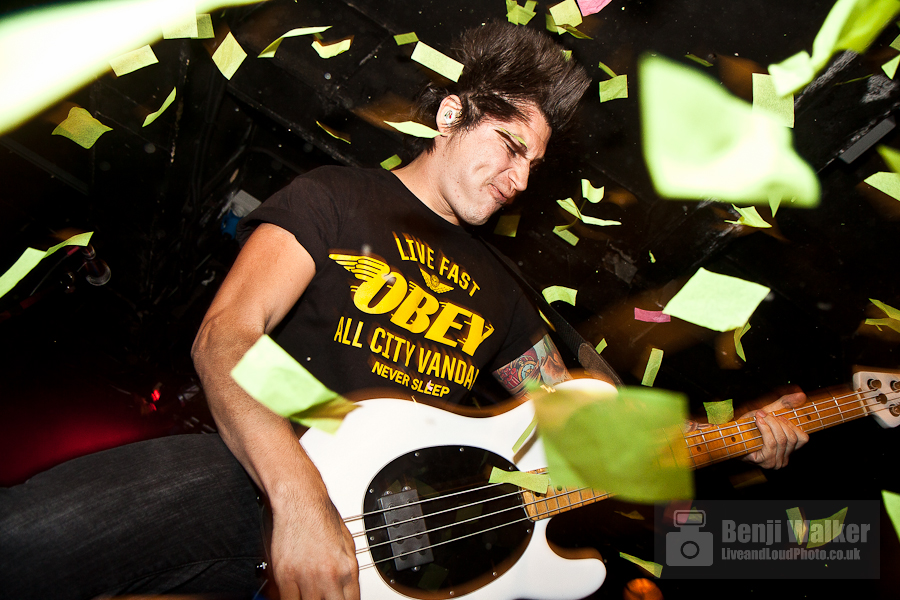 The band go on to tell a funny storey about their mate getting kinky in the bedroom, and getting his foot stuck in a place that he shouldn't. They then get a bit more serious saying that they read all the letters that they get sent, and some of those letters are really hard to read. Vic says "You guys have been through some crazy times, But music pulls your from those dark places".
The whole room stop and clap, and there is a sense that everyone is apart of something special. It doesn't matter what you have going on in your life, because this gig has been as escape, a party away from the outside world.
Finishing with 'King For A Day' every fan is singing every word dramatically to each other, the gig ends with another explosion of confetti. Fans lost themselves at this gig, there was such an exciting atmosphere, people were dancing like crazy, and really going for it in the mosh pit. This was the sort of gig that you come away from feeling inspired.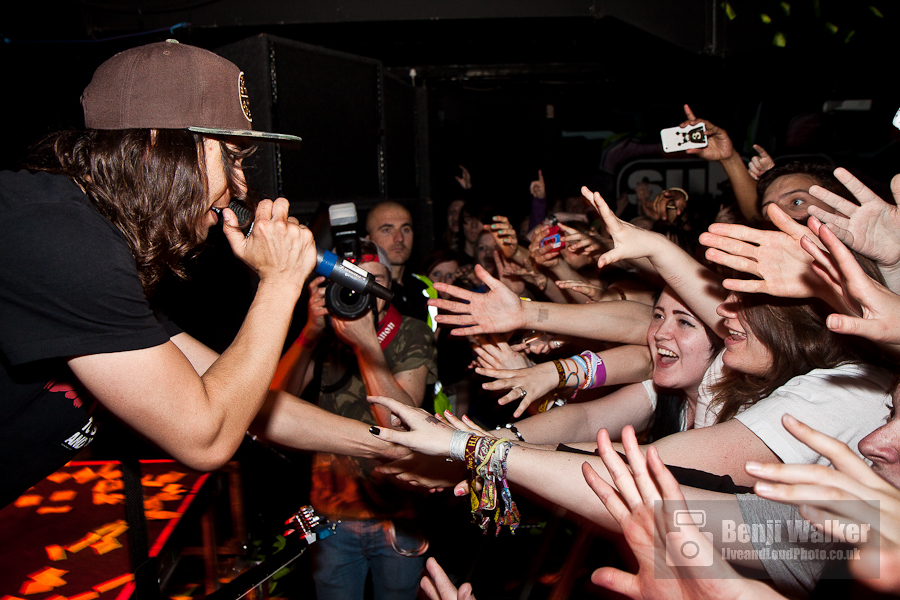 9/10