The Art of Disconnect is the new release by The Rocket Dolls and sees the hard-hitting trio from Brighton join forces with the likes of Chris Sheldon on mixing duties (Foo Fighters) for their third album, and what a great album it is.
Following on from the album Deadhead, Nikki Smash (vocals, guitar), Benji Knopfler (drums) and Joe Constable (bass) have taken a step towards a more mainstream audience. They've cleverly blended strings and piano throughout the album from guests Nick Evans (My Life Story and Truckasaurus) and Jimmy Owen to create wonderful, captivating soundscapes, but still retaining a grungy rock punch and a catchy edge that is the hallmark sound of The Rocket Dolls.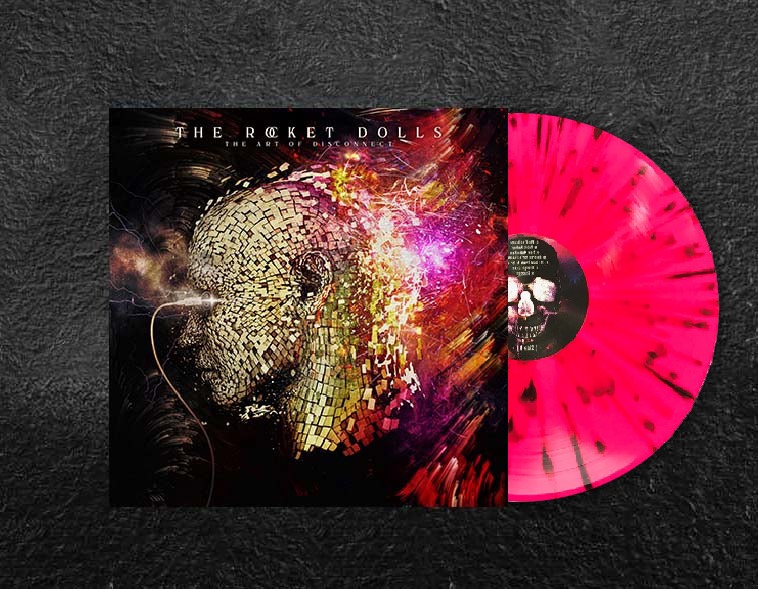 As colourful as the album artwork, the band have crafted 13 songs which should immediately lift this band into the radio airwaves and playlists of all rock fans. The riffs are face-melting, the lyrics are oh-so-clever, and spotless production from producer George Donoghue; who puts some big-name bands to shame. A few anthemic tracks should easily find their way onto more popular radio stations.
The songs are clever, unpredictable and leave you wanting more – it's like a good film that you can't wait to see again and every time you hear it, you hear something new. This isn't a straight 4/4 rock album, it's complex and thought-provoking.
Track Highlights:
 'The Art of Disconnect' – the title track personifies the dark and suspenseful side of the band from previous albums.
 'Enthusiasm and Fumes' – catchy number which was their first single off the album and is so good it's now their opening track during gigs.
 'Slow Motion Ruin' – chugging monster riffs and vocals to match.
'Blueprint for a Breakdown' – ups the bpm into a song that opens into a glorious and mosh pit rocking monster.
'If I Could Trade Me For A Day'– echoes the catchiness of Blink 182/Weezer with thoughtful lyrics about doubt and self-consciousness.
This album was recorded in 2019, and unbeknown to the band back then, they've captured the mood of the world today perfectly with song titles and lyrics that are so in keeping with today's disconnected world – 'Grin and Bare It', 'She needs a hero, but doesn't need saving', 'You fuel the fire, I'll fan the flames', 'Hope you're doing ok, last on the platform' – very clever. It gives an honest and open feeling to the album with self-analysis defining the doubts and fears that we all sometimes have.