After seeing Heaven's Basement play at The Duchess in York back in July 2013, I jumped at the chance to see the guys play again. Seeing the band play for the first time they blew me away and I have been hooked ever since. From a stifling Saturday night in July to a cold Sunday evening in March, the change in weather was no reflection on the bands performance. They were on 'Fire Fire' as they were last summer. It is very rare when you come across a band that after many months of touring around the world they still manage to be on top form, playing as if for the first time. As the crowd filtered into the venue and it quickly became packed it was plain to see that the band was playing another sold out gig.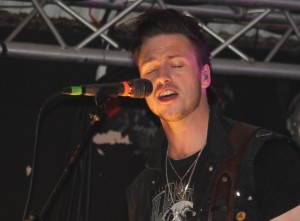 They took the stage by storm with opening track Welcome Home. It felt as if the whole crowd was indeed welcoming the band home after months of touring across Australia, Europe and the U.S. With such a cracking start it was clear to see we were in for a good show. Nothing Left to Lose saw Aaron getting the crowd to participate in singing. The sound of
"We don't belong here, the sound of a thousand vultures, will drown us out and confiscate our bones, we stand alone"
echoed across the crowd, a beautiful moment for any fan to be a part of. The crowd went wild as soon as the opening riff started for Fire Fire. Heads were nodding and fists punched the air as the crowd shouted Fire Fire. I am Electric saw the crowd go insane. A box placed at the front of the stage saw Aaron and Sid stand upon it and play to the audience, a clear indication that Aaron loved playing to the crowd. He wanted them to be able to see him as well as him being able to see them. One thing that is clear from his performance is that he is a well deserved front man but unlike some he isn't arrogant with it. He loves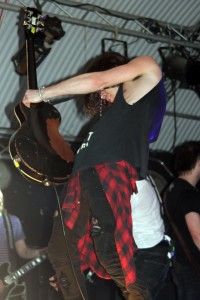 what he does and that comes across on stage. This certainly came across in Heartbreaking Son of a Bitch where the crowd went wild once again. Sid's guitar solos were insane, like Aaron it's clear he loves performing to the crowd and they love him to. The Price We Pay saw things being slowed down. Arms were being swayed across the crowd as Aaron's vocals really shone through. Aaron has an incredible vocal ability. He can smash songs like Jump Back with his strong vocals but is also able to sooth the audiences ears with The Price We Pay. Aaron was seen going into the crowd as everyone held there arms up and he walked across their hands to the back of the venue where he held onto then walked back across to the stage. Another indication that Aaron will do anything to keep the audience entertained.
Once again Heaven's Basement has proved that hard work and dedication really does pay off. They have come so far but I think they still have a long way to go yet.