The proposition is that Pearl Handled Revolver play their dirty blues and wistful rock 'n' psychedelia in a "Doors-Style" manner complete with Hammond organ. Formed by Simon Rinaldo (organ and bass) with Lee Vernon (lead vocals and harmonica) in 2006 – the Bedford (UK) based band also includes Andy Paris on guitar and Chris Thatcher on drums.
They are about to release their third full-length studio album "If The Devil Cast His Net" on 29th April.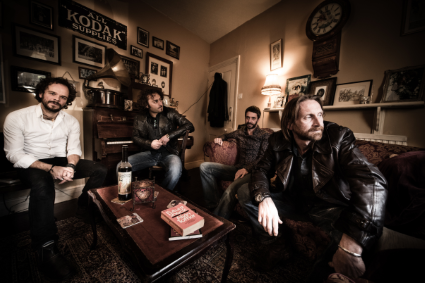 The album opens with "Help Me Down From The Trees" which has a thick rumble-strip of an outer coating — with squelchy watermelon thickness and dried aromatic rhythm. The muddy vocal is distinctly slurbbled — dissatisfaction conveyed in every nuance. Making the whole piece a potentially explosive tinder-box of muttered 'n' charred stabbing pains … well, right up until the highly excitable electroshock guitars. These vividly bounce in, to shine their emotions onto a bleeding heart.
They say "Don't Throw It Away" on packages of batteries and this is because the batteries seep their repellent chemicals, hazardous compounds, and toxic acids into the good soil. The same kind of accumulating rejection can be found inside the electrochemical cells that make up the second track on this album. As before, the voice is serious, stone-faced and abrasive… and the gears of the song seemed so glued-down in tar that it seems you will never wriggle free … but somehow the enmeshment is addictive… especially as it corrodes into your well being.
"Someone Like You" is is more delicate — more rhythmically melodic. It's lenient and merciful as a mollifying gurgle sets off a string of murmuring guitars and dabbling organ. This song probably best demonstrates the dark turmoil of that intense chewing tobacco voice as well as the unchecked temperament of the drums.
"Absinthe In Adelaide" has an infectious riff and filamentous shivers of fibrous guitar. Here the voice is at it's most Captain Beefhearty… All husky throb and dripping mucus.
Our favourite number is the title track "If The Devil Cast His Net" this has an ever-growing organ sound and a budding pace that reminds us of "When a Blind Man Cries" (Deep Purple 1971) – this is heavier and moodier than the other tracks, with a lot of dark moments and the unexpected suggestion of warm glowing candles-notes in between all that friction.

The album has a few spoken word moments and plenty of dark introversion… for those reasons this may not appeal to fans of loudness and the excessive flamboyance of hard-rock or listeners seeking a riotous party atmopshere. The music here — let's be frank — is moody, unrefined and sulky even — it is soaked in ash and tears…
Perhaps the Blues can never be truly defined. Maybe they can only be really felt when they are played directly from the soul. And for that reason we need a band like Pearl Handled Revolver. Unafraid of the dark. Energized by seclusion … They play blues directly from the inner sanctum…