"Am I looking through rose-tinted glasses, or are we the youngest people here?" whispered my better half looking out among the greying flock being herded to their seats. Not quite, thought I when young singer/songwriter Prash Gor bounced on stage with his battered acoustic guitar. The Leicester lad then proceeds to sing around half a dozen songs, a number about love in its more melancholic moments but with admirable variety and some depth. His breathy invocative voice is appealing and his self-depreciative between-song patter chatty and endearing.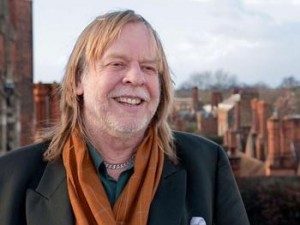 When Rick Wakeman makes his own entrance he not so much bounces as bounds on stage like a pantomime villain,  flips the tails of his formal dress coat up and proceeds to solo effortlessly at his grand piano over a backing track to the classical composition 'Pachelbel's Canon'. As he rises to a sold-out theatre's applause and I see him more clearly it's fair to say Mr Wakeman's never been one of sartorial elegance, indeed the capes and flowing gowns of his 70s prog rock heyday might be considered a bit more tasteful than the concert pianist with white trainers look he's flaunting tonight. Either way, he's always known how to get your attention.
Our initial impression is that most of the audience are here because of Wakeman's frequent appearances on TV with the likes of Grumpy Old Men or Countdown but we're playing the ageist game and it becomes apparent there are bonafide musical fans here who could tell you what bass players played on what tracks from million selling albums likes The Six Wifes of Henry VIII, of which we only get an airing of 'Catherine Howard' tonight. That stated, tonight is an evening has been listed as an evening featuring "The music and anecdotal wit of an old age pensioner" and he's more than willing to pace the front of the stage, microphone in hand, telling tall stories and true, making our eyes water with laughter with risqué tales galore amidst fond reminisces and observations on the famous folk he's worked with during his lengthy career.
Some of the stories are well known, not least his being called upon to do session work for Cat Stevens with former Yardbirds member Paul Samwell-Smith in the producer's chair, but hearing them live and sharing in the extended jokes just adds to the evening's entertainment. That he then plays an instrumental version of the Stevens hit single 'Morning Has Broken' that on completion my wife leans over to me and says "That was beautiful" means he's got all bases covered here tonight.
The prog fans get their rocks off to the likes of  Return To The Centre Of The Earth's 'Dance Of A Thousand Lights' and The Myths and Legends of King Arthur and the Knights of the Round Table's 'Merlin the Magician' as encore. None of them losing anything with the absence of those banks of mini-moogs and ARP synthesisers they were once recorded on. But then, as Wakeman noted some of the best advice he ever got was from David Bowie who played him songs on a battered 12 string acoustic and said to the keyboard player if they sounded good on that, imagine how they would sound with decent instruments. It's a lead in to him playing 'Life On Mars' a song he played piano to originally and has now made an instrumental version of that's racing up the singles charts, with proceeds going to the MacMillan Cancer Trust.
During reminiscing about Bowie his sense of loss was apparent, and a cover of The Beatles' 'Eleanor Rigby' extends that emotion musically, but so too are we amusingly treated to a series of nursery rhymes played in the style of famous classical composers. Best of all though is the moment before he sits at the piano to play a medley featuring Yes hits 'And You And I' and 'Wondrous Stories' and a roar goes up as he confirms publically that he, Jon Anderson and Trevor Rabin have been recording an album and will be touring, playing Yes numbers live.
A true raconteur and quite obviously one of the world's greatest living keyboard players; playing with but a single grand piano to defend his reputation. Tonight, he leaves us old fogies happy and content, his job well done.