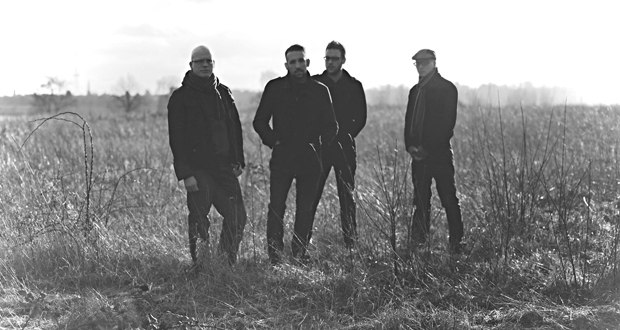 Venue: The Cluny, Newcastle
Looking back I'm not sure if InMe were in the right place at the right time, or the right place at the wrong time…or the other way around. I'm not too clear on why this band aren't as celebrated as their contemporaries. With a new take on the alt-rock/post-grunge style and great musicianship to boot InMe are one of the most overlooked bands of the 21st century. Yet, they have gone forward and never looked back releasing album after album and frequently touring. It's safe to say they have built a cult-like following over the past decade and a half. Judging by the audience tonight that does them a lot of favours.
On the dawn of a new album release, there's some uncertainty if this will be all new material or a night of the classics. Iron Maiden cruelly do that to us every time they release an album. Starting with their latest single 'Blood Orange Lake' this could  be the former. A great track and understandably they want to put it front and centre. This is followed by 'Unsderdose' what? bringing out the big guns from their classic Overgrown Eden already? I see what Dave Mcpherson and co. are doing, draw us in with nostalgia and then hit us with the deep cuts.
From here on out it seems like a 'fans only' affair. As mentioned previously : InMe have a cult-like fanbase, similar to a band like Rush, so it make sense every album from InMe's consistent discovery should be explored. It almost feels as if the guys are doing the set on the fly, playing any track they like. This is a good thing as it keeps it each gig fresh and unique. Let's be honest though, I doubt a casual fan is dying to see other than what their nostalgia allows them.
Going back to the Overgrown Eden songbook, InMe surprise us with 'Her Mask (PA)' and the whole place erupts. 13 tracks in, this has been a very filling gig. Credit where credit is due, the Brentwood boys have pleased every kind of fan tonight: obscure album tracks and new material for hardcore fans, most of the big singles for 00s nostalgics and casual fans, and a bit of everything for new fans. One thing though. No 'Crushed Like Fruit'. Really? Isn't that like Maiden not playing 'Number Of The Beast'? Either way this has been a good set. Hopefully this isn't the last we see of InMe but next time a tighter set list wouldn't hurt anyone.