On September 27, 2019, the influential and distinctive British power metal band DragonForce, founded in 1999 by guitarists Herman Li and Sam Totman, will release their eighth studio album, titled: "Extreme Power Metal."
A video for the track "Highway to Oblivion" has already been released, with praise heaped onto it by loyal fans.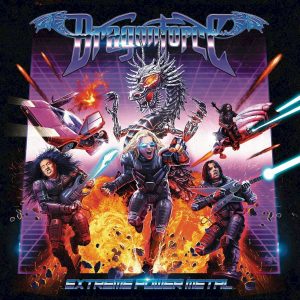 And "Heart Demolition" — the track that's been inspired by classic arcade games — also has an accompanying video with a retro look that absolutely complements the song's ultra-accelerating and tempestuous guitar sounds and the exultant, often spiritually inspiring, multi-level harmonizations.
Epica keyboardist Coen Janssen recorded keyboards for the new album after former keyboard player Vadim Pruzhanov announced his departure from the band (May 2018). After recording new material, Frédéric Leclercq also announced that he would leave the band to follow other projects.
We chatted with Marc Hudson (lead vocals) about the 2019 album:
RAMzine: Do you think the September 2019 incarnation of the band will be as dragon-burning and as epically-energetic as any previous line-up?
"Of course it will be. Needless to say, we were sad to see Vadim and Fred go, but they both made a choice that was best for them. We will continue to bring the full bombastic DragonForce experience regardless, and continue to play our music with the same intensity as before."
RAMzine: Tell us about working with Epica keyboardist Coen Janssen.
"It was great working with Coen. He's a phenomenal keyboard player and musician. He did an excellent job on the album and has both captured elements of what Dragonforce like to do regarding the keyboards, and also added some extra orchestration and brought many of his own influences with him."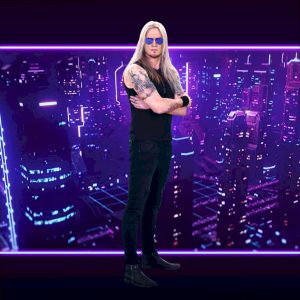 RAMzine: How was working (again) with producer Damien Rainaud?
"Working with Damien was a pleasure as always. He's both a gifted producer and musician. As a band we all like him as a person as we were able to experience touring with him before when we took Once Human on the road. Yes, you could say he's Dragonborn."
RAMzine: How do you respond to the suggestion that your new sounds are more like 80's glam metal than they are your trademark power metal?
"I would say that whoever said that has ignored 90% of the album, and written a review without checking out 9 out of 10 songs, ha ha…"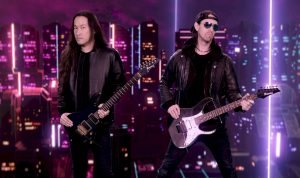 RAMzine: What was the thought behind the cover: "My Heart Will Go On" ?
We thought it would be catchy, funny, and we'd enjoy recording it and maybe playing it live… Who watched the Titanic and doesn't have that song stuck in their head?"
RAMzine: It has been suggested that the Extreme Power Metal album has been influenced by sounds from retro games… what are your (favorite) retro video games (excluding GH3)?
"Well it differs between each member. Herman likes shoot-em-ups / bullet hell games, Sam likes anything from original Donkey Kong to Ghosts and goblins and I like old school RPGs."
RAMzine: Why will "Behind the Mirror of Death" only be available for a Japanese audience?
"Because Japanese fans always want extra stuff,  and we thought this tune was in a similar vein to the Castlevania inspired songs that Fred has written previously. Those songs have always gone down well in Japan… That's it!"
Congratulations on creating another epic album!
Neil Mach was talking to Marc Hudson
'Extreme Power Metal' is out Friday 27th September 2019