In 1979 Iron Maiden released their  official debut on Vinyl 'The Soundhouse Tapes' and with having a reputation of bringing history to life, 'Maiden are due to release their longest ever song with a duration of eighteen minutes! The track will be 'Empire Of The Clouds' released as a limited edition 12" picture disc single for Record Store Day (April 16th). Taken from their latest album The Book Of Souls, the single is housed in a uniquely designed sleeve, featuring a replica of the actual newspaper (below) story reporting on the fate of the R101 airship, which is the focus of the song.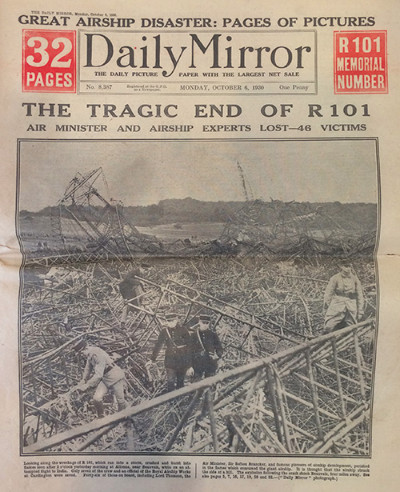 Written by Bruce Dickinson, the vinyl will also feature a B side with an in depth interview discussing Dickinson's inspiration for the song. He comments that it's:
"A very poignant story, a very human story, a story of ambition and dreams".
Supporting Record Store Day for the very first time with an Iron Maiden piece, director of strategic marketing (Parlophone) Paul Fletcher explains how the band came to be involved:
"After the success of The Book Of Souls last year and especially with the reaction to the double vinyl format I felt that a song like 'Empire Of The Clouds' needed to be immortalised in some way. It was never going to be a radio track/ single so after discussions with management we went down the let's educate & commemorate a real tragedy that Bruce had chosen to portray in this amazing song. As usual with Maiden they turned the package into something special with unique commissioned artwork and the idea to license historic material from the Daily Mirror archives from 1930. The result is an incredible package that both vinyl collectors & Maiden fans will be keen to own."