Warm applause greets Canadian rock band The Dam Truth as they walk on stage and tool up. With a solid heavy band groove established, bass player PY Letellier works the floor throwing more shapes and poses this stage has seen since Pete Way strode it in two bounds back in 77 on UFO's Obsession tour. Geoff Barton's Sounds feature on that night in Birmingham propelled that band's career in the UK, I doubt I'll be able to achieve that, but I can confirm they put on one hell of a show as opening act tonight,
Statement of intent 'This Is Who We Are Now' works through a sound mix that still needs sharpening, unhindered the guitar line face-off each other in the Stones-like blues of 'Full On You', then under a sturdy bass line and whining guitar from Tom Shemer, female vocalist Lee-La Baum now shorn of her own guitar and shaking a tambourine; croons through some seductive rock affixed to a blues rock riff – Janis Joplin becomes the too obvious lazy reference point for most, but as she shimmies about as the music briefly takes on a Yardbirds style rave, for a few moments it's like Dusty Springfield hijacked her old friend John Paul Jones' band Led Zeppelin.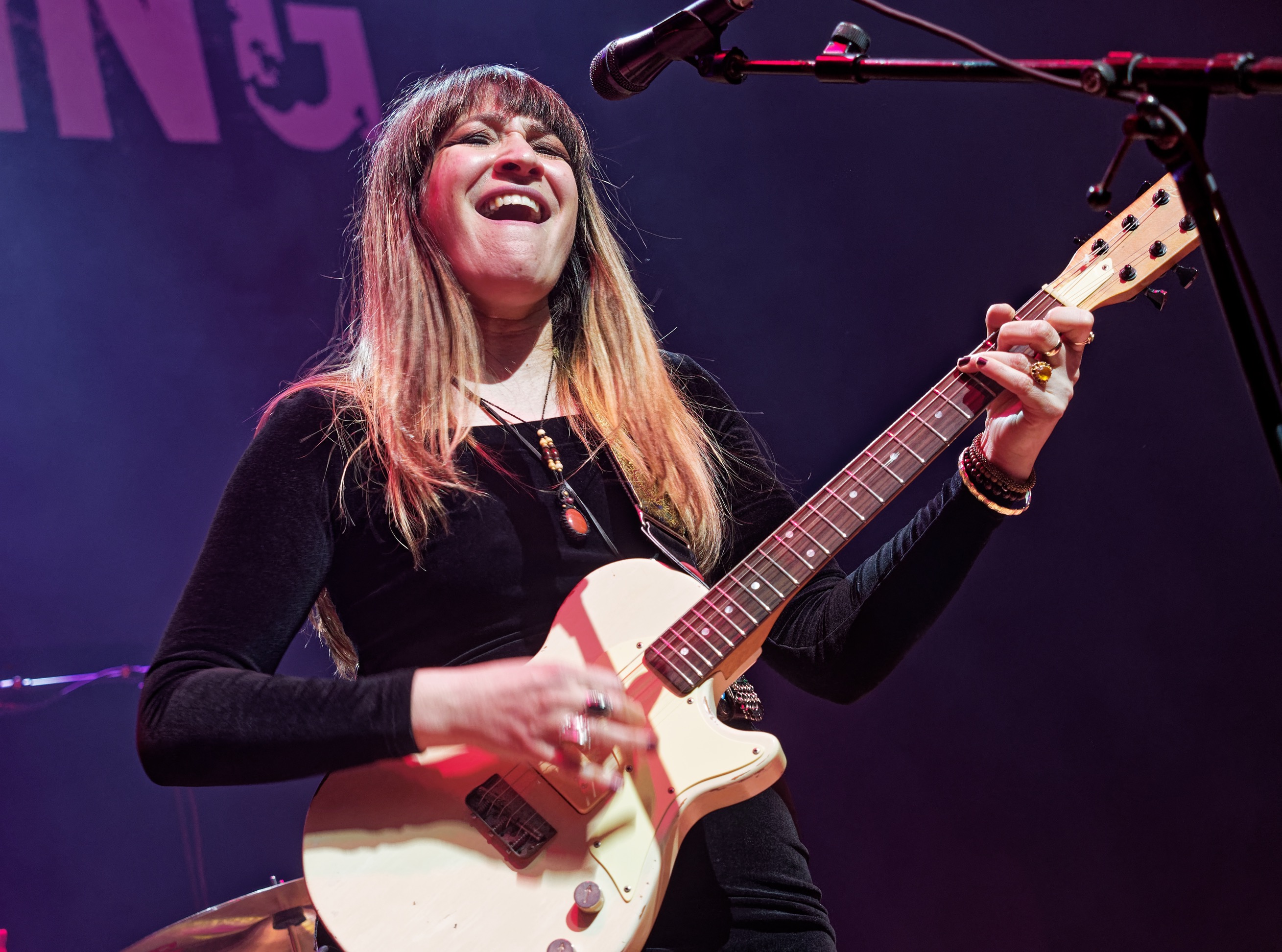 With a rather impressive red-brown Flying V in hands, Tom Shemer stands front-of-stage soloing, Dave Traina's drums set a slow effective temp underneath as 'Too Late' takes on big doomy grunge sound with Baum oozing jazz blues refrains over the top before speeding up with a more Santana-like Latin flavour.
They certainly put on a show, while Shemer's soling away, Baum is down on her knees strumming her guitar while Letellier behind bent over backwards playing his bass – Playing a ditty called 'Lonely' being a little ironic considering the intimate posing going down. Back on her feet Baum addresses the audience: "I know we've just met" she says, "But help us out!" They respond positively clapping along and chanting out "Hey, hey, hey".
The Byrds roughed-up country rock sound of radio hit 'Only Love' goes down well, with 'Look Innocent' following naturally in style. Then with Flying V once more attached Shemer introduces 'Look Innocent' wherein the anthemic approach effects Eric Johnson improvising over Rush's 'Xanadu' soon turning into a steamy blues dragged through rock 'n roll dirty backstreets before heading to greener pastures with a country rock singalong chorus.
Certainly, they put in a good performance; the club dates they've playing on their own, concurrent with this support slot, is probably where you see them take flight. All in all, tonight bodes well for their future.
Following a brief intermission, the sounds of AC/DC's 'Hell Ain't A Bad Place To Be' over the PA become drowned out by the audiences' almighty roar as King King stride on stage. So loud is this reception, that even band members seem taken by surprise, the whites of their eyes clearly revealed as they look up and about the hall.
"So nice to be back here again," calls out lead vocalist/guitarist Alan Nimmo. "Thanks everyone for your support… Are you ready?" Alongside his brother Stevie, they strike their guitars, hitting a resounding chord. "Hand in the air – Come on!" is the cry from on stage as the three-man line of the Nimmos plus bass player Zander Greenshields pitch up to their microphones front-of-house harmonising on opening rocker '(She Don't) Gimme No Love'. Overall, it's as empowering as ever, albeit a guitar solo gets lost in the mix so we've still not got a perfect sound yet.
The tempo is kept up for 'Fire In My Soul', and Alan Nimmo gives the first of several thanks during the evening for people attending, requesting applause for The Damn Truth and their own road crew, and expressing how happy they are out playing live after such a miserable experience with the covid pandemic.
Having caught them out at The Robin, in Bilston, on their last tour at the tail-end of last year, I was concerned their line-up overhaul might not be a positive move, but vocally the four-piece vocal approach proved highly impressive. They've tweaked that further this tour, noticeably in the form of Stevie Nimmo – He's playing more lead guitar work, and they're taking even more advantage of his vocal work, him often following Alan's main fierier vocals with passionate echoed refrain.
With newer Maverick album number 'One World' the sound improves, a funky vibe rolling from the band. Add a dance beat and some female backing singers this is the kind of tune Paul Young or Go West could've brought to the table back in the 80s. Just saying, not advising.
"Clap your hands, sing along" comes the call from on stage, and there'll be much of that across the length of the show, alongside a call and response of "Whoa-whoa" between band and audience. Greenshields' bass rumbles nicely, thank you, on 'Waking Up', as keyboard player Jonny Dyke is heard more prominently – Aptly, as he's a rising star within the band with his name often being called out by audience members tonight. Just as some rather wonderful squealing echoed guitar sounds out, the band actually stops. Lights go up and those seated told to get up, before the guitar solos continue.
My companion for the night taps my shoulder and motions for me to look behind me; the house is packed. When previously playing this venue, they've been a few shy of a full house. I'd wondered if King King had hit a career plateau but am gratified to witness their popularity still increasing.
Dyke's keyboards tell us we're heading for 'Rush Hour' next – They take on an approach reminiscent of John Paul Jones on 'No Quarter' adding implied menace to already emotionally textured number. As the number progresses, his organ sounds like ice crystals slowly melting and a deeper warmth ensues. In between, band introductions are made and it's revealed that tonight is drummer Andrew Scott's birthday, then guitars strike the kind of sound Bad Company's Mick Ralphs patented, huge onstage harmonies are felt alongside the audience's enthusiastic but less in-tune support, and the song reaches a triumphant conclusion. ""That just made the whole thing worthwhile," espouses Alan Nimmo.
It's followed by 'A Long History Of Love' and I'm taken back to old school slow dances; the guilts and joys of youth played out equally in my memory as the keyboard solo envelopes the sound emotively, with flourishes of bravado added by Alan Nimmo's own solo.
"Thanks for standing on your feet and joining in, it makes it easier for me" he laughs, following its conclusion, before noting next tune, 'You Stopped The Rain', is usually dedicated to his brother, but since he's on stage with him tonight, they're dedicating it their mother, who's spent two years locked-up indoors because of the pandemic.
Profoundly here, it's apparent how this version of the band stirs the soul angle deep. That stated, in its latter sections drums here offer a jazzier feel, while a raving rock guitar solo powers over the top, with more upbeat, electric piano tinkling us towards the song's last post.
From second album, Standing In The Shadows, we get the gentle ride of travelling blues 'Coming Home (Rest Your Eyes)' – Piano is again highlighted here, the ensemble playing adding warmth and reaching arena rock appeal. It's followed by 'Whatever It Takes To Survive', chilled slow blues building in an empowered manner. A rolling and tumbling clavinet feed us into 'I Will Not Fall' as power chords play over a bass pumping hard in time with the snare drum – Some DJ could probably do a dance remix of this should you extract its blues rock essence and guitar solos.
Coloured lights flood the hall for the party rock of 'Let Love In' wherein the band's Chicago blues influences take a passing visit to the sounds of Philadelphia. Final thanks are made, drums rip-up in brief solo, and the band play out in high celebratory mood.
Time offstage is not long before encores are offered. Shorn of rhythm section, Alan Nimmo straps on a Gold Top Les Paul but he and Stevie are here for their vocals, assisted by Jonny Dyke who's also on piano 'When My Winter Come'. Somewhere up in that rock 'n roll heaven, The Everly Brothers are smiling.
Greenshields and Scott return for 'Stranger To Love'. The song burns bright in that classic arena rock manner. However, the guitar solo party trick of Alan Nimmo's guitar being ever turned down a notch leaving a deadly quiet audience to hear his unamplified guitar licks takes on a new twist. Scott joins in, gently clicking his fingers, and motions for the audience to join him percussively, then, that he then shifts from clicking on the first beat to playing the off and they follow suit is bloody impressive, clever. Solo roaring back into first gear, the band kick back in, it's especially heavy on the bass, keyboards holding the sound in a strong embrace, organ then soloing betwixt guitars branching out in a classic rock manner, thundering along towards a decisive conclusion.
It's been a familiar set of greatest hits, as it were, but the band has mixed the running order a little, there are looser soloing sections, and its more soulful than blues rock based. It's comfortable but not cosy, and just what this listener needs right now.