Opening with Mother Nature, a track that pours out the gates loudly with the rhythm section prowling and pounding about, a keyboard in support while a mean guitar shakes and shrills the lion's share of the song into tasty morsels, vocalist Mike Freeland giving it some and a little bit more on the old throat delivery quota, screaming out: "Mother Nature – She will get ya!" Words that don't exactly evaluate those philosophies underlying the Gaia effect but enough to draw in a few rockers' attention, and once Alex Garoufalidis wrings the life out of the neck on his guitar all that can be said pretty much has been.
Third album in with Lion's Den, the band that is King's Call are based in Germany, signed to Mausoleum Records and delivering hard rock with more than a dash of melody. They were founded by Garoufalidis, who hails from Greece and has previously been involved with the likes of Graham Bonnet and Chuck Wright; Azerbaijanian drummer Asec Bergemann and German bass player Andreas Kramer are both dextrously upfront in the mix, while the aforementioned Mike Freeland is from Britain, having recently joined them, and had previous form fronting Praying Mantis and More.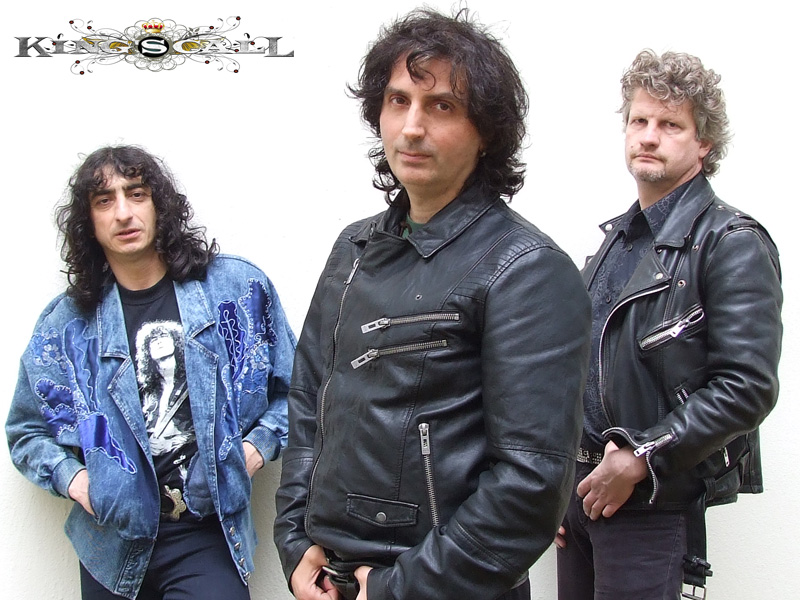 Freeland was supposedly given the elbow from Praying Mantis because his vocals were no longer cutting the mustard. If that's the truth we all need a dose of the cough syrup he's been taking since because it's his voice that first drawers your attention; ranging as it does from a young Sammy Hagar to a gutsy Ian Gillan.  Apparently it was Grammy-nominated producer Chris Tsangarides who, on returning to work with King's Call, recommended Freeland to them (having recorded him for the 2009 Praying Mantis album Sanctuary). With Lion's Den mastered by Pink Cream 69's Dennis Ward between them they've helped King's Call deliver a powerful album of rocking metal packed with solid tunes.
Riding The Storm continues tenuous ecological links while developing into a full on Montrose-styled rocker, Freeland's lungs loosen like the proverbial lion's den while Garoufalidis' guitar shreds sweetly; Dig It then moves that sound into a heavy rock and roller with more of a Zeppelin backbone to it where it's big on the drum sound; similarly, the infectious riff on Get Up is classic head banger material. The songs, all written by Garoufalidis, tend towards the obvious lyrically with Holy Ground (about playing live on stage) and Red Lights (not the sex trade in Amsterdam but the signals we give out in relationships) being slight exceptions.
Former Rainbow/Ozzy bass player Bob Daisley describes them as offering "Great radio-friendly rock music," and it's true. There's nothing new here but it's done very well with occasional keyboards filling out the sound.  They're all talented musicians in the studio, and did a European tour supporting Harem Scarem at the tail-end of 2013 so hopefully this line-up's proved to be roadworthy with more to offer in the future.
My personal favorites are the less obvious numbers. Shy Love starts off speedily, then slinks back into some evocative night time rocking chords built for MTV during the 90s with  seductive chorus harmonies even as Freeland's lead vocals rise about it all, and Is This The Life where there's an almost four to the floor disco beat, and some lovely use of effects on guitar.
Avalon is an interesting track, being jazzy rock metal in The Ian Gillan Band style, and Garoufalidis' guitar is often pitched just the way Ray Fenwick's used to be. His solos veer towards being colourful scale experiments, giving the band an identifiable musicality that he gets to express to the full on instrumental Avalon – Rising. With two bonus tracks in the form of chunky chorded harmony rocker Waiting For You and acoustic ballad Love Will Find A Way, Lion's Den by King's Call offers an even dozen loud and proud well-crafted songs.
 8/10