Kicking it since 2008, Rain of Acid, a melodic death metal band from Vaasa (Finland) will release its second album 'Ghost Town' through Violent Journey Records on January 24, 2014.  Before starting the recording sessions of the second album in 2012, Rain of Acid had the opportunity to be a supporting act for Before the Dawn on a massive Finish tour. 'Ghost Town' was produced and recorded by Tuomas Saukkonen, the lead singer of Before the Dawn and Wolfheart. He also contributed as a session drummer on the album.  A music video of the song 'The Closure' will be released at the end of January.
Intro
The opening track is a powerful instrumental that weaves a very colorful picture of blended acoustic guitars and allows the listener a sneak preview of what is to follow.
Unveiled
As suspected this Finish band don't mess about, they produce solid no nonsense tracks that are always glued together with melodic time frames and superb vocals of which this track is no different. It rampages dangling the bait in front of your ears and has you gripped. Absolutely brilliant track!
The Tower of Glass
Vocal scorning prevalent and meets the aural full on to a rasping delight of rhythmic guitar that suddenly ebbs and then picks up speed to produce a thoroughly engaging listen. The melodic fluidity from guitar and drums are powerfully captivating and fuse together a vibrant colorful track of sophistication.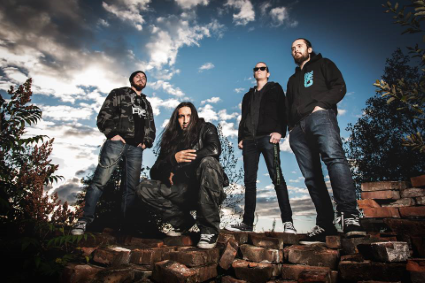 Unchained
Aurally challenging, this track reaches peak before it gets there, it's fast and holds a vehement melodic rhythm that is serious on all accounts shaping the imagination and influences with a teasing of intensity.
Wasteland of Dreams
The solid bass hooks come flying in and are then accompanied by the shrill guitar riffs that hold a rapacious gait, followed by a constant predacious beat. The vocal scathing is raw and brittle. That melodic tone is to die for and for that reason alone this has become my favourite track on the album, although they all have their bite and no doubt there will be more favourites to follow but this is simply stunning!
Broken
Nothing like a good drum battering to get the get the blood flowing and a strong traumatic vocal to proceed it.  The mighty rhythms tower and soar into oblivion. This track is like a kick in the gut with steel cap boots on. The feisty powerful beats live up to the band's name as they shower down on their victim. A great track indeed so get that volume up and savour every last morsel.
The Darkness of Light
The now distinctive sound of Rain of Acid dishes out more slabs of melodic energy and produced another irresistible masterpiece of varying melodic rhythmic flavours of intensity.
Lobotomy
Fast paced and malicious the rhythms sear past the ears and will leave a trail of dust behind it! The rhythmic attack leaves nothing to the imagination as it splinters with the spiteful harsh vocal. Another sure fire winner on this album of delights.
The Closure
Metal meltdown is upon us once again as the aggressive urgency of the track becomes apparent early on. They do not disappoint, with a gurgling vocal presence and an inferno of sonic rhythm that will simply destroy the aural as the bone crunching beats fire in quick succession – this is pure mastery of metal – you will hear this as soon as that guitar comes into combat and batters you to death – outstanding!
Ghost Town
This has a shrill and stark feeling as an acoustic guitar swaps its rapacious attack for one of more beauty.  It meanders until the electric guitar takes over and plunders its flavour with rigid ferocity. The vocals however do not compromise their tones of sheer hunger for anyone and possess their territory with vigour.
This album is typically Finish – they know all the right buttons to press to make their albums more than worthy of listening to so it's hard not to be sucked into the melodic melee that confronts the aural and gives you something to follow. Each track becomes compelling in its own right.
In short this is one extreme album that holds so much for the listener to chew over, possessing towering rhythmic swagger and drumming that will knock you down in an instant. Vocally extreme and superb it all blends in together and as ever offers infectious grooves of extreme pleasure.
It isn't just one or two tracks either, the whole album just bristles and splinters with aggression, even the slower more intricate tracks as they begin turn malevolent at the drop of a hat. This is nothing short of stunning! The album cover is just as menacing as the music contained within it – so the only thing you can do now is join forces as it is guaranteed 100% potent and is a demandingly infectious listen!
10/10
Rain of Acid 'Ghost Town' is a 10 Track Album to be released 24th January 2014 via Violent Journey Records.