It's been another epic metal filled night! I have had pleasure of watching four fantastic bands; Soulfly supported by King Parrot, Incite and Lody Kong at Manchester academy three. It's safe to say there wasn't a dull moment!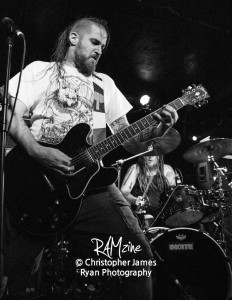 King Parrot are one of the most insane bands I have ever seen! They know how to take the crazy train to the next level. High energy, fast songs, and a lead singer that generally doesn't give a fuck! He was everywhere! Even with such a small stage he managed to give an epic yet manic performance off and on it. Jumping onto the barrier, grabbing fans, singing into the crowd, head banging with them and repeatedly throwing water on everyone. Lead singer, Matthew Young is fearless! Flashing his arse and spitting into the crowd, he couldn't keep still! The audience interaction was second to none.
While the guitarist and bassist where jamming together, Matthew was jumping around like a crazy person, with some very interesting facial expressions. "Are you ready for Soulfly," says Matthew as the crowd goes nuts, "well your going to have to put up with us fuckers for a bit," straight into the next song the pit grows fiercer as Matthew puts fingers into his mouth then spits at the crowd again.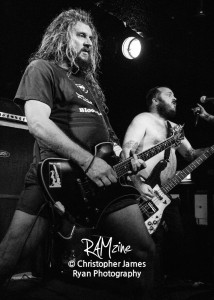 Their songs are just as bat shit crazy as the band! He followed by calling out one of his friends "Come on Giles, get in the fucking pit you pussy, your supposed to be the hardest motherfucker here, get in the pit you arsehole". Then he gave a shout out to a female fan "Oh and happy birthday to you sweat heart this song goes out to you!!"
Before ending the show, the lead singer managed to crowd surf twice, which I was really impressed with, at this point I was near the back and he managed to reach me! He then got onto a fans shoulder and made it back to the stage in one piece. The crowd was going mental! They left by thanking the crowd "Thank you very fucking much". The crowd give out their last cheers as they eagerly await for soulfly.
Fans thoughts: Penny from St Anne's: "It was awesome, I like them more then I expected".
Jenksy from Stockport: "They where angry, very angry. This was the first time I have ever seen them, that's what I took from this. The lead singer looks like a funny version of my mate John haha".
Joel from Manchester: "They where sick!! I really enjoyed them".
Danny from Bolton: "The bassist had the coolest hair I've seen in a long time"!
Carl from Manchester: "I didn't like them to be honest a bit generic same old same old".