It's been another epic metal filled night! I have had pleasure of watching four fantastic bands; Soulfly supported by King Parrot, Incite and Lody Kong at Manchester academy three. It's safe to say there wasn't a dull moment!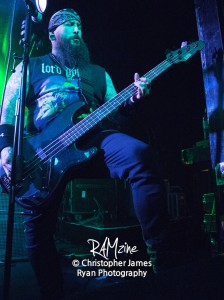 Incite… What a band! Loud, angry and in your face! You could really feel the energy from these guys! Leaving our minds blown and us fan girling for more! From the moment they came on stage lead singer Richie C had the crowd going nuts shouting "Come On!" as they go straight into their first song 'The Slaughter'. A sea of head banging began followed by crazy riffs and a God like stage presents.
This guy had one mean ass stare!! "Manchester make some god damn noise," says Ritchie C as the crowd goes wild. "Our next song goes out to all the government's that fuck us every day". You could tell these guys had a big "Fuck You" message to the rest of the world! We were lucky enough to hear a new song off their new album "This is for all of you coming here early." The crowd scream with excitement. "Raise your fucking horns Manchester!". There isn't a still head in site!!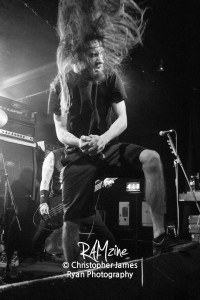 Richie C then riles the crowed up even more by mentioning that they played with Cancer Bats the week before, "You don't want to be showed up by the other crowd" he said. Everyone starts going berserk, that's when I thought "why do I always get stuck next to the over excited meathead that can't keep his hands to himself". The music is so heavy I can literally feel the vibrations!!
"Raise your middle fingers" says Ritchie C, like the pipe piper he said and they followed! Everyone had their Fuck Yous in the air! He screams "Commee Onnn," hair starts flying everywhere. "Manchester we are an army of darkness, let's start a circle pit!" A Circle pit brakes out and bodies start flying everywhere! "Raise some fucking horns", and on that final note their set was over. They thanked the crowd and left the stage. I would defiantly pay to see them again!
Fans thoughts: Conrad from Manchester: "I am really drunk lovely we met Richie selling t shirts, he was awesome! My son is named after max. I like them a very lot!!"
Gareth from Bolton: "They where fucking Bob on fucking grate."
Chris from Bolton: "I bloody love them, so glad I got to see them!!"
We caught up with vocalist Ritchie C before the show! Watch the full interview here: