Progressive Metal and Djent progenitors Periphery return to Manchester with their debut show at the Manchester 02 Ritz along with fellow proggers Destrage and The Contortionist in an effort to answer the age old question, does it Djent?
Appearing on stage first was Italian Progressive Metalcore band, Destrage, who provided an anarchic set made up of mostly songs from their latest albums Means to No End and Are You Kidding Me? No which is the best representation of their song which if you were to compare them to any other bands working today would be Protest the Hero meets The Dillinger Escape Plan which is to say that they put on a wild show that takes no breaks and delivers music that is both technical and preposterously heavy.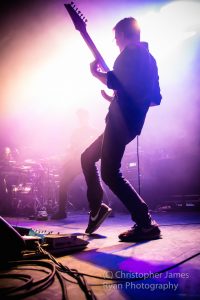 Next up is American Prog Metal band The Contortionist and from the very first notes of their opening track 'Language', it was made perfectly clear that The Contortionist is the band that will fill the void left by the disbanding of Cynic.
The Contortionist give an atmospheric performance of their weird hybrid of post metal and technical death metal which makes for a set that occasionally makes some really abrupt and unexpected turns varying from the calm introduction of 'Language I and II' to the pounding aggression of 'Solipsis' and all of these elements tied in the with the strange almost robotic movements of vocalist Michael Lessard make for a haunting set.
Periphery enter the stage to 'Black Minute', which acts more as an extended introduction given how gentle and restrained the song is but effectively sets the tone for the following song 'Stranger Things', a 7 minute long song that manages to balance clean tone chording and tapping and the 8 string chugging that Periphery have since become famous for.
Easily the highlight of the night was 'The Way the News Goes', everything about this song and performance of it is incredible, not only does it have one of Periphery's best vocal performances from the inimitable Spencer Sotelo but it also showcases the awe inspiring guitar skills of Mark Holcomb and Misha Mansoor, arguably two of the best guitarists in metal, while half of the room screams along with the infectious lyrics, the rest of the audience watch the instrumentalists in disbelief of just how tight they are.
Continuing the set with 'Marigold', Periphery start showing their influence from their peers in that some of the riffing sounds like it could have come from Between the Buried and Me or Dream Theater, Periphery demonstrate they can don't need all 8 strings to write technical songs.

The set was mostly comprised of songs from their more recent albums Periphery III: Select Difficulty, Juggernaut: Alpha and Juggernaut: Omega which for some may be disappointing as many important songs weren't played including 'Icarus Lives' and 'Make Total Destroy' and those still waiting for the return of their 15 minute opus, 'Racecar', still have to wait further but the newer material and while many may consider this a missed opportunity it is also worth noting that some of Periphery's older material can be considered a bit dated and monotonous which has occasionally been a problem for many bands of the Djent movement but luckily their newer material is eclectic enough to keep those with the shortest of attention spans interested.
Periphery returned for an encore with 'Lune', the final track off of their latest album, and it would surprise absolutely no one if this were to become a permanent staple to Periphery's set, this song is fairly atypical of Periphery, it isn't particularly heavy and doesn't rely on fancy instrumentation or soaring vocals but relies on simplistic (for Periphery at least) instrumentation to create a serene atmosphere before leading onto a segment of audience participation which could probably be heard streets away which makes this song one of the best songs in Periphery's back catalogue.