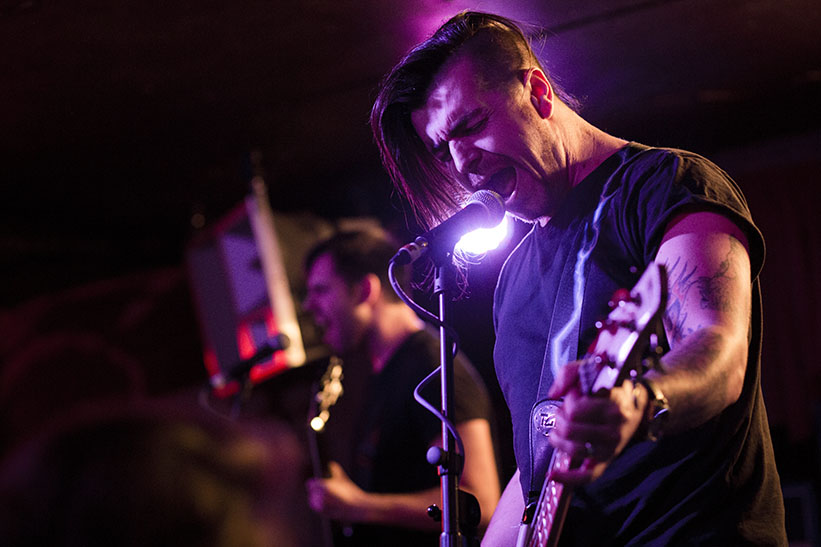 Anyone who has been to Think Tank in Newcastle will know it is a unique little venue that attracts all kinds of acts. Just a couple of weeks ago Wednesday 13 played here and in a matter of weeks, so will indie outfit Lisbon. It's not unusual for Think Tank to have a few bands in one night, and this is one of them. Post-hardcore/metal fusion mob, 48 Hours and neo-goth punks Ashestoangels.
As you might have guessed, there are a couple of support acts to kick off the night. Local band – Remembering The Unknown play classics by Nirvana and The White Stripes, as well as being joined on stage by Ashestoangels vocalist Crilly for a rendition of 'Monster' (The Automatic). The young talents are followed by North East pop-punks Shortside Avenue, who are right for this gig but seemingly fall flat when they cover Nicki Minaj's 'Starships'.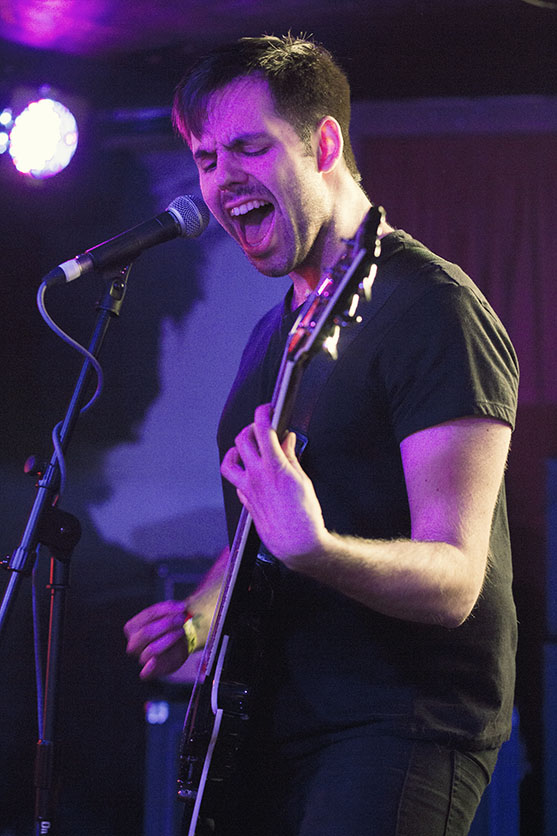 Almost immediately after the last band pack away, Kent rockers 48 Hours take the stage. There has been a lot of great power trios in the rock scene over the past few decades – Nirvana, Blink 182, Green Day and Muse.  In a few years time you can add 48 Hours to that list.
The three guys from Kent have been brought up on high energy rock like Korn, Papa Roach and to a lesser extent Feeder. This influence definitely comes across  in their performance. It clicks when songs like 'Nothing Left' or 'Hollow' have something that seems to be absent from a lot of contemporary bands' itinerary: Memorable choruses and vocal harmonies.
Continuing with tracks such as 'Forget' (don't forget it), 'Secrets' and 'Given Up' – it shows how much time in a day these guys put in to their craft. Using what is a relatively small venue to get a stadium size-sound seems like an everyday thing to the three-piece. Some came wearing Ashestoangels t-shirts and went home 48 Hours fans. It might not be an overnight success (get it, as in two days…nevermind) but 48 Hours are ones to watch (these time jokes still not doing anything?).
Fans young and old move closer to the stage as Ashestoangels start setting up. Although the Bristol boys haven't had mainstream success they already feel like an 'iconic' band. It's probably the best time ever to be an unsigned band – people are spending more money on gigs now than they are on albums. Bands like Fearless Vampire Killers are on tour with their heroes and you can get a dedicated fan base through social media. Ashestoangels are a great example of this, along with 48 Hours.
Bass player Nico is covered in glitter, guitarist Adam is wearing a pink stripe across his face, drummer Jim has a customised Cradle of Filth t-shirt, and front man Crilly certainly looks the part. He leaps across the stage like Iggy Pop on Red Bull and sounds like William Control and Robert Smith's love child (presuming it could sing). This is something else missing from modern-day rock 'n' roll; looking like a band. Ashestoangels look and move like a legendary rock band.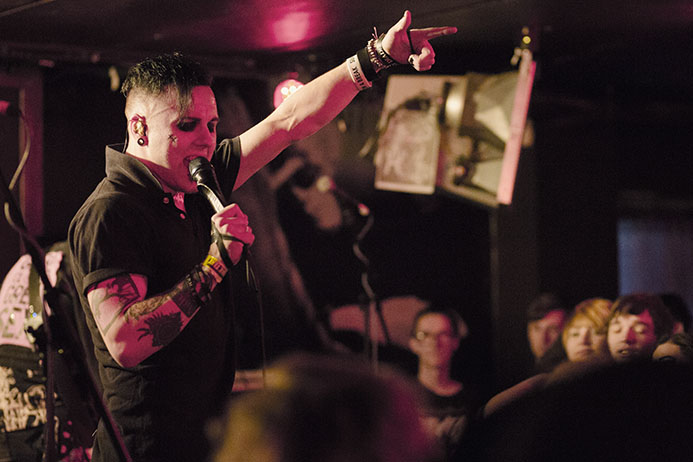 Naturally, this band is NOT style over substance. Ashestoangels have a setlist loaded with fan favourites such as 'Dorian' and 'Six Six Six'. You couldn't say that about a band playing a venue this size half a decade a go. Crilly also has great crowd interaction.  Letting the front row join in some parts of the song and making eye-contact with everyone in the room.
Concentrating on their latest album 'Horror Cult' with newer tracks such as 'Bury Us In Black', Ashestoangels are a live treat. It's no wonder they have a devout army of fans who follow them to gigs and show up hours before entry. You may see Ashestoangels pop-up on festival line ups, and they are positively worth checking out. If they aren't playing the Download main stage next year, there's something seriously wrong. In a few weeks Ashestoangels are playing Whitby Goth Weekend, not too far from here. They are sharing the stage with some big names in the 'goth' world and so they should, as they will be as important in influencing new bands today as bands like Fall Out Boy and My Chemical Romance were around 5 years ago.