The first support band is Incite all the way from Phoenix, AZ. People should always show up for the first band, that's how you discover awesome new bands such as these guys! I am immediately loving the brutality of this band. They have the sort of power and aggression that I crave from bands these days.
Richie C on vocals has that passionate look in his eye as he says "Let me see your fucking horns" this is one for the long haired headbangers – hair is flowing at the front of the room. When a band give it their all no matter how many people are in the room, you know that they are in it for the long haul.
[huge_it_gallery id="34″]
Incite invite Liam Cormier of Cancer Bats up on stage for a song that they have never played live before, a track called 'Rightful Spot'. It's always really exciting when someone from the headline band pops out early…and another reason why you never miss the first band!!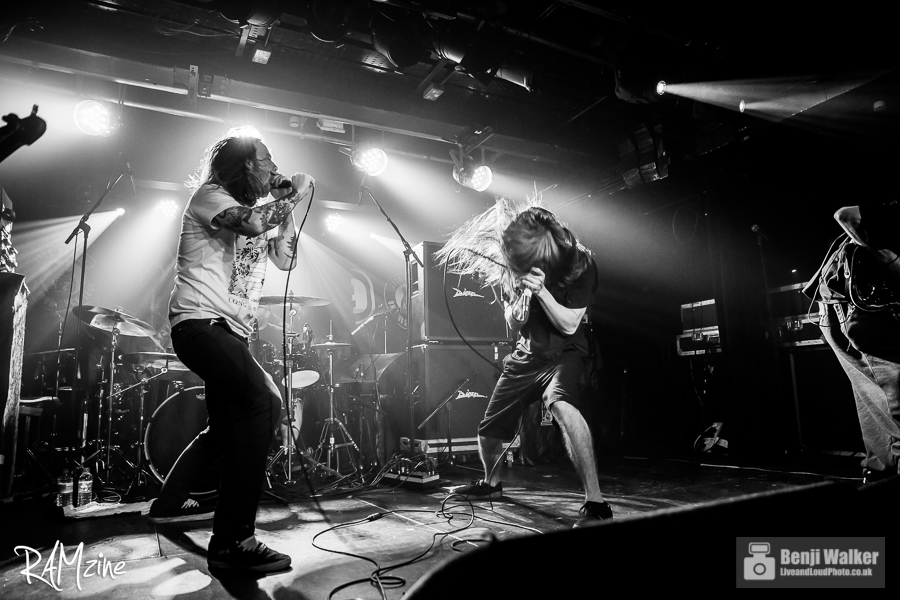 It's important to have a good warm-up band tonight, because it is fucking freezing. "Alright UK raise your middle fucking fingers" says Richie C as he screams out "What The Fuckkkk". This last track could have justify a circle pit from the crowd, sadly not this time reading. I am however now sufficiently warmed up.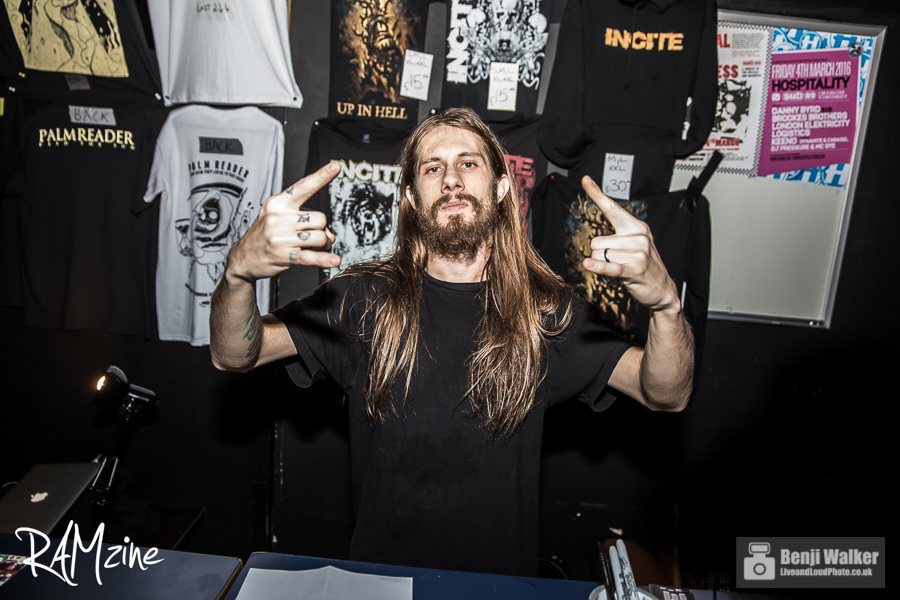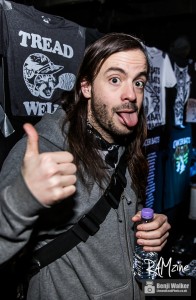 We also found Liam hanging out at the Cancer Bats merch stand. We put some money in the welly boot that he had to raise money for The Princess Margaret Cancer Foundation. Read more here.
Palm Reader are the next band – they explode onto the stage! They go from slow spoken words, to fast crazy organised mess. I love how British they are, perhaps it's only noticeable now as they are amongst all these US band.
When I look at Palm Reader members playing, I can't help but notice their sinister yet devilishly happy facial expressions. It's great when a band can show the feeling of their music.
They slow it down for one track, before getting back into the madness. It definitely takes a keen ear to listen through their craziness. Sludgy at times, they seem to take influence from a few genres.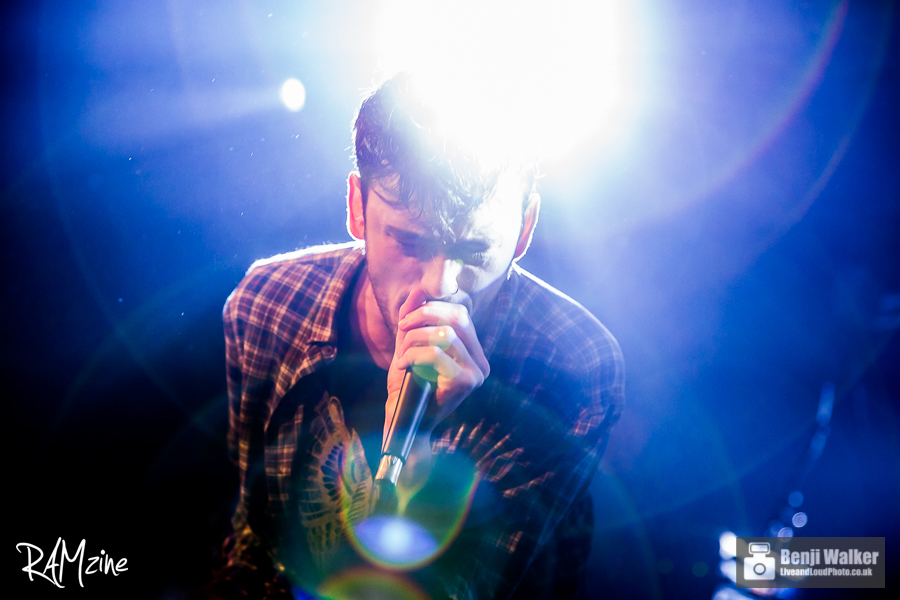 Next up is Lord Dying from Portland, OR. The first thing I notice is that the lead singer shakes his head as he sings. Perhaps for technique, perhaps for effect? Lord Dying play talented, and I very much appreciate the guitar rhythm.
They tell us that this is their first time in Reading, and that they are excited to be here. Perhaps we will get to see them back at Reading Festival one say on The Pit stage. They play 'In A Frightful State', the crowd move to the grooves.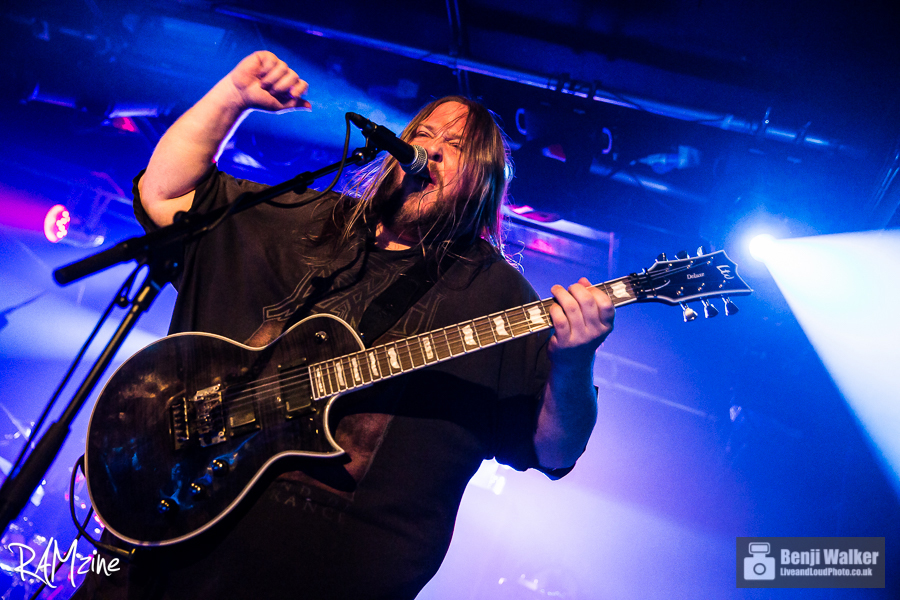 The crowd wait with extreme anticipation before Cancer Bats arrive on stage to some funky opening music. You can feel that shit is just about to get real, and then the room explodes with high energy for first track 'True Zero'. Almost on auto pilot the crowd sing/shout along to each word. The pit has opened and it looks like it's here to stay. Lead vocalist Liam Cormier is great at interacting with the crowd, and is quite talkative throughout this fast-passed performance.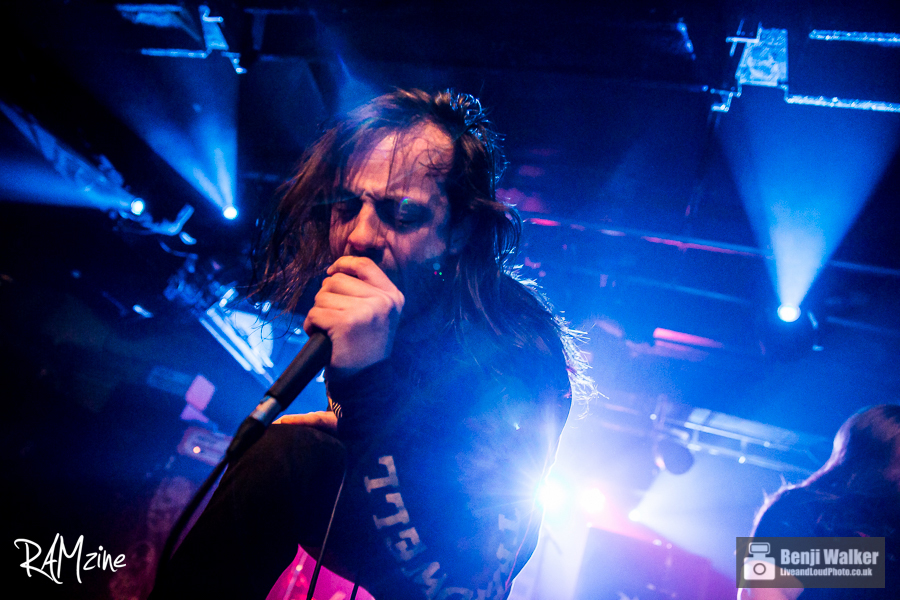 "Mother Fuckingggg Reading… Kowabunga…Hakuna Matata….it is good to be here! For anyone who doesn't know us… allow me to formally introduce ourselves! We are the Mother Fucking Cancer Bats!!" says Liam.
Amongst songs Liam takes a minute to ask where the best kebab shop is in Reading, so the band can grab some dinner after the show. Istanbul was the result as shouted out by the crowd. Liam continues to tell the crowd that the band had earlier that day been taken for some great coffee in Reading.
Liam asks for a circle pit and he gets a huge one! "You guys are sickkk" he says, as we see everyone giving it their all. This is the biggest circle pit that I have seen at Sub89, and I review a lot of shows here.
Liam tells us about his "rubber boot" which us UK lot call a "welly". The boot is situated at the merch desk, and is to raise money for The Princess Margaret Cancer Foundation. Read more about that here.
Taking a minute to thanks all of the bands playing support on this tour, Liam gives a special mention to Incite saying; "Do you know why I sang with Incite earlier!? Because they are fucking awesome. Go check them out". We highly agree with this statement!
Cancer Bats play a great range of tracks tonight 'Lucifer's Rocking Chair' from 2010, Bricks & Mortar from 2012, 'RATS' from 2013, and their Beastie Boys cover 'Sabotage'. The band end with 'Satellites' from their most recent album Searching for Zero.
[huge_it_gallery id="35″]