Tonight has been yet another unforgettable evening. Not only was Coal Chamber headlining with their rock industrial vibe and heavy out there tracks. Dope, The Defiled and Soil joined them for one hell of a gig. You could barely move due to all the metal fans that came to show their support. Making this one night to definitely remember. The crowd was alive and raring to go. Eagerly awaiting what these four amazing bands had to offer.
Due to unforeseen circumstances we missed out on Dope opening up the night and The Defiled. In saying this we spoke to a few fellow metal heads that were clearly enjoying the gig. In their own words they were ecstatic with the performances from both bands and want to see them back in the UK as soon as possible! They even wanted to make it their own personal mission to make this happen! Even with a short set Dope got the crowd pumped for the night, they played well-know track 'Die Motherf*cker Die' which of course pleased the horde and packing one hell of a punch!
The Defiled, who replaced American Head Charge, did an awesome job of keeping the crowd loud and wanting more. We were also told they had an amazing set and played their well known tracks 'Call To Arms' and 'As I drown'.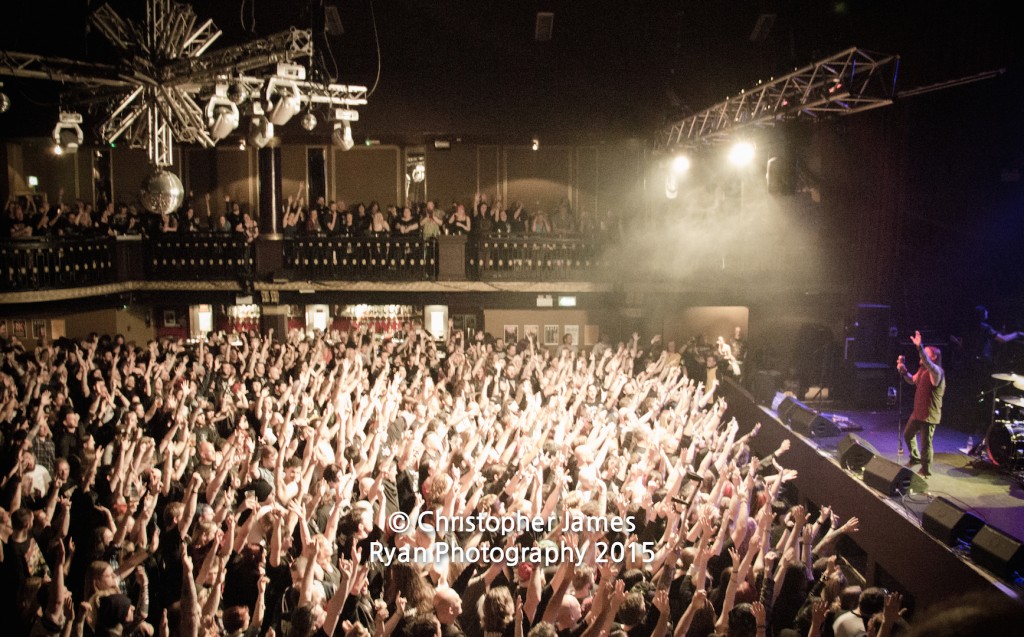 We arrived as Soil was setting up and from what I could see the crowd was loud and eager for more! The venue was roasting and smelt like a mixture of ass, sweat and vomit. It was so hot you could literally see sweat dripping off people but don't worry the crowd was not discouraged by this delightful odder.
All of a sudden, it goes dark; the crowd start to ROAR with anticipation!! A few seconds go by then BAM the stage lights go up and we're throw straight into 'Breaking Me Down'. Heads start to fly as everyone starts to lose it. They continued to tear it up with 'Loaded Gun' as Ryan Macomb's Yells "Let me f*cking hear you" as he leads us to the chorus. The mosh pits were fierce, wild even, people being thrown into one another. It was carnage! 'The Hate Song' followed with Ryan who demanded everyone's hands to be placed in the air, for us only to be met with an incredible drum solo from Mitch Gable… Ryan then vanishes off stage and is then seen ripping it up in one of the massive pits!!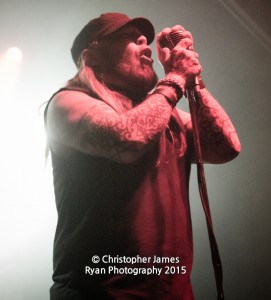 On top of all this mayhem they hit the crowd hard with 'Halo' – I even found myself head banging to this one, I mean it would rude not to. Hearing the crowd as they sing along to this well known song, at the top of their lungs was insane! It made Soil rock out even harder! If they hadn't already blown away the crowd with 'Halo', then 'Black Betty' sure did! Soil has really made this track into one badass song! Almost tipping the crowd over the edge. This was an awesome way to end their set and leave the crowd wanting for more! "Thanks for having us Manchester, Thank you so much", are Ryan's final words before he leaves the stage.
As we stood anxiously waiting for Coal Chamber to grace us with their presence, the roadies started to set up props such as a retro microphone and a megaphone! This was a huge indication we were going to be in for one hell of a show! The stage was left open as the roadies finished up. The crowd started to become loud and could barely keep their composure as one by one the members of CC greeted their fans and took their positions on the stage. Dez Fafara (vocals) was last to make it to the stage, which made the crowd, go berserk!!
They jumped straight into 'Loco' which sent the crowed into frenzy! With crazy strobe lighting and smoke machines it was quite a sight, with massive mosh pits formed and a mass wave of crowd surfers, its a great track to open up the show. The crowd loved every minute of it! Throughout the night they played more of their classics such as 'Big Truck', 'Not Living', 'Fiend' and 'Sway' – with each song the crowd grew louder! The pits became more intense and brutal! On top of this CC played a brand new track 'I.O.U Nothing' from of their new album Rivals. Even though it was a new song it had the crowd singing with fists pumping in the air. 'Sway' was the final track of the show and it was the perfect choice. With it being the last song you could tell the crowd were really giving it their all with one of the biggest mosh pits I'd seen all night! Dez left it on quite a blunt note "We do not do encore's, they are for Rock Stars" – so with this there were no bonus tracks.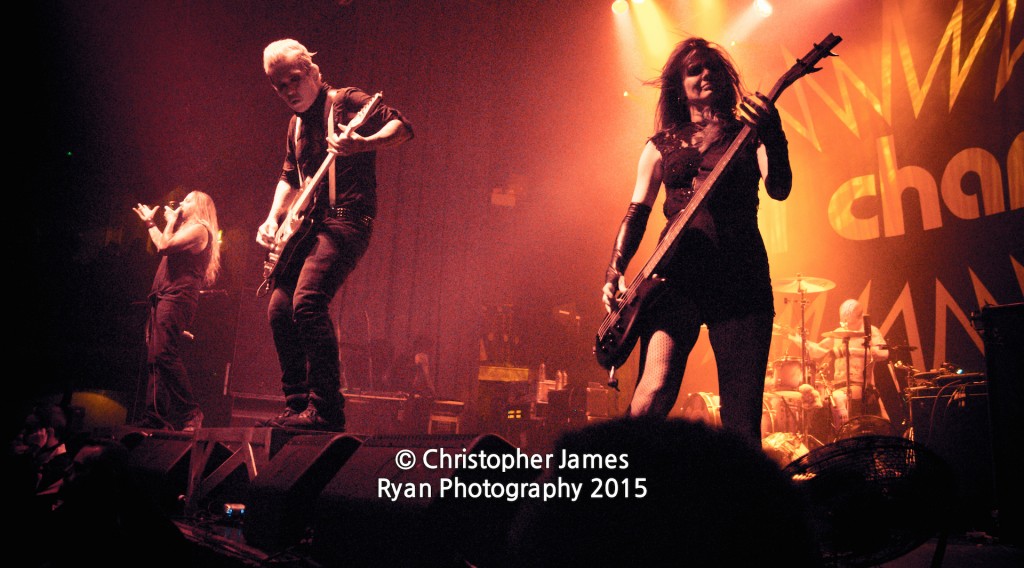 During the gig Dez talks about the early days when the band just started and they were practicing in their garage. Trying to make it sound proof by using anything, such as carpets on the walls etc, as he feared the neighbours would call the cops. They used all sorts of crazy items to make new sounds to add to their industrial style of music!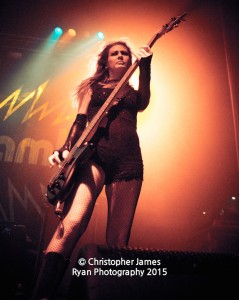 He also added that the band had been split for almost decade and hadn't seen each other for years as they were all in different places. Only to be reunited on stage and perform like they have never been apart. He addressed the fans and told them if it weren't for them, then CC wouldn't be where they are today.
On the whole I'd say tonight has been mind blowing! Coal Chambers first UK tour in a decade and they still kicked ass! Showing the world they've still got it and hopefully will do in the next decades to come. The crowd were on fire, and CC didn't disappoint! I would highly recommend this band! If you ever get chance to then go see Coal Chamber live, Do it! Take your friends, get sh*t faced and enjoy one hell of a show!