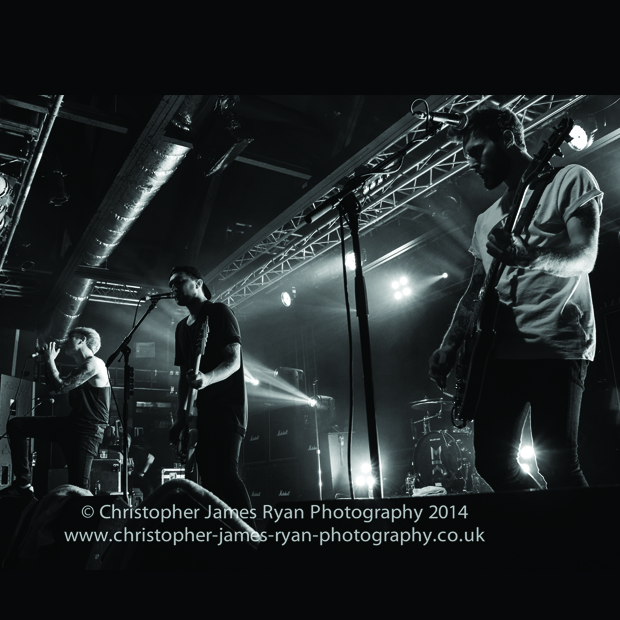 Woooooahhhoooh it's Mallory Knox live in Liverpool! They open with 'QOD II'! This track features on the Deluxe version of new album 'Asymmetry'. "It's been an incredibly long time since we have been in Liverpool, thank you so much for the support" says Mikey Chapman (vocals). Mikey continues "Now, who wants to hear some new tracks?" as the band play 'Shout Out The Moon' which is the extremely popular new single, watch the video here:
Next they take things back to 2012 with 'Wake Up'! "Ah Liverpool this is gonna be fun!" says Mikey. At this point the crowd went nuts! Looking around, the whole room is passionately singing and clapping along to this classic MK track! "Well, we are well into the tour now and were out of the UK, so its glad to be back! We have missed you. Big thanks for the support, thanks for downloading" says Mikey.
"Has anyone been following us from the start? We started this project in Dan's bedroom but had to stop at half five as his neighbor wanted to watch Deal or No Deal"  – Mikey Chapman, Mallory Knox.
Well that's defiantly a story to remember! "This next song goes out to all those who give it all they got, come on Liverpool show us what you've got!", Mallory Knox start 'Resuscitate'. The crowd yelling to the chorus, it's mellow but you feel the lyrics hit you.
Silence, utter silence, and then suddenly, Boom! Back into action. Belting 'Oceans', and the audience is going mental for it. The deep mood has just got spontaneous, a dramatic u-turn you can hear fan girl screaming, and a few off the lads too! It looks like the crowd was programmed to sing along to the song soon as Mikey stops singing.
"Anyone in Love? This next song goes out to all those in love, anyone not in love, sort it out, sing and dance if you know this song (1949)" say Mikey. Well heres me serenading to a pint, that sorta makes it even, right? After that we pick up the pace a bit. Mikey says "Anyway, enough of that sh*t, back to the good stuff, now what I want from you is Hey Hey Hey" – to which the crowd did…they did indeed, this one was 'Dying to Survive'.
I must point out that the drummer keeps on making a special face for the crowd, a rather happy derpy face…i'm guessing the derp is the new smile! You'll see what I mean on the image below. The next track is 'Ghost in the Mirror' – "Come on Liverpool jump!" says Mikey.
"Liverpool you lot are smashing it tonight, but I want more from you, I want to hear everything you got!" The audience they clap, clap clapidy clap along to the beat and do give it all they got indeed! Well it looks like the end of the show and it does look like beer can fly, and they go off the stage in the pitch black, but nope the crowd wants none of it, yelling "Mallory! One more song!", over and over!
"Surprise, bet you didn't see that coming did you and we are gonna play a few more songs if that's okay?" says Mikey. "Yeeeeeaaah!!" says the crowd in a good manner! "Thought so" says Mikey.
"She took him to the lake" the atmosphere quickly simmers down and becomes a smooth chilling zone. You can see the crowd slowly waving to it. Just wait for the drop and BAM the mood just got cranked up another notch or two!
The final song 'Lighthouse', and my god they saved the best till last! It was simply fantastic. The whole crowd got told to get their phones out and put it on torch mode, and the place lit up like fireflies. "If you know the songs then sing along!" says Mikey. The phones went away and quickly people were raving and yelling along. There was much cheers such happiness all around.
Well I must say it's been a night to remember, it's been so unexpected and very spontaneous which is perfect for a gig. Well that's time to wrap it all up now folk's thanks for reading! And remember to look at the images and if you love it all don't forget to share! If you were at this gig what do you think of it?