You may have noticed we have been covering live events as blogs as of late – this might be for gigs we feel the actual atmosphere is worth talking about , more than the performance. It would be tempting to write this as a blog seeing as this wasn't your traditional gig. Advertised as 'Undead and Unplugged' Wenesday 13 and Roman Surman are sat in front of the audience: telling stories, answering questions, ad-libbing and of course playing songs…acoustically. Yet the performance it self is phenomenal, and this is a full UK tour. This is still a gig at the end of the day. Just a really unique one.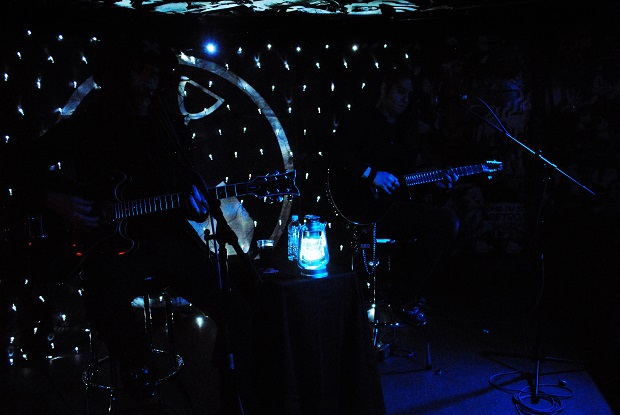 What makes this an even more uncommon gig for an act as popular as Wednesday 13 is: there's no support act. We are greeted with a black backdrop covered in fairy-lights (sorry, demon lights) and two stools which would soon occupy Wednesday and Roman. As 'unplugged' versions of louder bands go, there have been some classics – famously Nirvana, Alice In Chains and Korn have had successful unplugged albums. As well as the famous acoustic stage at Download. On the other hand acoustic sessions can turn cringe-worthy quickly, think of almost every Radio 1 Live Lounge ever*. Evenso, it's not like Mr Poole hasn't done this before. 'Undead Unplugged' was the album released in 2014, followed by a tour similar to this one.
The duo introduce themselves and segue in to a story about the last time they were in Newcastle, this involved Wednesday himself going on a haunted tour. Pretty apt as this gig has a 'ghost stories around the fire' feel to it.  Not that this gig is short of music, the North Carolina goth-rockers launch in to 'Blood Fades To Back' and 'Dead Carolina'. One thing you notice is that Wednesday 13 really does have a great singing voice and doesn't always emulate Alice Cooper or Marilyn Manson. Horror-punk is  difficult style to tone down but these guys have seemed to be able to pull it off.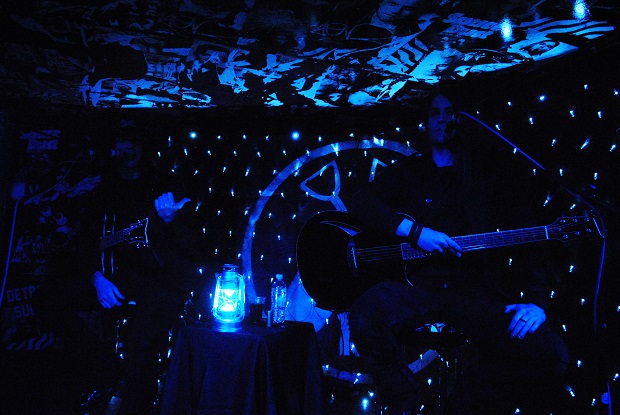 Guitarist,Roman Surman, being a former member of Murderdolls and current member of Bourbon crow and Wednesday 13's touring band – he has been his wingman for over 20 years and the show wouldn't be the same without him. Both with their own guitars, these songs could have been written by both Jonny Cash and Ozzy Osbourne. They even pull out the big guns 'Walked With A Zombie' and 'God Is A Lie' mid-set showing the confidence Wednesday has as a musician and playing some of his most well known solo material among stories of drinking, music video clowns, Billy Idol's people and answering questions about Murderdolls, whisky and rejected band names.
This feels a lot like a gathering of fans, with a thank you from the man himself, rather than the high-energy gigs this venue is used to. It's pretty clear that Wednesday loves spending time with his fans, taking time to answer each questions in great detail and staying after the show to greet everyone.Even though Murderdolls isn't Wednesday 13's favourite subject right  now, he plays a few tunes (such as 'I Love To Say Fuck') that were made famous by said band. That's fan service right there. It's the equivalent of Dave Grohl deciding to play 'Smells Like Teen Spirit' at a Foo Fighters concert.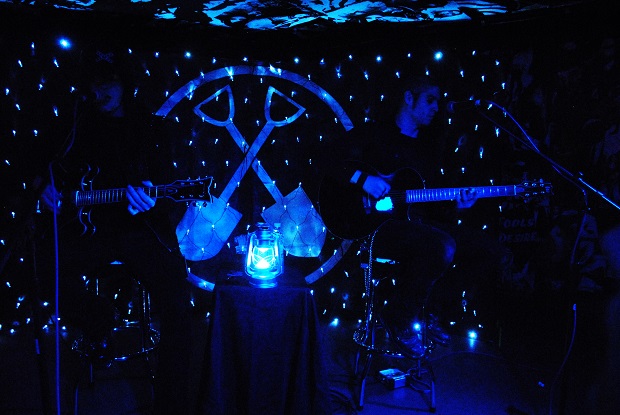 Mr 13 even addresses he's already done a tour like this, even so he has some more material under his belt and it is great to hear tracks from his latest album 'Monsters Of The Universe' not just live, but acoustic. Tracks like 'I Love Watching You Die' have a certain mystique minus the bizarre production. Let's hope that the more Wednesday 13 puts out music, the more of these kind of performances he does – as well as electric and loud. The best songs, in particularly rock / metal songs, work loud and proud as well as 'unplugged'. Take note fellow 'alternative' rockers, this may be the key to success in playing live.
Although the audience didn't expect less, this was surprisingly fun – considering the gig was wrapped up before 10pm and didn't involve any moshing or crowd-surfing moments.  This was one for the fans, casual and devout – which Wednesday 13 isn't short of. Although a bigger venue could be easily filled for one of these events, its good to keep it small-scale. I'd really like to see other bands try something like this. Or even a tour by Bourbon Crow.
Photos by Eugenija Steonkute