Sometimes a band tick all the right boxes live. The Dead XIII are certainly one of them: Theatrical make-up? Check! Great riffage? Check! Spot-on horror vocals? Check! Audience banter? Enthusiasm?Check and check!
Now with an album recorded and a headline tour coming up, 2016 looks like it could be the year for The Dead XIII. We caught up with front-man Kurt Blackshard and guitarist/ synth-player Symon Strange on their tour with Godfathers of new-grave: Aiden.
For anyone who hasn't heard of The Dead XIII, how would you describe your sound?
Kurt: We have all kinds of influences…it's hard to describe.
Symon: There's quite a bit of The Defiled, Rammstein -in the guitar riffs, and definitely Wednesday 13, Murderdolls, those kind of bands. When we started we tried to emulate these kind of bands and it sounded a bit fake. As soon as we stopped emulating their sounds – it kind of sounded much better and it came naturally. So we ran with that
Kurt: We kind of found our own sound.
Symon: Yeah, we were just a group of mates who wanted to play some music together…Touring the country, drinking and playing music. What more could you want? Well, we do drive each other mad.
Kurt: Wouldn't have it any other way!
Do you feel that your style of sound is 'back' because of the rising 'New Grave' movement?
Kurt: It's definitely getting it's place back to where it used to be.  Which feels really good. The community and bands are developing more. Ashestoangels, New Year's Day, Fearless Vampire Killers…and bands like that. It's a growing community and we popped up at just the right time.
Symon: I think it all came about because these bands grew up with the same bands as us. They have reached an age where their bands are reaching a foot-hole for their music. It's like a big family. It's a very tight-knit genre. Which is great because across the country, we will know people.
Kurt: And because of the 'new grave' title we have an answer when people ask 'what sort of music are you playing?' we used to say 'horror…metal…type stuff' so at least it gives us a banner that we can fit under.
Symon: People of an older generation thought that 'horror metal meant 'death metal'! So we like the new grave thing.
Do you feel it was an honour to be included on the support bill for Aiden's farewell tour?
Kurt: Definitely, It's good for a band like Aiden to ask us to do this.
Symon : Obviously we have been listening to them since we were kids and we would see them on the cover of magazines and stuff. So it does feel good to achieve something like this.
How do you think it went?
Symon: We enjoyed it, the crowd were nice! A few lighting hiccups – at one point me and our bassist Paul were plunged in to darkness. We enjoyed it!
Kurt: You don't really remember the shows that actually go to plan. You always remember the ones that went a bit wrong.  Getting over it is part of it. Like last night, I kind of dropped my mic. We manage to shrug it off, in a humorous way.
Symon: There was still a big cheer from the audience though.
So what's next on the agenda?
Symon: We're currently booking more tours (see below), and more special gigs, a new video coming out and then the next album. It's a bit early but… there's a few thing in the works. We have Ste Mahony (Dead XIII's guitarist) 'the business goth' on the case.
Kurt: It's in the works…We'll leave it as a surprise!
Symon: We're always working on the next one [album]. We never officially sit down and 'write a new album' because, for example, some songs on the next album were write before Catacombs [the current album] was recorded. So we are just constantly writing songs.
Do you feel you are in a better place as a band, than you were say – a year ago?
Kurt: Really, we got closer as a band. We obviously already knew each other, but as time goes on you get to know people more and feel more comfortable writing songs. It becomes a lot more fluent. More fun really!
Symon: It's great to work with other bands we used to look to, such as Ashestoangels, who have been around longer than The Dead XIII have existed. We'd see FVK, Aiden and William Control doing there thing and it's a real honour to share the stage with them. It feels like we've 'gained ground'.
Now you have toured with Aiden, AshesToAngels and many more – what would be your dream tour to play on?
Symon: For me it's obviously going to to be Rammstein, obviously.
Kurt: It would be cool to have Rammstein, Wednesday 13, The Defiled – on the same tour.
Symon: Maybe AVATAR too?
Kurt: It's a dream!
Symon: I'll crush your dreams! (pause) I want Rammstein because I want fire! I've always wanted pyrotechnics.
Kurt: We wouldn't be trusted with fire! Someone would lose their eyebrows …or worse. I reckon sparklers, at a push.
Symon: I've always wondered – is Rammstein just one big art project? It's almost the band is just a front to showcase Til Linderman's pyrotechnics.
[divider]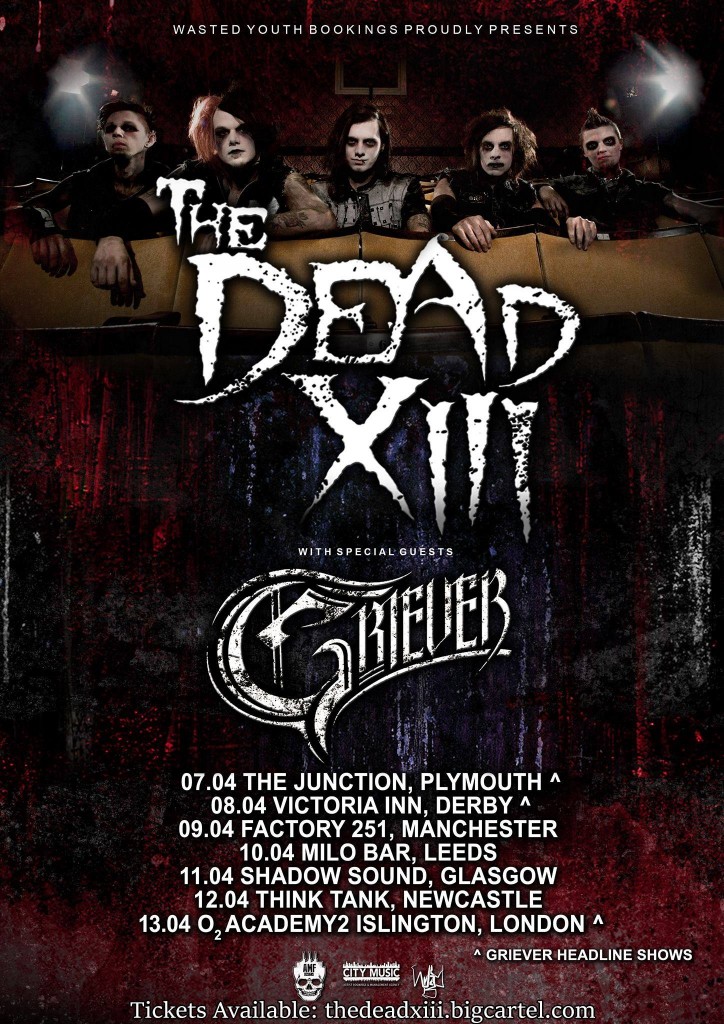 The Dead XIII have announced a full UK headline tour, with support from Griever.
Tour dates are as follows:
2nd of April – Burnley, Sanctury Rock Bar
7th of April – Plymouth, The Junction
8th of April – Derby, Victoria Inn
9th of April – Manchester, Factory 251
10th of April – Leeds, Milo Bar
11th of April – Glasgow, Shadow Sound
12th of April – Newcastle, Think Tank
13th of April – London, o2 Academy 2, Islington
29th of April – Sheffield, Mulbury Tavern
30th of April – Nottingham, The Doghouse
Keep checking back at RAMzine.co.uk for more info on the tour as well as news and reviews of all your favourite bands.
Check out what we thought of The Dead XIII, supporting Aiden, by clicking here