The members of Collateral obviously listened to their granddads talk about how back-in-the-day Deep Purple began their live act with the aural equivalent of a train crash; Blackmore screeching notes out to emphasis the metal behemoth scraping loose from its tracks.  These young lads like the idea so much they not only deliver their opening number in this manner but a couple of others too.
Its been a long time since Robert Plant made wearing girls' blouses a heroic manly thing to do in rock circles. The last time that look passed muster in Brum was either with Lone Star's John Sloman at the Town Hall, or Van Halen's Dave Lee Roth back when the Odeon held concerts. Fortunately for the ladies in the audience, no one passed that memo onto Angelo Tristan who could audition for the role of Joseph in his affecting long coat of many colours.
That's if you could keep him still that is because he likes to roam the stage, acting out the part of a rock star in waiting. His workmates meanwhile unleash their collective thunder and lay out a throbbing groove throwing in hooks aplenty with guitarist Todd Winger's  whammy bar whipping up a frenzy before a short but sweet chunky fret devouring solo.
Before you can take a breath they're straight into 'Blowing With The Wind' and coming across like Bon Jovi with balls, despite Angelo having picked up an acoustic for it adds a subtle but inspired dimension to their sound most of the night. The applause that follows its conclusion is loud and genuine.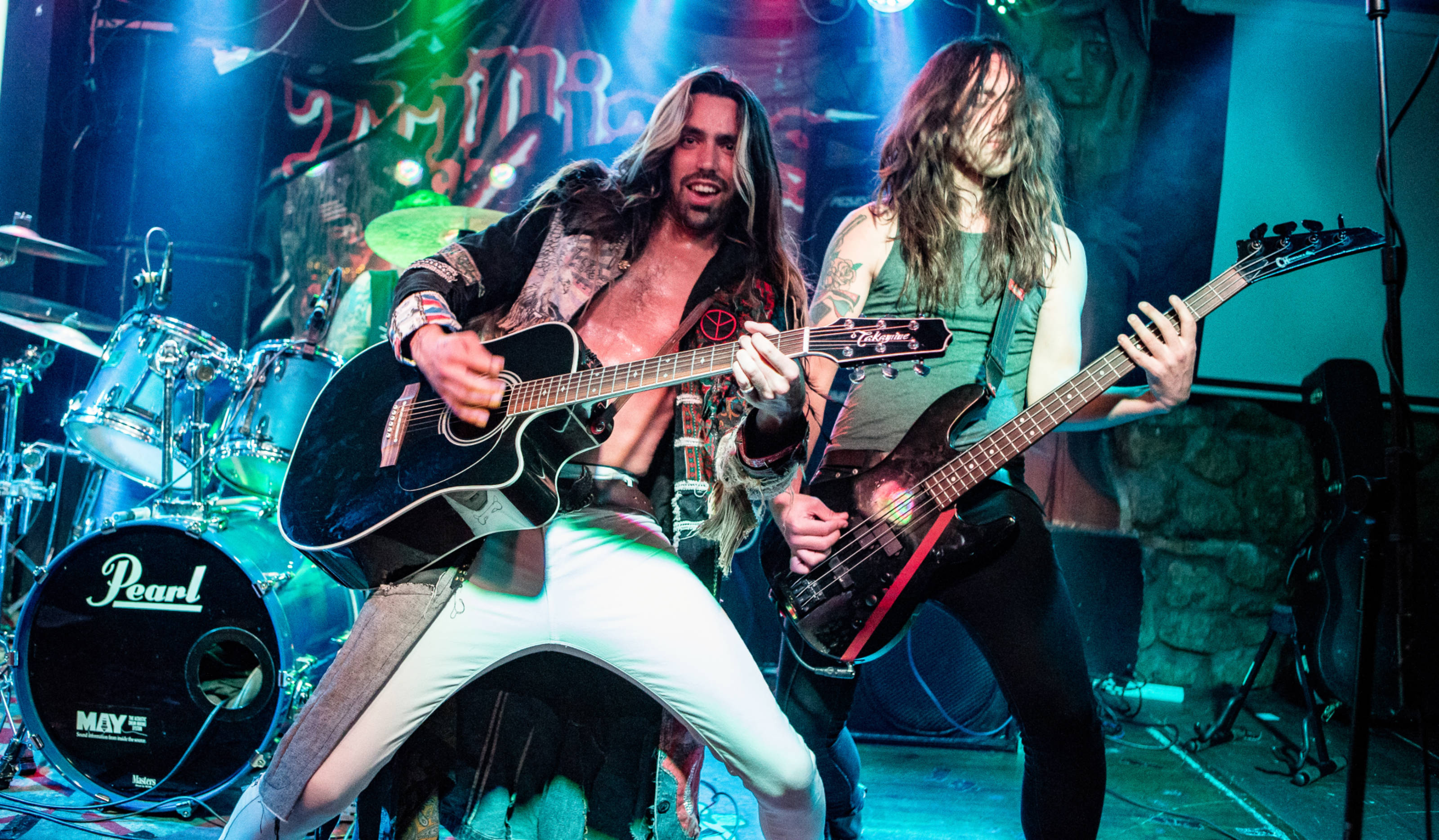 Bass player Jack Bentley-Smith invites us to "Make some noise!" Fair enough, but I rather like the sounds on stage: deep resonating chords followed by a cool dip into Americana  before whipping it up in a whiling merry-go-round with an unexpected wail of furious guitar fire. What's more, Winger's a tasty classy player who knows when not to overplay.
While the lead vocals coming through the PA tonight could be stronger, there's a deeper timbre to Tristan's voice with the next tune, the band's strong on harmonies too. Jack Bentley-Smith will also apply the vocal melody line to his bass before they surge forth collectively to a racing finish.
After that second aural train crash, the front man has the audacity to tell us he hopes we'll find peace within the next tune. However, 'About the Boy' features a joyous guitar melody, with some inventive percussion played underneath by drummer Ben Atkinson. With an audience clapping their hands over their heads they sing along and it does indeed make this miserable bugger feel happy, if not at peace.
Their cover of 'You Give Love A Bad Name' comes with added muscle, and the next number finds them in a party Kiss mode. Maybe there's a little too much stage banter between numbers, but we can hardly complain about the music and they finish with a bang on the head bopping, audience ass shaking (both sexes) 'Midnight Queen' and encoring with 'Lullaby' comes across like members of Lizzy & UFO in their youthful prime trying to outdo each other.
"We'll see you guys soon!" calls out Tristan. Yes, you most likely will.
Sadly, while the time taken to change stage sets deflates the general atmosphere a little, the voyeurs amongst us note the upbeat manner the members of Collateral fist bump and shake each other's hands, those of roadies and Piston too, in a we're-all-in-this-together vibe.
When Piston do take the stage to the Bastard Pop mash-up of Sabbath & Zeppelin, we note there's less call for sartorial elegance among their ranks. Shaven-headed bass player Stuart Egan's wearing a faded Ted Nugent t-shirt probably first worn by his dad, whereas singer Rob Angelico's long raven locks are kept in place by a trilby parked squarely on his head and a new Cloven Hoof t-shirt (Who are also from their neck of the woods in Cannock). However, as I look around it's a series of Piston t-shirts in rear view that catch my eye. "All pistons pumping and roaming free" they read. Okay, guys, prove it…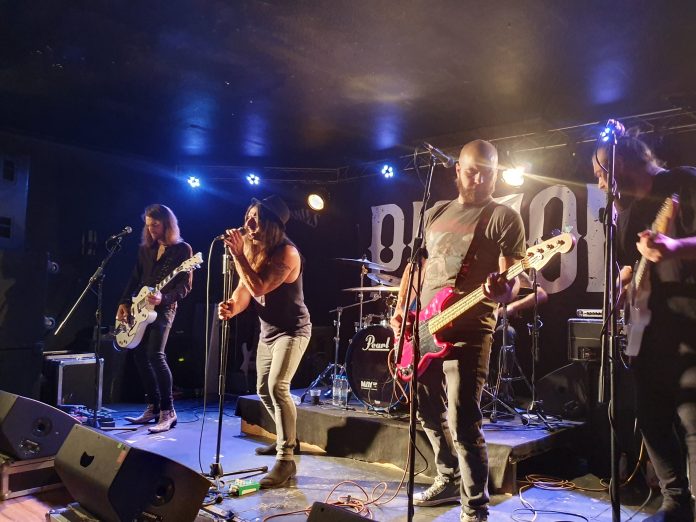 Like Collateral before them, Piston start with a Purple nervous shakedown of an opening, and like a stick of 'Dynamite' they're off.  The tall thin frame of Jack Edwards looks it can barely lift the great big white Gretsch in his hands but he has no problem squelching notes out of it. "Come on, come on!" calls out Angelico cajoling the audience back into a Friday night party atmosphere. Propulsive riffs give way to a drum 'n bass duet before Egan's bass squelches and grunts, and the guitarists follow up with some razor sharp chords as the audience edges dangerously closer to the stage.
Next up single 'One More Day' sounds like Motorhead hooking into a metal funk groove before ragged chords blaze away, Edwards headbanging away with his hair flying about, fellow guitarist Luke Allatt stand stoically on the opposite side of the stage. Then Brad Newlands lays down a drums roll that stirs it all toward a most pit style shoulder shrugging conclusion.
"Piston stye AC/DC!" calls out the front man as the deliver a beefy cover of 'Gone Shootin''  though I might need my lugholes cleaning out because I swear they were all singing "Chop suey" at one point.  Whatever, there are some nifty rock & roll grooves in it.
Slowing things down a little, we're treated to effects laden chords for some shanty folk blues as played by rockers before it all comes crashing in. If it's a power ballad it's one with a country metal after-bite tonight. Angelico voice adds some extra gravel and gurgles away nicely on this one. 'Go Now'? I think not as an endearing off-kilter riffed angular funk heavy metal breaks chips in briefly with Edwards down on his knees emitting feedback between amp and guitar.
With rhythm section playing away, Edwards offers single chord feedback while Allatt sends arpeggios spiralling into the echoed distance. This odd instrumental section is where a metal krautrock meets The Byrds at their raga most.
Angelico brings us back to the here and now shouting "Wave your hands in their air like you don't care!" and molten metal pours forth musically and he gives it all some lemon squeezer push and shove momentum.
It's followed by quizzical tumbling skewered guitar and pounding drums mix in together as they stampede forth, with embellishments and mantra style vocals that remind us of The Cult.
Next up Allatt churns over some heavy rolling chords, Angelico starts singing out Creedence Clearwater Revival's 'Proud Mary' as they begin to rack the metal wattage up. It's a pretty ace version let us make no mistake, and there's an R 'n B flavour to the vocals here akin to Alex Chilton singing in The Box Tops. Edwards delivers a short from the hip solo (quite literally) and we're back in for one final chorus and blast of feedback before it's goodnight sweetheart. Shell shocked but buzzing, I'm humming the number to myself 45 minutes later on the way home.
Two comparably similar but different young bands. Both heavier live than on record, both putting their heart and soul into making their particular style of sound and delivery work.