Tonight I am attending the award-winning Robin 2 not quite knowing what to expect and in what is the first of several pleasant surprises I get to experience Shrewsbury four piece Rainbreakers who trade in an alternative rock and blues that flirts with pop, along with a side order of funk and soul.
Their mainstream appeal is readily apparent in Ben Edwards whose vocals settle somewhere between the timbre of Go West's Peter Cox and Wet Wet Wet Wet's Marti Pellow, and has the looks to go with it. A little disturbingly lead guitarist Charlie Edwards resembles a grown-up Justin Bieber but his penchant for echoed delay and wah-wah offers contemporary psychedelics and when he solos he's a speedy shredder with tonal clarity. Peter Adams (bass) and Sam Edwards (drums) are a capable and comfortable rhythm section over which everything else can groove.
More, they are a lot rockier live than their recent Rise Up EP would have you believe, as evidenced on their second number where 'On My Own' now has an American blue collar rock bias with a touch of Hendrix and Trower come Edwards's solo.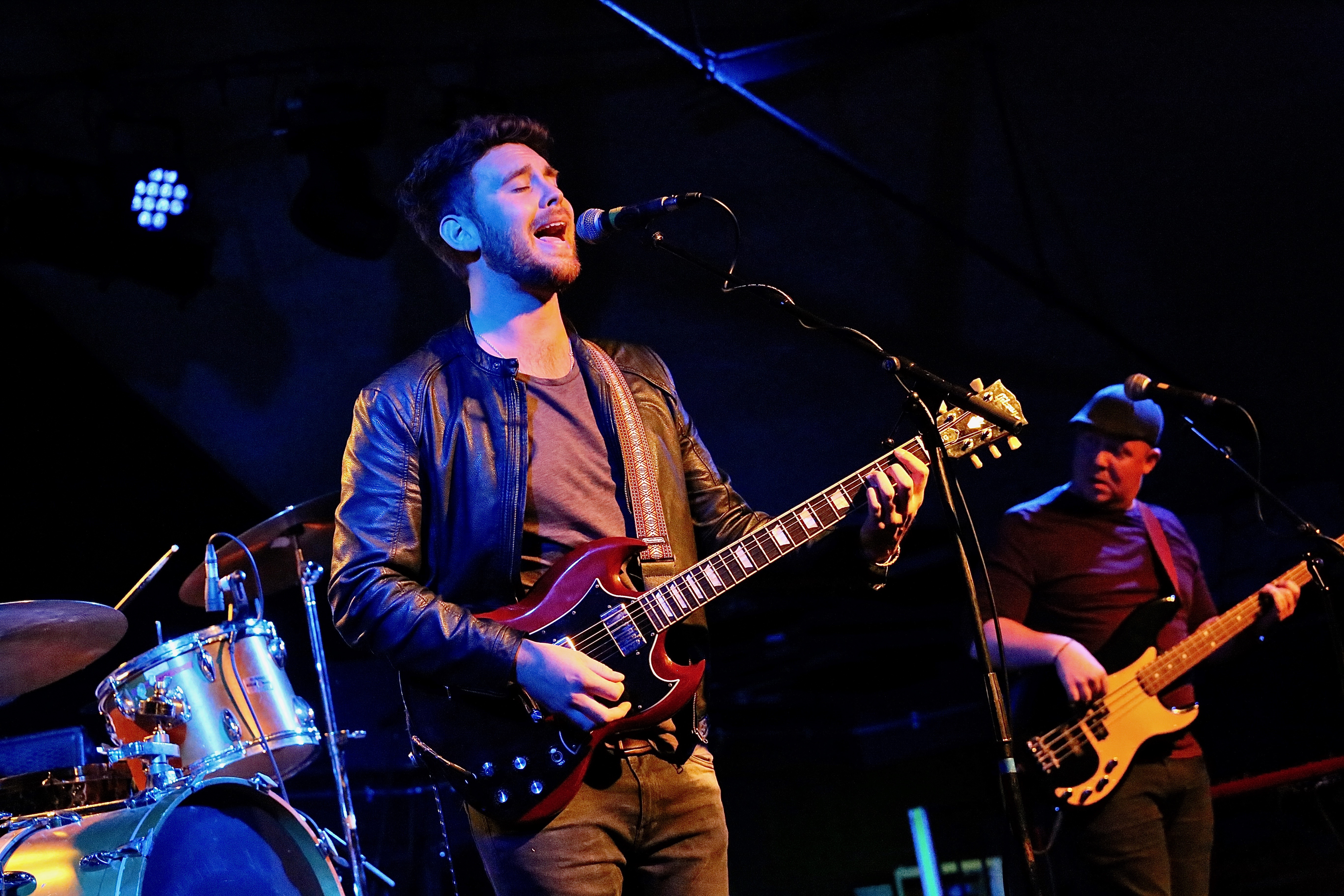 They throw in a new song 'Lost Without You' next that's like a bluesy Average White Band and draws good applause, and then Edwards who also trades in an inventive rhythm guitar role leads the way with a long number that's initially reminiscent of Hendrix's 'Little Wing' but touches base with Billy Bragg and a mild-manner Pete Townsend as it progresses.
That's contrasted by the next tune's stop-start shuffle riff, and both sides of the coin mixed in with another new song 'Heavy Soul' that sounds like they funked up a Mountain track, and they leave us with another EP number 'Nothing Going On' that's moody rock by way of Lenny Kravitiz before the shredding guitar sounds lead us into a veritable Yardbirds rave. Musically very entertaining and eye candy for a younger female audience.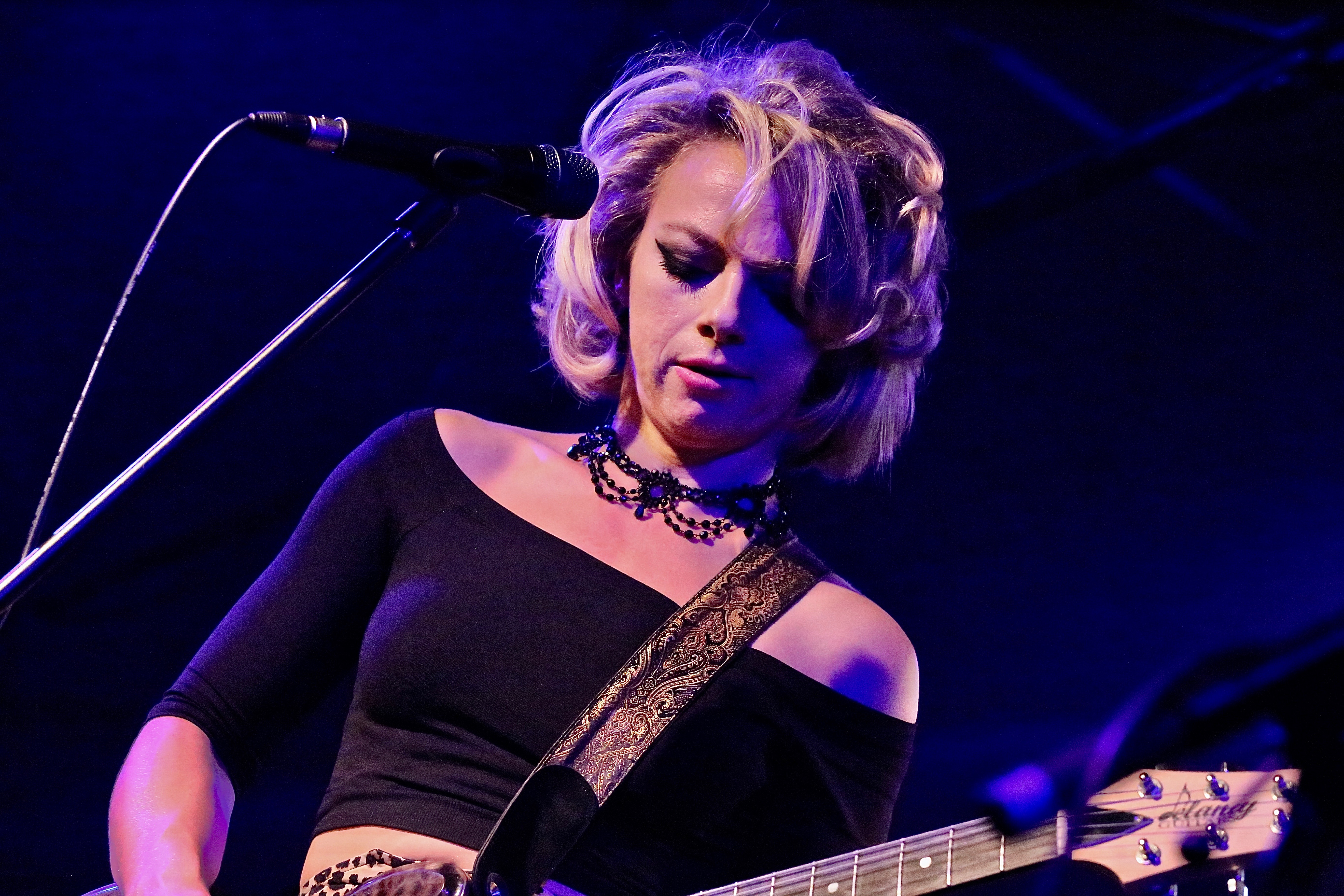 Samantha Fish hasn't appeared in the UK in two years but there's now a sizeable crowd in the audience. I'm not that familiar with her work, but she brought out Chills & Fever earlier in the year and has another out now, the mainly acoustic Belle of the West and was under the impression this might be a truly solo event with just her and a trusty Martin or dobro. As they busy the stage before me this is blatantly not going to be the case; in fact I'm wondering if there'll be enough room to fit everyone up there once all the instruments are laid in place.
Suited and booted we get one heck of a band turn up: drums, bass, keyboard, and two horn players who will go through a series of trumpets, saxophones and a tuba between them. Then on walks Samantha Fish dressed like some 50s gangster's moll or movie starlet, polka dot skirt, off the shoulder black top and a guitar change to match practically every song.
'He Did It' is among get two high energy rock 'n' rolling blues jiving numbers played in quick succession, the next has a probably unintentional ska feel save that Fish's guitar is sounding a little rougher, and purposely it seems, as we change from having had pleasant rockabilly solos to an unexpected lease of life that takes on metallic proportions as she burns up and down the fretboard.
'Chills & Fever' itself comes next; horns cha-cha-ing away, a piano soloing and we begin to take more notice of Miss Fish's stagecraft, applying suitable facial expressions and hand gestures to the characters she sings about and personas she puts on; this time round offering us a sultry sex siren which is probably the reason I've only just clocked it!
The band is a class act, their body language says it all: confident, cool and in the mood to play. They evoke The Blues Brothers as a real life working band, Booker T & The MGs, with influences that know their way from Texas to New Orleans backwards.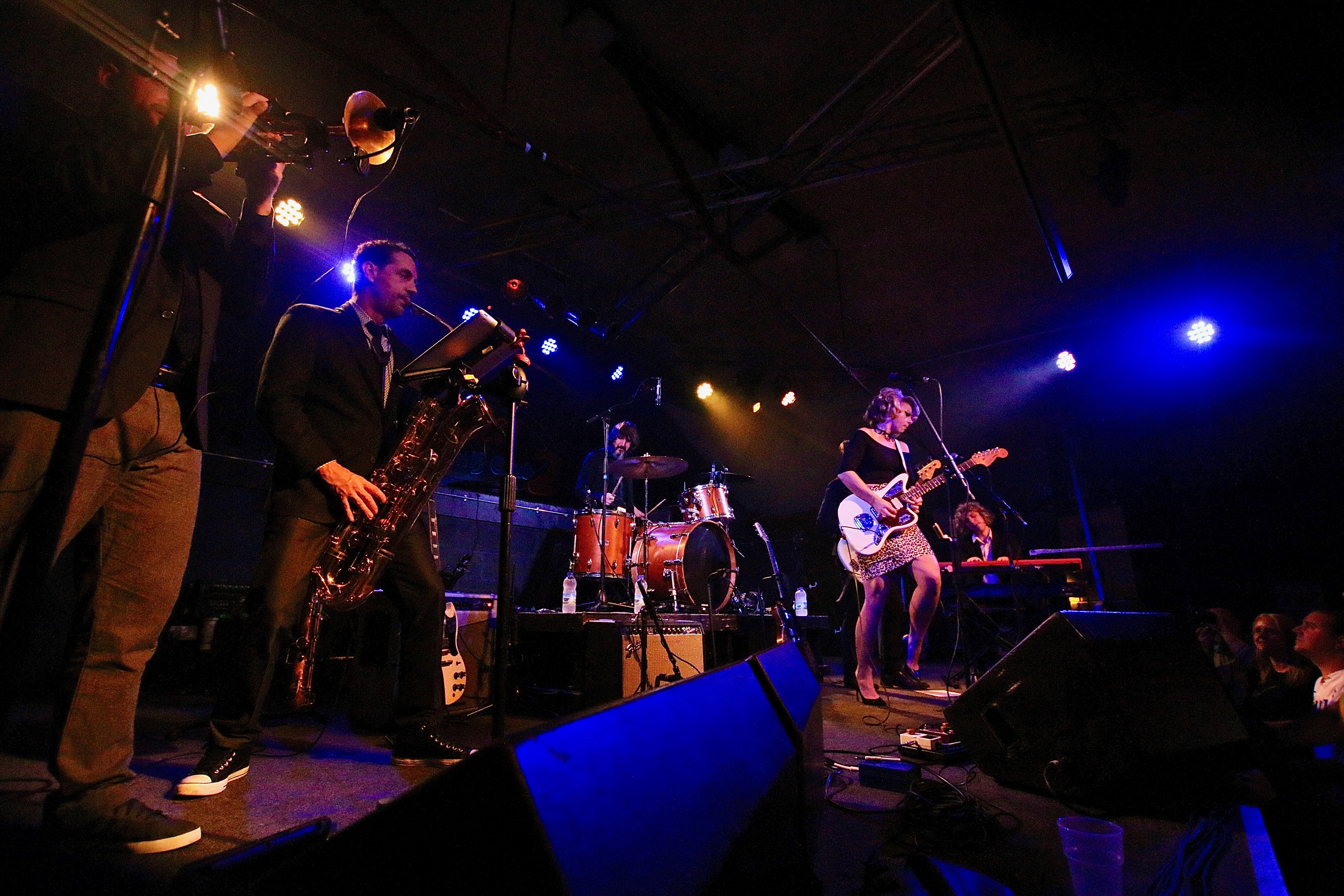 My problem here is an unfamiliarity with the songs being played – I'm taking notes on song titles that have little resemblance to an internet search I'll later conduct, but then the internet was never meant for research  but opinions and that's why you may now be reading titles that recall a chorus vocal line rather than what it actually is. The point being, if you wants a smart arse who can tell you every nuance of every variation of a particular song Samantha Fish has played you're out of luck with me tonight. However, if you want an honest opinion judged purely on what I can see and hear, you'll get it. The result of this being by the time I've told you about the encore you can decide whether you want to check her out live yourself or stand behind me in a record shop queue as I stock up on her back catalogue.
"Can't stand myself" she sings during the driving rock and blues number that comes next. Her voice now demanding the listeners' attention as for the rest of the night her voice inflects with a country come southern twang while projecting with the range of Janis Joplin or the young Robert Plant and she plays a screaming solo to match as the music gets faster and harder.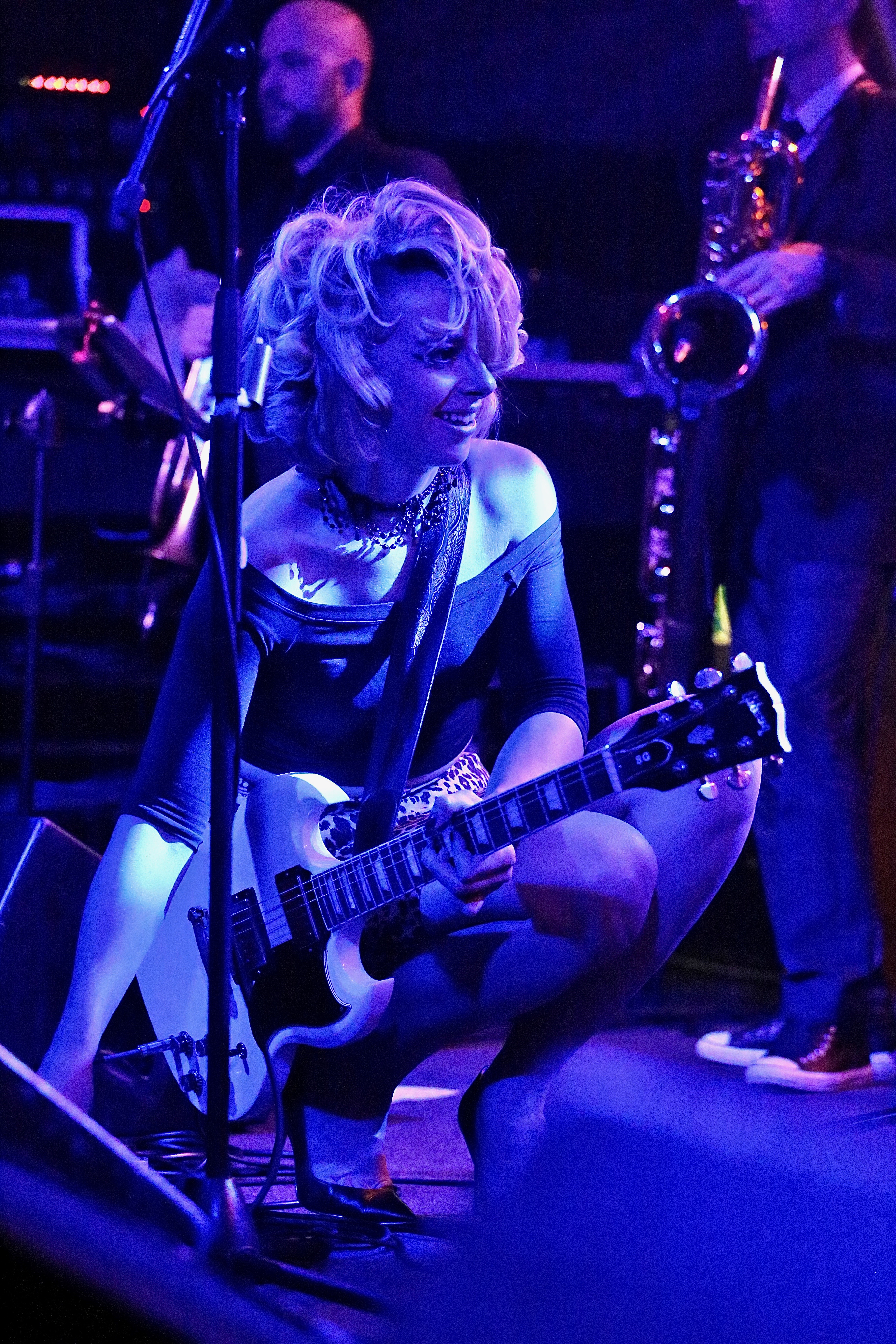 There's loud applause when what's obviously a favourite song of many here finishes and we get offered a new song from Belle Of The West, 'Blood In The Water'. There are hooks and vocal harmonies and a raging guitar solo that the horn section retaliates back against.
It's followed by a rocking ballad that makes you think of high schools, hockey socks and drug stores in an American mid-west long since gone and then gets royally countered by a hard-on rock number that could be ZZ Top's Billy Gibbons strutting out with Bad Company, with Fish herself performing vocal gymnastics of Zeppelin style proportions. No, this is not a quite little acoustic set.
There's sultry sex in the next number where it works itself up from ballad to heavier mode, the trumpets blowing in hard and bluesy. I'll take a guess on the song being 'Either Way I Lose' but what the hell if I'm wrong, emotively it strikes a chord.
Likewise 'Somebody's Always Trying' merges musical moods coming on like a rock 'n' roll number with a touch of Stax soul and digging deep into the blues on her guitar only for her to start creating a flurry of sounds – She kneels down and from my point of view I can't catch what she's doing, either handling effects pedals while applying feedback, using a theramin or pedal synthesiser judging by the wonderfully outrageous noises she creates that are matched by her vocal screams come the end.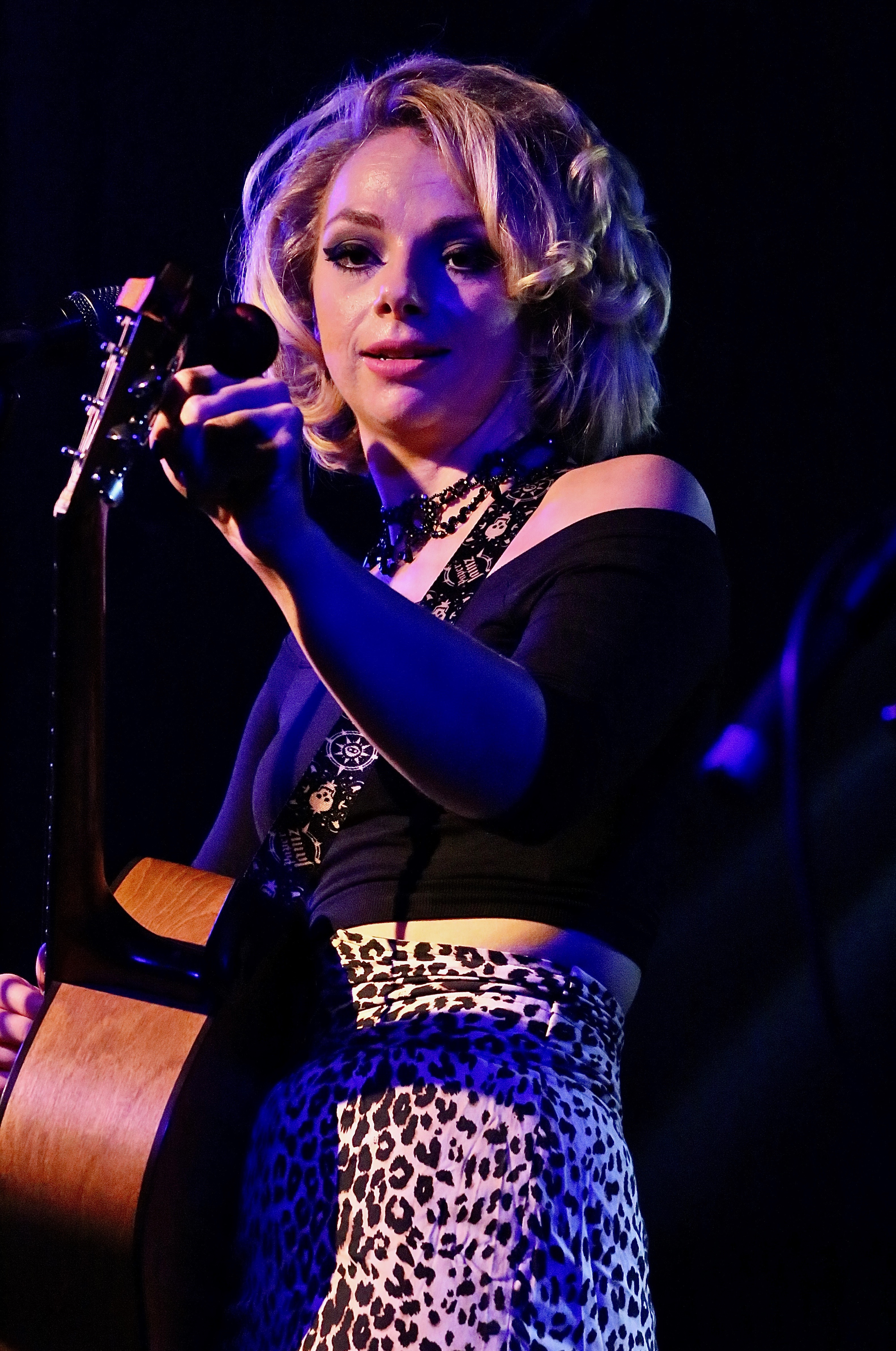 After 'Little Baby' the band go off, leaving her alone with an acoustic to play 'Need You More' from Belle Of the West. She continues in this vein with some of the band coming back on stage as she covers a Jimmy Rogers number, the drummer brushes his snare with the back of his hand, both organ and trumpet solos are played and you can hear it, but not see it, is a tuba being played just off stage.
"Wanna go back to that rock 'n' roll stuff?" Fish hollers out and they launch into 'Don't Say You Love Me' as she delightfully testifies and cusses on a song that meets out on the highway where the Stones meet Zeppelin. An actress at work facially as she expresses herself vocally, while soloing to impressive effect.
Taking up a slide she lays into 'It's Your Voodoo Working' as everyone takes a solo: the organ player's solo partaking a gothic gospel mood with  dirty jazz inflections, trumpet and sax honking cheekily and triumphant, and rhythm dudes each striking out on their own; Samantha Fish now making her guitar scream like vintage Jimmy Page to match her Plant style throat hurdling. Again, even this far into the show: this is not what I expected.
One final number and we're calling the evening one helluv'an event as she fishes out yet another guitar – one of those four string tenor affairs – to finish on a stonkingly strong bluesy hard rocking number.
Samantha Fish is an extraordinary talent; I am of the opinion that any one album by her is not going to give the true picture of the diversity within her music. All the more reason then to check out a few, and then you ought to experience the lady and her band live.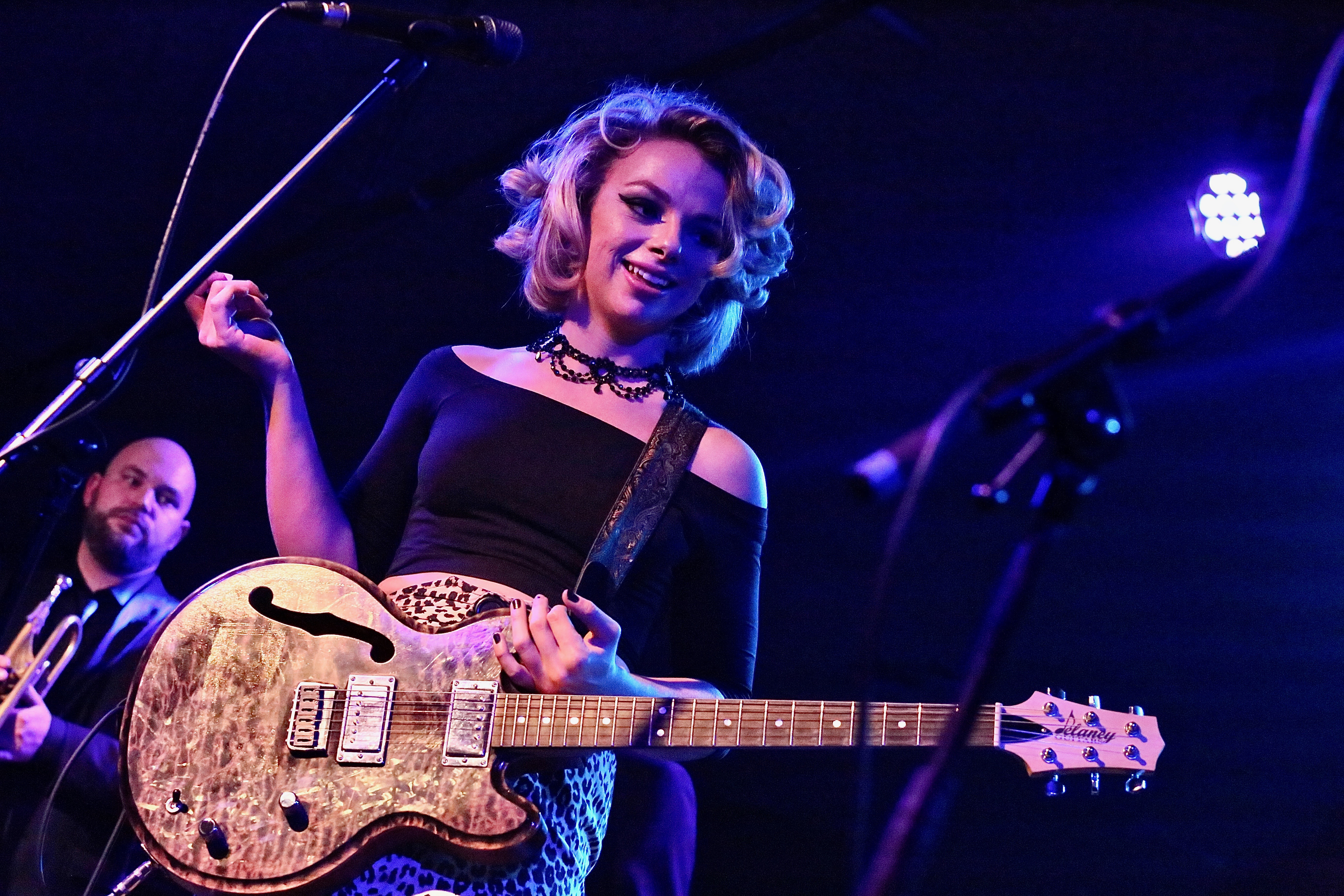 Photos by & (c) Martin Tierney.