Stone Free Festival is a major new festival for the UK bringing a wealth of artists and events together under one roof for a whole weekend on the 18th and 19th of June. Working in association with Classic Rock Magazine and Prog Magazine, the premiere worldwide music publications for the music aficionado, Stone Free Festival provides a stunning line-up in the arena with Alice Cooper headlining on the Saturday in his only UK performance of 2016, and Rick Wakeman on the Sunday in a world exclusive performance of his flamboyant, 12-million-selling masterpiece 'The Myths And Legends Of King Arthur And The Knights Of The Round Table' for the first time since 1975. Taking place at the world's number one music and entertainment venue, The O2 in London, this festival features two 12-hour days of the very best in classic rock music and deliver a host of live performances spread over multiple stages, including many other must-visit events throughout the weekend.
Day 1 – With no chance of rain stopping play, no need to camp in a muddy field, state-of-the-art sound, great food and a whole host of transport options Stone Free Festival sets the bench mark for a new type of rock festival in the UK providing original spaces like The Beer Garden, just beside the entrance to The O2 with street food stalls and more live music to entertain fans as they eat, drink and get merry. This is a weekend of classic and progressive rock that gives fans the chance to delve deep into their greatest passions, experience their favourite artists performing some of their most legendary works, discover brand new acts in a multitude of venues and browse the finest memorabilia all under on one roof. Utilising the full array of facilities at The O2, this festival represents the perfect chance for rock fans to immerse themselves in the music they love in the very best environment.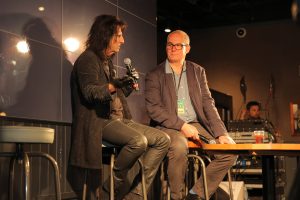 At 1pm on the Saturday the Cineworld was screening John Carpenters 'Prince Of Darkness', which sees Alice Cooper lead an army of zombies in the supernatural horror. There's also a special area called the Speak Easy Lounge in which they host a string of spoken word performances, featuring the passionate and charismatic Jared Christmas as Master of Ceremonies. Performances on the Saturday include BAFTA nominated stand up comedian Nick Helm, The Darkness in an exclusive playback of their iconic debut album Permission to Land, with the band discussing the rollercoaster ride of that album and their career and for VIP ticket holders an exclusive interview with Alice Cooper.
On the left side of the O2 entrance there's a Classic Rock Vinyl Fair that is free to the general public and where you can browse and buy vinyl from Prog Rock, Punk Rock and Hard Rock to Glam Rock, Classic Rock and 60s rock.
As you enter the main entrance to The O2 complex there's a stage to welcome you with a bang and with performances throughout the afternoon as a soundtrack to the entertainment. Among these I got to see the Lounge Kittens again. It's always a pleasure to watch this trio from Southampton performing metal and rock cover in a lounge style. They are funny, sexy and very talented. Their voices blend so well and they definitely know how to keep the audience entertained. They started early so they dropped a lovely Pop Punk Medley. Covering songs like Andrew W.K's 'Party Hard' and Metallica's 'Sad But True' would normally be considered blasphemy, but the Kittens pull it off with impeccable style, with the latter being given a more cheerful and optimistic makeover that really shouldn't work but really does. It's not hard to understand why Fred Durst himself gave a personal endorsement to their first YouTube video and cover from his song 'Rollin'. Although they decide to skip it today, this is usually one of my favourite from their set, together with Steel Panther 'Gloryhole'. I will never forget seeing them supporting the crazy Panther at Wembley last year, I think they earned and deserved every gig and exposure they have had so far and I'm sure we'll keep seeing great things from them.
Only an hour before them I get to see the legendary Michael Monroe, the Finnish rock musician and multi-instrumentalist who rose to fame as the vocalist for the glam punk band Hanoi Rocks. He is running a few minutes late but damn the man can make an entrance! There is a flash of red, black and blonde and from the minute he gets on stage he becomes a ball of energy that doesn't seem to stop for the next 45 minutes. After a great opening with 'This ain't no love song', 'Old King's Road' and ''78' he keeps giving his crown what they expected and more. Monroe refuses to stand still, one minute he is standing on the drum kit, the next we see him on the barrier and over the barrier, jumping around with the energy of a 20 years old. He is a proper rock frontman, he keeps his attitude so old school in such a positive way that his fans and even people that came to see his show for the first time get fully attracted and mind blown. His love for both his music and the audience is highly visible. Together with his band, which includes bassist Sami Yaffa, he creates a great show and of course some HANOI ROCKS classics like 'Malibu Beach Nightmare' and 'Tragedy' are integrated into the setlist, much to the pleasure of the fans who were partying just as hard as the band on stage, with some of them even crowd surfing. He is a multitalented musician who can play saxophone and make it blend perfectly with his rock 'n roll. Finishing off his set with 'Dead, Jail or Rock 'n Roll' he exudes the swagger and attitude that places him up there with the likes of Steven Tyler and Iggy Pop.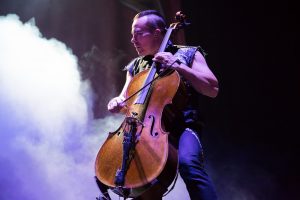 Once the arena doors finally opened, there was a little while longer to wait before Blackberry Smoke hit the stage. Frontman Charlie Starr eventually explained that they were detained by customs at Heathrow, but despite their lateness and some early sound difficulties, the guys delivered a great set with their Southern Rock. Apocalyptica, the Finnish cello metal band, are next. They are composed of three cellists and a drummer who found their fame by playing Metallica covers. At first they seem to confuse the audience as they almost sound like an odd fit of this bill. I think, after a while, you eventually get involved into the groove but their set still gets a bit boring and less captivating at times. On a positive note,  they succeed in being one of the heaviest band of the weekend without featuring any guitars in their lineup. The Finns welcome guest singer Franky Perez who comes on for a few unmemorable original songs. They still succeed in being the heaviest band of the weekend without featuring any guitars in their lineup. Their version of Metallica's 'Seek And Destroy' and 'Master Of Puppets' get everyone's full consent. The quartet finish with Grieg's 'In The Hall Of The Mountain King' but The Darkness may not have appreciated it as their set following this is cut short. In fact Apocalyptica overran their performance by 15 minutes to the disappointment of many fans of the British rock band.
The Darkness open with 'Barbarian' and thereafter classics from their album Permission to Land and Last of Our Kind. In my opinion they are the first act to actually animate the half-full arena floor. They make the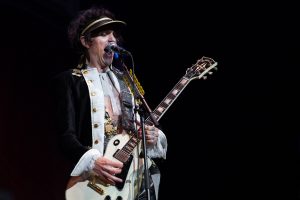 most of the time they are given with a collection of anthems that were custom-built for venues of this size. Hawkins is what we call the showman, draped in a long embroidered coat, he asks his audience in a very articulate manner "Are you all having a good day thus far? And how many bands have you heard use the phrase 'thus far' thus far?" He sometimes pauses to guess the names of members of the audience but apart from that, unfortunately, there's no much time for his usual English humour. The Darkness have raised the evening's excitement, "Tonight I will shave the middle part of my head for you," says singer Justin Hawkins, shortly before standing on the head and waving his legs around. They had to skip 'Love On The Rocks With No Ice' but 'One Way Ticket' and mega-hit 'I Believe In A Thing Called Love' get the whole arena jumping.
Then finally it's time for the man everyone is waiting for today to show up, the godfather of shock rock Alice Cooper gets on stage in a shower of fireworks and delivers an outstanding two hours show at the age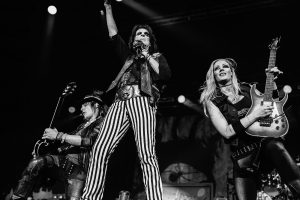 of 68. He gets introduced by the sound of Vincent Price's monologue 'The Black Widow' and when the curtains drop, he appears in his best shape with jet black hair and stripy kecks and the whole O2 goes crazy. What followed is an unforgettable show filled with pure rock entertainment completed with an array of props such as guillotines, rag dolls and a giant snake wrapping Alice during 'Is It My Body?'. We see him pulling fistfuls of notes from a sword during 'Billion Dollar Babies', murdering the reanimated mechanical doll who dances through 'Cold Ethyl' and facing the guillotine for his crimes. 'No More Mr. Nice Guy' and 'Poison' arrive early and make the whole audience jumping and singing along and as if his music wasn't enough he also intruduces various characters in this 'circus of horror'.  The infamous Nurse Rozetta, a giant Frankenstein's creation doppelganger of Alice and even an appearance from caricatures of Donald Trump and Hilary Clinton during the encore of 'Elected'. He pays tribute to his 'dead, drunk friends' Keith Moon, David Bowie, Lemmy and Jimi Hendrix during covers of Pinball Wizard, Suffragette City, Ace of Spades and Fire respectively and those are only topped off with a furious run through Motorhead's 'Ace Of Spades',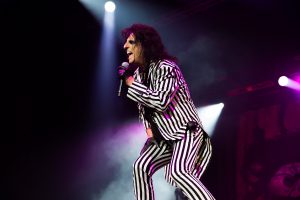 for which bassist Chuck Garric takes over lead vocals. Although Pink Floyd's 'Another Brick in the Wall' might have been one of my favourites. What's to add? The man is a genius and a legend and he could easily rest on his laurels but through charisma and hard work instead remains one of the most vital and exciting stage performers around.
Well, what's to say? The man is a genius, a legend and a hero who could easily coast on his laurels — but through charisma and hard work instead remains one of the most vital and exciting stage performers around.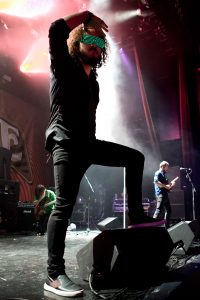 Day 2 – The second day of the Stone Free Festival catered for a slightly different audience to that of the previous day for it was filled with all things prog! We arrived just in time for The Colour Of Noise to be bringing their grove filled rock to the entrance stage in front of a healthy number of folks who were clearly enjoying what the band were bringing and what a great stage to bring the noise. After this it was time to stop off at the Indigo stage. To begin with, we caught the magnificent and fun progressive rockers Haken. Frontman Ross Jennings appearing with the band on stage looking as if he were a member of LMFAO. Great melody, great performance and a great packed crowd for such an early performance in the day.
Wilko Johnson was next up on the indigo stage. For those unfamiliar. Wilko is an English singer, guitarist and songwriter and is associated specifically with rhythm & blues band Dr Feelgood as well as The Blockheads. Its old school bluesy rock at its best. Don't let the age fool you, as soon as these guys hit the stage, they are having fun! Towards the end of the set, a debate begins on stage of which song to play next. Wilko jokes with the crowd that none of them have a watch so they're unsure on how much longer they have left. Once informed they have 20 minutes remaining, Wilko hits the punchline " there was a time where I only had ten months, now I have 20 minutes' referring to his cancer diagnosis.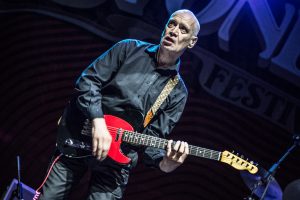 Off to the main arena for the remainder of the festival as it draws to a close. Rest assured there's a good chunk of quality acts still to come yet but there is a sense of tiredness around. The main arena today is actually all seated much to the delight of the spectators. But then again, why would you want to be standing up to watch an orchestra play Pink Floyds Wish You Were Here which is actually by far one of the most epic things you could see today, even more so if you are a Pink Floyd fan. The sheer size of the performance is stunning.
Marillion are next up and are simply brilliant. Its clear that they are well seasoned in their on stage performance which is filled with beauty whilst busting out fan favourites. A particular favourite of ours was the performance of 'Easter' which was dedicated to the people of Syria & Sierra Leone. Steve Hackett of Genesis fame brings a moment of calm in what is sure to have been a busy day for all. Guitar fans are sure to be appeased in tonight's set which combines both electric and acoustic pieces by Steve and his Band. Its cool, its calm and the fans love it and find any opportunity to sing along.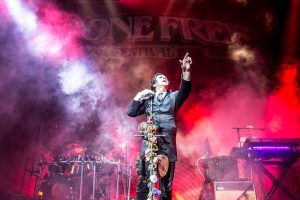 For the grand finale, the arena probably has everyone still left at the festival in it and whilst its not a sold out room, there are huge Rick Wakeman fans in the room. We stopped counting after about 20 T shirts and thousands of people cheering upon his arrival up high in an impressive sight which is Rick himself, cape and all, above a huge orchestra on his podium surrounded by what can only be described as the mother of all piano/keyboard setups on steroids as he makes his way flawlessly through the soundtrack of 'The Myths & Legends Of King Arthur and The Knights Of The Round Table'.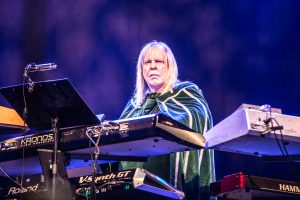 Overall a great weekend where fans old and new come together to celebrate the prog scene, where dads enjoy their Fathers Day a little more than usual and will probably feel it a little more in the morning after perhaps one too many beers.