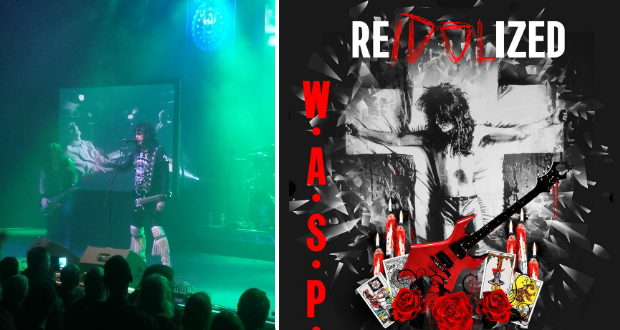 Some things are reassuringly familiar, and WASP are one of them. Fads have come and gone but Blackie Lawless and his ever-changing entourage have stuck to their tried-and-tested heavy metal formula for 35 years. You know what you're going to get when they roll into town – usually, anyway.
But this tour is a little different, as we get a complete performance of 1992 concept album The Crimson Idol. Playing a whole album from front to back is a brave move. Aerosmith tried it with Toys In the Attic but soon gave up. The Who got away with it, but Idol is no Tommy. Full credit to WASP for doing this, though, because it works.
Opening with 'The Titanic Overture', the 10 songs make up the entire main set. It makes for an interesting combination of a few WASP classics and songs we probably wouldn't otherwise get the chance to hear.
'I Am One' is one of the classics, and its chorus sounds even better live than on the album, while 'Chainsaw Charlie' is another highlight. 'The Invisible Boy', on the other hand, is one of the better WASP tracks that have had too few outings over the years.
'Doctor Rockter' reminds us that many of Lawless's songs sound the same – the chorus in this one ripping off 'On Your Knees' – but, then again, no one ever went to see this lot expecting originality.
Except, tonight, a sceptic might be surprised. Because while Lawless might have made his name singing about fucking like a beast and killing your pretty face, this performance allows him at times to show his mellower and more soulful side, not least in the emotive 'The Gypsy Meets the Boy'.
There is, perhaps inevitably, the odd weak point, and it's hard to imagine 'Hold On to My Heart' making it on to a WASP setlist under normal circumstances. But that's what you get with a project such as this, and tonight would be pointless if they edited out the less impressive numbers. It would also have prevented the visual backdrop from making any sense – the whole set is accompanied by three big screens showing the Idol film.
The encore gives us a chance to hear some WASP classics, although it's shame to waste one of the four songs on 'Golgotha' when there are so many other rousing anthems we could have had ('Electric Circus', 'I Don't Need No Doctor' or 'Mean Man', for starters).
But a cover of 'The Real Me' (which itself first appeared on a concept album, Quadrophenia), 'LOVE Machine' and 'I Wanna Be Somebody' help bring things to a satisfying close.