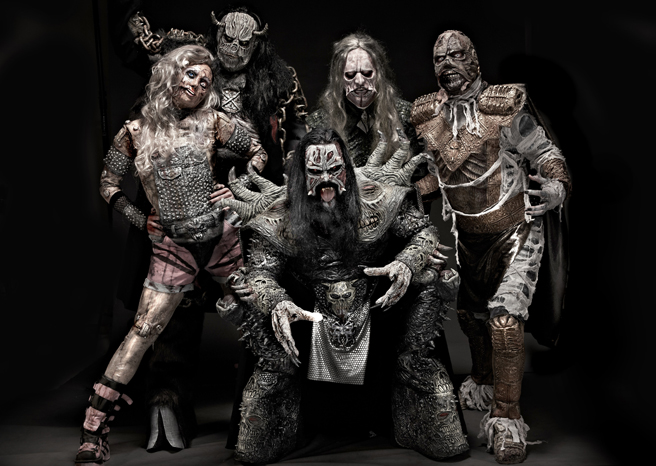 Remember that Finnish heavy metal band who many moons ago won the Eurovision? Well they are back, and they have come back strong! Fans were queuing outside of The Garage in the rain to see the monsterific Mr Lordi and his band.
True Lordi fans are aware that Mr Lordi is part of the KISS army, so it's no surprise when we hear God Of Thunder play before Lordi arrive on the stage. Starting with We're not bad for the kids (we're worse), a new track off the new album To beast or not to beast the crowd go mental to this pure heavy track, and all you can see is a sea metal horns raised high into the air.
It's immediately obvious when Mr Lordi comes out onto the stage that this is his band, and nobody is going to mess with him! He has made this creation, and from what we witnessed tonight, he has perfected it to the T. Mr Lordi stands 8ft tall, with several horns sprouting from his shoulders. Each band member is dressed in a truly horrifying but brilliant outfit. It's clear to see that Lordi are very well rehearsed, with synchronised head banging and seamless stage moves.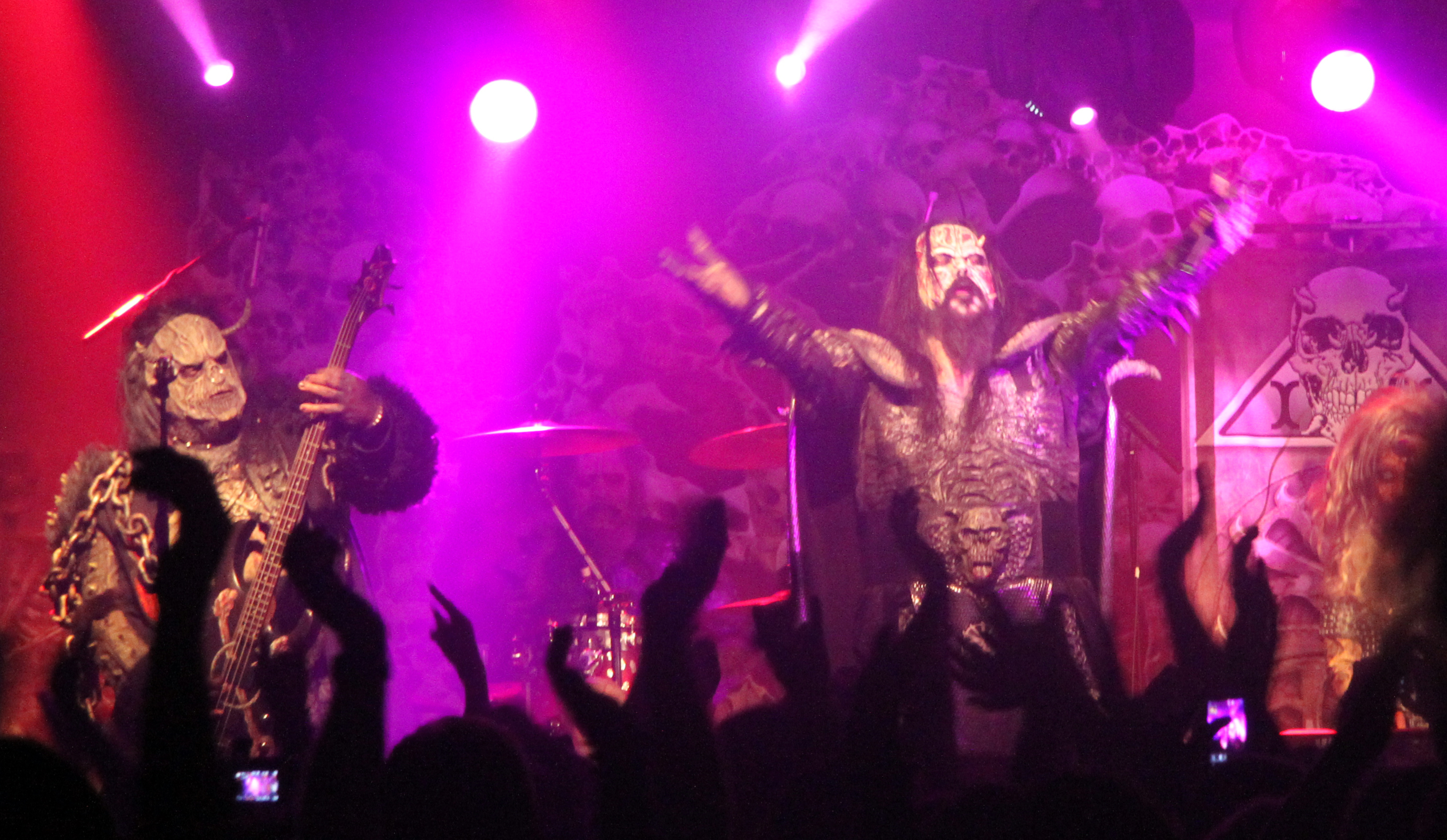 New additions to the Lordi family Mana on drums, and Hella on Keys both proved themselves in tonight's performance. Mana and Aman (guitar) both performing stadium quality solos.
Mr Lordi says "Who's?" and the crowd roar with "You're Daddy!" Lordi rip into yet another classic Lordi track from third album The Arockalypse.
Darkness graces the stage and Mr Lordi appears with a ball and chain, which is actually a skull, with smoke coming out of it. Lordi don't shy away from theatrics on stage, the show was full of little surprises.  At one point Mr Lordi came out with an axe, and chopped off a mans head, the theatrical blood dripped down onto the floor, as the crowd in utter owe of Mr Lordi, applauded.
Fire breathers Nympherno came on stage to perform alongside Lordi, Mana said of Nynpherno earlier that day "I love my job, its great having a seat in the back".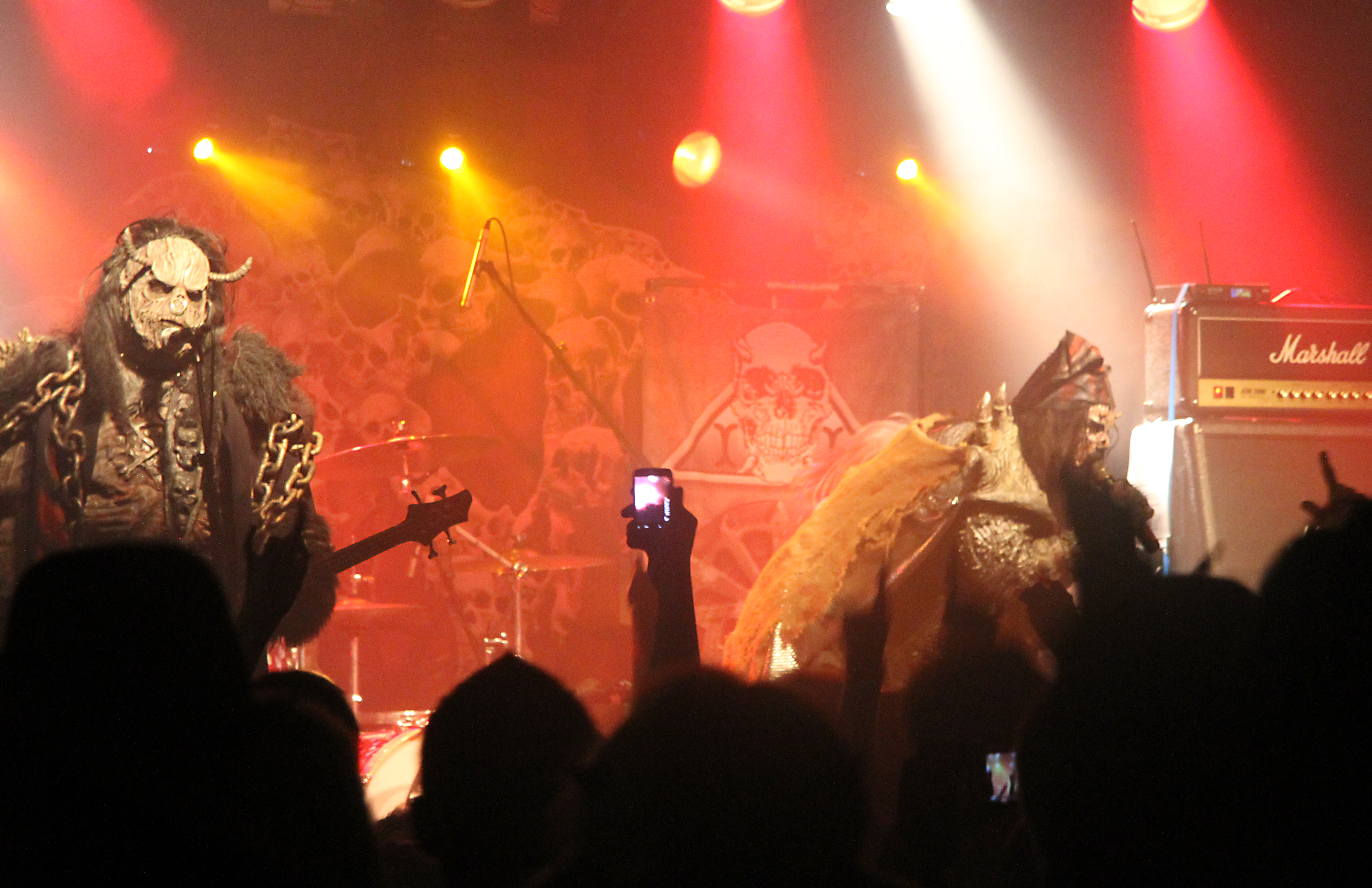 It's not until the encore that Lordi bring us the track we have all be waiting for Hard Rock Hallelujah, every person in the crowd sang every single word.
Lordi finish with classic Would You Love A Monster Man, nne thing is for sure, and that is that the crowd do love them monster men! Even if you don't know any Lordi songs, this band put on a performance that would entertain you, especially if you are a fan or gore and monsters.
Earlier that day we had asked new drummer Mana, to answer the question that is asked in the new album – To beast, or not to beast? He replied in a dark tone "Always to beast". Lordi aren't just a band anymore, then aren't just a stage show, its believable that they are infact monsters.
 Lets hope its not another 6 years before they are back in the UK!