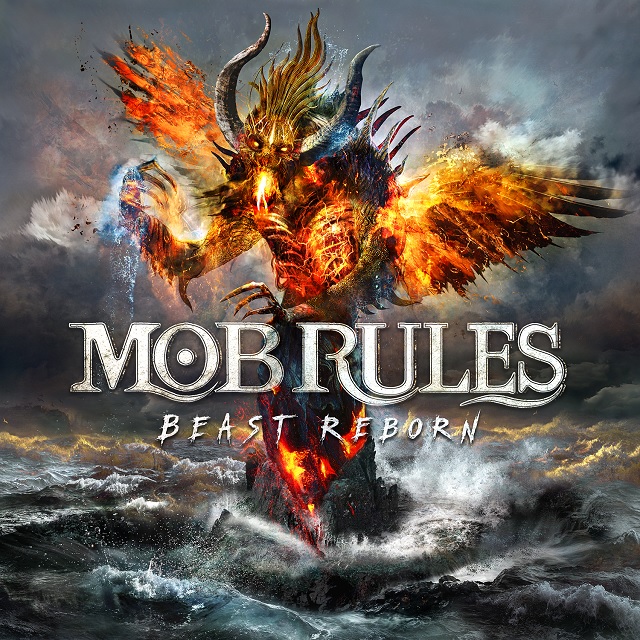 Germany's Mob Rules are close to celebrating their 25th anniversary as purveyors of power-metal, and Beast Reborn is their 9th album together.
You could say they've been around long enough to be called veterans yet, as can be heard, they still retain the same infectious enthusiasm for the music which propelled them to begin in 1994.
Compared to other albums they've released, though, this album is somewhat darker, heavier and more serious in intent than any of their eight previous albums, tackling some quite weighty themes in their songs, such as 'Traveller In Time', which is based on the John Titor internet scam in 2000, when someone appeared on internet sites claiming to be to be back from the year 2030.
The album opens with the title track, Beast Reborn, which is a one minute, slow moving orchestral instrumental, and I'm unsure what the point of it is. From here onwards, it's a full-on power metal powerplay and the band burst into Ghost Of A Chance, a fast paced rocker good enough to start any such album and reminiscent of Iron Maiden and Judas Priest, and its easy to imagine either Bruce Dickinson or Rob Halford screaming this one out. There then follows a move into symphonic rock with Shores Ahead, which still retains the bands Maiden influence but brings bands like Within Temptation to mind.
Sinister Light is based on the epic tale of The Hounds of the Baskerville's and, in this song, the hunter becomes the hunted after falling victim to his own curse, with the story set to some fast driving riffs. But it's only when the album reaches the last two tracks the presence of a keyboard player, largely anonymous up to now, becomes noticeable. My Sobriety Mind starts with a simple piano intro and you could almost think Europe or Bon Jovi are about to leap in, but then into the mix comes some very muscular guitar work, and it's a powerful way to end the album.
Mob Rules have built their rep, not on being an albums band, but on their ability to play 'live' and, on this album, they've come up with some riffs and hooks which, whilst it'll break no sales records, will have the mosh pits a-buzzing.