Tonight, on the 3rd of October, a small group of us press representatives have gathered at the Soho Screening Rooms to relive the last night of the Mötley Crüe 'Final Tour', that unforgettable final concert at Staples Center in their hometown of Los Angeles, on New Year's Eve in 2015, just a few miles from the Sunset Strip where the band's infamous and decadent career first launched.
In January, 2014, Mötley Crüe held a press conference announcing their Final Tour, complete with a "cessation of touring" agreement signed by all members prohibiting any and all future live engagements under the Mötley Crüe name. Mötley Crüe's two-year concert trek saw the band — Vince Neil (vocals), Mick Mars (guitars), Nikki Sixx (bass) and Tommy Lee (drums) — perform across five continents (North America, South America, Europe, Australia and Asia) for a total of more than 164 shows in 72 markets grossing over $100 million. "Mötley Crüe: The End", which was produced by Nate Parienti and Live Alliance, directed by Christian Lamb with Jeff Tremaine (creator of the "Jackass"series), starts with showing the set up of the massive stage and venue as Mick Mars describes how he wrote in his journal back in 1977 that he would "have a band called Mötley Crüe one day and it's going to be, you know, huge."
Shortly follows a panoramic of the excitement of the fans who were waiting outside the Staples Center to watch their favourite band for the very last time. Some were thrilled, others were in tears because it was time to say goodbye to this historical rock quartet.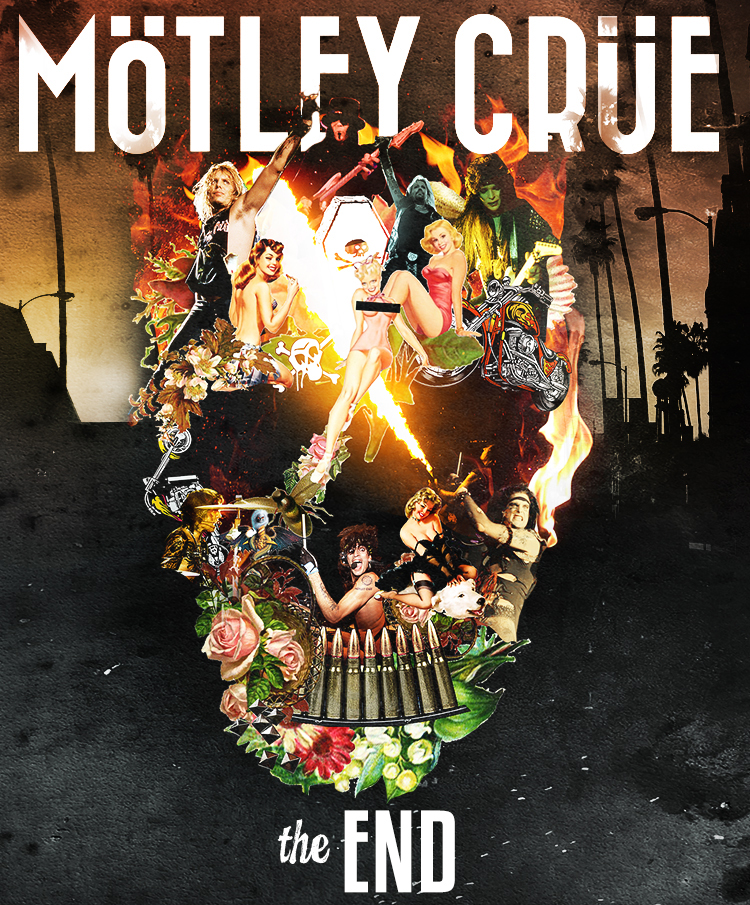 Mötley Crüe starts their set with "Girls, Girls, Girls," followed by "Wildside" and these hits certainly aim to fuel their fans and make this a even more memorable night. In addition to the epic concert footage, viewers are treated to exclusive behind the scenes interviews with every single member. Personally, I think this is the part that true fans will enjoy the most. It's incredible how much they want to keep it real. Everyone seems eager to put the band behind them as they feel like starting new projects. Nikki Sixx openly admits that they don't hang out or have dinner together, they just see each others on stage. Their tour manager jokingly comments he couldn't wait for this tour to be over, he says that the band travelled on separate buses and even stayed in separate hotels but there's always that something that makes them feel united again once they are on stage. Known for their over-the-top production, Mötley Crüe did not disappoint for their last show ever on New Year's Eve: from massive, cutting-edge pyro, including Nikki Sixx's bass guitar spitting fire over 30 ft. into the air, and Tommy Lee's "Crüecifly" drum roller coaster which unluckily got stuck by the end of the performance leaving the drummer upside down in the air. Despite that, Lee kept joking with his fans throughout the failure and eventually ended up climbing his way down the track and back onto the stage. Mick Mars solo performance consisted of him and his guitar, no props needed, very simple but still striking.
Lead singer Vince Neil, who was on top form all night, delivered an emotional "thank you" speech to the audience, while the band supplied their usual next-level energy, welcoming the New Year on stage with thousands of balloons raining down on the crowd. The grand finale of the show included an unforgettable performance of their hit single, "Kickstart My Heart" with Nikki Sixx and Vince Neil floating above the audience in far-reaching "cherry-pickers." The show concluded with an emotional encore rendition of "Home Sweet Home" from the second stage riser in the center of the audience, leaving the fans and admittedly, myself, in tears. This film represents the rock 'n roll funeral of a band that will never be forgotten and that has dramatically contributed to the music history and has changed so many lives. I can see myself in those sad fans, last November goodbye to Mötley Crüe in London left me in tears but also well aware that these guys have concluded their 35 years career in the best possible way and at the best timing. While not everyone was able to see their final show live, Crüe fans can now book their tickets for a one night only screening on the 13th of October. Don't miss this!
For booking information, dates, locations and tickets, click here