There seems to be two things wrong with the following statement:
'Mutiny on the Bounty are a 4-piece Math Rock band from Luxembourg'.
Firstly the idea that there is a genre that includes any kind of school subject instantly feels like hard work.  Secondly there are only about 100 people in Luxembourg, and given that 11 of them somehow make an international football team means that there can't be that many talented people left in the country.  So I may have exaggerated slightly (Population of 500k) and in fact Trials is far from a difficult listen.
Apart from the impeccably haunting and aptly titled "Shadow Figures" the whole of Mutiny o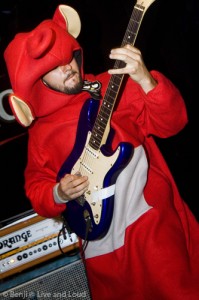 n the Bounty's sophomore release seems like its in danger of falling apart at the seams, tittering on the brink of organised chaos and downright insanity.  In fact barring the halfway point of the album, the quartet have created an album with so much pace and precession that Usain Bolt may struggle to keep up.  Previously my lasting impression of Mutiny on the Bounty was their support slot to Blakfish with a guitarist dressed as one of the Teletubbies (and I really hope that photo gets added).  Now however this offering has erased that memory (not entirely of course) and replaced it with this little gem packed full of startlingly accurate riffs and small doses of electronica thrown in for good measure. I can already see myself walking down the street screaming out the lyrics as I invariably get lost in Trials and probably end up scarring an innocent old lady into trying to run in the opposite direction.
8/10
www.facebook.com/mutinyonthebountytheband
Check out the video for Artifacts: