Braille is not an album that messes around. Palm Reader kick things off with 'Swarm' which is the aural equivalent of a big boot to the face. It is heavy and armed with more angular riffs than you can flail wildly to, but it's all pinned together by the chorus. In among all the chaos, they unleash their more melodic side, allowing the clean vocals to fly clear and hook your ears onto the album. If they haven't already caught you, then you might be the problem.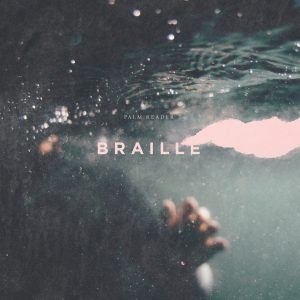 The problem with the more technical branches of both metal and hardcore is that it can often feel cold. Like you are sat staring at an exquisite piece of art that you can't figure out. You appreciate it. You're just not a part of its world. And while Palm Reader are undeniably technical – Braille is a barrage of riffs with some extraordinary drumming – they are also brimming with emotion. It's an emotion that alongside that technicality draws you into the album. Whether it's dark or uplifting, it's your way through the musical assault and allows you to digest what you're hearing.
What you're hearing, beyond all that stuff, is some unreal songs. 'Like A Wave' assaults your brain, unrelenting as Josh McKeown roars 'waiting for, waiting for consequence'. It then melds seamlessly into 'Inertia', its sound matching its name as it drifts along, intense but slow. Later on, there is the six-minute long 'Coalesce', epic in nature and exploding with untapped emotion. In many ways, it's the crowning moment of an album that has very few faults.
Which isn't to say there aren't any, littered throughout are musical interludes, 'Breach' and 'Dorothy', designed to create atmosphere. The reality is that they hurt the flow. It's added minutes that the album doesn't need, and without them, it would be a tighter affair.
That's a tiny hole in an outstanding release. When you're banging your head to 'The Turn', roaring along with 'Swarm' or waving your arms to the opening of 'Clockworks', you won't be bothered around the few minutes that Palm Reader took to collect themselves. You'll be too busy having a lovely old time. Palm Reader have always been great, but with Braille, they've asserted themselves as one of the best bands we have.