Of all the names regularly mentioned as sixties guitar heroes in the classic rock firmament, few stars shine brighter than that of the iconic man in black himself, Mr Ritchie Blackmore. Equally lauded as a guitar hero or the most divisive and truculent human being on the planet, and the bane of many a rock journalist, nonetheless he's been responsible for some of the greatest riffs and guitar runs in classic rock history (his guitar break on Purple's 'Child in Time' should be proof enough) and, despite turning his back on rock several years back to play a different kind of music with Blackmore's Night, alongside his wife Candide, he's still feted as one of the great guitar slingers by rock fans.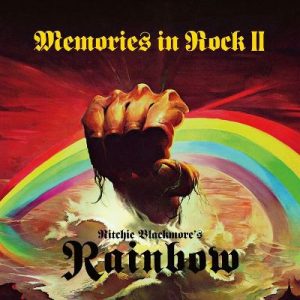 In 2016, he put Rainbow back together for what was ostensibly a one-off gig at the Birmingham NEC, reasoning that "we're not getting any younger and there's a whole new generation of fans out there who've never seen Rainbow", though such was the excitement generated by Blackmore's return to rock ways, the gig sold out almost inhumanly fast. So, in 2017, this time Rainbow arranged four more shows across the country, and this double CD and DVD, following on from Memories in Rock I, is the outcome, and it even includes the first new Rainbow single since 1996, 'Waiting for a Sign'. There's a third disc, a DVD, featuring interviews with all the main protagonists containing some amusing anecdotes about the band and other matters.
But, it's for the music the fans will be buying this CD for, and the two discs contain everything you'd expect to hear from them. From the intro of 'Over the Rainbow', they perform classic tracks like 'Man on the Silver Mountain', 'All Night Long', 'Catch the Rainbow', '16th Century Greensleeves' and 'Temple of the King', plus several songs more associated with his band from another lifetime ago, Deep Purple, like 'Child in Time', 'Black Night' and show closer 'Smoke on the Water'. Particularly moving is Blackmore's tribute to his fallen ex-comrade Jon Lord, Carry on Jon, which is performed with style and sensitivity.
As you'd expect from any ensemble put together by Ritchie Blackmore, the band are as tight as it gets and the music is as up to the mark as the band of old. A special shout-out must go to singer Ronnie Romero, a man charged with filling the boots of the vocalists more closely associated with many of these songs, such as David Coverdale, Ian Gillan and especially Ronnie James Dio. But Romero more than holds his own against his esteemed predecessors, and to hear his powerful version of Stargazer was to hear the spirit of Ronnie James being brought back to life.
For me, perhaps the most impressive thing about this release is, for a man about to turn 73, Blackmore showing many of the younger up-and-coming guitarists out there just why he's as revered as he is and the standards they have to live up to. He has nothing to prove to anyone any longer but, on these two discs, his legend is there for all to see.