Thanks to a number of stellar albums and glorious live performances all over the globe, The Dead Daisies have been on an upward spiral ever since the band was conceived and there can be absolutely no doubt that these guys have worked their asses off to get where they are today. Boasting a most impressive line-up consisting of rock royalty such as Marco Mendoza (Whitesnake, Bill Ward, Thin Lizzy, Ted Nugent), Doug Aldrich (Whitesnake, Revolution Saints, DIO), John Corabi (Motley Crue), Deen Castronovo (Journey, Revolution Saints), and founding member David Lowy, it should come as no surprise that we are dealing with a kick-ass hard rock band of the highest order.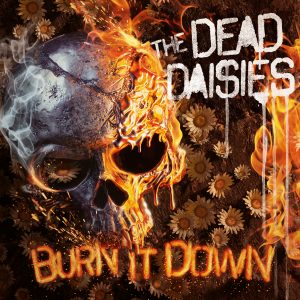 Pulsating riffs, thick bass lines, groovy drums, and those inimitable vocals courtesy of Corabi all come together to form a near-flawless cacophony of pure, unfiltered rock 'n' roll with balls and attitude to it. Everything in terms of great hooks, catchy melodies, bombast, and…well, anything that your warped mind can possibly desire is to be found on this 10-track effort of theirs. The entire affair is fiery, spirited, and full of vigour, just as expected, really. While one could make the argument that the band are not necessarily reinventing or bringing anything new to the table here, the fact of the matter is that The Dead Daisies have a sound and a musical identity of their own. No other act out there could pull this kind of thing off with the same amount of confidence and swagger as these hard-rocking gentlemen do.
The raw and gritty production of Burn It Down is just right considering how dynamic the songs are and how organically they all flow together. Compared to earlier recorded outputs, this raging beast of an album is a slightly more diverse and compelling affair. Hook-laden tunes such as 'Resurrected', 'Bitch', and 'Rise Up' go straight for the throat while raw and wonderfully atmospheric compositions such as 'Judgement Day', 'What Goes Around', and 'Set Me Free' add an emotional and introspective quality to the disc.
Last year's fabulous live recording, Live and Louder, ranks high on the list of glorious classic rock and is the album to get if one wants to experience the magnificent punch and power of The Dead Daisies. However, in the humble opinion of yours truly, Burn It Down is by far the most coherent, cohesive, and wickedly entertaining output by these seasoned veterans so far. Each song is begging to be played live and there is no doubt that they will all go down a storm at future gigs. Fans of the band, as well as fans of quality hard rock in general, have a lot to look forward to here. The Dead Daisies have lost neither their charm nor momentum. On the contrary. This is the real deal!