Southampton groove-metallers Ravenous have finally released their debut album, titled in partial-homage to the famous quote from the Bhagavad Gita, We Are Become Death.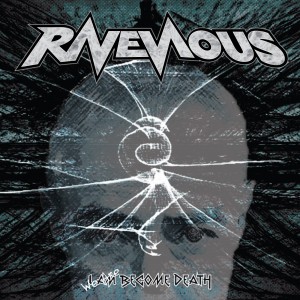 Much like many songs on the album, Ravenous construct an intense, catchy intro in the first song Abhor before leading off into an addictive riff, instantly displaying one of the records main strengths. These aren't just couplets of repetitive notes: these are proper, thorough riffs that the boys convey a lot of variation through. Songs such as Deathstiny feature the more melodic and powerful riffs, but we also see use of more thrash-orientated riffs in Suffocate and other tracks. Whilst most of the album is solid heavy metal, the song Alone, in particular, displays moments of soft but grand melodies that keep within the conventions of Ravenous' sound, giving something different to the overall tone of the album, but all the while giving it an appropriate place. All in all it gives the listener a wide selection of sound to sample, ensuring We Are Become Death never has a stale moment.
The influence of American metal bands such as Metallica and Pantera are utterly undeniable. You've got the solos, the heavy focus on guitars and even moments where the gruff vocals seem to bear an American accent. More often than not, this is used to the band's credit, leaving an element of familiarity in each song which will definitely make this music appealing to fans that don't often tread out of their comfort zones. However, on a more detrimental note, there is more than one moment where the album drifts too close to a Metallica-style sound which doesn't bode well for originality. Although with originality in mind, groove metal has been around for about 20 years with thrash having been around for even longer. In that time, bands have sprouted under both banners on a regular basis, leaving us to determine that an album with, what is on majority, a highly original and fresh sound is quite a feat that cannot be ignored lightly.
We Are Become Death sees a convincing blend of groove metal and thrash without ending up too avant-garde. It is clear Ravenous have placed a lot of focus on simply making sure this album keeps its energy throughout but, more importantly, keeps a listener entertained. For people who are fans of groove and thrash we implore you to give it a listen, it's a guarantee you'll be blown away with how bold this album is.
9/10
Check out the video for Easter Island (We Are Become Death) below!