In the fantastical world of Heavy Metal music, sights such as massive armour-clad Bushido warriors – rising like phantoms from icy mists- are not unusual. These demonic samurai figures, along with a number of other lurking ghosts, gruesome blood soaked zombies, evil vampires and associated monsters … made up the crowd at this year's Hammerfest – Episode V "In Fear of the Dragon" at the Hafan-y-mor camp-site in Pwllheli. It was an awesome sight.
Kicking off this magnificent indoor music festival, in some style, was Manchester's Goddamn Electric, playing early on Thursday evening. With songs like 'Morning Injection' this classic blues-rock band played their spectacularly splendid modernised riffs with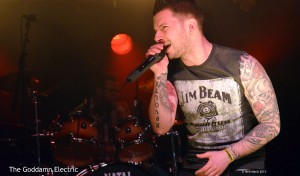 the type of monster-sized zeal you would expect from a group that take inspiration from bands like Biffy Clyro. This was a belting start to what promised to be a memorable long weekend.
By Friday afternoon, things started to get hot, thick and sticky – as both stages opened up to the crowds. The majority of the true-hearted metal-fans were, by now, arriving in their droves. The oddly green tinged Idol Dead kicked things off with a thunderous set on Stage 1. They went to the stage sober – but they came off intoxicated by the boldness of their own output, and the excitement generated by their faithful audience.
Meanwhile, over on Stage Two, The Jagermeister Stage, those Bournemouth based rockers Sansara played a set that was so ferociously potent that Mike (on drums) managed to crack his own cymbal! Now, that is the power of rock!
After an eagerly anticipated and thoroughly enjoyable unplugged show at the Mash & Barrel acoustic stage, the elegantly stunning Triaxis went on to play a full electric set on Stage 2. It is true that Krissie's voice was a bit 'wobbly' at first, but soon enough the band started to play with the kind of grace, majesty and power that we have come to expect.
And after the magic of Triaxis, we enjoyed the barbaric metal hard-core madness of RSJ. These guys turned out to be one of our favourite bands at Hammerfest. Imagine the brute force of Trivium – but with a sound that is decorated – both on and off stage – with a foolhardy and overwhelming sense of humour. Yes, this is RSJ for you. Hell, they even bounded onto stage to the sound of (Let's Get) 'Physical' by Olivia Newton-John … that was before cracking open their full throttle thrash. If this is not a confused amalgam of styles and genres, then we simply do not know what is. You will need to see their video 'Collectively We Are Tall' to believe what can be done by RSJ. It's the funniest thing we've seen all year.
After some technical craziness from Chimp Spanner (Paul Ortiz on Guitar), we relished the undeniably exquisite twin-lead guitar heaven that was brought to us by Chris Appleton and Martin McNee – and the other hard-working boys from those Manchester heavyweights Absolva. This is a classic hard-working rock band, playing traditional heavy numbers, all in the great British tradition.
Perhaps the most memorable act of the evening was (for us) the hugely popular Viza coming over to Wales from Los Angeles, California. This 'orchestra sized' ensemble managed to blend Middle Eastern and East European musical influences together with traditional rock elements. They produced a fusion of sounds that was thoroughly imaginative, creatively dramatic and often surprising. Viza are a truly unique rock band. We feel certain that we will be hearing and seeing a lot more from them in the future.
After stunning performances on Stage One – The Dragon Stage – from Enslaved and Hatebreed, we all enjoyed the technical competence and the bewildering nobility of Killing Joke. And soon after Killing Joke, almost all of the happy campers in the main arena dragged themselves off to Stage 2 to see the best of what was left.
The ridiculous shenanigans of Evil Scarecrow are always a high point of any good metal festival. At Hammerfest V the band seemed to pull out all the stops to produce a show that will be remembered long after our precious wrist bands have fallen apart. After years of singing along to "Sixty-Six Minutes Past Six" and "Blacken the Everything" (not to mention dancing stupidly to "Robototron"), the crowds have been clamouring for something new. And so the mock-menacing rock-cabaret show stars pulled something out of their creative bag … They created (for Hammerfest) a new song (with an extraordinary new dance) called "Crabulon."
This new number had a cheesy Pearl & Dean intro, and was 'conducted' by a crab / monster / robot. The intoxicated crowd quickly got involved in the ridiculous 'Pincer Dance' (moving only sideways) and we were soon all roaring along to the absurdity of the infectious chorus line "Too complex for the human mind …" The end of the show came with their blazing 'Final Countdown' cover – when Brother Dimitri jumped up onto the bar to play his fanciful lead guitar solo. All the while, the sweating yet delighted audience can-canned along to the beat. Yes, it was crazy. But it was enormous fun.
Saturday seemed quieter. The mist rose from the glutinous mud underfoot, as we all ventured out of our caravans and chalets to enjoy the moist morning air. Over on Stage 1 we had the imperious weirdness of the Commander-in-Chief and her off-the-wall version of Black Sabbath's 'Paranoid' – complete with her other-worldly ululation and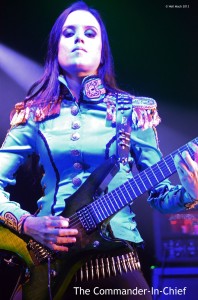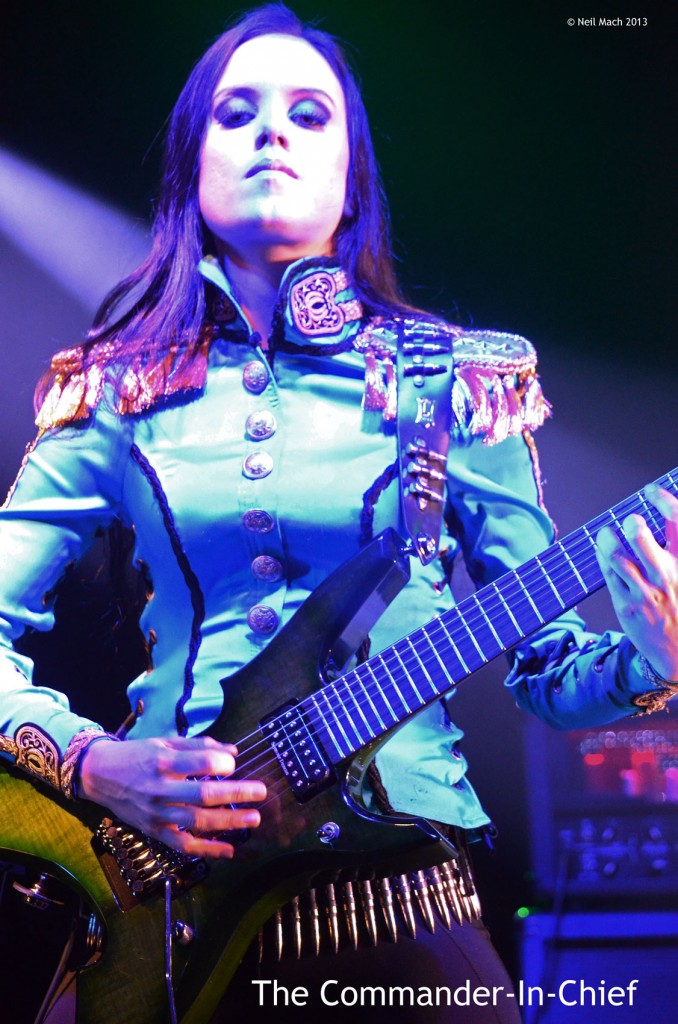 unspeakably clever guitar-work. And at the same time, on Stage 2, we had the antidote to all that progressive pomposity – the frankly weird (but somehow addictive) sounds from Dom (he struts and shouts) and James (he hits things) otherwise known as OAF. One drum kit. One bass guitar. Punk rock with a large portion of wit.
Shear came onto Stage 1 next. This magnificent six piece, Helsinki-based, female fronted metal act played a sumptuously adorned set. And later the Dutch pagan folk metal group Heidevolk presented us with their sinful yet seductive sounds. Heidevolk employ not one – but two vocalists – Mark (who looks a bit like James Hetfield) and Joris (who looks a lot like Jim Belushi.)
The highly anticipated show from Senser was next on our 'must see' list. And their high-voltage rock / hip-hop-fusion set did not disappoint. This band is amazing, and yet they are greatly underestimated and (we think) under-appreciated. But, judging by their exhilarating performance at Hammerfest V, their time is finally coming.
After doom-mongers Candlemass and St Vitus, it was probably Napalm Death who were most people's 'band of the weekend'. After some initial technical difficulties, the band put on a show that was both exciting and extraordinary.
We just managed to stay sober long enough to enjoy Liverpool's terra forming thrashers Bludvera. (On at 1 am on Saturday night.) But what a show. Worth the wait.
So when Sunday came, and we had to get ready to go home, we felt sad to be leaving the rugged beauty of the North Wales peninsula. But we were happy in our hearts. It was a wicked weekend! We left with a head full of powerful sounds, and a valuable set of new head-banging friends and genuine compatriots! We felt comforted by the sincere warmth and camaraderie that we had experienced all around us.
Thanks Hammerfest. You rock!
2014 ticket are on sale now!
www.hammerfest.co.uk